Mankell Family History
Almost Saved, But Lost: The January 1873 Blizzard in Kandiyohi County, Minnesota
Niederasphe to Norway Lake: Mankell Family, Minnesota and Immigration
Update:
New email! My att.net account is no longer active. Please contact me: carolyn.sowinski@gmail.com
UPDATED PAGES:
Diagram of the "Atwater Farm" of
Walter and Inga Jordin
(updated February 2017)
The
Genealogy Charts
(both pedigree/ancestor and descendant charts) have been updated. (August 2016)
INTRODUCTION AND OUTLINE
HW (Herman Wilhelm) and Elizabeth Mankell (my great-great-grandparents) settled the Mankell homestead in the Norway Lake area of Kandiyohi County, Minnesota, in the 1802. In these web pages we will look back at HW's ancestors and forward to HW and Elizabeth's descendants. Because HW's grandfather and uncles were famous musicians, much has been written about the family. This study of the Mankell family (American pronunciation rhymes with 'ankle') will also include information of other families who joined the Mankells by marriage: Swenson, Hjelle, Christopherson, Jordin and Johnson.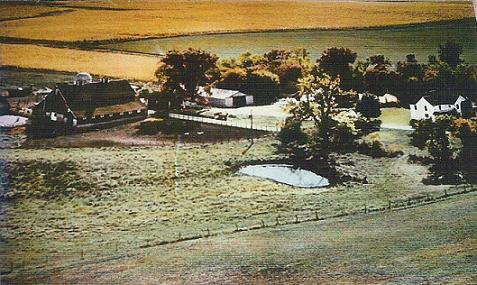 Mankell Homestead, c1967
100 Years Old
As we move from our past to our present you will meet people from a variety of professions: organist, composer, artist, piano-maker, farmer, soldier, novelist, carpenter, insurance salesman, homemaker, politician, historian, minister, teacher. And you will read about the lives of original settlers of Kandiyohi County who lived on the American frontier and were witnesses to the 1862 Dakota War (Sioux Uprising) in Minnesota.
These narrative pages will include photographs, local history, genealogy, stories, and even a scandal in 1814 Denmark. The Mankell history will take the reader to Germany, Denmark and Sweden; the Hjelle, Christopherson and Swenson histories, to Norway; the Jordin family history, to Sweden. These pages are not yet complete (family histories are never completely finished!). Please return to this website because these pages will be updated with new information.
I am deeply grateful to several people who compiled information and documented historic events over the course of many years. Norwegian settler Gabriel Stene, a neighbor of HW and Elizabeth, had the foresight in the 1920s to write articles in the Willmar Weekly Tribune about the pioneer settlers of Kandiyohi County. Bo Lindbergh and Gustav Ivar Mankell live near Stockholm and have shared information about the Mankells in Sweden. Margarete (Mankel) Semus offered gracious hospitality and provided information about Mankel relatives in Niederasphe Germany. Richard Lindahl wrote a 2003 history of the Swenson family; in 1993 Jane Hauser Pejsa wrote a history of her grandparents, Hans and Hulda (Mankell) Melgaard. Rune Wiik gave us a tour of the Holter area of Norway; the Hjelstuen family showed us the Fåvang area of Norway. Many relatives shared their stories and answered questions. Acknowledgments and gratitude would not be complete without mentioning the work of my father, Orlynn Mankell. For many years he maintained and expanded numerous files on the Mankell, Swenson, Christopherson and Hjelle families. One of his joys was to travel to Norway and Germany in 1995 to see where his ancestors had lived and worked and to meet relatives. Dad wasn't alone in his endeavor to preserve family history. My mother, Vivian Jordin Mankell also maintained genealogical information about her Jordin and Johnson roots.
I also want to thank my brother, Kurt Mankell, who has provided many of the photographs and much of the information in these pages.
---
The following is an outline of the family history presented in these web pages:
Village and Church
Spelling of Mankell name
Wars
Mankel family currently in Niederasphe
JOHAN HERMAN MANKELL (1763-1835): A summary of his life
Moravian Community
Karl August, Duke of Weimar: Royal Court

Carl Abraham (1802-1868)
Wilhelm August (1803-1872)
Louise Amalia (1806-1806)
Friedrich Ferdinand (1807-1807)
Georg Andreas (1809-??)
Gustav Adolph (1812-1880)
Friederica Amalia (1814-1889)

Johann August (1825-1868)
Viktor Alfred (1827-1831)
Herman Ludvig Ferdinand (1829-1836)
Sven Gustav George (1832-1860)
Emil Theodore (1834-1899)
MANKELL FAMILY IN SWEDEN
Carl Abraham Mankell, Organist
HERMAN WILHELM AND ELIZABETH (OLSON) MANKELL: Swedish Homesteaders in Minnesota
OSCAR AND MINNIE (SWENSON) MANKELL br> br>
HERMAN AND CORA (CHRISTOPHERSON) MANKELL
Otto (1890-1971), married Ella Negaard
Anphia (1892-1974), married Elmer Myhre
Julius (1894-1953)
Edward (Eddie) (1897-1984), married Olive
Ellen (1899-1972), married Herman Landquist
Millie (1901-1994), married Eugene Bergan
Cornelia (Cora) (1903-1963), married Herman Mankell;

Orlynn (1928-1999) m. Vivian Jordin (1931-1994)
Marjorie (1929-2016) m. Bill Larimer
Sherman
Mary Ann (1937-2004) m./d. James Petteway (1926-1984)
Douglas m. DeAnn Olson
Dale (1945-1946)
Marlys (1947-2001) m. Gerald Schilz (1926-2002)
ORLYNN AND VIVIAN (JORDIN) MANKELL
Jordin Family from Sweden to Meeker County and Irving Township, Kandiyohi Co. MN
Mortenson Family from Sweden to Meeker County and Irving Township, Kandiyohi Co. MN
Johnson, Sakariason and Olsen Families from Norway to Irving Township
Orlynn's articles about Kandiyohi County history
OTHER RELATED TOPICS