Mankell Family History
"Into a New World: Thomas and Bergit (Borgen) Osmundson"
written by Orlynn Mankell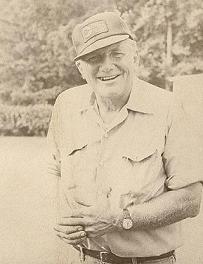 Storyteller and historian, Orlynn Mankell
From Stepping Stones (First Lutheran Church of Norway Lake), October 1981:
Thomas and Bergit Osmundson ... played prominent roles on the early Norway Lake frontier. Their story almost seems to come out of some kind of historical novel. They always seem to be a part of the important events -- including those certain epochal ones as well.
Bergit was born in Norway. She came with her parents to America in the 1850s, coming first to Rock County, Wisconsin. This county is in the southern part of the state bordering on Illinois, and was the first stopping place for many people heading up into the northwest..
Also, at Rock County at this time was a man, Thomas Osumndson, also from Norway and traveling alone. Bold, resolute and with that certain taste for adventure, he had all the traits a pioneer was supposed to have. He had noticed Bergit's arrival -- with apparently more than just a passing interest -- as the resourceful Thomas and Bergit were soon married. She was 18 and he as 24.
The two were then to commence an undertaking that from today has to be always noticed for its audacity, and its sheer sense of daring. They gathered their goods together, said goodbye to their friends in Wisconsin, and then set forth to the west and north, up to that remote and far-off land of Monongalia County. Minnesota, which the land offices had now declared open for settlement. (Monongalia County was to constitute the northern half of present Kandiyohi County.).
No mention is made of their route but the usual one from southern Wisconsin was to go west to the river town of Prairie du Chien, then up the Mississippi on a paddle wheel river-going steamer to St. Anthony Falls (later Minneapolis). From there the route went down the Minnesota River to Henderson, up the long Henderson-Pembina Trail, which cut directly through Monongalia Co. But whatever route they took, just getting there was probably an adventure in itself..
On a long forgotten day, sometime in the summer of that almost unhear of year, 1859, did Bergit and Thomas arrive into the new world. Their part of it would be that part of Section 8, Lake Andrew Township, Monongalia County. Along their claim lay a broad and blue lake, still in its origianl wilderness setting and about this time being named Norway Lake..
During this summer season a cabin was built, and the enterprising Thomas was bartering with the Sioux Indians as they appeared around the cabin. It is Thomas who seems to know these colorful people the best. As far as he was concerned, it was simply a mater of "live and let live.".
As far as the church is concerned, there is record of about three early Norway Lake worship services begin held in this cabin, and there would be a logical reason for it. This cabin of Thomas and Bergit was built on the side of a small hill and in place of the usual small cellar it had a full fledged basement with an outside doorway. Thomas' cabin seems to be the only one with such features as a walkout basement.
The year 1862 is probably considered an early and remote year at Norway Lake, but the Thomas Osmundson family had already been a part of it for three years. They now had two children (there were to be 12 in all). [Note: The children of Thomas and Bergit were, in birth order: Samuel, Gunder, Nellie, Anna, Mary, Sivert, Betsy, Lena, Julia, Edwin, Olaf/Olof, Henry.]
Bergit had been busy in and around the cabin on a day in the late summer, although no one mentions it, it is very possible that at some time she looked around her and was satisfied that everything was no in order. That afternoon she and Thomas would again be hosting the small Norway Lake Colony at a worship service in the cabin. This particular service was to prove to be a famous and very historic one, to be noticed far outside of the Norway Lake settlement. [For more about this story, read "From Then To Now", a history of the Norway Lake Colony and Rev. Andrew Jackson, 1860-1862]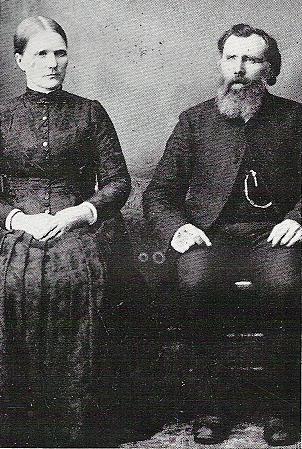 Bergit and Thomas Osmundson, c1890.
---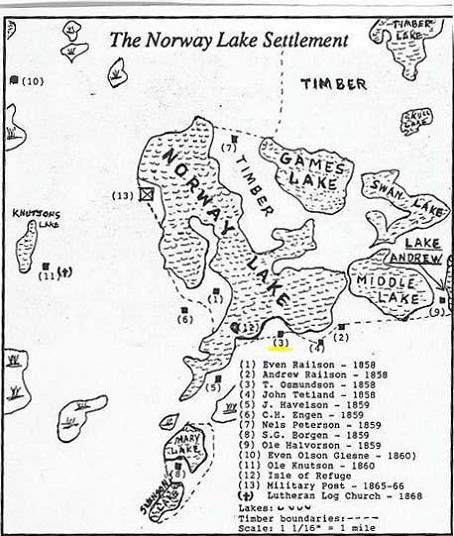 Location of Thomas and Bergit Osmundson homestead ( #3 ) on the south side of Norway Lake.
---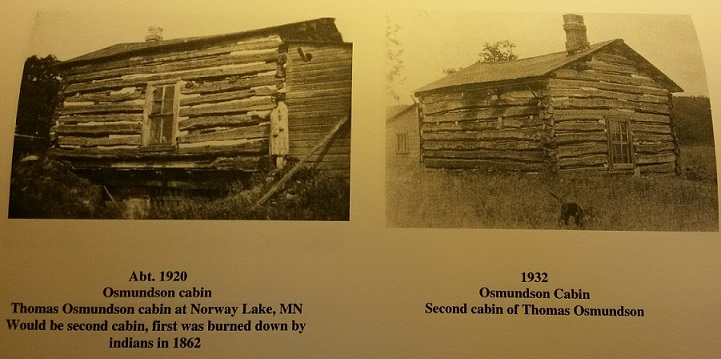 Thomas and Bergit Osmundson cabin on the south side of Norway Lake.
This photo is their second cabin, built when the family returned after the Dakota War of 1862.
Source: Family Tree of Thomas Osmundson from Kandiyohi County Minnesota
---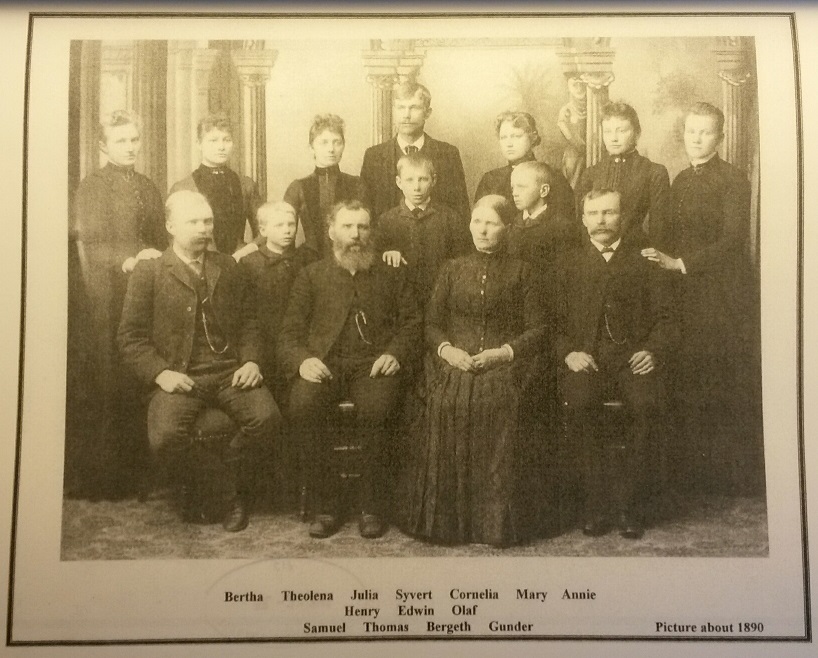 Thomas, Bergit and children, c1890
Source: Family Tree of Thomas Osmundson from Kandiyohi County Minnesota
---
---
Thomas and Bergit, after their years at Norway Lake:
(Additional information written by Carolyn Sowinski)


In 1875 the Osmundson family left Norway Lake and moved about 15 miles south, to the Willmar area. There they established a dairy farm east of Willmar. From about 1877 to 1884 Thomas was a delegate to Kandiyohi County Republican conventions.
In April, 1896 Thomas, Bergit, and three children (Henry, Mary, and Olaf) moved by train to Fentress, Virginia, located south of Norfolk. (This area was later incorporated into Chesapeake City, VA). The previous February Thomas took a trip to VA to look at its business potential. He determined that the area was to have a good agricultural market, with access to shipping via the Chesapeake Bay. Because this was just a few decades after the Civil War, Virginia had a stream of migrants from the midwest move to VA looking for opportunities. Thomas purchased a farm with an orchard.
Thomas Osmundson died on December 23, 1899. His death notice appeared in the December 24, 1899 issue of the
Virginian-Pilot
newspaper.
Mr. Thomas Osumndson, a well-known and highly respected citizen of the county, died Friday night at 12 m [midnight] at his home, near Fentress, in the 69th year of his age. He leaves a wife and several sons and daughters, the mosts of whom live in Minnesota. His remains will be forwarded to Minnesota via the Bay Line today for burial.


The
Willmar Tribune
newspaper printed his obituary on December 27, 1899.
The sad news reached here last Saturday of the death of our former esteemed citizen, Mr. Thomas Osmundson, which occurred at his late home in Fentress, VA, on Friday afternnon, from hemorrhage. Deceased had been on a trip the past summer to his old home in Norway, where he contracted a severe illness which brought his life to a close. He was about 68 years of age, and leaves a wife and family of twelve children to mourn his departure. Three children, Henry, Olaf and Mary, have been residing at the Virginia home; Mrs. Lena Palmer and Mrs Julia Ringnell are residents of Minneapolis; and Samuel, Gunder, Syvert, Edward, Mrs John [Nellie] Noren, Mrs A O Qvale and Mrs Henrik Johnson are residents of this city.

The bereaved widow and other members of the family are expected in Willmar tonight with the remains. The funeral takes place Sunday afternoon at two o'clock from the United Lutheran church. The deep sympathy of the entire community goes out to the family in the loss of not only a good husband and father, but also one of Kandiyohi county's earliest and most respected settlers.


Bergit (known as Betsey) remained in Fentress and moved to Norfolk VA in about 1911. By 1918 she moved back to Minnesota, and lived in Willmar until her death in 1927.
---
Bibliography: Anniversary Album, 1859-1944: Lebanon Lutheran Church and Keeping the Faith...Sharing the Faith; Willmar Tribune, Virginian-Pilot, Family Tree of Thomas Osmundson from Kandiyohi COunty Minnesota