Mankell Family History
Maps of ancestral homes in Norway
Ole and Margreta (Nilsdotter) Mortenson
Nils Olsson and Marna Svensdotter

MORTENSON
Three generations of one family left Onslunda Sweden for American in 1872. They traveled together on the ship Sarmatian and arrived first in Quebec Canada on July 9, 1872, and then made the journey to Minnesota, their final destination. Like other immigrants who arrived in Quebec and then continued to the U.S. Midwest, these immigrants would have traveled by rail and/or steamers on lakes and rivers. Three-year-old Mary Mortenson (1869-1949) was on this 1872 journey. She traveled with her siblings Botilda and Oscar; her parents Ole Mortenson (1838-1911) and Margreta Nilsdotter (1846-1922); and her maternal grandparents Nils Olsson (1812-1904) and Marna Svensdotter (1812-1902).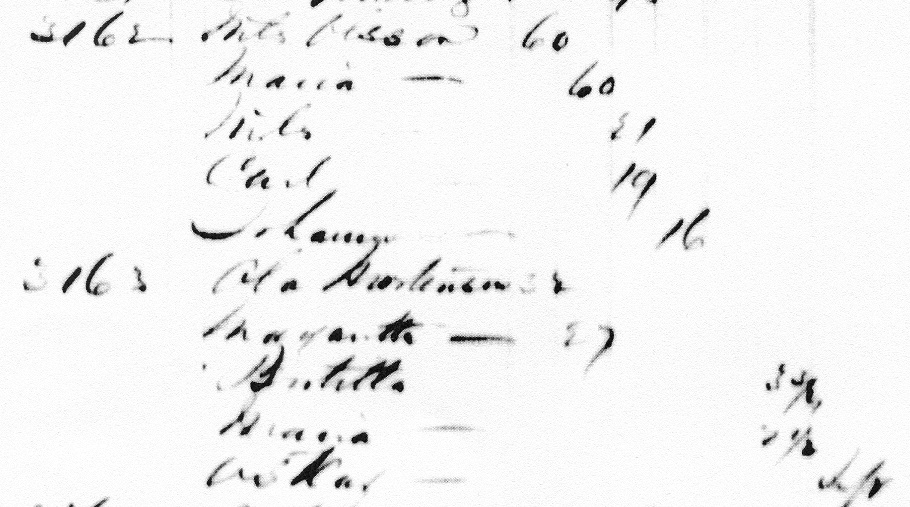 3 generations arrived in Canada, 9 July 1872.
Passenger List for Nils Olsson, wife Marna, and their children Nils, Carl, Johanna.
Passenger List for Ole Mortenson, wife Margreta (Nilsdotter) and their children Botilda, Maria (Mary) and Oskar.
Source: Canadian Passenger Lists, 1865-1935.
Mary Mortenson (later the wife of August Jordin), and her parents and grandparents, were from the Skåne region of southern Sweden. Mary, her mother Margreta Nilsdotter and other ancestors were from the Onslunda area of Skåne. Mary's father Ole and his ancestors were from the Tryde area of Skåne. Ole and Margreta married c1867 and lived in Onslunda. The family left Sweden in 1872 and settled in Meeker County, Minnesota. From 1872-1886 the family first lived in or near Grove City. In 1886 the family moved to Section 11, Cosmos Township, (north of the town of Cosmos) in Meeker County where they had a farm across the road from First Lutheran Church.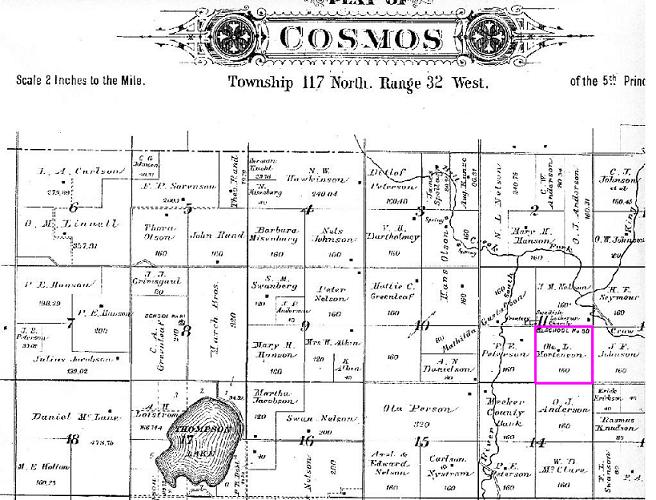 Portion of 1897 Cosmos Township plat map highlighting the Ole Mortenson farm in Section 11.
(PDF file of 1897 Cosmos Township plat)
Ole and Margreta had several children, the three oldest born in Sweden before the family emigrated:
Botilda (abt 1867- ?)
Mary (1869-1949) married August Jordin; lived in the Beckville, MN and later near New London MN.
Oscar (1871-?) married Annie. By 1910 the family lived in North Dakota.
John (1874-?), twin to Carl; married Anna; lived in Montana and later Litchfield MN.
Charles (Charley, Carl) (1874-1962), twin to John; married Alma; lived in Cosmos MN.
Otto (c1877-?) married Sara; lived in Renville County MN.
Hiller and Tilda, twins born c1879; died young.
Franz (c1882-1950) married Hannah; lived in MN and later in Montana.
Henry (c1886-?) married Emma; lived in Cosmos MN.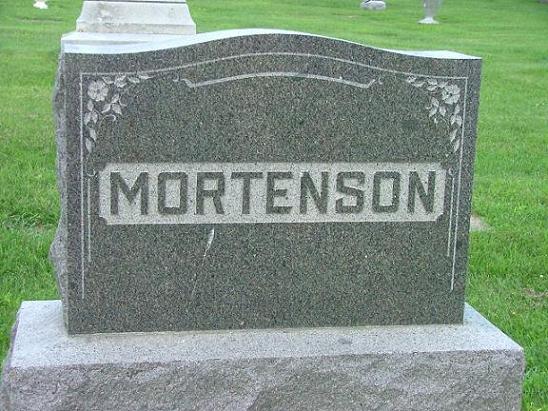 Ole and Margreta Mortenson are buried at Ripley Cemetery (northwest section) in Litchfield, MN.
Their individual graves are not marked.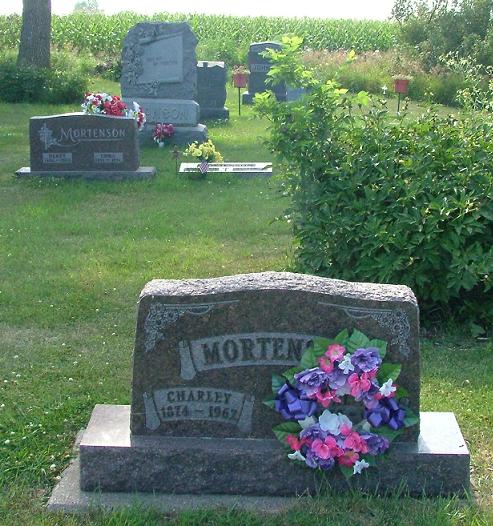 Graves of two of Mary Mortenson Jordin's brothers, Charley and Henry,
at First Lutheran Church of Cosmos.

In March 1911 Ole and Margreta planned to move to Litchfield, but Ole died before they moved. Ole and Margreta are buried in the Lake Ripley Cemetery, south of Litchfield. Immigrant Ole Mortenson died in 1911. His obituary was in the Litchfield Saturday Review on March 11, 1911. Note the absense of the first names of his wife Margreta and daughter Mary, and the misspelling of Jordin.
Ole Mortenson died very suddenly Tuesday immediately after dinner at his home in this city which he had acquired only last fall and which the family was to occupy on that day for the first time. He had been ill a week previous from gall stones, but had seemingly recovered. The excitement, work and worry incident to moving probably brought on another attack accompanied with cramps. The end came before a doctor could be called.

Mr. Mortenson was a native of Sweden and was born March 15, 1838. He came to America with his family in 1872 and during the first fourteen years of his residence in Meeker county lived at Grove City. The family then removed to Cosmos town which continued the home for twenty-six years. Last fall he purchased a residence property in Litchfield which himself and wife were about to occupy.

The deceased is mourned by the widow, one daughter, Mrs. August Jorden, New London; and the following sons, Oscar, Williston, N.D.; John, Great Falls, Mont.; Frans, Frazee, Minn.; Otto, who resides with his mother, and Chas and Henry Mortenson, who make their homes in Cosmos. All of the children from away arrived during the week to be present at the funeral services, also O. W. Zaar, a relative, who came here from South Bend, Neb.

The funeral services will be held this afternoon at 1 o'clock from the residence and at 2 o'clock from the Swedish Lutheran church. Rev. J.O. Lundberg of the Beckville Swedish Lutheran church will preach the funeral sermon.
Nils Olsson and Marna Svensdotter
Ole and Margreta Mortenson left Sweden and settled in Meeker County, Minnesota. So did Margreta's parents, Nils Olsson and Marna Svensdotter. Here is the Lindell-Herndon Genealogy website with detailed information and citations regarding Margreta Nilsdotter, her parents Nils Olsson (1812-1904) and Marna Svensdotter (1812-1902), and other ancestors. According to the Lindell-Herndon website, Nils and his family used the name Lindell after immigrating to the US in 1872 from Sweden. Married in July 1841, Marna Svensdotter Lindell and Nils Olsson Lindell (aka Nels O. Lindell) lived in Meeker County, Minnesota. They are buried at First Lutheran Cemetery at Trinity Lutheran Church, Grove City, Meeker Co, MN.
---