Mankell Family History
ANNA MANKELL QUAM (1862-1914)
Daughter of HW and Elizabeth Mankell
HW and Elizabeth Mankell had nine children. Anna was born in 1862, in Northfield MN.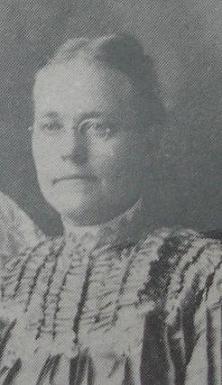 Anna Mankell Quam, 1904
Anna Mankell and Nels Quam married in 1879 and lived in the Norway Lake area until 1895, when they moved to New London, MN. Anna worked at a boarding house and later as the landlady of the Great Northern Hotel which she and Nels owned. (This building was located on the northwest corner of the main intersection in town; it was torn down in 1955.)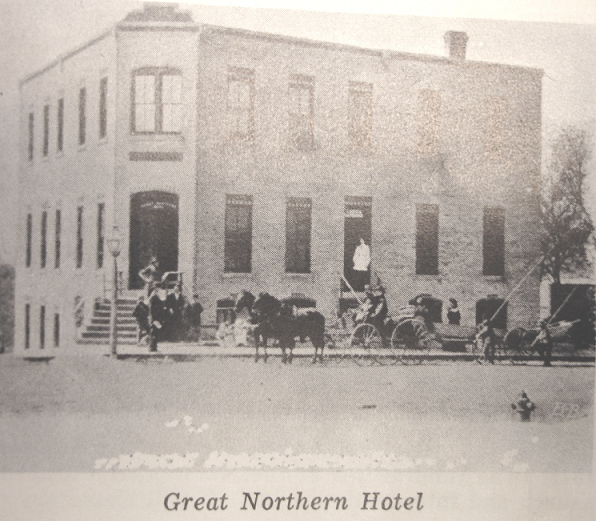 Great Northern Hotel in New London, MN, c1900.
Photograph courtesy of Dr. Robert Johnson, greatgrandson of Anna and Nels Quam.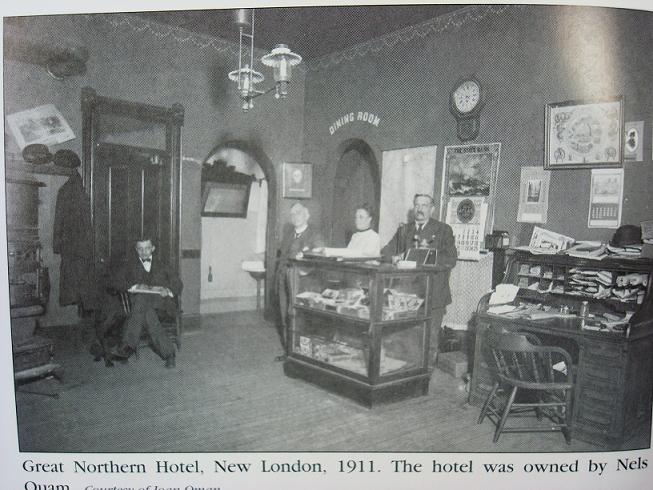 Lobby of the Great Northern Hotel in New London, MN, 1911.
Nels and Anna Quam are behind the counter.
Photograph courtesy of Dr. Robert Johnson, greatgrandson of Anna and Nels Quam.
This photo is also in The History of New London, 1865-1990.


Anna and Nels had six children; a daughter died in infancy. They also raised a niece, Sophie Quam, daughter of Sophia Mankell (sister of Anna) and John Quam (postmaster in Jericho; brother of Nels). Sophia died in childbirth. It was not uncommon at the time for a motherless child to be raised by relatives.
Andrew Neptune (1880-1936)
John William
Edward Lawrence (1883-1974)
Estella Amanda m. Hans Johnson
Oscar Arnold (1887-1969)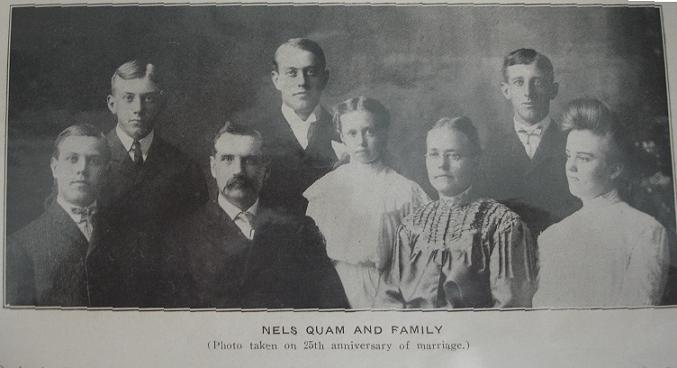 Anna and Nels Quam on their 25th wedding anniversary, 1904.
Children: Oscar, John William, Andrew, Edward, and Estelle. The young girl in the middle is niece Sophie Quam, who Anna and Nels raised after the death in childbirth of Sophie's mother, Sophia Mankell Quam (see entry below).
Photograph courtesy of Dr. Robert Johnson, greatgrandson of Anna and Nels Quam.

Nels owned a general merchandise store until 1916. Son Andrew was a business partner with his uncle,
Otto Mankell
. In 1912, with Anna's health failing from cancer, they sold the hotel. Anna died in 1914 and is buried at Oak Hill Cemetery, New London MN. Nels later had a business creating cement products. He remarried (Vendla Ohberg) in 1916 and died in 1937; buried at Crystal Lake Cemetery, Minneapolis MN.
Nels Quam's parents, Johannes and Anna Thompson Quam (Kvam) were born in Norway and married in 1852. They immigrated to the United States in 1854, arriving first in Quebec Canada and then traveled to Koshkonong, Wisconsin. In 1856 the family moved to Havanna, Steele County MN where the family had a pre-emption claim; Nels was born in February,1859. In about 1878 the family sold the farm and moved to Kandiyohi County--to the east side of Swenson Lake (southwest of the Mankell homestead). Johannes and Anna had eleven children, (several children died young):
Metta, 1852-1859
Lewis, 1857-
Nels, 1859-1937; married Anna Mankell
Anne, 1863-
Wilda, 1862-1946; married Gabriel Stene
Matta, 1867-
John, 1869- ; married Sophia Mankell (sister of Nels' wife, Anna); Postmaster in Jericho, 1893-1897; Mayor of New London, MN 1904-1905. (More information about Sophia is listed below.)
Nels had an interest in politics. He served as a State Representative for Kandiyohi County in the Minnesota House, 1889-1890. He also served in various township offices, was a school board member, and was mayor of New London (1899-1904, 1906-1907, 1911-1912). He organized the Farmer's Insurance Company and was President of the Farmers Alliance.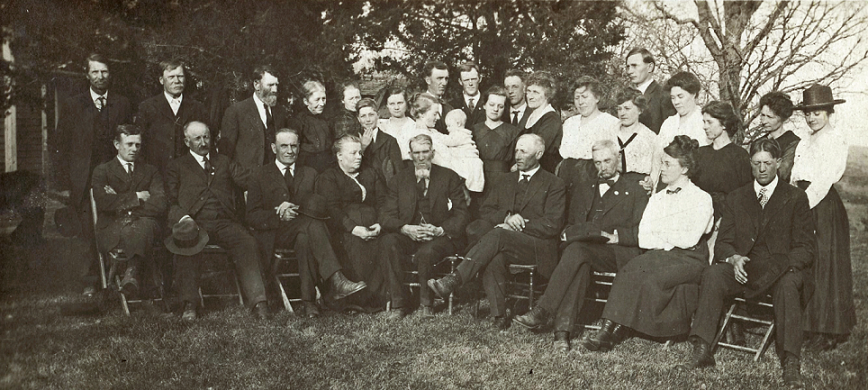 Quam, Johnson, Swenson and Stene families, c1924. Some people have been identified:

Standing (very back): Three men are (possibly) Henry, Swen and George Swenson.
Very tall man is Dr. Hans Johnson (husband of Estelle Quam)
Standing: Gunder Swenson and Gemine Swenson (3rd and 4th from left),
Anna Swenson Quale (3rd from right),
Clara Swenson Berg (2nd from right), Ruby Swenson (far right).
Seated: Nels Quam (3rd from left), Gabriel Stene (3rd from right)
Estelle Quam Johnson (2nd from right).

Photograph courtesy of Dr. Robert Johnson, great-grandson of Anna and Nels Quam.

Estelle (who went by Stella or Estella) Quam
Estelle married Dr. Hans Johnson, a family physician who had his office in Kerkhoven MN, 25 miles west of New London. Hans' grandson Dr. Robert Johnson, writes that Estelle was a lover of music, nature, and poetry. Hans was a long term president of Kerkhoven School system, mayor on several occasions, an amazing bridge player, and a student of history. Hans and Estelle were friends of Edna and Alvin Halvorson and spent time together at the Halvorson farm and Games Lake cottage. (Estelle and Edna were cousins, too) Estelle and Hans had 5 children
Clinton Hans
Lester Arnold
Dagmar
John Woodrow
Gordon Stewart
Clinton became a civil engineer and worked for Ford and Chevrolet, playing a key role in the design of the Chevy Bel Air automobile. Lester studied law and the University of Minnesota and was the County Attorney for Swift County MN for many years. Dagmar was a teacher with progressive views who lived her life in California, Oregon and Hawaii and worked for the CEO of Kaiser Health Care in California. John Woodrow was a doctor specializing in internal medicine and clinical medicine. Gordon, the youngest in the family, was an outdoors person. He served as a Medic with the US Army in Germany, serving with the Timberwolves of the 124th Infantry Division. He was killed in Dueren Germany, near the end of the war.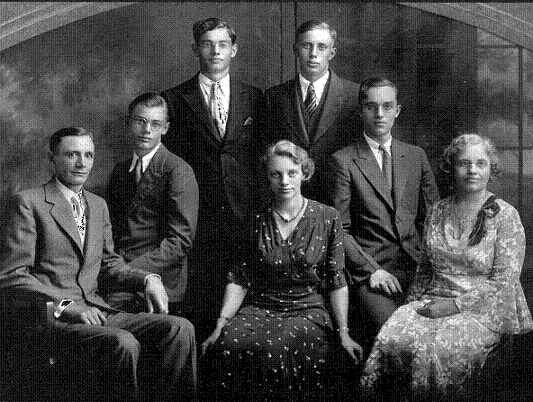 The Hans Johnson Family, c1931
From left to right: Dr. Hans Johnson, Gordon, John W, Dagmar, Clinton, Lester, and Estelle.
Photograph courtesy of Dr. Robert Johnson, greatgrandson of Anna and Nels Quam.

Oscar Quam, Minnesota craftsman of duck calls and duck decoys:
Oscar Quam was well known for crafting wooden duck decoys and duck calls. An excerpt from "Duck Calls: Yesterday and Today" written by Jerry Thoms. (From Dakota Outdoors, August 2003) notes the work of Oscar Quam. In this article, Thoms cites a book called Minnesota Duck Calls, written by Doug Lodermeier, which has a section devoted to Oscar Quam.
In Minnesota Duck Calls, Lodermeier, a life-long waterfowler and collector of all things having to do with hunting ducks and geese, records the past and present status of waterfowl call-making craftsmen in the state. The results of his three year long full-time research are amazing stories of Minnesota craftsmen who handmade thousands of call some of which have achieved world-wide distribution and international fame.

Other call craftsmen from the past and present may not have had great commercial success or immediate recognition for the significance of their products, but, none the less, they have made interesting and important contributions to the development and tradition of call making in the state.

Among the more easily recognized and readily available waterfowl calls reported on in Minnesota Duck Calls are those by Oscar Quam. "Calls by Quam were probably the most widely to be owned by the average waterfowl hunter because Quam made lots of these products and sold them for a reasonable price," Lodermeier point out. "He never charged more than "2.50 to $3.50 for his calls and asked only $15 for the fancy inlaid ones. And he made thousands of calls." "The commercial success of Quam calls was greatly increased in the early 40ís. Montgomery Ward ordered 10,000 of his $3.50 calls. That, along with teaching duck calling techniques on a variety of radio shows for many years, helped to establish Quams' international reputations," Lodermeier adds. Called the "professor of duckology," Quam also wrote about duck calling and hunting for a variety of outdoor magazines.

"A Quam call is fairly easy for the novice call collector to find, not just in Minnesota but nearly anywhere in the country," Lodermeier points out. "Though his calls are fairly common their value has appreciated especially the early ones and some of the few fancier type. Expect to pay $15.00 to $25.00 to a dealer for an ordinary Quam call in good condition and a lot more for a rare old one in nice shape.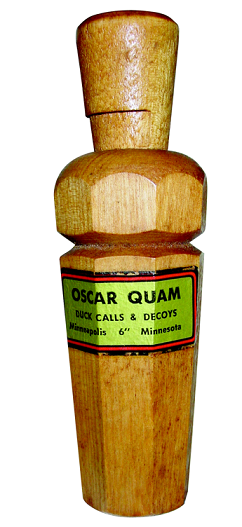 Oscar Quam's duck call, made from birch wood, is designed in Reelfoot style.
Source: Doug Lodermeier. Minnesota Duck Calls
Here is an MP3 file of Oscar demonstrating various Duck Calls of the Mallard Duck: Greeting Call, Come Back, Lazy Hen, Lonesome Hen, Chatter and Chuckle. Quam then demonstrates the calls of the Bluebill, Redhead, and Canvasback ducks. A web page about the Lodermeier book has a photograph of one of Oscar's wooden duck calls.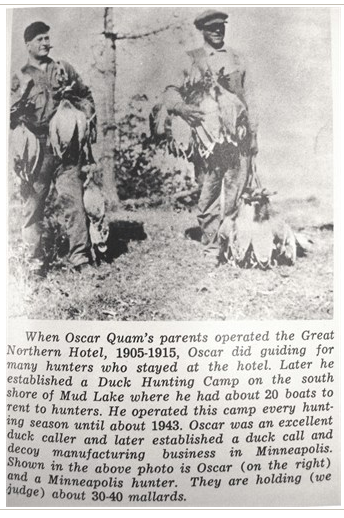 Article (probably from the Willmar Tribune) with Oscar Quam who operated a duck hunting camp.
Oscar is on the right.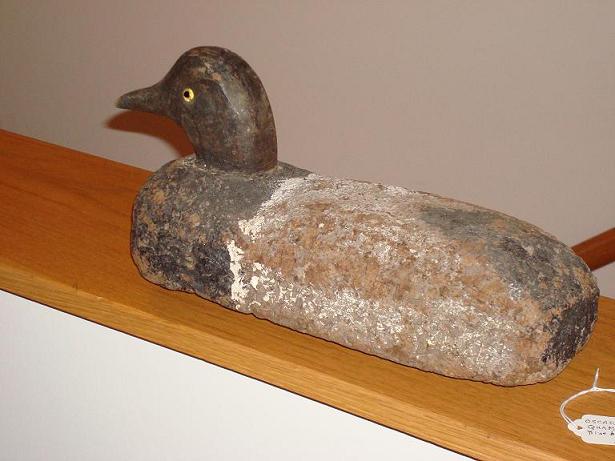 Oscar Quam's Bluebill duck decoy
---