Mankell Family History
Children of August and Bastina (Hjelle) Christopherson
August and Bastina (Hjelle) Christopherson lived on the Christopherson homestead in Arctander Township and had 7 children, all born on the Christopherson homestead. This web page highlights the siblings of Cora.
Otto (1890-1971), married Ella Negaard; 2 children
Anphia (1892-1974), married Elmer Myhre; 4 children
Julius (1894-1953)
Edward (Eddie) (1897-1984), married Olive; 6 children
Ellen (1899-1972), married Herman Landquist
Millie (1891-1994), married Eugene Bergan
Cornelia (Cora) (1903-1963), married Herman Mankell; 7 children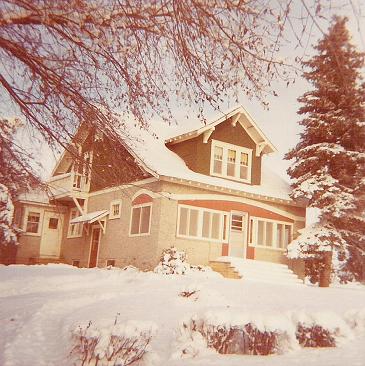 Christopherson homestead, c1970. Second (and current) house on the farm, built in 1927.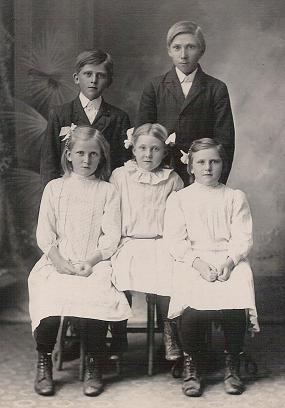 5 of 7 Christopherson siblings, c1910
Back row: Eddie, Julius
Front row: Ellen, Cora, Millie
Missing are the oldest siblings, Otto and Anphia


Four Christopherson sisters, c1920
Anphia, Ellen, Millie with Cora in front.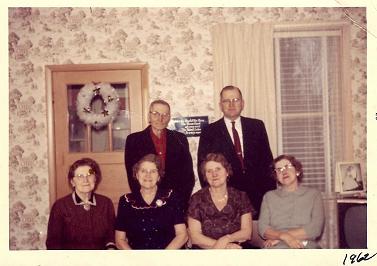 Back row: Otto Christopherson, Eddie Christopherson
Front row: Millie Bergan, Anphia Myrhe, Cora Mankell, Ellen Landquist, 1962
Missing is Julius Christopherson who died in 1953.


---
Otto Christopherson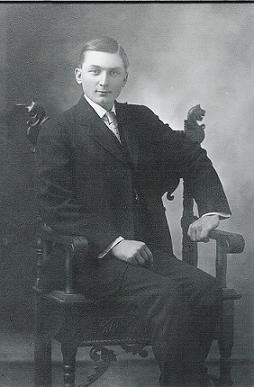 Otto Christopherson, c1910


Eldest child of August and Bastina, Otto Christopherson was born in 1890 at the family homestead in Arctander Township, Section 26. He lived on and farmed the homestead following in the footsteps of his parents and grandparents. Lars and Anna acquired the 160 acre homestead in 1869 from the US Government and railroad. In 1898 the farm was passed on to son August Christopherson who farmed until his death in 1906. Then possession went to August's widow, Bastina. She maintained possession until 1940 when son Otto took ownership. Otto's son Alloys became the owner of the farm following Otto's death in 1971 and has continued farming and raising hogs. In 1976 when the State of Minnesota was identifying century farms, the Christopherson farm, along with many other farms in the state became designated as a Century Farm. For a list of other century farms in Kandiyohi County and Minnesota and the Century Farm Application completed by Alloys, see the Minnesota Farm Bureau web site.
Otto married Ella Negaard and they had two children, Ione and Alloys. Ione died in 1969 at the age of 32 due to complications from diabetes and heart problems. Ione and her parents are buried at First Lutheran Church of Norway Lake.
Alloys and his wife Diane (Dahl) maintain the homestead and own farm fields within the area, including the property adjacent to and west of the Mankell homestead. For about 30 years Alloys has been involved in the business and politics of agriculture with his leadership roles in Farm Bureau. He served on the State Board of Directors and 10 years as Vice -President. In 2005 he completed 17 years as the President of Minnesota's
Farm Bureau
. In 2005 Carolyn Lange Hatlestad wrote an
article in the West Central Tribune
about Alloys' 30 years with the Farm Bureau.
---
Anphia Christopherson Myhre
Anphia was born at the Christopherson homestead, Arctander Township, in 1892. She married Elmer Myrhe (son of Norwegian immigrants) in 1917. Elmer and Anphia lived on a farm in western Arctander Township where they raised 4 children: Gloria, Arling, Lorraine, and Doris. Gloria married Leonard Halvorson. Lorraine married Verne Broberg. Doris married LeRoy Broberg. Anphia is remembered as a wonderful cook.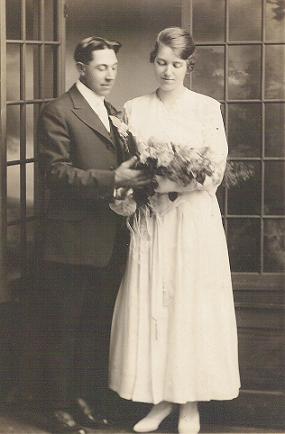 Wedding of Anphia Christopherson and Elmer Myhre, 1917


Myhre family in 1938.
Back row: Arling, Doris, Gloria
Front row: Elmer, Lorraine, Anphia


---
Julius Christopherson
The Willmar Tribune (issues from 1912-1919) has information about son Julius Clifton Christopherson. He attended the Willmar Seminary in 1912 and 1913. Then in 1917, with the United States entering World War I (The Great War), Kandiyohi County had to meet a quota of 120 men in the "first call" to service. Julius was drafted and he claimed an exemption for "religious scruples." Those who claimed exemption had 10 days to provide affidavits supporting their claim and which the draft board would review. Julius' petition failed and by September a group of draftees including Julius, were on their way to Camp Dodge near Des Moines IA for training. Julius served overseas for 18 months, in the Allied Expeditionary Forces (AEF), stationed in France. After the war lived in Minneapolis for 30 years and worked at a golf course. Marjorie Larimer remembers fondly that Julius would visit the Mankell farm twice a year, bringing candies, nuts and other goodies for her and her siblings. Julius was 57 when he died from a heart attack in 1953; the veteran was buried at Fort Snelling National Cemetery, Minneapolis MN.
---
Edward Christopherson
Eddie was born on the Christopherson homestead. He and his wife Olive lived in Syracuse NY with their children (Edward Jr., Vernon, Warren, Gus, Doris). Later Eddie and Olive moved to Florida and lived close to his sister Millie Bergan in Pinellas Park (near St. Petersburg on the gulf coast).
Eddie's grandson Eric writes that when Eddie was a boy on the farm he had an accident when he chopped part of a finger with an axe. Bastina sewed his finger back together with a needle and thread. Eddie was a well-respected carpenter in the Syracuse, New York, area and enjoyed traveling to the Holy Land and Rome.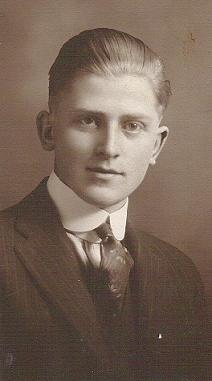 Eddie Christopherson, c1915
Eddie and Olive Christopherson, with children, c1940.
Back row: Gus (August), Vernon, Edward Jr., Warren
Front row: Eddie, Doris, and Olive
Thanks to Dorothy Christopherson for the photograph.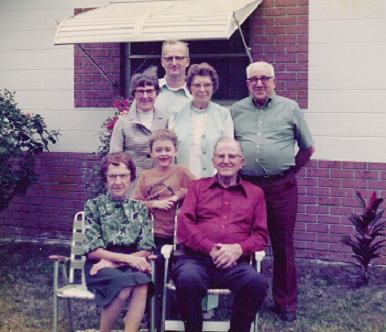 Eddie and Olive Christopherson with family
Christmas Day, 1975 in Pinellas Park, Florida
Seated: Olive and Eddie, with grandson Hans
Standing: Gloria Halvorson (daughter of Anphia and Elmer Myhre), Eddie and Olive's son Gus (August), Millie Bergan, Leonard Halvorson


---
Ellen Christopherson Landquist
Ellen taught school for a few years, prior to her marriage to Herman Landquist who was in the banking business in Minneapolis. Herman (a grandson of HW and Elizabeth Mankell) would come to the Mankell farm in the fall and hunt with Herman Mankell, often for pheasant and ducks. They would hunt on the farm property and at nearby lakes.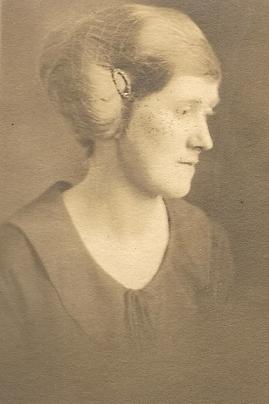 Ellen Christopherson, c1920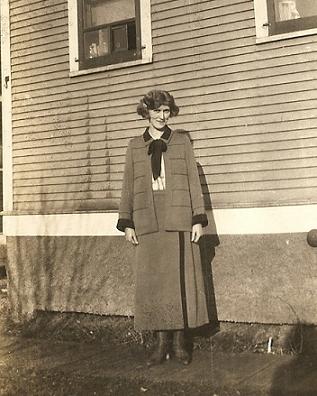 Ellen Christopherson, c1920


Ellen and her sister Millie Bergan owned a cabin on the north shore of Norway Lake. This cabin and property was originally owned by their uncle, Otto Mankell. In the late 1960s Sherman and Bette Mankell moved a house onto the property next Mille and Ellen's cabin.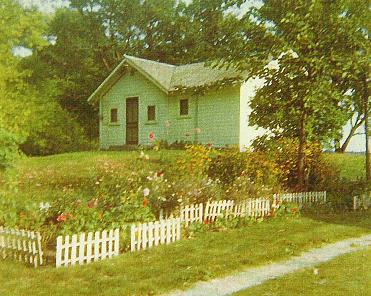 Cabin on Norway Lake, 1967.


---
Millie Christopherson Bergan
Millie was an elementary school teacher, primarily of first grade, in the Minneapolis area schools. She married Eugene Bergan, a dentist in Minneapolis. He died young, in 1943, leaving Millie a young widow. Millie and Eugene Bergan are buried at Lakewood Cemetery, Minneapolis, MN.
Here is a story about Millie, written by her niece Marlys Schilz in 1994.
My Aunt Millie died today. Among a myriad of thoughts, I think repeatedly, "She had a lot of class." She didn't live "classy" by society's standards. She didn't strive to have class. She didn't have to; she just had it.

Millie was an attractive woman with reddish-brown hair that never grayed. She was a widow most of her adult years. She was married for 10 years to a dentist. He died suddenly one day in his office. Millie never re-married, although there were opportunities for her to as least be receptive to the idea. She told me of an insurance salesman who she described as being more interested in her than in selling insurance.

Aunt Millie was a primary school teacher for about 40 years. She taught in rural schools, suburbs, and the city. Being a perennial student herself, she had an active retirement. She was interested in the world and traveling near and far.

Since she had no children of her own, Millie was attentive to several nieces and nephews, of which I am one. At family gatherings now, we laugh and share Millie stories. She had a lot of interesting characteristics, some of which drove us a little nuts. Patience was not a virtue with Millie. It was embarrassing to march...yes, march...out of a restaurant when the service wasn't prompt. Riding with her in her car one day, she inquired at a gas station about a tire sale. The polite young attendant said, "Just a minute, I'll go check with my manager." After a few seconds, we sped off fishtailing down the highway. She was mumbling about "not waiting around" and I felt myself slide down into the seat.

Millie's patience must have been frequently tested because she was always prompt. In fact, she was more than prompt, she was early. My brother Doug says that he and his wife DeAnn went with Millie to church one Sunday morning. They arrived early, needless to say. So early that the janitor hadn't opened the church. In her impatience, Millie was probably unaware of a persistent humming sound from her voice. Like I said, she could drive everyone a little nuts.

One could say that Millie's lifestyle was conservative and thrifty. She recycled nearly everything before it became popular to do so. I think of her when I clean out a mayonnaise or peanut butter jar. Without water, she could get that jar so clean, you could see through it. My brother Sherman tells how she used pliers to get all of the toothpaste out of the tube. My sister Marjorie tells how tiresome it was to go with her while she drove around paying her bills. Besides, her cars never had radios.

Although conservative, Millie was never stingy. She was never a free-loader looking for a deal at the expense of others. She was always generous when other people were involved. Being practical, she had what she needed and needed what she had...nothing more and nothing less. She recognized this in herself. She told me that she enjoyed begin generous with others more than herself. She was not self-absorbed.

When I read these lines from "A Cup of Christmas Tea" by Tom Hegg, I am reminded of Millie:


She was still passionately
interested in everything I did.
She was positive. Encouraging.
Like when I was a kid.

Millie had a long life, well lived. She survived her husband, all six of her brothers and sisters, and a legion of friends. Maybe if the rest of us lived more by her example, our planet would be in better shape, our nation would not be in debt, people would be generous with each other, and no one should be kept waiting. She had a lot of class.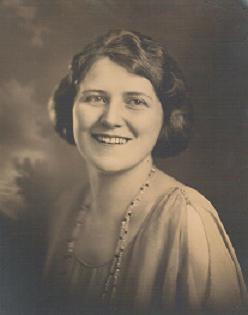 Millie Christopherson, c1919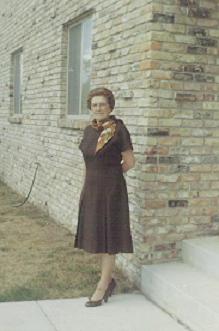 Millie Bergan at her apartment in Minneapolis, c1970.
---
Cornelia (Cora) Christopherson Mankell
My grandparents Cora and Herman Mankell have a separate web page.
---