The Homestead Act of 1862, enacted during the Civil War, allowed any adult citizen, or intended citizen, who had never borne arms against the U.S. government to claim 160 acres of surveyed land from the federal government. Claimants were required to live at the homestead, build a home, and cultivate the land. After 5 years at the homestead, the original filer received a certificate of ownership for only a registration fee.

The National Archives in Washington DC has files documenting the homestead claims, including that of Lars Christopherson, though he spelled his name Lars Kristofferson on these documents. Here are the documents relating the original homestead of 80 acres. Lars' Application for Citizenship and his Certificate of Citizenship are included with the other documents because Lars had to be a US citizen to receive the homestead.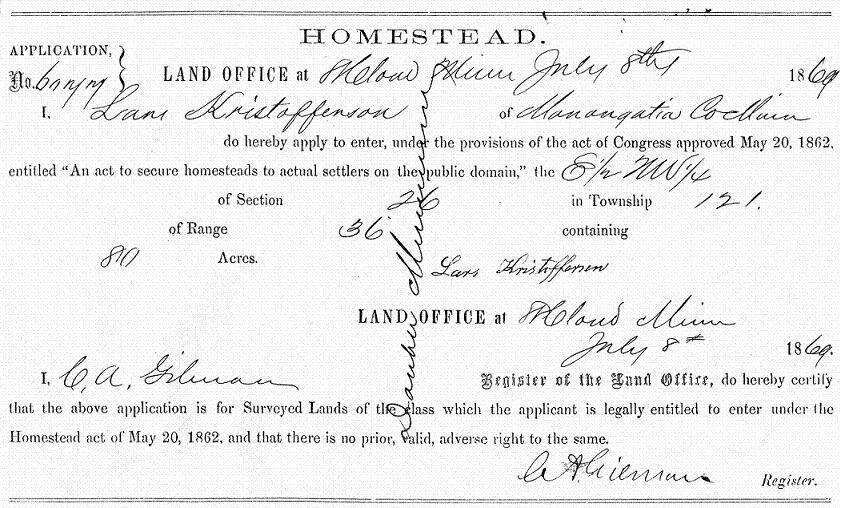 Original Application filed with the St. Cloud Land Office on July 8, 1869. Note that he was living in Monongalia County which existed until it merged in 1870 with Kandiyohi County to the south.


---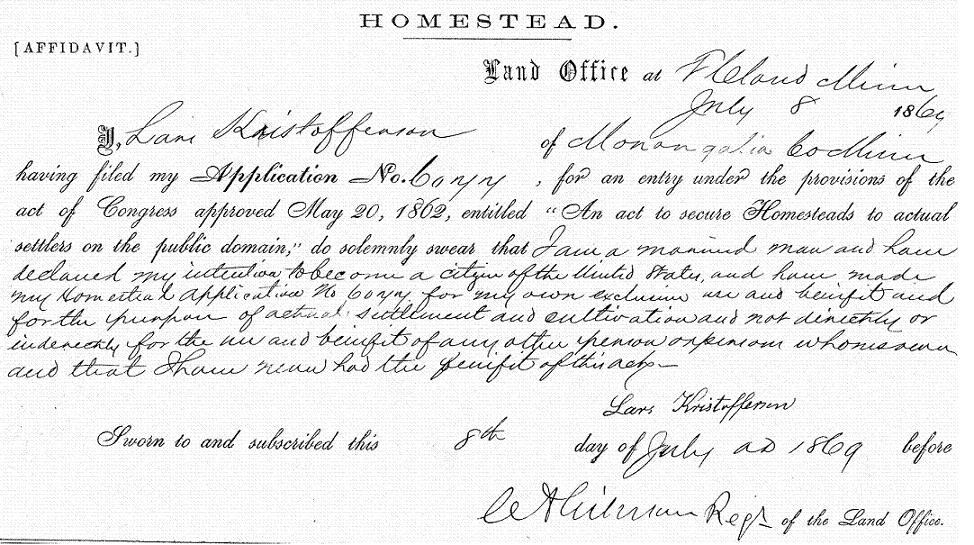 This is Lars' Affidavit, also dated July 8, 1869.


"...do solemnly swear that I am a married man and have declared my intention to become a citizen of the United States and have made my Homestead Application No. 6077 for my own exclusive use and benefit and for the purpose of actual settlement and cultivation and not directly or indirectly for the use and benefit of any other person or person whomsoever and that I have never had the benefit of this act."
---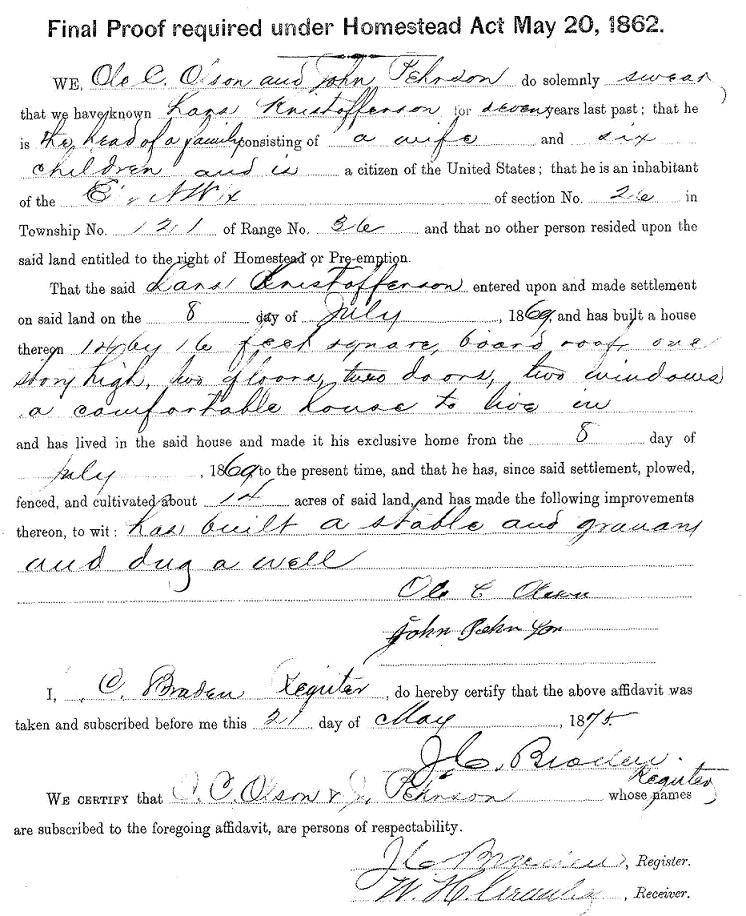 Final Proof, dated May 2, 1875, which was a sworn statement from two witnesses that they knew Lars Kristofferson and that he improved the homestead land.


"We, Ole C Olson and John Pehrson do solemnly swear that we have known Lars Kristofferson for seven years last past; that he is the head of a family consisting of a wife and six children and is a citizen of the United States; that he is an inhabitant of the E 1/2 NW 1/4 of section No. 26 in Township No. 121 of Range No. 36 and that no other person resided upon the said land entitled to the right of Homestead or Pre-emption.
That the said Lars Kristofferson entered upon and made settlement on said land on the 8 day of July, 1869, and has built a house thereon 12 x 16 feet square, board roof, one story high, two floors, two doors, two windows and a comfortable house to live in and has lived in the said house and made it his exclusive home from the 8 day of July, 1869, to the present time, and that he has since said settlement, plowed, fenced, and cultivated about 14 acres of said land, and has made the following improvements thereon, to wit: has built a stable and granary and dug a well..."
---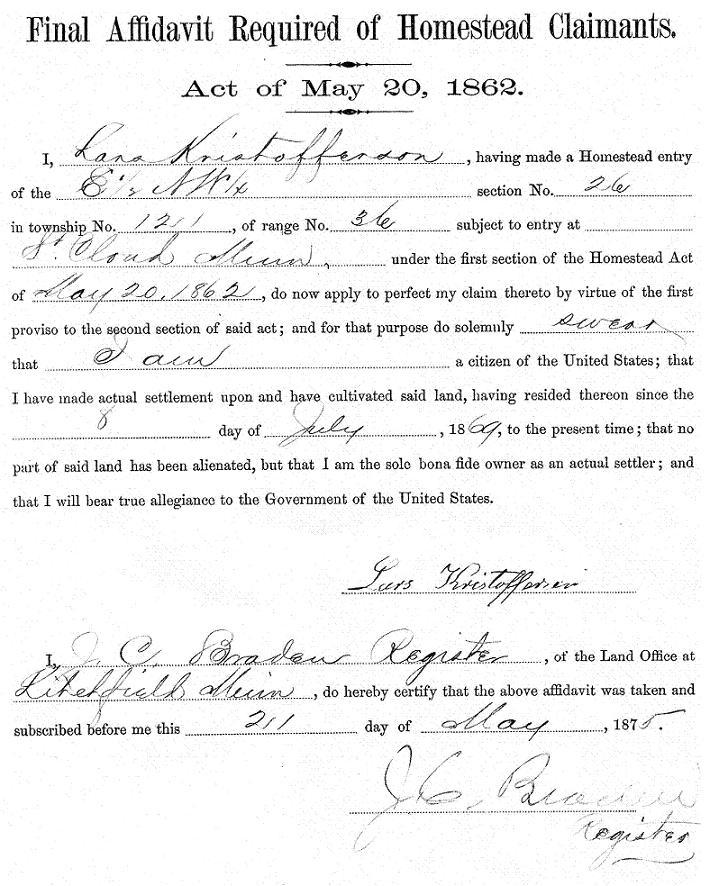 Final Affidavit from Lars Kristofferson, May 21, 1875.


---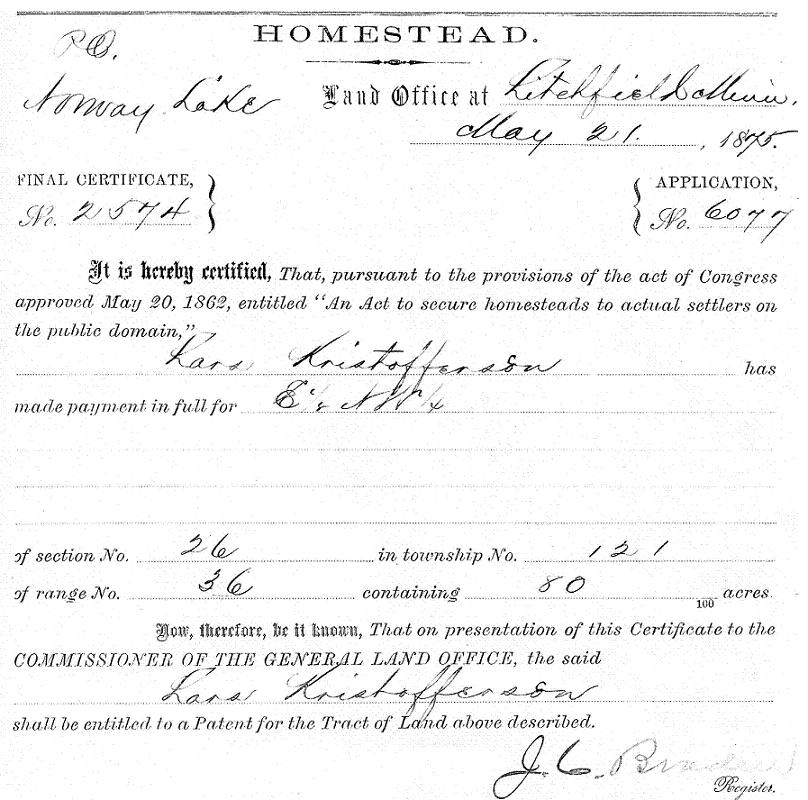 Final Certificate, dated May 21, 1875, giving Lars Kristofferson a "Patent for the Tract of Land."


---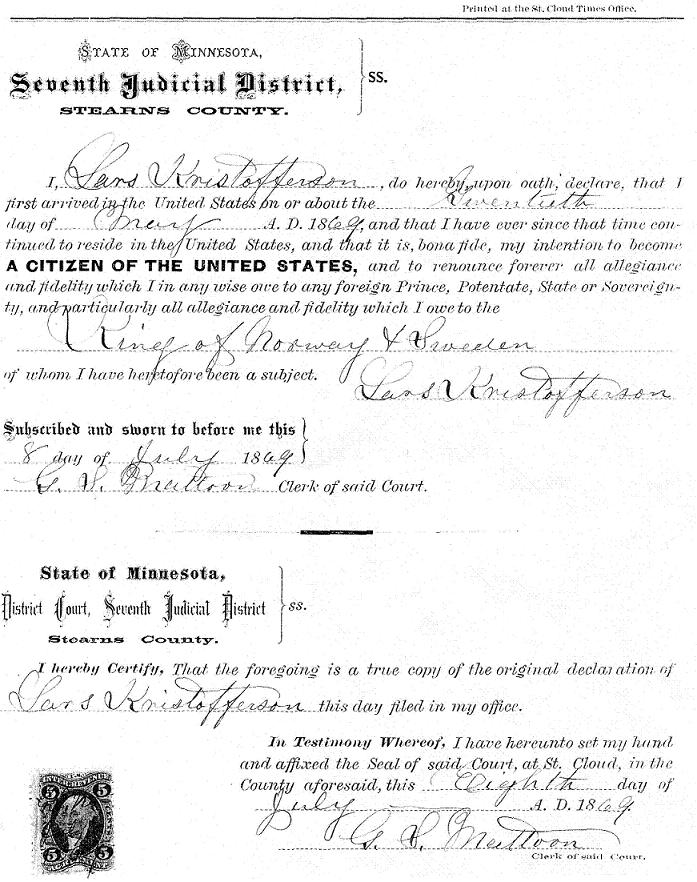 Lars Kristofferson's application for citizenship, dated July 8, 1969, where he is "to renounce forever... all allegiance and fidelity which I owe to the King of Norway and Sweden..."


---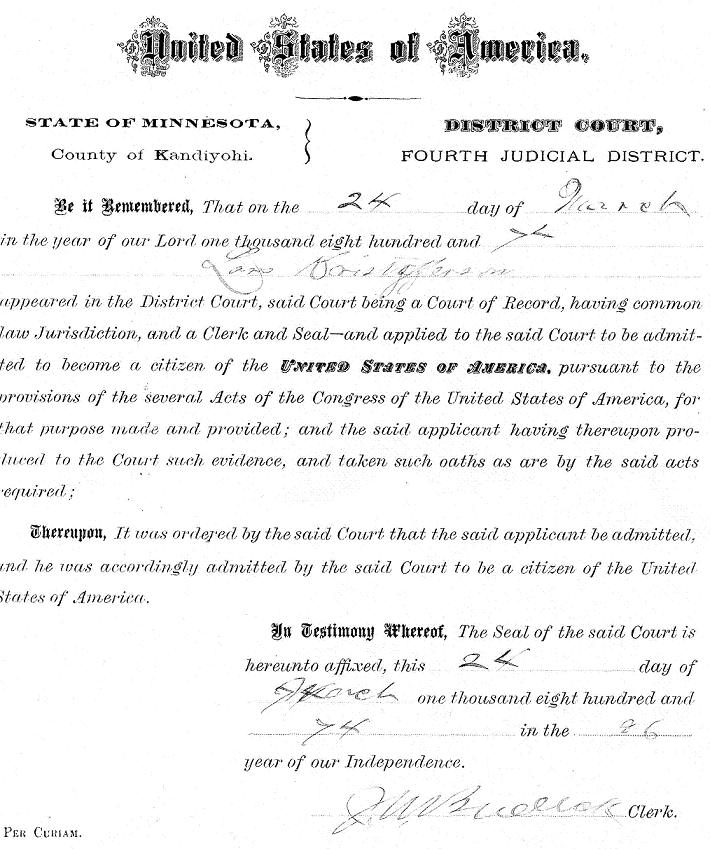 On March 24, 1874 Lars Kristofferson became a citizen of the United States.


---