Mankell Family History
Maps of ancestral homes in Norway


OSCAR MANKELL (1868-1936)
and MINNIE SWENSON MANKELL (1875-1959)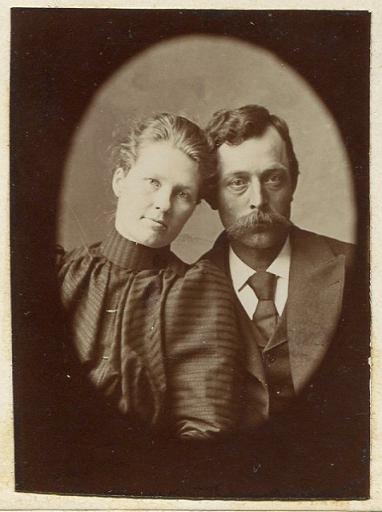 Oscar and Minnie (Swenson) Mankell, c1925.
Oscar (also spelled Oskar) was born on May 26, 1868, and was the sixth child born to homesteaders HW and Elizabeth Mankell.
While his four oldest sisters were born in Northfield MN and older sister Hulda was born in St. Cloud MN, Oscar and his younger siblings were born on the
homestead
in Lake Andrew Township, Kandiyohi County MN. As a boy he lived on the farm; at the age of 12 he and his family moved to Willmar for the purpose of educating their children. The 1880 US census registers the family in Willmar. Oscar was a student at Willmar Seminary which opened in 1883 on the north side of Willmar, overlooking Foot Lake. Oscar, who studied business, was probably one of the first students at the school.
After several years in Willmar, the family returned to the farm. The Minnesota State census of 1885 registers the family as living back on the farm. Oscar's father H. W. Mankell died in 1889 and in 1896 HW's real estate was transferred from his heirs to Oscar. These transfers included 200 acres of the homestead in Section 20 and other acreage in section 17 of Lake Andrew Township. In the same year he sold property in Willmar: several lots in Block 4 in the Thorpe and Lien's Addition. The corner of 9th Street and Olaf Ave is probably the location where the family lived from 1880 to 1885; the Willmar Seminary, where Oscar attended, was about a block to the east.
In February 1895, only a few months before his marriage to Minnie, Oscar was in Minneapolis (916 14th Ave S.) for a few weeks. He wrote a letter to his "Dearest Minnie" who was living in Willmar MN at the home of "Miss Anna Carlin", working as a dressmaker. He asked for her to write and visit soon. In his letter, Oscar made reference to family--siblings Hulda and Esther, and Minnie's Aunt Tomina. The Norway Lake column in the local newspaper noted that he was in Minneapolis visiting relatives for 2 weeks. However, in his letter he made reference to a store, so it's possible he was working in Minneapolis for a time.
Minneapolis, Minn.
February 21, 1895

Dearest Minnie,
You must excuse me dear for not writing you before but have been so taken up down here that I have not taken time. I have enjoyed myself better than I had expected since it has been such nice weather all the time. Elmer R. [Railson?] was with me down but went home on Monday. I had expected to go home on Friday eve so as to get home on Sat. but they are teasing me to stay over Sun. and pray do so. Was to St. Paul Thursday and returned yesterday.

Was in to see your Aunt Tomina but she had not arrived at the store I guess for it was quite early as I wanted to be back here in time to be at the great "Hayward trial" but didn't come in time anyway as there were many hundred people that could not be admitted. Have been there one day with Oliver H. [Oliver Halvorson who ran the General Store in Jericho?] Elmer Reese went to the sheriff and got a pass for us as they will not admit you without having one. Will try and have him get a pass for me this afternoon. [Harry T. Hayward, "the Minneapolis Svengali," was hanged in December 1895 for the contract killing of dressmaker Kitty Ging.]

Dear Minnie, how I wish you would be down here so I could take you to some entertainments. I am all alone here and don't feel like going anywhere as Esther works so far from here that she has only been here once since she came down but will come tonight and we are going to the Swedish Tabernacle as I have never been there before.

Should also like to go to the "Salvation Army Hall" one evening but can't go alone or rather don't like to go alone. I just wish you were working down here Dear so I could go and see you every eve. Then it wouldn't be so lonesome down here and would be liable to stay longer too.

The mail carrier just came now and had a letter from Hulda. She is very anxious to have me come that way before I go home. This is the third letter she has written since I came down here but have said I haven't twenty dollars to pay out in RR fare. So she says now that she will see to that, but I am not going now anyway since I can't stay away from home so long. She says if I don't come now I will never come and that may be so too. Am going up to see Otto Monson this afternoon and tomorrow I intend to take my photo as I never took one before.

Now "dear Minnie" I want you to send me a letter before I go home, address to 915 14th Ave S. Suppose Miss S has found an other partner for tomorrow eve since I couldn't promise for sure to come. Too bad that I shall miss such 'en gylden auledning" [a golden opportunity].

Must close my lettter with a half a Doz. kisses to my Dear little Dressmaker at Willmar. Be sure to mail you letter before Sun. Eve. Ever Yours, Oscar.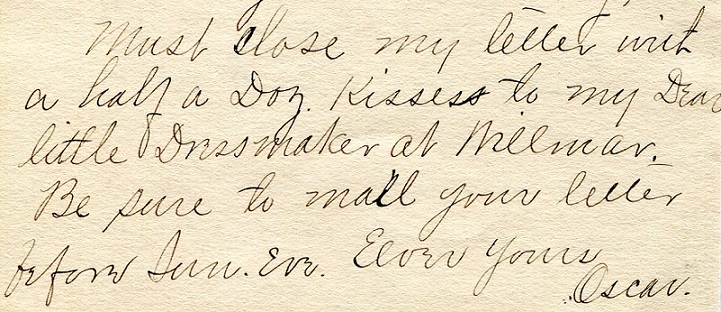 Closing paragraph of Oscar's 1895 letter to Minnie Swenson.
"Must close my letter with a half dozen kisses to my Dear little Dressmaker at Willmar.
Be sure to mail your letter before Sun. Eve. Ever Yours, Oscar,"

Oscar married Minnie Swenson on June 29, 1895 at the Nannestad Lutheran Church (Haugean) west of Jericho with the reception at her parents' home on Lake Mary. From the "Arctander Atoms" column in the Willmar Tribune, July 9, 1895:
Miss Minnie Swenson, one of our brightest and high esteemed young ladies, was married to Mr. Oscar A. Mankel, a young respected farmer of Lake Andrew, on Saturday, June 29th, at the Hauge's church in this town, by Rev. B. Reitan. After the ceremony the guests, consisting of 30 or 40 well filled rigs, proceeded to the home of the bride's parents, Mr. and Mrs. Gunder Swenson, where an elegant dinner was served. The afternoon was very pleasantly spent with songs by the choir and music by the Norway Lake band. Also some excellent solos by the great violinist, Prof. E. Aakhus [Eivind Aakhus], who happened to be present. Speeches were made by Rev. B Reitan and Mr. Landal. Many and costly were the presents received by the young couple. After a bountiful supper had been served the crowd, with many well-wishes to Mr. and Mrs. Oscar Mankel, left for their several homes feeling that they had spent a day long to be remembered.
Minnie was the oldest daughter of Gunder and Gemine Swenson. Widow Elizabeth Mankell and her two youngest children, Otto and Esther on the farm with Oscar, Minnie and their growing family. Esther kept diaries during the early 1890s, where she reflects on farm life, the weather, music lessons, her work as a housekeeper, her courtship with Gustav Erickson (later Gustave Erixon) from Irving Township in the same county. She remembers the time when Minnie gave birth to her second child, Edna--January 21-25, 1898. Esther lived on the farm before her 1899 marriage, though she also lived in Willmar whenever she sewed and cleaned for clients. Elizabeth died in 1914.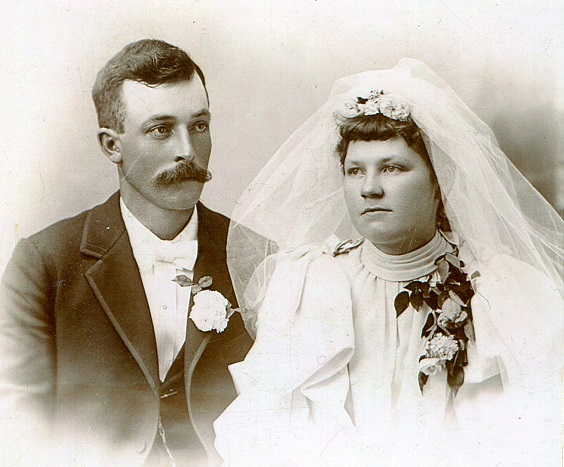 Wedding Picture of Oscar and Minnie (Swenson) Mankell
June 29, 1895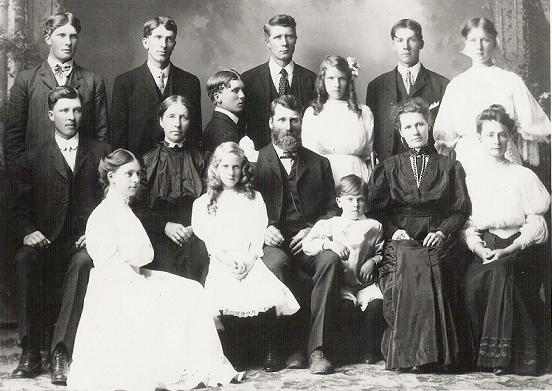 Gunder and Gemine Swenson Family, June 29, 1906
Back Row: Otto, Henry, Gerhard, Swen, Lydia, Melvin, Mabel
Front Row: George, Anna, Gemine, Helen, Gunder, William, Minnie, Clara

---
Oscar and his family had three children lived on the farm until 1929:
Herman (1896-1985) m. Cora Christopherson
Edna (1898-1987) m. Alvin Halvorson
Alice (1903-1991) m. George Alvig
Oscar worked in the banking and insurance fields in New London. In 1902 he was named director of the Arctander and Lake Andrew Insurance company and in 1926 he was named president, a position he held until his death. Oscar was a director of the Farmers State Bank on New London and a director of the New London Co-operative Creamery. In the summer of 1912 Oscar purchased a new Maxwell touring car.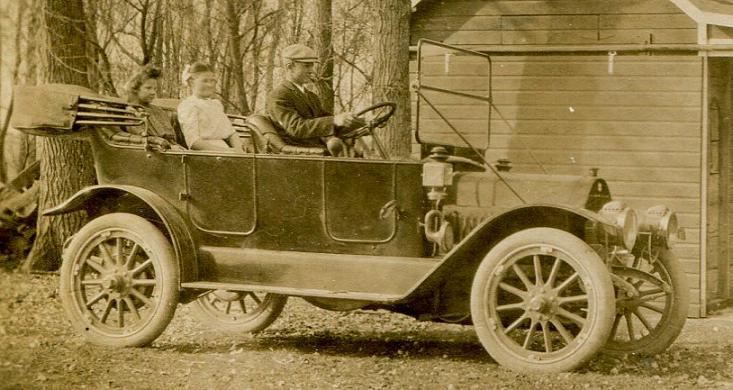 Maxwell Touring Car, 1912 with Oscar and Minnie's children in the vehicle:
Herman, in front; Alice and Edna in backseat.
Even though Oscar had a career separate from the farm, he maintained the farm, its animals, and equipment. Oscar hired the services of his brother-in-law, Swen Swenson, who was a blacksmith in Jericho, only 2 miles west of the Mankell farm. Here is a ledger entry made by Swen regarding his customer, "Oskar Mankel". Work included "wire stretcher fixed" "8 new shoes put on" (referring to horse shoes), and "buggy fixing". Oscar paid in cash. Date of this ledger is the early 1900s. (These are pdf files, so increase the size of the page to about 125% to read clearly.)
In 1929 Oscar and Minnie moved from the farm to Willmar and lived at 910 W. Litchfield Avenue. The 1930 census states that Oscar rented his home for $40 per month. (They owned the home at a later date.) Oscar and Minnie moved to Willmar because Oscar was named Register of Deeds by the Kandiyohi County commissioners; he completed the unexpired term of his predecessor. After completing the term he did not seek election to another term. Here is an excerpt about his appointment from the Willmar Weekly Tribune (November 6, 1929):
A special meeting of the board of county commissioners was held Monday afternoon at the court house to appoint a Register of Deeds because of the vacancy caused by the death of August Lundquist....Several applications were in for this position but after a short deliberation Mr. Oscar Mankell of Lake Andrew township was appointed. Mr Mankell assumed his new duties at the court house this morning.

Oscar Mankell has been a life long resident of this county, having been born in Lake Andrew Township. He has held a number of offices in that township and at the present time is chairman of the town board and has held several other township offices. He has also been treasurer of school district No. 25 and at the present time is president of the Arctander and Lake Andrew Fire Insurance Co....Mr. Mankell is 61 years old, married and has three children. For the present his family will remain on the farm home but may move to Willmar at a later date.

The new register of deeds is a son of Herman Wilhelm Mankell, a native of Stockholm, Sweden, who arrived to this county in 1865 and shortly thereafter located the homestead claim in the Norway Lake community which has been the home of son Oscar since the death of his father in 1889. The father was very active in the organization and development of the early community.
Daughter Edna lived with them for a while and in the 1930 census she listed her occupation as Deputy Register of Deeds. Son Herman, his wife Cora, and their growing family remained on the homestead; the 1930 census states that Herman rented the farm. By 1940 Herman owned the farm and stated the value at $3000 in the census.

Oscar's letterhead for his position as Register of Deeds, c1929.
Oscar and Minnie lived in Willmar until Oscar's death in 1936. Later Minnie lived with her daughter Edna Halvorson and then at the New London Rest Home, where she lived until her death in 1959.
---
Oscar's Obituary:
Oscar Mankell died on September 2, 1936 at his home in Willmar, following a stroke. His obituary, published in the
Willmar Tribune
on Saturday, September 5, 1936, is as follows:
Oscar August Mankell, a resident of Kandiyohi county all of his life, was born May 26, 1868, in Lake Andrew township. His boyhood days were spent on the home farm, and at the age of 12 years he came with his parents to Willmar. The elder Mankells came to this city to educate their children. Oscar attended the Willmar Seminary and when he completed the business course at that school he worked for a short time in this city. He was confirmed by Rev. D. T. Booth of St. Luke's Episcopal Church in Willmar.

When the family returned to the farm home in Lake Andrew Township, he returned with them and continued to reside in that community until the year 1929, when he was named register of deeds by the county board to complete the unexpired term of the late August Lundquist. Upon receiving that appointment, Mr. Mankell moved to Willmar, purchasing a residence at 910 West Litchfield Avenue, and here he resided until his death.

Mr. Mankell was not a candidate for the office for which the commissioners selected him, and upon completing the term he retired from public life. Since that time he has been associated with various insurance companies.

His kindly nature, his business ability and honesty endeared him to all in the community in which he lived, and he was called upon to fill many positions of trust. He served as a member of the town board and on the school board. June 1, 1902, he was named a director in the Arctander and Lake Andrew Insurance Co., and he remained a director until 1926, at which time he was named president, a position he held at the time of his death. He was for many years a director of the Farmers State Bank of New London, holding this position at the time of his passing. Always interested in cooperatives, he was a director for a long period in the New London Co-operative Creamery.

On June 29, 1895 Mr. Mankell and Miss Minnie Swenson were married at the home of the bride in Arctander, and they made their home in the Lake Andrew community until seven years ago, at which time they come to Willmar. Surviving are his widow and three children, Herman, who lives on the home farm; Edna (Mrs. Alvin Halvorson) of Lake Andrew, and Alice (Mrs. G. M. Alvig) of Montevideo. Four grandchildren survive, as does one brother, Otto of Lake Andrew and two sisters, Mrs. Jennie Gordhamer of Arctander and Mrs. Amanda Landquist in Minneapolis.

Mr. Mankell was possessed of a quiet and retiring nature. Never pushing himself forward, he possessed many sterling qualities which were recognized by all with whom he came in contact, and his friends were legion.

He had not been in the best of health for several years, and his death came as a result of a stroke suffered the evening of August 27.

Funeral services were held from the residence Sunday afternoon, August 30, with Rev. C. H. B. Peterson of the Willmar Mission church and Rev. C. B. Dahlberg of the Florida Mission church officiating. Rev. and Mrs. Dahlberg sang a duet at the home, and at the church both pastors spoke and a duet was sung by Rev. and Mrs. Dahlberg and a solo by Miss Adeline Sundberg.

So large was the attendance of friends at the services at the church that the service was brought to them out of doors, by means of loudspeaking equipment installed for the purpose.

Burial was in the church cemetery [Lake Florida Mission Church]. Honorary pallbearers were Swen Swenson, J.S. Christenson, M.O. Rustad, L.H. Larson, K.H. Nelson, and Martin Hatlestad. Active pallbearers were Emil Peterson, Oscar Larson, Henry Swenson, Carl Danielson, Paul E. Anderson and Elmo Halvorson.

Relatives from a distance at the funeral included Mrs. Amanda Landquist, Austin and Herman Landquist, Mrs. Dena Tjosvold, Mrs. L.A. Tjosbold, Harry Gordhamer, Miss Florence Swenson, and Mrs C.H .Brace, Mr and Mrs Nels Quam, Mr and Mrs. Oscar Quam and Eddie Quam, all of Minneapolis; Mrs. Marie Negaard, Mr and Mrs A.W. Danielson and son Danny of St. Paul; Mr. and Mrs Gilbert Anderson of Granite Falls; Nordahl Alvig of Montevideo; Mr. and Mrs. Joseph Gordhamer of Begrade; Mrs. Minnie Hagen of Murdock; Mrs. Amanda Negaard, Arnold Negaard and children, Dr. and Mrs. S.C. Leuben, Dr. and Mrs. Hans Johnson and children of Kerkhoven.


The New London Times wrote this about Oscar: TWO NOTABLE MEN PASS ON. This community was doubly grieved by the deaths, Wednesday, of two outstanding men, both closely identified with the management of the New London Farmers Bank. The one was L. E. Covell, cashier of said bank and the other, Oscar Mankell, a director of the bank. Business associates will especially miss these co-workers, for both were men of strong character who will be definitely missed in this community....Mr. Oscar Mankell, for the past seven years a resident of Willmar, died at his home there on Wednesday at 10:30 p.m. at the age of 68 years.


---
Minnie's Obituary
Following Oscar's death, widow Minnie Mankell continued to live at the Litchfield Avenue home. The 1940 census states that she had rented rooms to various boarders--3 people at the time of the census. In her later years Minnie live with daughter Edna Halvorson and then at the New London Rest Home. She died on August, 31, 1959. Here is her obituary:
Mrs. Minnie Mankell passed away on Aug. 31, 1959 at the age of 84 years after a lingering illness. She lived in this community all her life and was a member of the Lake Florida Mission Church.

Funeral services were conducted by the Rev. Jerry Johnson at the Covenant church in New London. Two songs were sung by Reynold Nelson, accompanied by Mrs. Rudy Lindquist.

Pallbearers were Orlynn Mankell, Sherman Mankell, Ray Swenson, LeRoy Swenson, Earl Peterson and Martin Sakariason. Interment was made at the Lake Florida cemetery.

She was born June 12, 1875 and was the eldest daughter of the late Gunder and Gemine Swenson of Arctander township. Three sisters and three brothers survive her namely Mrs. Clara Berg and Mrs Axel Quale of California, Mrs Helen Lamphere of South Dakota, George and Gerhard Swenson of Spicer and Melvin Swenson of Minneapolis.

In 1895 she was united in marriage to the late Oscar Mankell. Her three surviving children are Herman and Mrs. Edna Halvorson of New London, Mrs. (Alice) George Alvig of Spicer. Eight grandchildren and two great grandchildren survive her.

She lived on the Mankell farm before moving to Willmar in 1929. Her later years were spent with her daughter, Mrs. Edna Halvorson and at the New London Rest Home where she passed away.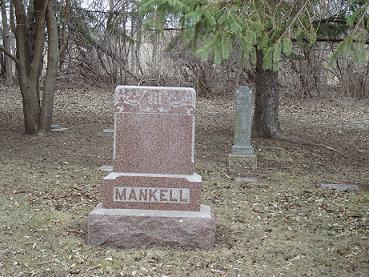 Mankell grave marker at Lake Florida Mission Church.
Mankell family members are buried behind and to the right of the grave marker and the tree.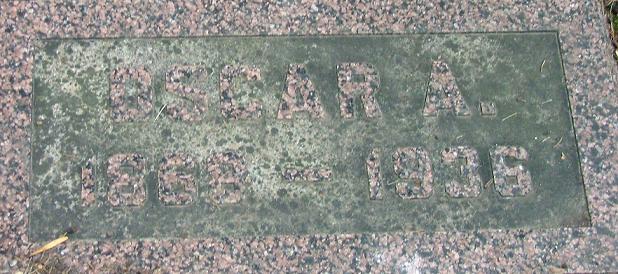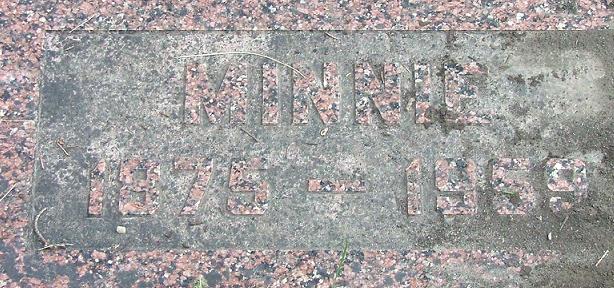 Graves of Oscar and Minnie (Swenson) Mankell.
Lake Florida Mission Church
---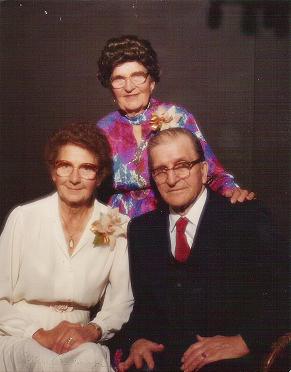 The three children of Oscar and Minnie Mankell.
Siblings in 1981: Alice Alvig, Edna Halvorson, and Herman Mankell

---
Bibliography: Keeping the Faith...Sharing the Faith , Festskrift, 1905 History of Kandiyohi County, Lindahl.