Mankell Family History
Maps of ancestral homes in Norway
Jens Jorgen Sakariason
Iver Olsen and Guro Johnsdatter
Andrew K. and Ragnhild (Olsen) Johnson
Main sections on the Johnson webpage:
SUMMARY OF FAMILY IN IRVING TOWNSHIP
ZAKARIASON/SAKARIASON (Mo i Rana, Nordland, Norway)
OLSEN (Oppdal Valley Norway)
ANDREW AND RAGNHILD JENSEN/JOHNSON in Kandiyohi County, Minnesota
CHILDREN of Andrew and Ragnhild Johnson
ROSE MEAT MARKET, New London MN
---
SUMMARY OF FAMILY IN IRVING TOWNSHIP
My maternal grandmother Inga Johnson was born on the Johnson farm (#5 below) in Irving Township, Kandiyohi County. This northeastern area of the county was settled primarily by Norwegian immigrants, many from the Nordland area of northern Norway. These immigrants included Inga's father Anders Jensen (later Andrew Johnson) and his father Jens Sakariason/Zakariason. In 1922 Inga married Walter Jordin who also lived in the New London and Irving Township area, but with Swedish roots in Meeker County, MN where the Jordin family settled. There is more information about the Jordin ancestors, including Walter and Inga's family, on a separate page.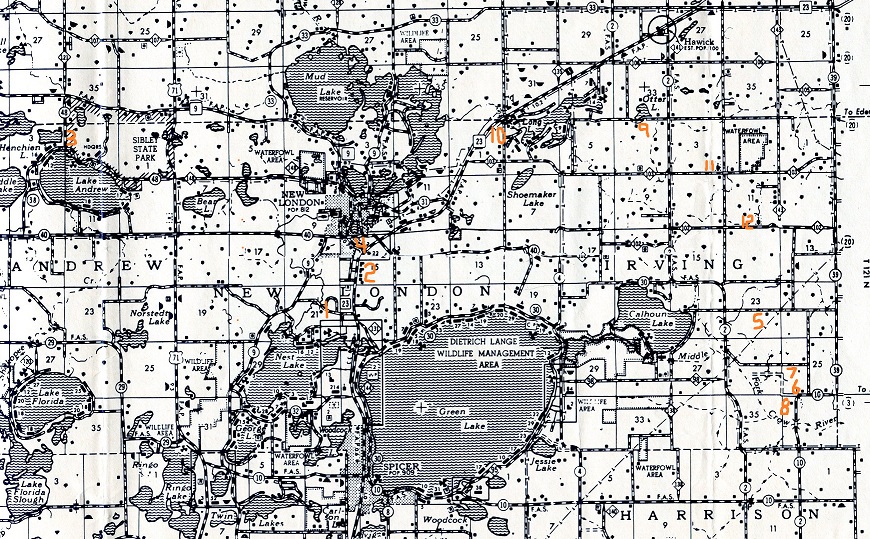 Map of Irving, New London and Lake Andrew Townships, Kandiyohi County, Minnesota (pdf version)
New London Township. Farm north of Spicer which August and Mary Jordin and children (including Walter) rented, c1897-1910s. The brick house was demolished in 2000.
New London Township. Rented a home on Highway 23, just south of New London, c1915. Believe that this is the farm which August registered as the New London Fruit Farm.
Lake Andrew Township. Along Hwy 48, south of Hwy 9, west of Sibley State Park. Exact location is not known. August Jordin died at this location in 1919, a few months after the family moved. Mary and children continued to live at this location into the 1920s.
Ash Street home of widow Mary Jordin in New London, 1920s-1940s. Here she raised two grandchildren (Donald and Lois Johnson) whose mother died in childbirth.
Ragnhild and Andrew Johnson (parents of Walter's wife Inga) lived on this farm with Andrew's father Jens Zachariason. Inga and her siblings grew up on this farm. Andrew died in 1898 from a gun shot accident. Following their marriage in 1922, Walter and Inga Jordin (son Noel was born in 1923) lived there for a few years, until the deaths of Ragnhild and father-in-law Jens Sakariason in 1927. House no longer remains.
The "Atwater Farm" where Vivian and Mary Ann were born and grew up in the 1930s and 1940s. Inga Johnson Jordin died at this farm in 1937. No buildings or trees remain. It is now a farm field. It is distinguishable because it is next to a curve in the highway and there are two nearby entrances to the field. Walter rented the farm for $5 per month, according to the 1940 census.
District 2 School location. The building is now at the Kandiyohi County Fairgrounds. Vivian, Mary Ann and Noel attended this school, just north of their childhood home. They walked to school.
The Ed and Esther Johnson home (no relation to Inga Johnson), south of the Jordin's "Atwater Farm". Walter and children would walk to the house of their friends to play Rook and checkers. There were many late nights walking home in the dark after visits and games.
The "Hawick Farm" which widower Walter owned from 1949 to 1962. Young adults Vivian and Mary Ann lived here prior to their marriages. No buildings remain on this property located in what is commonly called "Lost Valley." This land is near the Miller orchard which is owned by the family of Christine (Miller) Sogge.
Walter Jordin's small cabin, where he lived from 1962-1966. He owned this 3 room cabin (kitchen, living room and bedroom) After this home, Walter lived briefly with his daugthers and then in nursing homes until his death.
Zion Irving Lutheran Church. This is the home church of Walter and Inga Jordin and their children, Noel, Vivian and Mary Ann. Location of numerous weddings, baptisms, and funerals of the Jordin family, including the wedding of Orlynn and Vivian Mankell, baptisms of Susan and Carolyn Mankell, funerals of Inga and Walter. Buried in the cemetery are Walter and Inga Jordin, Ben and Ellen Jordin, Ragnhild Olsen Johnson (mother of Inga) and Iver Olsen (father of Ragnhild), Ed and Jenny (Johnson) Jordin, Jens Sakariason, (father-in-law of Ragnhild).
Nordland Lutheran Church. Andrew Johnson (father of Inga) is buried there. Andrew died before the church's schism and the creation of Zion Irving Lutheran Church.
---
ZAKARIASON/SAKARIASON (Mo i Rana, Nordland, Norway)
Jens Jorgen Zakariason (also Zakariassen/Sakariason/Sakarisen/Sachariason), Wilhelmine Amundsdatter and their family lived near
Mo i Rana
(Rana Fjord) in the Helgeland District/Nordland County of Norway, just south of the Arctic Circle. (see
maps
) Their son Anders Christian Jenssen was born August 3, 1861, and baptized April 17, 1862. Parents Jens and Wilhelmine never married; Wilhelmine died a few months after Anders' birth. Anders used a variety of names which reflected his Norwegian roots and the changes while in the US: Anders Christian Jenssen, Anders Kristian Zachariason, Anders Jenson/Jensen, Anders K. Johnson, and finally Andrew K. Johnson. Anders left Norway for the US in 1881, possibly 1882.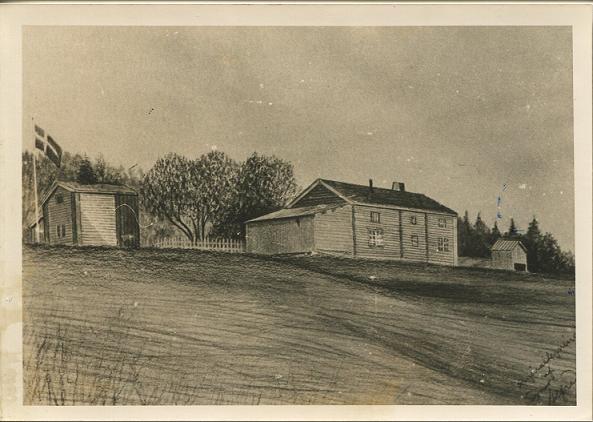 Sakariason farm house at Mo i Rana, Norway, c 1875
This building was torn down.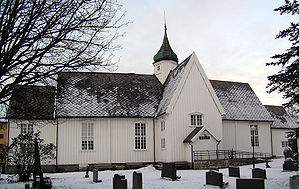 Church (Nordland) at Mo i Rana, Norway
Church was built in 1724.
According the Minnesota 1895 census and Federal Census (1900 and 1910), Jens Zakariason emigrated in 1890 (Wilhelmine Amundsdatter died in Norway, 1862, a year after Anders' birth) and settled in the Irving Township area of Kandiyohi County. He joined his son Andrew in central Minnesota who had arrived in the US in 1881 (possibly 1882). This area in the northeastern part of Kandiyohi county was the new home to several families from the Nordland District of Norway, including Mo i Rana (the Sakariason ancestral home). These families formed the Nordland Lutheran Church (Irving Township) in 1868.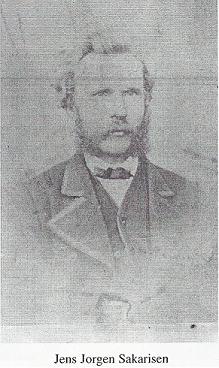 Jens Sakariason/Sakarisen, father of Andrew Johnson. His Norwegian name was Jens Zachariason
Source: Zion Irving Lutheran Church, 1905-2005: A History of the Congregation
---
OLSEN (Oppdal Valley, Norway)
Ragnhild (Ragnild) and her parents, Iver Olsen and Guro Johnsdatter, were from Oppdal Valley, Norway, and lived on the Mjoen farm. (see maps). Iver and Guro married on the same day as Ragnhild's baptism, November 1, 1858. Ragnhild was also known by her mother's farm name, Mjoen. (Her father Iver's farm name was Birke.) In Norwegian records she is listed as Ragnhild Iversdatter. Ragnhild immigrated alone to the United States in 1883 (1910 Census incorrectly states 1886). Her parents did not leave Norway. According to emigrant lists maintained by the Trondheim Norway Police Department, Raghnild, at the age of 24, left Oppdal for Atwater, Minnesota, under a contract dated May 15, 1883. Ragnhild left Christiania (Oslo) on the ship SS Geiser on May 17, 1883 and arrived in New York on June 2, 1883. Her ticket was paid for which probably means that she was hired to be a housekeeper for a family who paid for her ticket and had a contract for her household work. In the United States she used the maiden name Olsen (her father's surname). In 1888 she married Andrew K. Johnson (Anders Jenson/Jensen) from Irving Township, about 5 miles north of Atwater.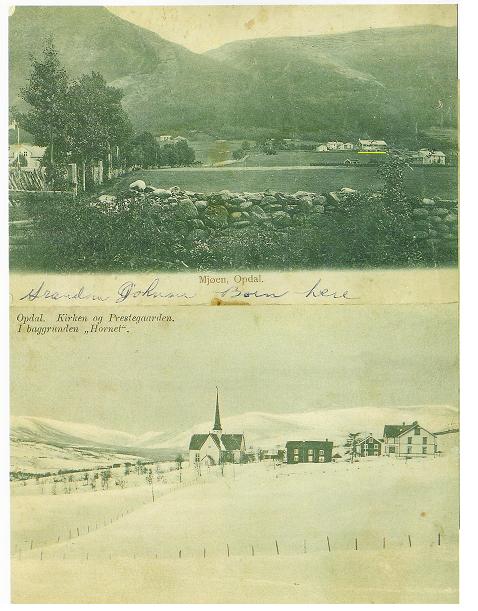 Mjoen farm, Oppdal Norway; home of Iver and Guro Olsen and daughter Ragnhild. A yellow line marks the home in which they lived.
Lower image: Oppdal Church, known as "Marit Vang"
---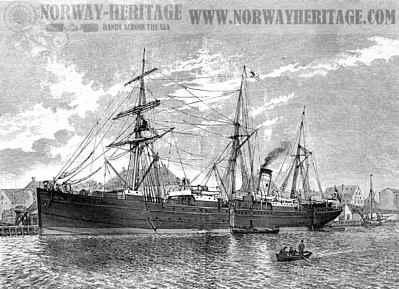 Ragnhild Olsen traveled across the ocean on the SS Geiser, May-June 1883.

---
ANDREW AND RAGNHILD JENSEN/JOHNSON
Andrew Johnson (1861-1898) and Ragnhild Olsen (1858-1928) were both from Norway. Using the last name Jensen, Anders and Ragnhild married in 1888 in Atwater and had 5 children. The oldest three children had their births recorded as "Jensen" in the family bible, though they later used the name Johnson. The last two were recorded as Johnson at the time of their birth. It appears that the family changed their name from Jensen to Johnson in 1895.
William (Bill), 1890-1977 (m. Ann Van Hueveln). Born Wilhelm Jensen
Hannah, 1892-1972 (m. William Rose). Born Hanna Jensen
Jennie, 1893-1923 (m. Edward Jordin). Born Jennie Jensen
Inga, 1896-1937 (m. Walter Jordin). Born Inga Johnson
Richard, 1898-1940 (m. Eleanor Johnson). Born Richard Johnson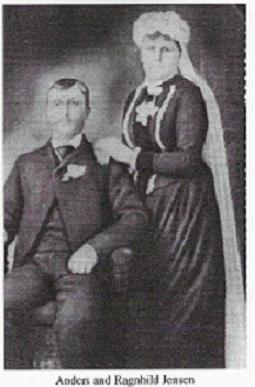 Wedding picture of Andrew and Ragnhild Johnson, 1888.
Source: Zion Irving Lutheran Church, 1905-2005: A History of the Congregation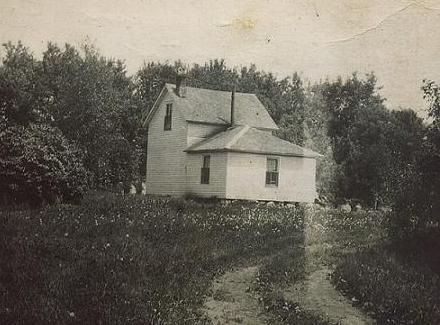 Johnson house on the farm, Irving Township, Kandiyohi County, MN

Andrew and Ragnhild Johnson owned a farm in Section 23 of Irving Township (#6 in map above), about a mile south of Nordland Church. In 1898 Andrew died from an accident, leaving Ragnhild with five young children. William, the oldest was 8 years old; the youngest, Richard, was an infant. According to Zion Irving Lutheran Church, 1905-2005: A History of the Congregation, Anders/Andrew was helping
"Gilbert Pederson butcher a hog. Anders had borrowed an old muzzle-loading rifle to shoot the pig, but made the mistake of using smokeless gunpowder and an oversized lead ball. The weapon exploded, and sent a shard of metal into Anders' head. He died a few days later."
The
Atwater Republican
newspaper wrote of Andrew's gruesome accident and death in the October 20, October 27 and November 3, 1898 issues:
A sad accident occurred in the town of Irving last Tuesday afternoon. About two o'clock Andrew Johnson, who was assisting Gilbert Peterson in butchering, loaded a rifle to shoot one of the hogs with smokeless powder. When he fired the rifle burst, blowing the gun to pieces. A piece of steel from the gun entered the eye of the unfortunate man and penetrating the orbit of the eye entered the brain. The eye was completely torn out and a portion of the brain came out of the opening. Drs. Archibald of Atwater and Newman of New London were summoned and have done as much as possibly could be done for the wounded man, but they pronounce his recovery as extremely doubtful.

******
A. K. Johnson of Irving who was injured last week by the bursting of a gun has been removed to Paynesville where an attempt will be made to locate the piece of steel with the Xray. His condition is very serious.

******
Andrew K. Johnson of Irving, who was seriously wounded by the bursting of a gun, of which mention was made in last week's issue, died at Pilon's hospital last Friday. The body was taken to his late home and buried in the Irving cemetery. The Tribune extends its heartfelt sympathies to the bereaved family and friends. (originally in Paynesville Tribune)
Andrew Johnson, who died on Friday October 28, 1898, is buried at Nordland Lutheran Church. Andrew's father, Jens Sakariason, lived on the farm and helped Ragnhild operate the farm and raise the young children.
There are some inconsistencies as to the last name used by Ragnhild--Johnson or Jensen. In 1895, the family uses the name "Johnson" in the Minnesota State Census. After the death of her husband, Andrew, in 1898 Ragnhild and children are listed as "Johnson" in the 1900 Federal Census and "Jensen" in the 1910 and 1920 Federal Census.
Both Ragnhild and Jens died in 1928 and are buried at Zion Irving Lutheran Church cemetery. They are not buried in the same cemetery as Andrew. He died before members of the Nordland congregation split in 1905 and created Zion Irving Lutheran, one mile north. Ragnhild and her family became members of newly organized Zion Irving Lutheran. One of the stained glass windows at Zion Irving is dedicated to Jens, Andrew and Ragnhild.

Stained glass window (rear window on left side) at Zion Irving Lutheran Church
dedicated to Andrew and Ragnhild Johnson and Jens Sakariason.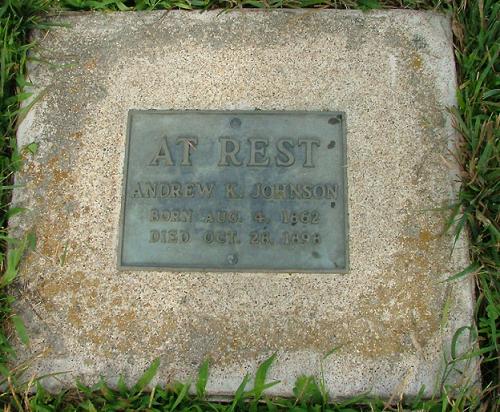 Andrew K. Johnson is buried at Nordland Lutheran Church, Irving Township, Kandiyohi County, MN.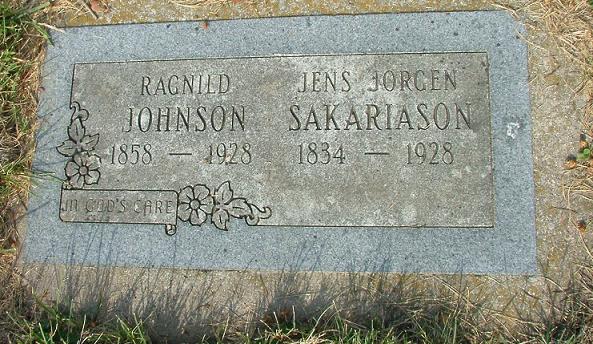 Ragnhild Johnson and her father-in-law are buried at Zion Irving Lutheran Church,
Irving Township, Kandiyohi County, MN
---
Children of Andrew and Ragnhild Johnson: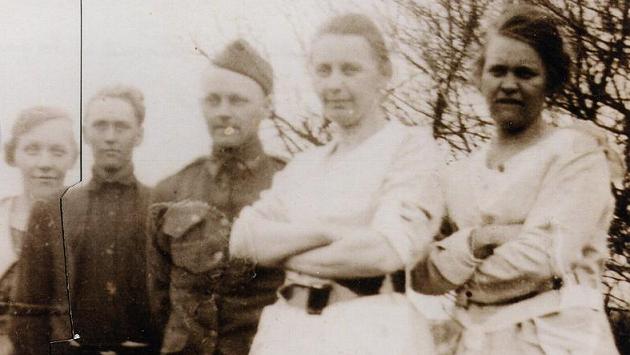 Johnson siblings
Left to Right: Jennie, Richard, William, Hannah, Inga, c1918.
Information about Inga Johnson is on the Jordin family webpage.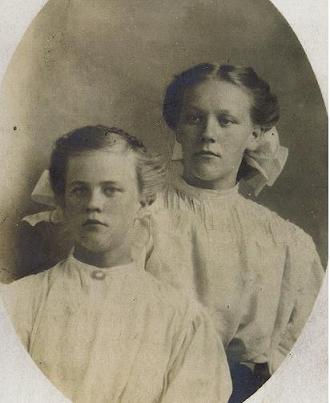 Confirmation picture of Inga (left) and Jennie Johnson (right), c1910.
Confirmed at Zion Irving Lutheran Church, Irving Township, Kandiyohi County, MN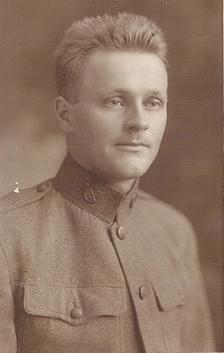 William (Bill) Johnson, 1918.

Bill married Ann Van Hueveln and they had three children: Ruth, William and Donald. Bill served in the 310th Infantry, 78th Division, 3rd Battalion of the U.S. Army during World War I. He fought in the Battle of the Argonne Forest, in the fall of 1918. Bill is buried in Paynesville, MN.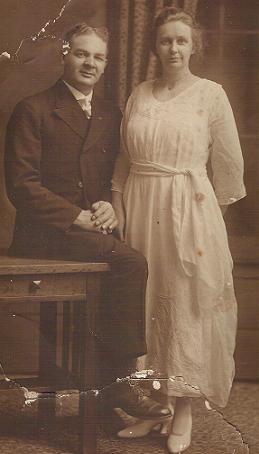 Hannah married William Rose, 1920.
Three generations of the Rose family owned the Rose Meat Market in New London for 60 years. Photographs and more information about the Rose Meat Market are below. Hannah and Bill had two children, Franklin and Robert, who owned the store until 1967. Hannah and Bill are buried at Oak Hill Cemetery, New London, MN.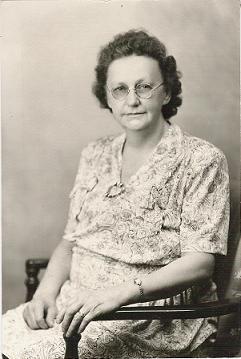 Hannah Johnson Rose, c1965.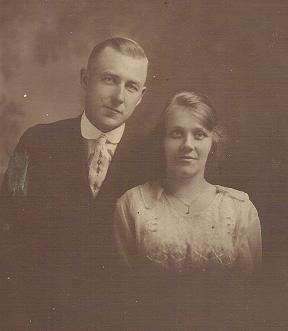 Edward and Jennie (Johnson) Jordin, 1920.


Ed and Jennie had two children: Lois and Donald. Following Jennie's death in childbirth, Edward's mother Mary Jordin raised the two children with the help of Mary's oldest son, Albert Jordin. Brothers Edward and Walter Jordin married sisters Jennie and Inga Johnson.

The youngest child of Andrew and Ragnhild was Richard Johnson. He married Eleanor Johnson in 1929. They had one daughter, Roslyn. Richard died at the age of 42.
---
Rose Meat Market
In 1907 Swedish immigrant Frank W. Rose founded the Home Meat Market in New London, on Main Street, 1/2 block north of the intersection of Main Street and Central Ave E. He started the business after 42 years of experience in the meat business in Willmar MN. Here is a timeline in the history of the Home Meat Market (later Rose Meat Market), based on information in The History of New London, 1865-1990:
March 9,1907: Frank W. Rose began the Home Meat Market in the Andrew Olson Building on Main Street, New London MN
1914: Frank retired and his son William (Bill) took over the business. He moved the market south to Sperry Street, (later named 1st Street SE).
1917: Construction of an addition to the building. 24x24 two-story brick building. Basement was used for the salting and storing of hides; first floor had a sausage room; second floor had living quarters.
c1920 Bill married Hannah Johnson from Irving Township
April,1926: Store front was remodeled with new stucco front and new plate glass windows.
1927: Bill Rose installed an electric-cooled ice box which was also the counter and display case. Previously ice blocks from the Mill Pond cooled the meat. Enough ice was cut to last from winter, through the summer, until the next winter.
1931: Frank W. Rose died.
1935: Mrs. Frank W. Rose (Anne Marie) died.
December, 1940: William Rose hosts a Grand Opening of his new locker and storage system.
January 23, 1945: William died. Widow Hannah (Johnson) Rose and employee Butz Larson continued the business for one year.
1946: Sons Robert and Franklin Rose, discharged from the army, bought the business. Hannah continued to work at the store which now was selling groceries in addition to the butchered meat.
A new 32x33 addition was built on the south side of the Rose Market building which was used for storage.
1958: Robert and Corlene Rose opened a self-service laundromat behind Rose Market.
1967: Rose brothers sold the market which had served the New London community for 60 years.
April 14, 1972: Hannah (Johnson) Rose died at the age of 80.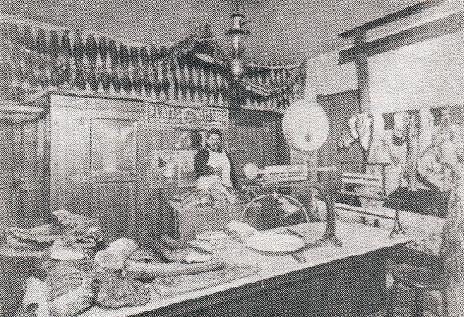 Frank W. Rose in the Home Meat Market on Main Street, New London , c1910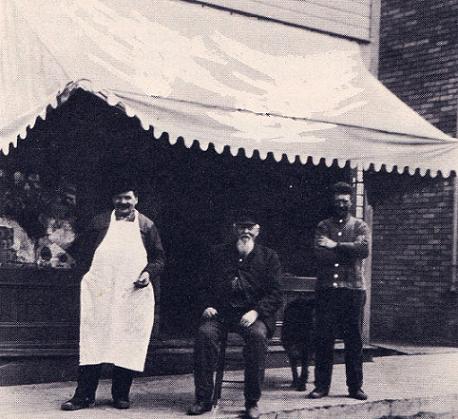 Frank W. Rose (in white apron) in front of Home Meat Market, c1910.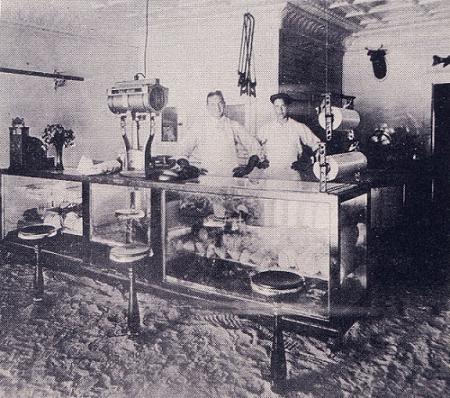 Interior of market c1917, with Bill Rose on the left. Note the sawdust on the floor.