Mankell Family History
"A Homesteader's Story"
By Orlynn Mankell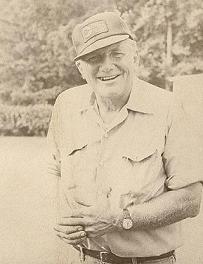 Storyteller and historian, Orlynn Mankell
From The Land, January 9, 1984:
Prairie Fire-
Homesteader Vilhelm was well aware what the homestead Law would require from him when he arrived in Kandiyohi County in 1867. He had been reading everything he could find on it for some time. And as a result, he and Lisabet had set forth on a great 5,000 mile homestead adventure and from now on nothing would ever be quite the same.
It was a new beginning after running into economic dead ends back in his native Stockholm, Sweden. He had come to an area referred to as Norway lake- and very much the stronghold of Norwegians. Back in downtown Stockholm, places like Western Minnesota and Kandiyohi County were considered to be somewhere out on the ends of the earth.
Vilhelm began building a frame house and hired someone to break the some land. He soon would become aware of the lessons that the new world had to teach him. And they were not long in coming.
November 1867-The weather had been unusually dry and warm for some time and the dormant native grass was tinder dry. About three months after his arrival, Vilhelm saw the new land present itself in a strange and highly threatening fury. "Prairie Fire!" was the startling warning that passes quickly through the community. It was doubtful if Vilhelm had ever heard of any dangerous possibility like this.
One of his neighbors wrote: "We thought nothing would be left in this world. In the afternoon we noticed something like the eclipse of the sun, which turned out to be a thick could of smoke with the wind from the Southwest. Cinders of burnt grass and weeds began to fall down like snowflakes. A roar something like that of a freight train was heard. Flames were seen like galloping horses."
On the following day there was a strong wind from the south and several watched as a half-mile wide front of flames raced off to the northwest. For those who saw it, it was a frightening display.
January 1868- Another lesson Vilhelm was to learn that winters were more severe than he had been led to believe. Many pioneers were to notice the solitude, the privations and abject loneliness of Minnesota in the winter especially for one like Vilhelm, coming from an urban background.
Spring came- And it was a welcome arrival. Vilhelm worked the ground that had been plowed the year before and seeded wheat. The weather was warm, the rains timely and the wheat flourished in the new ground. He soon could see that it would be a good harvest.
August 1868- Vilhelm, along with Nels and Kristian, two of his Norwegian neighbors, initiated a cooperative venture to harvest their wheat crops this summer. The grain was cut with a reaper (before the binder) and then into bundles and with all the family members helping. The bundles were then stood in shocks for drying.
The three farmers decided to stack the grain in one central location for more convenient threshing. The site was Vilhelm's farmyard. Each man was responsible for his own stacking. Soon, three wheat stacks were standing neatly in a row.
New Threshing Machine About a week later a small crowd of people were standing on Vilhelm's yard. They included the three families of neighboring farmers and their families. Word had gotten out that this was going to be a big, important day. They were all to see something they had never seen before--Evan's brand new threshing machine as it did its work. Evan was soon in sight--right on schedule.
First came the four black horses, all spotless and immaculate in their freshly polished harnesses--and Evan took pride in his horses. They were arranged in two teams in tandem and for 13 year old Gabriel, a neighbor's son, it was an unforgettable sight- a few years later he would write it all down. The horses were pulling something like a small building but with a wheel on each corner. It was painted red and on each side were the words "Little Giant".
On top of the machine, and handling the horses stood Stor-Evan (Big Evan) and now seemed to be standing 10 feet tall. There was a box on which he normally would sit, but probably mindful of the people watching him, he was now standing. Directly behind Evan were his two helpers, each driving a black team and wagon. For Gabriel, watching this somewhat momentous arrival, it was something like a parade.
Evan guided his horses up along the stacks. All eight horses were unhitched and were now brought up to the front of the machine where they were hooked up to a large wheel with a shaft connecting the wheel to the machine.
The first recorded threshing scene in Kandiyohi County and probably all of Western Minnesota was about to begin. The eight horses moved ahead and the machine came to life.
For Gabriel it was a fascinating thing to watch. Shafts, belts, pulleys were turning, some belts twisted and some straight. Mothers, with a child in each hand, would walk up close to see Evan's marvelous machine. Up in the house a huge evening meal was being prepared for everyone on the scene--apparently for worker and spectator alike. A holiday atmosphere soon prevailed.
Gabriel watching Kristian, owner of one of the stacks. His job was to care for the threshed grain as it came down a spout into a six-foot-square box. He was wearing loose-fitting boots and they were full of wheat. But Kristian didn't seem to mind--at least he made no effort to empty them.
The threshing was completed and there were now three separate piles of wheat in sacks. For Vilhelm, along with Nels and Kristian, it had been a satisfying and rewarding day. He had just harvested his first crop in the new world.
---
Orlynn's articles about Kandiyohi County history:

---