Mankell Family History
Maps of ancestral homes in Sweden

NEW AMERICANS:

Herman Wilhelm (HW) Mankell (1835-1889 )
and Elizabeth Olson Mankell (1832-1914)
Kurt Mankell, owner of the Mankell homestead,
and great-great-grandson of HW and Elizabeth, wrote this web page.
---
Main sections in the HW and Elizabeth Mankell webpage:
Immigration and Marriage: 1854, 1857
Living in Northfield, 1857-1865
Applying for the Homestead, 1864
Timberland
A House on the Homestead
Farm Life
Moving to Willmar
Deaths of the Pioneers
---
Immigration and Marriage, 1854 and 1857
In August 1854 Herman Wilhelm Mankell (HW) arrived in New York City on the ship "Cynosure", having left Gothenburg in July. Most of the details about why he left Sweden are lost to history, but there is one oral record that HW was involved in some type of Mankell family conflict (possibly his relationship with Elizabeth) and was given travel money to leave Sweden. His journey took him to Liverpool England where he boarded the "Cynosure" which then docked in Ireland; the passengers on this sailing voyage were predominantly Irish or English. After arriving in New York HW continued his travels and settled in or near Rockford Illinois. Then in 1857, HW left Rockford and returned to Sweden to marry.

July 12, 1857 marriage record for HW Mankell and Elizabeth Olofsdotter.
Kållered, Sweden

Herman Wilhelm Mankell (HW) and Elizabeth Olofsdotter married on July 12, 1857 in Kållered, Göteborg Och Bohus, Sweden, (just south of Gothenburg/Göteborg). Born on June 29, 1832, Elizabeth was from Kållered. Her parents, Olof Bengtsson and Johanna Olofsdotter, and grandparents were from the Kållered area. The family lived on the Heljered Sörgården (farm) outside of Kållered. The Kållered Parish marriage records describe her as "H.D."--Hemman Dotter (farm/homestead daughter). Herman Wilhelm was born in 1835, the son of Wilhelm and Margareta (Igelström) Mankell. (More information is on the Genealogy page.) Soon after their wedding they left Gothenburg (see maps) for Hamburg, Germany to begin their trans-atlantic journey to the United States. On August 1, 1857, they boarded the German sailing ship SS Humboldt and their 40+ days trip on a sailing ship began. HW was 22 years old; Elisabeth was 24. They arrived in New York City in 1857 and in that same year lived in Red Wing, Minnesota. Minnesota was not a state until 1858, so HW and Elizabeth, by definition, were territorial pioneers.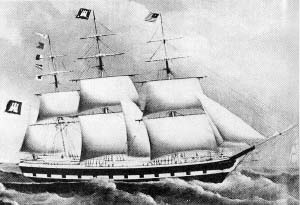 Sailing ship Humboldt

---

Herman Wilhelm and Elisabeth Mankell, from Gothenburg Sweden.
HW's occupation: "Zimmerman" (Carpenter)
Passenger Manifest from the SS Humboldt lists HW as "Wilh"
Source: Hamburg Passenger Lists, 1850-1934

---

HW and Elisabeth Mankell, from Sweden. HW's occupation: "Carpenter"
Passenger List upon arriving in New York City, 14 September 1857, lists HW as "Wilh"
Source: New York, Passenger Lists, 1820-1957


---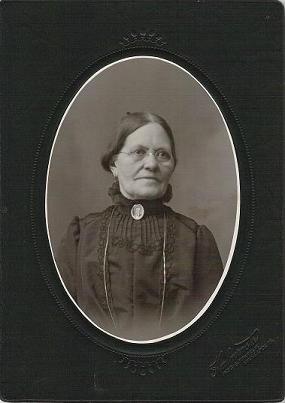 Elizabeth Olson Mankell, c1890
In Sweden her name was Elizabeth Olofsdotter and was from the Kållered area south of Gothenburg.
This photograph was taken after HW's death. Elizabeth's brooch has a picture of her deceased husband.
---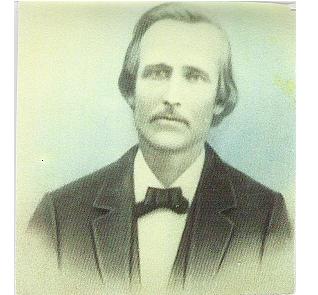 Herman Wilhelm Mankell, c1880
---
Living in Northfield, 1857-1865
HW married Elizabeth (also spelled Elisabeth Olsson and Elisabeth Olofsdotter; commonly called "Betty") in Sweden. It also appears that they re-married at the Swedish Lutheran Church in Vasa, Minnesota in 1857. It is possible that, upon arriving in Minnesota, the couple did not have proper documentation regarding their marriage in Sweden and so they chose to marry a second time. According to Orlynn Mankell, HW is said to have owned some type of store in Vasa which then burned down. HW helped build the second Vasa Lutheran Church in 1862. (The first building was constructed of logs in 1856).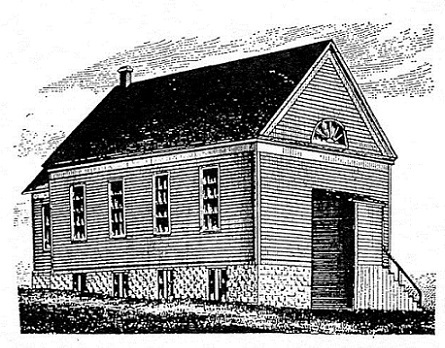 Vasa Lutheran Church--second building, 1862
Vasa is located 30 miles east of Northfield, in southeast Minnesota.
(Source: Rededication 1870-1970, Vasa Church, 115th Anniversary, 1855-1970)

By 1860 both HW and Elizabeth were living in Northfield, Minnesota and resided there until 1865. Herman made a living as a cabinet maker. This makes sense since his father was a piano maker back in Gothenburg. The 1860 U.S. Census lists the following:
Wm Mankell; age 26; Occupation: cabinet maker; Value of real estate: 23; value of personal estate: 30; place of birth: Sweden; Betsey, age 26 ; Jane (Jenny), and Mary.
Their time in Northfield came during the Dakota War of 1862 (Sioux Uprising) and the U.S. Civil War. Minnesota was involved in two civil wars during the late summer of 1862.
When the first English and French explorers entered Minnesota, Southern Minnesota was inhabited by the Dakota Indians, an eastern tribe of the Sioux Nation. Before the Dakota arrived, there were many other inhabitants, including the hunter who left his broken Paleo-era spear-point on the future Mankell farm in Kandiyohi County sometime between 5,000 and 10,000 years ago. Human history can be documented on the Mankell farm from the time of the mastadon!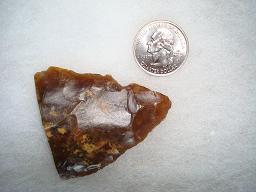 Paleo-era Spearpoint
The Dakota War of 1862 was one of the bloodiest Indian wars ever fought on U.S. soil. Between 500 and 800 settlers and soldiers were killed in less than a month all across Southern Minnesota. The Dakota were defeated by the U.S. Army in late September 1862 at the Battle of Wood Lake; but this was only the opening salvo of a war with the Sioux Indians that lasted nearly 30 years. The fighting reached its most well-known point at Little Big Horn in 1876 and its final point with the massacre of a Lakota tribe (Western Sioux) at Wounded Knee, South Dakota in 1890.
The Dakota War unintentionally started at a split rail fence built in Meeker County (one county east of Kandiyohi County) by a very young Gunder Swenson in 1860. Gunder was one of Herman and Elizabeth's future Norwegian neighbors in Kandiyohi County and he was also the father of their future daughter-in-law Minnie.
There are no records as to what HW and Elizabeth felt about the wars at this time. One can only imagine as to what they thought they had gotten themselves into traveling such a distance from Sweden for a new life. In Northfield they most likely heard the panicked news that the German immigrant town of New Ulm, a mere 75 miles away, had been attacked and burned by the Dakota. Maybe this was when Herman purchased the 1849 Pocket Colt revolver that Kurt Mankell owns today. They must have also heard news of the very bloody Civil War battle at Antietam Creek which filtered back to Minnesota at the same time. Thoughts of returning to their Swedish homeland and its traditional ways must have entered their minds.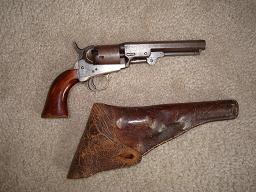 1849 Pocket Colt Revolver
As for duty in the Civil War, in 1865 Herman received a medical disability that prevented him from service in the Union Army. An examination giving him a medical disability was given by a team of Union army doctors, including Dr. William Mayo. Dr. Mayo later went on to start the Mayo clinic with his sons.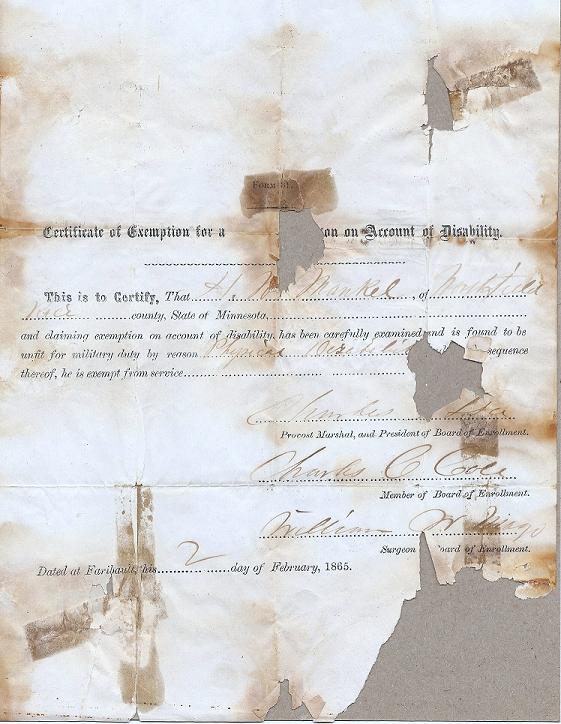 HW Mankell's 1865 medical army disability, signed by Dr. William Mayo.
The 1865 Minnesota census listed the following: H.W. Mankle (sic); E; Jennie; Mary, Anna, Amanda, living in Northfield MN. Elizabeth, Herman and their young family moved to St. Cloud, Minnesota during the summer of 1865. HW knew of this town, near the edge of the frontier, because he had been there in 1864.
---
Applying for the Homestead
In the summer of 1864 HW traveled from Northfield to St. Cloud and applied for a homestead on July 13, 1864 at the St. Cloud Land Grant Office of the federal government. Herman received 160 acres of the virgin and very treeless prairie in Lake Andrew Township as part on the Homestead Act of 1862 (T121N; R35W; NW ¼ Section 20).
Under the terms of the Homestead Act of 1862, the farmer who applied for the homestead was required to live on the farm for at least 5 years before receiving the deed to the land. After applying for his 160 acres near Norway Lake in Monongalia County, southwest of St. Cloud, HW would have wanted to leave for the homestead to prepare land for planting crops and to build a house for his growing family. However, political and military decisions would delay him for a few months. For three years after the 1862 Dakota Wars, the Monongalia County settlements were closed and the settlers who had evacuated in 1862 could not return to the Norway Lake area; nor could new settlers enter the restricted area. In 1864 or 1865, after the restrictions were lifted, HW left for his new homestead.
Monongalia County was still the true frontier in 1865. (Monongalia County was consolidated with Kandiyohi County in 1870.) The county had just been opened up to settlement again after the evacuation that had occurred during the disastrous and bloody Dakota War in 1862. The U.S. Army had established a patrol line which existed until 1866 just west of Norway Lake. Anything west of that patrol line was still a frontier to white settlers. A sod fort was established on the west side of West Norway Lake in 1865 and was used by 2nd Regiment of Minnesota Cavalry. If Herman and Elizabeth were trying to get as far away from Sweden as they could, this was the end point of that journey. They had purchased land literally as far west as they legally could go. It was time to put down permanent roots. Those roots remain to this day.
HW probably traveled in 1864 to the Norway Lake area without his family. The 160 acres would not yet be a farm--with no house, no farm buildings, no trees, no crops. It is highly probable that Elizabeth and children remained in St. Cloud while HW developed the farm in preparation for his family's arrival later. Herman and Elizabeth had one child born in St. Cloud, Hulda (born 1866). (Note: one of Hulda's grandsons was Thomas Mankell Rees, a Democratic Congressman from California and thorn in the side of LBJ during the Vietnam War years. There is a famous picture of Bobby Kennedy appearing at the Ambassador Hotel in LA taken shortly before his assassination with Rees standing directly behind him).
---
Timberland
In addition to the homestead, the family owned other land in the area. In August of 1865 Elizabeth purchased 4 lots totaling 170 acres of timberland near Norway Lake, Middle Lake and Lake Andrew in Monongalia County. This land was not the acreage where the farm sits today. Because the family's homestead was virgin prairie, with no trees, it is possible that this land was used as a source of timber for the homestead buildings and for hunting game.
HW brought his family from St. Cloud to their newly obtained lands in late 1866. They almost certainly had a slow and arduous journey by wagon. The new four lane State Highway 23 was pure science fiction at this point. The "roads" that existed in the Monongalia County were either old buffalo or Indian trails. They had no alternative than to take these trails since the new St. Paul and Pacific Railroad had barely crossed the Mississippi in 1866 near the Falls of St. Anthony in Minneapolis. (note: The St. Paul and Pacific main line through Willmar later became the kernel the Great Northern Railroad and finally as the well-known Burlington Northern Santa Fe of today.)
The Mankell family built their first home in the woods (the 170 acres owned by Elizabeth) between Middle Lake and Lake Andrew in 1866. It was a crude dugout home. The dugout hole of this first home still exists as of 2008. The family probably lived at this location until 1867, at which time HW had built a larger and more suitable house at the homestead. The homestead was about 3 miles away from the dugout. The land was obtained free of charge with the only requirement that it be farmed for 5 years before the U.S. government would give the owner title to the land. HW received his certificate of ownership in 1871 and the U.S. government issued the deed to HW on June 10, 1872. (see Land Patent Details)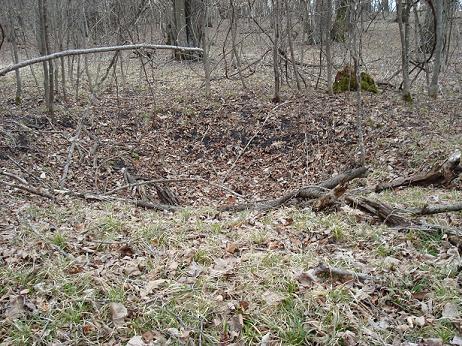 Location of the 1866 dugout on the eastern shore of Middle Lake,
which is the small lake between Norway Lake and Lake Andrew.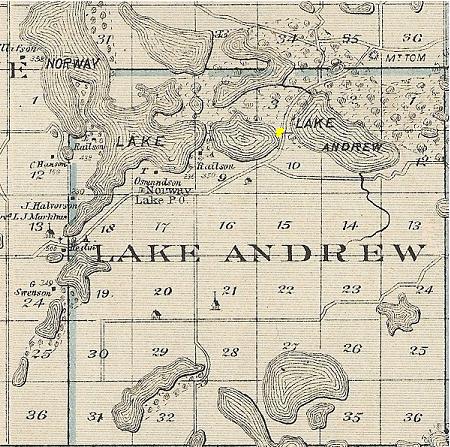 Portion of the 1874 Kandiyohi County plat map; yellow dot highlights location of the dugout. (PDF image)
It should be noted the contrast of Herman and Elizabeth's life in 1866 to life back in 1866 Stockholm. Was his artist brother Otto August Mankell having one of his well known "kaffe" parties at his villa on Lidingo island? Had uncle Carl Abraham Mankell yet met his friend playwright August Strindberg? Or was his army captain cousin Julius Mankell (a.k.a. Malborg) still being chased by Cossacks in Poland after trying to persuade his buddy Swedish King Karl XV into a war with archenemy Russia (Note: Julius Mankell's 1863 plan for war was eventually stopped by French Emperor Napoleon III). Well, perhaps a dugout is better than being on the pointed ends of Cossack swords.
---
A House on the Homestead
In the Summer of 1867 it is documented that HW and Elizabeth built a house on the new home farm with "rough" lumber. It is thought that the log base of this home still exists in 2008 as the base of the old granary. (More on this later). Other children were born to Herman and Elizabeth while on the new farm. They were Oscar, Sophia, Otto and Esther.
There is also a record of Herman buying 43 acres of land southwest of Alexandria, MN in 1867. (T128N, R39W, Section 32). No stories have been passed down as to what this property was used for or if they even visited it. Perhaps it was purchased by a still restless Herman who then finally decided to stay put in Lake Andrew Township rather than move his family again.
The land in the Kandiyohi and Monongalia County area was rapidly being settled in the 1860's by Swedish, Norwegian, Dutch, German, Irish and British settlers. It seems free land disappears fast. (A side note: while not nearly as well known as the Scandinavian settlers, the British settled major portions of the northern half of Kandiyohi County. A few British names still exist: Hawick, Burbank, Harrison Township, and Harrison Presbyterian Church. However, the local town of "New London" was named well before most of these British settlers arrived, but the name is still appropriate).
---
Farm Life
The initial farm life must have been hard. While there are probably many stories of the Mankell families' pioneer life, most are lost to history. However we are very fortunate that some stories were documented.
In a December 1868 letter to his sisters Hermina and Augusta, who lived in Sweden, HW Mankell writes about financial difficulties on the newly established homestead. He refers to Thilda, who was the sister of his wife Elizabeth/Betty. Betty could not write and we can assume that in this portion of the letter HW writes on behalf of his wife--noting her desire for Thilda to come to America. (Mathilda immigrated to Minnesota in 1870.)
I am sorry that you will not get my letter before Christmas. I had just decided to write when I received your letter, with your concern over Thilda's not making the journey here. It seems not to be our lot to see anyone of our families here, at least not when we need them most. If Thilda wants to come here, I will help her with the travel costs even though money is scarce. My income is not nearly enough for the requirements of the household in addition to the cost of starting a farm in what until recently was wilderness. I hope in a few years to have a larger income and fewer expenses...Greet everybody at Heljered from Betty and me. If only Betty could write herself, she would be so happy to tell you about all sorts of things that she does not want to ask me to write.
(Heljered refers to an area in Kållered, Sweden; Elizabeth was born in Kållered. The website has additional quotations from this letter, about HW's
children
and about the
District 25 school district
which he organized.)
Gabriel Stene
, a Norwegian neighbor of the Mankells, wrote stories for his column in the
Willmar Weekly Tribune
in the 1920's. Here are two of
Gabriel Stene's stories
about a certain family he met on Section 20 of Lake Andrew Township in 1867. Orlynn Mankell, great grandson of Herman and Elizabeth, also wrote about the history of the Mankell family and Kandiyohi County. Here is
one of Orlynn's stories
about prairie fires and an early threshing scene on the Mankell farm.
It seems that drought and prairie fires were not the only issues dealt with on the prairie; Orlynn Mankell wrote the following anecdote about the Stene family whose homestead is just west of the Mankell homestead and east of Lake Mary:
Iver Stene (was) hauling wood from the Norway Lake woods while driving through the H.W. Mankell property. Son Gabriel (was) with. (For some) unknown reason Herman hit Iver with a stick. The next morning Herman was arrested and brought before attorney J.W. Arctander. The following day, Elizabeth, Jenny, Mary and Anna came in tears and pleaded (for Herman to be freed).
Orlynn continued with some background to the story:
Iver Stene was told by Mankell in 1866 or 1867 about a fine piece of land by Lake Mary. The two walked over the Stene hill and H.W. showed them around. Gabriel, Ole, Fred and Henry Stene (Sons of Iver) would court the oldest Mankell girls. Mankell didn't like this. Mankell would chase them presumably because they were Norwegian. For this reason Stene refused to sell the Stene East 80 acres to Mankell which Mankell said he wanted after showing Stene the land the first time.
Pioneer Mankell recognized the growing needs of his family and other area settlers. In 1868 HW and neighbors petitioned the county to create an organized school district; the first classes of District 25 were held on the Mankell homestead. Then in 1872 HW and neighbors successfully petitioned the county to create a new Lake Andrew Township out of a portion of Norway Lake Township.
In 1870 Herman bought two lots in Willmar from the St. Paul and Pacific railroad (Lots 8 and 9 of block 25). As of 1870, the Mankells owned 373 acres total farmland and woodland plus two lots in Willmar. Herman purchased an additional 40 acres of farmland sometime before 1884 (T121, R35, SE ¼ SW ¼ Sec 17). The title abstract lists the original owners of this 40 acres as the St. Paul and Pacific railroad and its Dutch investors.
HW received his United States citizenship on August 29, 1870. Elizabeth and children derived their citizenship through HW's status.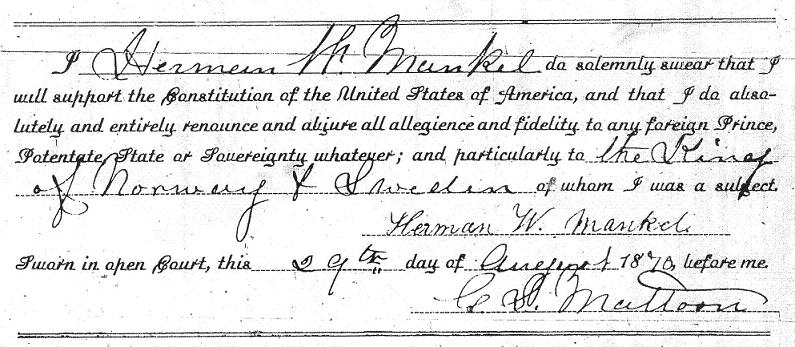 HW and family became U.S. citizens on August 29, 1870 in Stearns County, MN.

---
Moving to Willmar
In 1880, the family moved to Willmar (15 miles south of the homestead) so that the children could be educated. While in Willmar, Oscar was confirmed in the St. Luke's Episcopal Church and took business classes at the Willmar Seminary. During this time HW owned commercial lots on the main Willmar business district at that time (Pacific Ave). It is thought he attempted to open some type of furniture store to make cabinets and other pieces of furniture. He certainly had much timber to choose from amongst the oaks and maples on the lots near the lakes. Herman is listed in the 1880 Willmar census as "carpenter". He is known to have built a house in Willmar that still exists in 2008.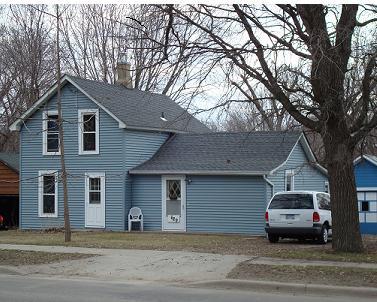 HW Mankell built this house in Willmar, Minnesota
(Picture dated 2008.)
One piece of furniture built by HW Mankell, a cabinet, is known to exist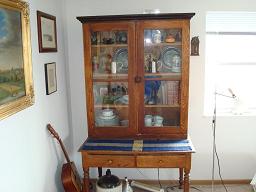 HW Mankell's cabinet, owned by Kurt Mankell
While in Willmar, the farm still needed to be worked. There is documentation in the farm title abstract of renting the farm in 1884 to Per Hoej (a Danish name and is also seen as "Per Hoy" in abstracts ). Per Hoej farmed all the Mankell land until 1888. As is obvious, the Mankell farm has not been farmed continuously by Mankells from 1867 to present times. Lonnie Fosso rented the acreage from 1993 until he purchased 150 acres of the homestead in 2014. (As a side note, Kurt always wondered why there were a few quarter sections north of the farm and South of County Highway 40 that had no homesteads. It turns out the railroad had them first, not homesteaders.)
Here is a picture of the farm house in about 1890.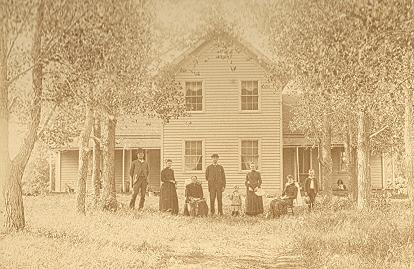 Mankell Farm House, c1890, view is from the north looking south.
Left to Right: Oscar Mankell, Sophie Mankell Quam, Elizabeth Mankell, Otto Mankell, Austin Landquist,
Esther Mankell Erickson, Amanda Mankell Landquist, Alfred Landquist
---
Deaths of the Pioneers
Herman Wilhelm Mankell died in 1889; Elizabeth Mankell died in 1914. Both are buried at the Lake Florida Mission Church, southeast section of the cemetery. Near the Mankell headstone are their individual graves, marked "Father" and "Mother". HW's obituary was published in the Willmar Republican Gazette on April 4, 1889:
An old settler of the county, Mr. H.W. Mankel (sic) of Lake Andrew passed to eternal rest on Sunday last. He had been sick but a short time, and his death was rather sudden, although not entirely unexpected. Mr. Mankel was fifty three years of age (note: an "old" settler at 53!): he came to America thirty three years ago and has been a resident of this county twenty three years. He leaves a wife and family of eight grown up children. Funeral services will be held today.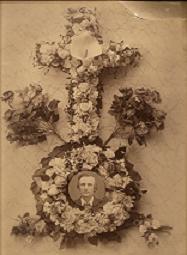 Funeral flowers for HW Mankell
Elizabeth Mankell's obituary was in the November 4, 1914 issue of the Willmar Tribune. Here are some excerpts:
Another of our worthy pioneers left this earthly home on Sunday, October 25th, when the death of Mrs. Mankell occurred at the home of her son, Oscar Mankell, after an illness of only three weeks...She came to America in 1857, locating first at Red Wing, Minn. Later she made her home at Northfield and St. Cloud. At the latter place she resided until after the Indian outbreak, in 1867 when she came to Kandiyohi County settling on a homestead in section 20, town of Lake Andrew where she lived until her death. Her death was caused by congestion of the lungs resulting from chronic heart trouble...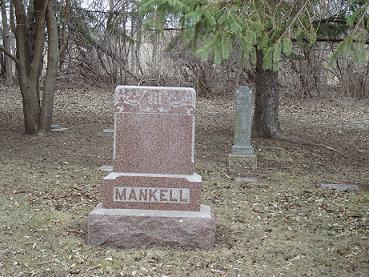 Mankell grave marker at Lake Florida Church.
HW and Elizabeth are buried directly behind the grave marker: noted as "Father" and "Mother". Other Mankell family members are buried to the right of the grave marker and the tree. The smaller grave marker visible to the right identifies the grave of Elizabeth's sister, Mathilda Widdich/Wittick. Mathilda died in December, 1916, from injuries suffered after she was hit by a car in St. Paul, MN.
---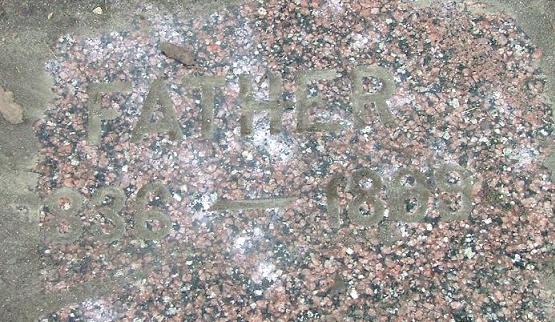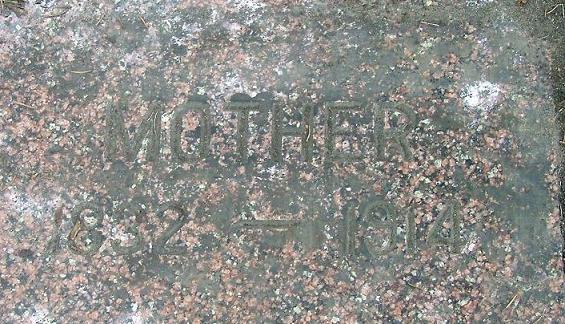 Graves of HW and Elizabeth (Olson) Mankell
Lake Florida Mission Church
---
Bibliography: Mormon Church Records; 1860 U.S. Census, (Northfield, Rice County, Volume 562, page 69); 1865 Minnesota Census (Census Schedule No 2, Northfield, Rice County, June 1, 1865); oral and written histories by Orlynn Mankell.