Mankell Family History
Maps of ancestral homes in Norway
Ole and Kjersti Hjelle
In 1926 Herman Mankell (grandson of homesteaders HW and Elizabeth Mankell) married Cora Christopherson. Cornelia (Cora) Christopherson was born and grew up on the Christopherson homestead in Arctander Township (Section 26), just one township west of Lake Andrew Township in Kandiyohi County, Minnesota. Cora's parents, August Christopherson and Bastina Hjelle, were immigrants from Norway; they met and married in Kandiyohi County, Minnesota. August's parents were immigrants and homesteaders Lars and Anna Christopherson from Nannestad, Norway. Bastina's parents, immigrants and homesteaders Ole and Kjersti Hjelle, were from Fåvang in Norway's Gudbrandsdalen Valley.
NORWAY
Bastina Olsen Hjelle (1870-1944), born in Fåvang Norway, on July 2, 1889. (Norwegian spelling was Bastine). 'Olsen' was the family's surname, with 'Hjelle' as the farm name. It was very common for a person to be known by the farm name. Following immigration many settlers used the farm name as the surname. Fåvang is in the valley known as Gudbrandsdalen (see maps of family farms in Norway), just a few kilometers north of Lillehammer, the home of the 1994 Winter Olympics. (The downhill skiing events were in Fåvang.) The Hjelle farm was located southeast of the village; only foundations of the farm remain on the hillside.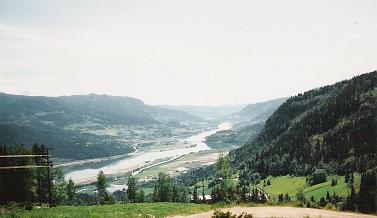 Gudbrandsdalen Valley of Norway, looking south from the olympic ski lift.
Fåvang is in the distance, along the river. 1995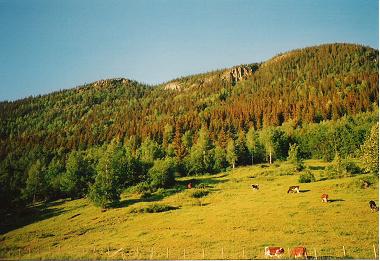 Hjelle farm was on this hillside south of Fåvang, on the east side of the river.
Only the building foundations remain. 1995
Ole Hansen Hjelle and Kjersti Hansdatter Prestangen
Bastina's parents were Ole Hansen Hjelle (American pronunciation is "jelly") and Kjersti Hansdatter Prestangen. Ole H. Hjelle (1818-1910) was born in Fåvang Norway and married twice.
Ole Hjelle and Marte Engebretsdatter Hjelstuen (1831-1856) had three children, all born in Fåvang, who grew to adulthood. One baby girl died at birth. Siblings Engebret and Marie immigrated to Minnesota.
Baby Girl Hjelstuen (1849)
Engebret O. (E.O.) Hjelle (1851-1938), married Karen Smidesang; 11 children, with 7 surviving to adulthood
Marie Hjelle (1853-1927), married Edward Hauge; 10 children
Hans Olsen Hjelle Hjelstuen (1855-1951), married Berit Brastadlokken; 6 children. Hans is the only sibling to have remained in Norway.
Ole's second marriage was to Kjersti Hansdatter Prestangen (1833-1905), born in Fåvang. They had 11 children, all born in Fåvang, and all immigrated to Minnesota:
Hans Hjelle (1857-1942) m. Oline Brostadlakken; 9 children
Martha Hjelle (1860-1929) married Ole Hjelle; 8 children
Christian Hjelle (1863-1887)
Olina Hjelle, (1866-1912) married Hans Bjorsness; 5 children
Gilbert (Gudbrand) Hjelle (1868-1920), married Ingeborg Kolstad; 6 children
Mattias Hjelle (1868-1950), married Gladys Johnson; 1 child
Bastina Hjelle (1870-1944), married August Christopherson; they had 7 children
Anna Hjelle (1873-1925), married Hans Krogh; 8 children
Clara Hjelle (1875-1949), married Torger Thompson; 5 children with one dying as an infant
Randine Hjelle (1879-1923) not married
Ole O. Hjelle (1881-1958) not married

1865 Norway Census, lists Ole Hansen, his wife Kirsti Hansdatter, and children.
Farm listed as "Hjelle nordre" (Hjelle northern)
Ole had two sons named Hans Olsen. The elder son's mother was Marte Engebretsdatter; the younger, Kjersti Hansdatter.
Source: 1865 Norway Census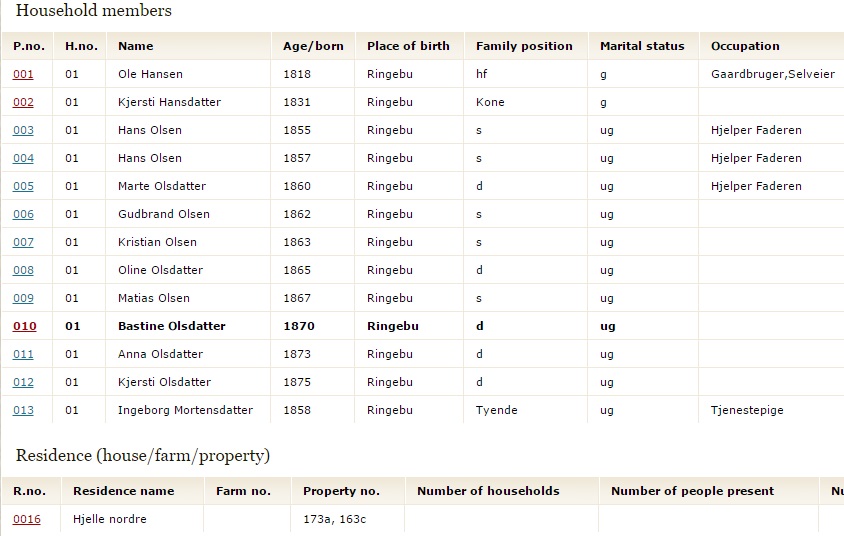 1875 Norway Census, listing Bastine Olsdatter, her parents, and siblings.
Farm listed as "Hjelle nordre" (Hjelle northern)
Source: 1875 Norway Census

---
Hans Olson Hjelle Hjelstuen was the only child of Ole Hjelle who remained in Fåvang, Norway. As his parents and siblings left the area, Hans moved from the Hjelle farm to the Hjelstuen farm (also in Fåvang) to live with his maternal grandparents and took the name of their farm. Several of his descendants currently live near Fåvang and Oslo in Norway.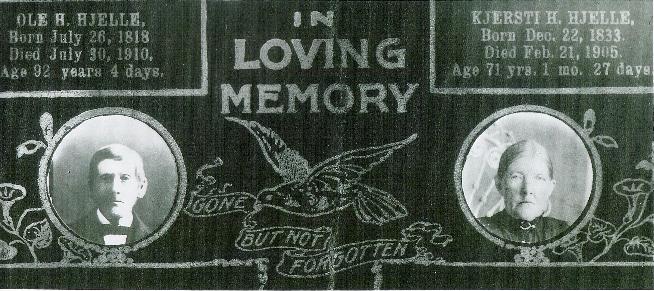 Ole and Kjersti Hjelle
(Thanks to Diane Christopherson for the photo.)


Ole Hansen Hjelle died on July 30, 1910 in Marshall County, Minnesota. Here is the death notice in the
Warren Sheaf
newspaper on August 4, 1910.
Ole H. Hjelle, one of the old settlers of town of Newfolden died July 30, at the ripe old age of 92 years. He came to the county 22 years ago. Six sons, seven daughters and nearly 100 grandchildren mourn his death.
Bastina's parents and many of her siblings settled in northern Minnesota in the Newfolden area of Marshall County. Several of her Hjelle relatives applied for and received homesteads in Marshall county and were required to obtain US citizenship prior to receiving the homestead. Ole Hansen Hjelle became a naturalized citizen at the age of 79, on March 14, 1898. Hjelle family members receiving homesteads in Marshall County include:
Ole Hansen Hjelle, January 23, 1901 (date deed was issued)
Engebert O. Hjelle, son of Ole H., January 10, 1890
Hans O Hjelle, son of Ole H, April 28, 1899
Ole Hjelle (possibly Ole O, son of Ole H) December 1, 1904
Martha Hjelle Rokke, daughter of Engebret, August 1, 1904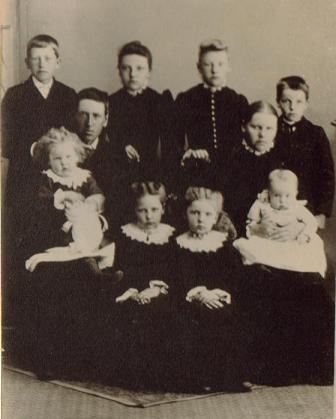 Engebret and Karen Hjelle, c1891. The baby is Carl Hjelle.
(Thanks to Mason Hjelle for the photo.)


As a girl in Norway, Bastina was a "Seter" girl, meaning that she spent her summers on the "seter" or summer farm located up in the mountains. Seters often comprise a cabin, barn and other out buildings. Historically, families would bring their cows or sheep to the seter for the summer months. One girl would live there and tend to the animals. She would make butter and cheese for the family to use during the winter months or to sell. One family story states that as a seter girl, Bastina would sing to bring the cows home from the pasture for milking. Only foundations remain of the Hjelle seter in Norway.
Bastina Hjelle, 12 siblings, and their parents came to the USA at different times over a span of 20 years. Bastina, her parents and 3 siblings (Oline, Anna, Mattias) arrived at the Port of New York on May 21, 1888 on the ship "Umbria". The ship departed from Liverpool, England, and Queenstown, Ireland. Father Ole was 70 at the time of the voyage; Mother Kjersti was age 55. Several siblings were already in the US. Bastina's parents and most of her siblings (Engrebret--son of Ole and first wife Marte, Hans, Gilbert, Christian, Oline, Mattias, Anna, Clara, Randine, Ole) settled in the Marshall County area of northern Minnesota. Some later moved from Marshall County: Clara to Ottertail County, Ole to Kittson County; Christian to Pennington County.
Bastina immigrated to Kandiyohi County in 1888 and was one of the last in her family to leave Norway. One brother, Hans, remained in Fåvang, Norway. Hans then moved to his grandparents farm, took the farm name as his last name and became Hans Hjelstuen. Bastina settled in Arctander Township because August Christopherson paid for Bastina's ticket to come to Kandiyohi County, with the agreement that Bastina would work at the Christopherson homestead in Arctander Township to pay off her debt. Before the agreement was over, Bastina and August married in 1889 and continued to live on the homestead. For more information, please see the Christopherson family page.)
Bastina and 2 sisters (Martha and half-sister Marie) settled in Kandiyohi County, primarily in Arctander Township. Many of the descendants of these three sisters remain in area, in Arctander and Lake Andrew Townships and in the town of New London.
Martha Hjelle married Ole Hjelle in 1885 and had 8 children. Their grandchildren in Kandiyohi County included Lloyd Lindquist, Glen Lindquist, Mildred Ihlang, Muriel (Thorson) Bengtson, Ruby Thorson, Kern Hjelle, Orlando Hjelle, Marvin Hjelle, Sadie (Hjelle) Orson, Elvin Hjelle, and Kermit Hjelle.
Marie Hjelle and Edward Hauge married in 1873 in Norway and had 10 children. Their grandchildren included Myron Hauge, Marvin Hauge, Elvin Henjum, Ellen (Foshager) Edman, Myrtle (Foshager) Skindelien, Alice (Foshager) Larson, Gladys (Foshager) Beck, and Evelyn (Foshager) Kleven.
---
Bibliography: Keeping the Faith…Sharing the Faith, p. 18-19; Willmar Tribune; New York Passenger Lists, 1820-1957, 1905 History of Kandiyohi County.