Mankell Family History
Map of ancestral home in Germany

NIEDERASPHE, GERMANY
Following the Mankell branch of the family tree, the ancestors of the Mankell family of Kandiyohi County, Minnesota were from Sweden and Germany. Herman Wilhelm Mankell (1835-1889) who settled the Mankell homestead in Minnesota in 1867, was from Gothenburg, Sweden, located on the west coast. His father Wilhelm August Mankell (1803-1872) came to Gothenburg from Karlskrona, Sweden, located on the southeast coast. Wilhelm's father, Johan Herman Mankel (1763-1835), settled in Karlskrona after leaving Christiansfeld, Denmark. Johan Herman was born and raised in Niederasphe, Germany. So this family history will begin in my ancestral home, Niederasphe. (see maps)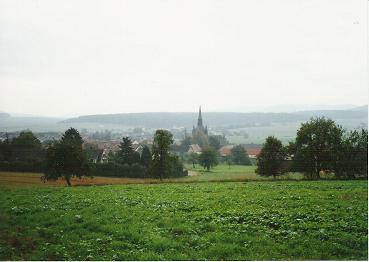 Niederasphe, Germany, in 1995
Village and Church
Niederasphe
, is a village in central Germany, northwest of Marburg am Lahn. This town of 1000 people is under the jurisdiction of Münchhausen, in the State of Hesse . Much of the documented history of the Mankel name comes from church records with documents dating back to the early 1600s.. There was and is one church in Niedersaphe and it's known as the Niederasphe church; it doesn't have a formal name. (The Niederasphe church dates back to the 1200s. The oldest part of the church, the tower which currently houses the altar, was part of a fortress prior to the building of the church and dates back to 1283.)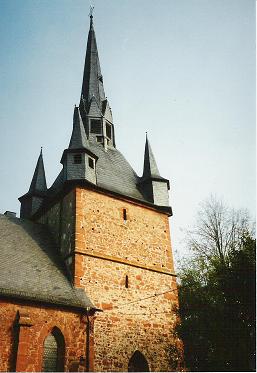 Niederasphe Church
As for tracing our family lineage, church records in Niederasphe show a direct line back 4 generations from Johan Herman (1763-1835). JHM's father and mother were Johann Hermann Mankel, 1728-1800 (but with a variation in spelling of the given names) and Elisabeth Lettermann (1730-1774). Johann Hermann's parents were Johannes Mankel (1705-?) and Anna Gertraud Dersch (1705-1787). Johannes' parents were Johann (Johannes) Baltasar Manckel (1684-?) and Elisabeth Waganer. Johann (Johannes) Manckel's father was Hermann Manckel (dates unknown). All these men and their wives were born in Niederasphe. The earliest dated church record related to the Mankel family which I saw noted the 1627 birth of Anna Manckel, daughter of Clem Manckel.
NOTE: Some published biographies (Svenskt Biografiskt Lexikon and Groves Music Dictionary) have stated that JHM's father was JH Mangold, a musician from Darmstadt Germany. Given the documentation in the church records this Mangold-Mankel connection is not true. I contacted Groves Publishing with the correct information.
---
Spelling of Mankell name
Over time the Mankell name changed spellings. German ancestors and family currently in Niederasphe spelled it "Mankel" . According to church records there was an earlier spelling: "Manckel." The spelling changed from Manckel to Mankel somewhere between the birth of Johann Baltasar Manckel in 1684 and his son, Johannes Mankel, born in 1705. It appears that Johannes Mankel's grandson, Johan Herman, born in 1763, added the second "l". By 1803 he was using the double "l" in the Danish census when the family lived in Christiansfeld, Denmark: Johann Hermann Mankell, his wife Johanna, and son Carl Abraham Mankell were listed in the census. The Swedish branch of the family, including the immigrants to Minnesota, spelled it "Mankell". (Though there are records where the immigrant Mankell families used the 'Mankel' version.) Generally, the spelling of the name Mankel/Mankell in this written history will reflect in which country the family is located.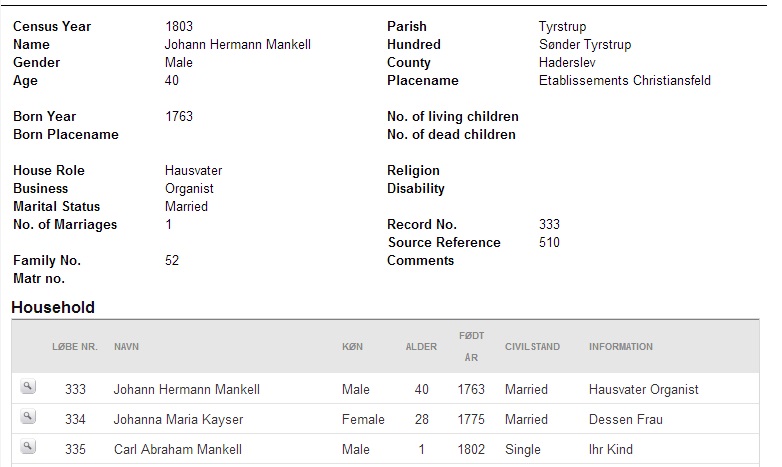 1803 Danish Census, identifying Johann Hermann Mankell and his family.
This may be one of the earliest records using the spelling "Mankell".

---
Wars
Mankel ancestors experienced and/or fought in many wars. The farm on which Margarete Mankel Semus (c1950-) grew up in Niederasphe has several 1707 paintings, located on the exterior wall of the barn, which depict the Thirty Years War. This war, 1618-1648, was based on religious conflicts between the Holy Roman Empire and European states. According to Grete Mankel Semus the narrow space between two buildings was a hiding place for the family when the Cossacks raided the town. To this day church bell rings daily at 10:00am to commemorate this war and those who lost their lives. When residents hear the bell toll, they stop work and maintain silence to "never forget" what happened in this small village.
Following the 30 Years War, Prussia needed to repopulate and economically regenerate the region. So Prussia welcomed many religious minorities to the area, including French Huguenots , who were persecuted in and exiled from France, and the Brüdergemeine (Moravian Brethren) with whom we will have more contact later in Mankel history. In 1720 Huguenots settled in Todenhausen (Hesse region) just a few miles from Niederasphe. Mankel lore states that some Mankel family were Huguenots. With such close proximity of Todenhausen to Niederasphe, it is possible that, within this large extended family, Mankels married Huguenots.
Documents from the American Revolution state that a "Johannes Mankel" from the Marburg area of State of Hesse fought for the British. This "Johannes Mankel" was probably from Niederasphe, which is close to Marburg. Because the British didn't have enough troops, King George III paid the Duke of Hesse to supply local men to stop the rebellion in the American colonies. With more than half of the supplemental troops coming from the Hesse region, all the troops from Germanic principalities were called "Hessians". Nearly 30,000 men served; one out of four Hessian men fought for the British.
Next to the Niederasphe cemetery is the monument to the town's war dead, primarily from WWI and WWII. Mankel names are included in this memorial.
---
Mankel family currently in Niederasphe
While Johan Herman Mankel left Niederasphe (1780s) for Denmark and Sweden and his descendants never lived in his hometown, other Mankel family remained and their descendants continue to live in this small village. The 1994 telephone book has 14 entries for "Mankel" living in the town. In 1994 and 1995 I visited Niederasphe several times and stayed with Margarete (Grete) Mankel Semus and her family. As we strolled down the narrow streets of town she would point out homes and say 'Mankel lived here" or 'Mankel lives here'. Grete and Werner Semus have four children, Daniel, Mirjam, Christian, and Johannes.
Margarete Mankel Semus is related to the Mankells through both her father's and her mother's lineage. Due to gaps in the church records we have not linked our family trees to a single male Mankel ancestor. Grete's great-great-great grandfather Johannes Mankel was born around 1780. He could be a brother, nephew or cousin of Johan Herman Mankel, born 1763. Grete's mother, Marie Linne, is also descendant of the Mankel family. Though my knowledge of the direct genealogical connection is incomplete, Marie is a descendant of Anna Gertraud Mankel (1752-1808) who was a sister of Johan Herman (1763-1835).
Grete has one brother Hans Mankel who lives near Niederasphe. Hans has two sons, Mario and Dominic.
---
Bibliography: Cook; Dolan; Fulbrook, p. 88; Passenger and Immigration Lists Index.