Mankell Family History
JENNY (MANKELL) GORDHAMER (1858-1948)
Daughter of HW and Elizabeth Mankell
HW and Elizabeth Mankell had nine children. Jenny was the oldest, born in Northfield MN; she died in 1948, the last of the Mankell siblings.
On June 24, 1876 pioneer settlers and neighbors gathered at the Mankell homestead for the wedding of HW and Elizabeth's oldest child, Jenny, and Andrew Gordhamer. In his Willmar Tribune Pioneer Kid column, Gabriel Stene wrote in 1926, about this wedding. It was on this "Midsummer Day...we had a good pioneer time running around a midsummer pole decorated with midsummer June flowers." He later wrote that the "pole was planted in the front of the house and decorated with wild flowers from bottom to top. A good old settlers time was indulged in during the day and the pioneer kids enjoyed a good time...singing" and playing "Drop the Handkerchief. Being a fine evening, the enjoyment lasted the most part of the night." Stene continues his writing about Jenny and Andrew's 50th wedding anniversary:
Many of the good old settler and familiar faces of those days of their wedding 50 years ago were not present, but a group of children, grandchildren and great-grandchildren were there, more than I am able to enumerate. A group of strangers to us--so an old pioneer would be tempted to ask: "Is this the good old Norway Lake country or what part of the world is it?" But they were all busy entertainers to help promote the entertainment given in honor of parents, grandparents and great grandparents and another day of merriment was spent for the honor of the venerable couple, reminding us of the good old time of fifty years ago.

After an elaborate dinner where about 100 were seated in a tent enjoying a good meal, the toastmaster, L.A. Tjosvold of St. Paul, called on Rev. Baalson for a speech who also handed a purse of gold to Mr. and Mrs. Gordhamer...When the Pioneer Kid took leave he told them that to judge from conditions they were good for another run of 50 years and wished them good luck and Godspeed for many more years to come.
Jenny (Jennie) Mankell Gordhamer died on May 26, 1948. She was the eldest of nine children and the last one to pass away. Funeral services were held at East Norway Lake Lutheran Church, located near the Gordhamer home in the small community of Jericho (just 1.5 miles west of the Mankell homestead). She and Andrew (and son Austin) are buried in the church cemetery, section K.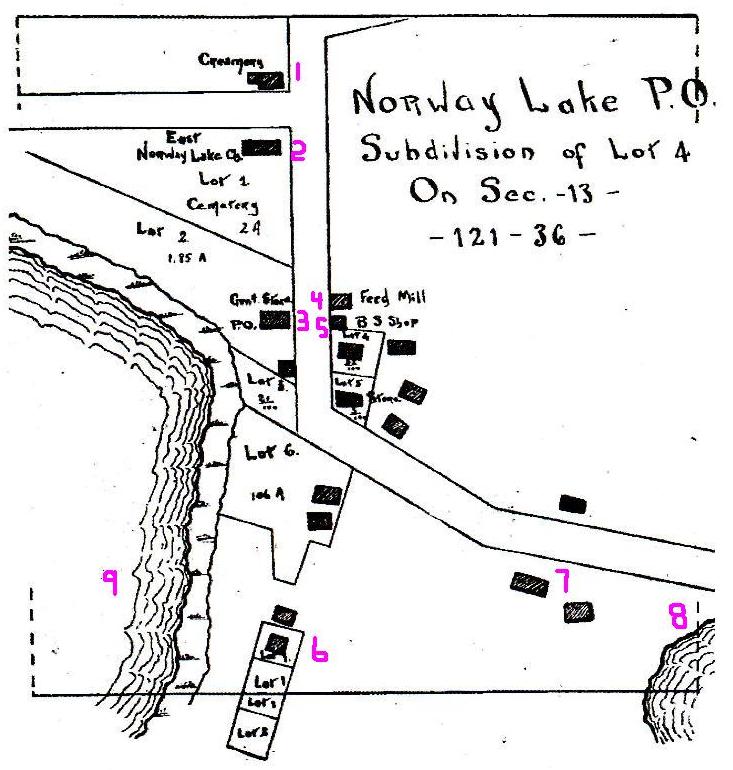 Hand-drawn map (undated) of Jericho.
Norway Lake Creamery, est. February 1896 by Martin Walby.
East Norway Lake Lutheran Church and Cemetery, est. 1875.
General Store and Post Office, est. 1879.
Feed Mill
Blacksmith Shop,
Swen and Guri Swenson home
Andrew and Jenny (Mankell) Gordhamer farm
Lake Mary
Slough
---
Jenny and Andrew had 12 children:
Dena (Andine) (1877-) m. Severin O. Tjosvold (1872-1932), brother to Louis
Mary Elizabeth (1879-1951) m. Oliver Halvorson (1870-1932)
Johanna Wilhelmina (1881-1941) m. Louis A. Tjosvold (1868-1960), brother to Severin
Anna Jeannette (1886-?)m. Hoaglund (Hoglund)
Harry (1883-1950) m. Thea Quisberg (1884-1955)
Theoline (Tella) (1885-1962) m. Gilbert M. Anderson (1879-1965)
Victor (1889-1944) m. Carrie Erickson (1891-1978)
Arthur Walter (1890-1920)
Austin (1893-1969)
Eddie (1895-1976) m. Astrid
Axel (1895-1981) m Clara (Byrdie) Aasen (1896-1995)
Joseph (1898-1976) m. Christine Vold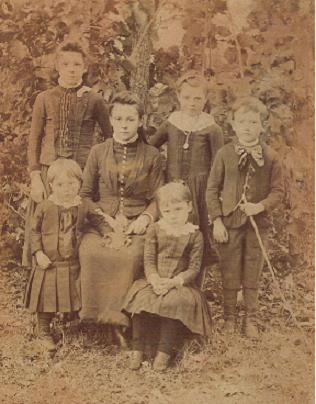 Some of the Gordhamer children: Mary, Dena (sitting) Johanna , Harry.
The two youngest are probably Theoline (Tella) and Jeannette, c1888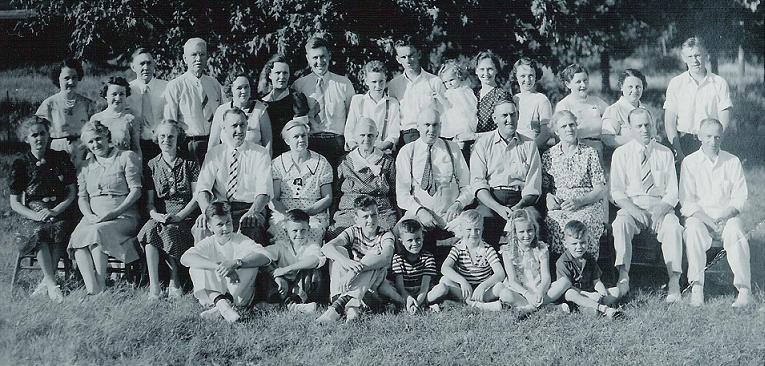 Gordhamer family at their annual July 4th picnic at the Gordhamer farm in Jericho, 1938

Sitting, left to right: Tella Anderson, Jeannette Hoaglund, Thea Tjosvold, Joseph Gordhamer, Dena Tjosvold, JENNY MANKELL GORDHAMER, Harry Gordhamer, Austin Gordhamer, Mary Halvorson, Eddie Gordhamer, Axel Gordhamer

Back row, left to right: Evangeline and Virginia (two daughters of Axel), Gilbert Anderson, LA Tjosvold, Christine (Mrs. Joseph) Gordhamer, Olga and Donald Tjosvold (children of Thea), son of Joseph Gordhamer, Walter Tjosvold (son of Dena), Ruth Ringsven (daughter of Tella) holding a child, daughter of Eddie Gordhamer, Esther (Mrs. Eddie) Gordhamer, Byrdie (Mrs. Axel) Gordhamer, Dale Tjosvold (son of Dena)

Children in the front row are unidentified; included are children of Joseph and Christine Gordhamer.

Thanks to Dale Tjosvold for the photograph and for identifying family members.
Thanks to Marian Lamoureux for identifying additional Gordhamer relatives.
---