Mankell Family History
Maps of ancestral homes in Norway
Lars and Anna Christopherson
August and Bastina Christopherson
As we look at the Mankell family, Herman Mankell (grandson of HW and Elizabeth Mankell who settled on the homestead in Lake Andrew Township) married Cornelia (Cora) Christopherson who was born and grew up on the Christopherson homestead in Arctander Township (Section 26), just one township west of Lake Andrew Township in Kandiyohi County, Minnesota. Cora's parents were immigrants from Norway: Bastina Hjelle and August Christopherson who met and married in Kandiyohi County. Bastina's parents were Norwegian immigrants Ole and Kjersti Hjelle; August's parents were Lars and Anna Christopherson, also Norwegian immigrants.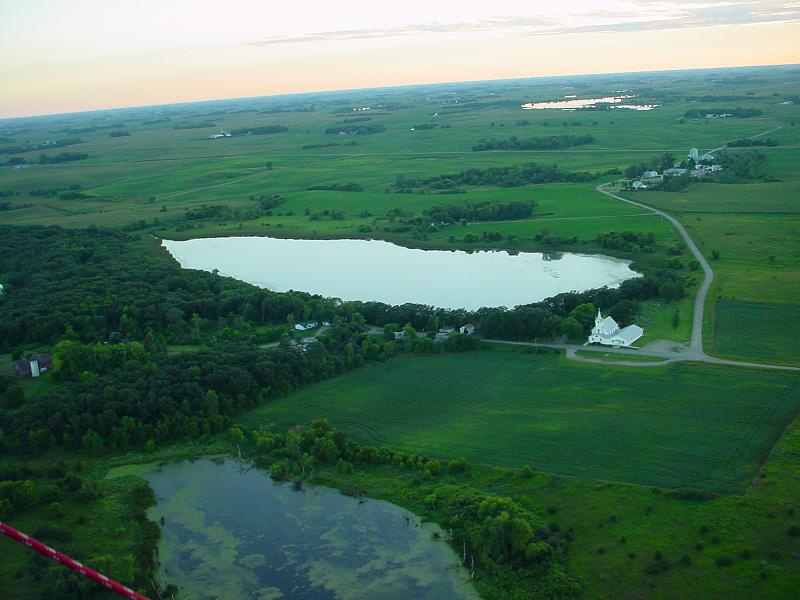 Aerial view of Arctander Township in 2005, looking west (and a bit southwest).
In the middle is the unincorporated hamlet of Jericho (also called Norway Lake) and East Norway Lake Lutheran Church.
The border of Arctander and Lake Andrew Townships is in the foreground.
The Christopherson homestead is in the background, upper left of center: the grove of trees
with light colored buildings to the left of the grove.
Photo courtesy of Kurt Mankell.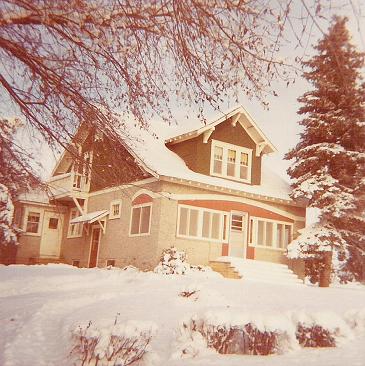 Christopherson homestead, c1970. Second (and current) house on the farm, built in 1927.
There is a separate web page with the homestead documents.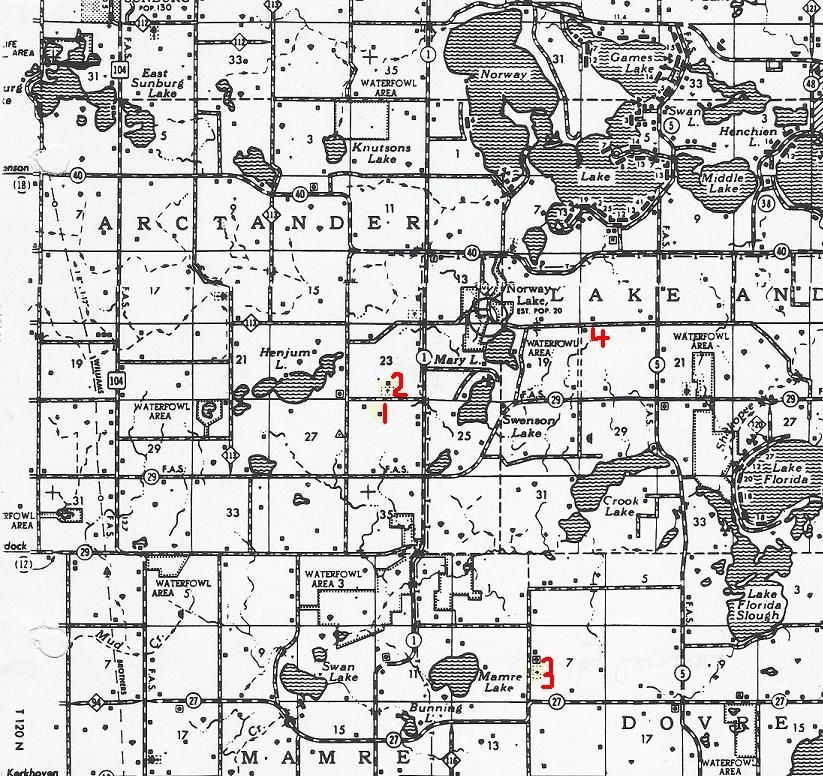 Map of Arctander Township, c1975

Christopherson Homestead, Arctander township, Section 26.
Church of God Cemetery, where Bastina and August Christopherson are buried.
Lundby Cemetery (in Dovre Township) where Lars and Anna Christopherson are buried. Also buried here are Lars' daughter, Carrie and her husband Nels Abrahamson.
Mankell Homestead (indicated here just for geographic reference)
NORWAY
The Christopherson family is originally from the Nannestad and Ullensaker areas of Norway, north of Oslo. August (1863-1906) was born in Nannestad. His father, Lars Christopherson (1828-1925) was born in Holter (Ullensaker township), He was baptized at the Holter Church. Lars was a teacher in Maura (Nannestad township) Norway. He married Anna Olson Tangen, (c1844-1886), who was from Tangen, just north of Maura. (see maps). Lars grave marker lists his birth year as 1827, but church records in Nannestad state the year as 1828. His sister Anne was born in 1827.)
When referring to the Christopherson ancestors from Norway, who then moved to Arctander, there often is confusion because they also used the Holter name. In Norway people often take the name of the location (usually a farm) where he/she lives. Because the Christopherson family rented a building on the Holter farm (which was next to the Holter Church) they were also known as Holter.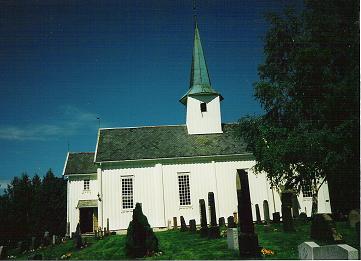 Holter Church, 1995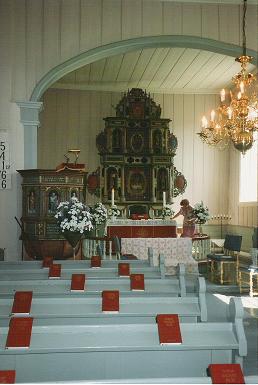 Interior of Holter Church, where Lars Christopherson was baptized.
A 1995 photograph.
Lars and Anna Christopherson and their children emigrated from Norway in the spring of 1868 on the sailing ship "City of Washington" which arrived in New York on May 13, 1868 from Liverpool England. They had 4 children by 1868: Carrie, Olai, August and Anne. The manifest lists the family (nos. 278-283) as "Christoferson" and the children as Karen, Olie, Auguste, and Anne. According to a Stene article, the family initially "landed at the railroad terminal, St. Cloud, where he met a Mr. John Sandvik, who brot them to the Lake Johanna colony. It did not suit his fancy so he came over to the Norway Lake colony where he found himself at home."

"City of Washington" Ship Manifest, identifying Lars, Anne and children on the May 1868 voyage.

The family traveled to Arctander Township, first living in a sod house. They settled on their homestead in Arctander Township in 1869
(indexed as Lars Kristofferson with the Bureau of Land Management records)
, having filed their papers in the Litchfield Land Office. On this farm in Section 26 (Homestead Entry # 2574) Lars built the first wooden house on the property. Lars and Anna had three more children, born after arriving in Arctander Township: Julius, Christine and Lewis. The
homestead
has remained in the Christopherson family, later farmed by Lars' son August, then August's son Otto, and now by Otto's son Alloys and his wife Diane.
In Norway Lars was educated to be a teacher, which included religious instruction. In August 1868, shortly after arriving in Arctander Township, Lars Christopherson (aka Lars Christopherson Holter or Lars Kristofferson) was hired as teacher for the Norway Lake Lutheran congregation. At this time there was no church or school building for the congregation; worshipers and students met in homes. (The
log church
was finished in the fall of 1868.) The parochial school met in the home of Thomas Osmundson on the south side of Norway Lake. Norwegian was spoken in the classroom and studies included reading, writing and religion.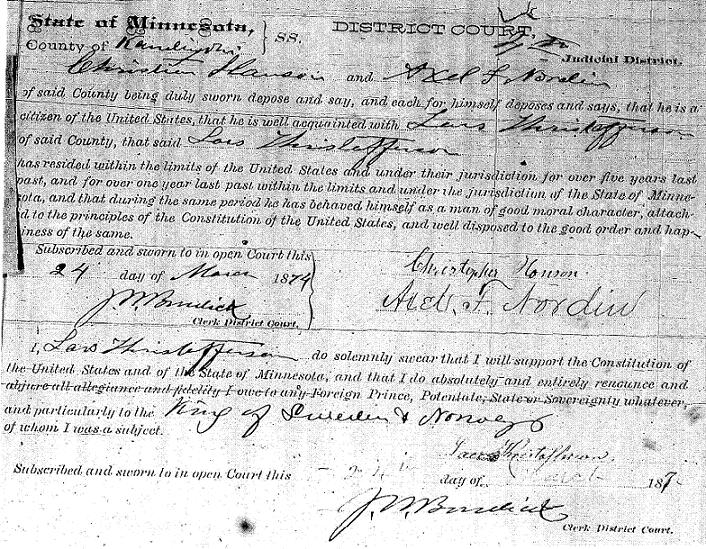 Lars became a citizen of the United States on March 24, 1874.
And by derivation his wife and young children also became citizens.
Witnesses were Christopher Hanson (C.H. Engen) and Axel F. Nordin.


---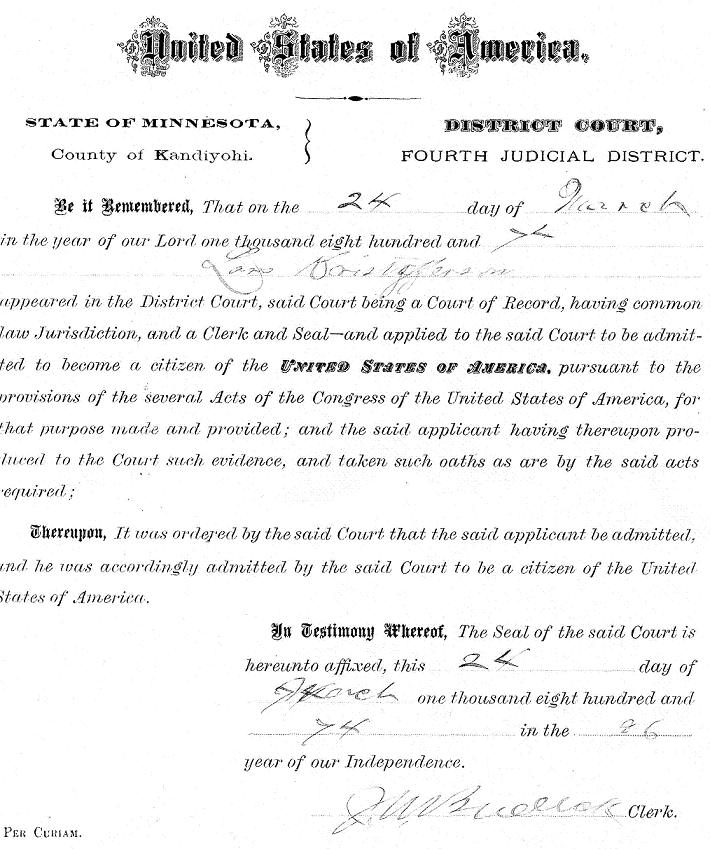 Certificate of citizenship which Lars filed with the U.S. Government Land Office to receive his homestead.
Document at National Archives, Washington DC.
Lars and Anna were parents of 7 children:
Carrie, (1859-1935) married Nels Abrahamson and lived in Mamre Township and later Willmar MN. 10 children: Laura, James, Alfred, Amos, Henry, Mabel, Julius, Eddie, Anna, Ellen. Carrie and Nels are buried at Lundby Cemetery, south of the Christopherson homestead.
August (c1863-1906), married Bastina Hjelle (1870-1944) and had seven children .
Olai (Nov. 1860-1924) married Anne
Anne (c1866-?)
Julius (c1868-?)
Christine (c1873-?) married Edward Evenson
Lewis (1875-1958) married Bertha Walby and lived in New London for more than 40 years. 3 children: Lawrence, Bernice, Clarence. Buried at Oak Hill Cemetery, New London, MN.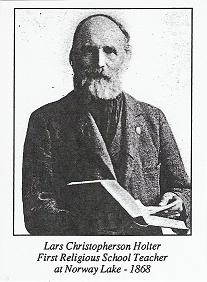 Keeping the Faith...Sharing the Faith


---
School District 56
In 1872 School District 56 was established in Norway Lake Township, (later known as Arctander Township). The district included sections 22-27, 34-36. The local school board met in 1873 and determined that the school term would last for 3 months; the first term commenced on June 4, 1874, in a room at the John Edman home, with teacher Lizzie Wright. In 1875 a 16 x 20 foot schoolhouse was built in the SW corner of the NE 1/4 of Section 26, which was the southern edge of the Christopherson homestead. An addition was added in 1893, and in 1902 a new schoolhouse was built, 22 x 38 foot with a belfry. The school closed in the early 1960s following consolidation with New London District 345.
Enrollment in 1877 included: Jennie Edberg, Amanda Edman, Charlie Edman, John Foshager, Iver Foshager, Lucinda Foshager, Andrew Henjum, John Henjum, Syneva Henjum, Hannah Jacobson, Julius Jacobson, Alfred Johnson, Caroline Johnson, Josephine Johnson, Ole Johnson, Annie Larson, Oliver Johnson, August Larson, Carrie Larson, Nora Miller, Oliana Miller, Halvor Negaard, Hannah Negaard, Martin Negaard, Ole Negaard, Amanda Nelson, Amanda Nelson, Andrew Nelson, Hakan Nelson, Gust Nordin, Ole Olson, Hilda Peterson, Alava Rosby, Mary Rosby, Mathilda Rosby, Sophia Rosby, Martin Stevenson,
Teachers from 1905-1960: Matilda Ramstad, Ellen Skutle, Constance Larson, Emma Johnson, Gertrude Bergh, Huldah Ronning, Anna Fridlund, Selma Henjum, Anna Holzinger, Ruth Gibson, Annie Bakken, Josephine Henjum, Millie Christopherson, Myrtle Holmgren, Ruth Sotendahl, Cornelia Christopherson, Mayme Pederson, Eva Anderson, Agnes Brenden, Mildred Henjum, Ethel Johnson, Mabel Rosenau, Olive Johnson, Rikka Boe, Luella Sims, Virgiline Brainard, Mrs. Glen Lindquist, Bessie Christianson, Mrs. C.W. Sarsland, Mrs Bert Scheltens.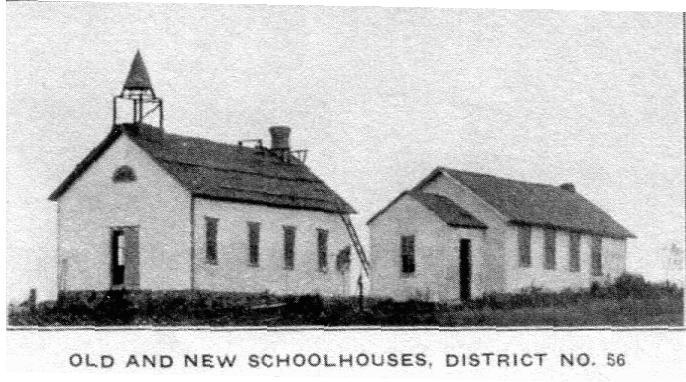 School District 56
---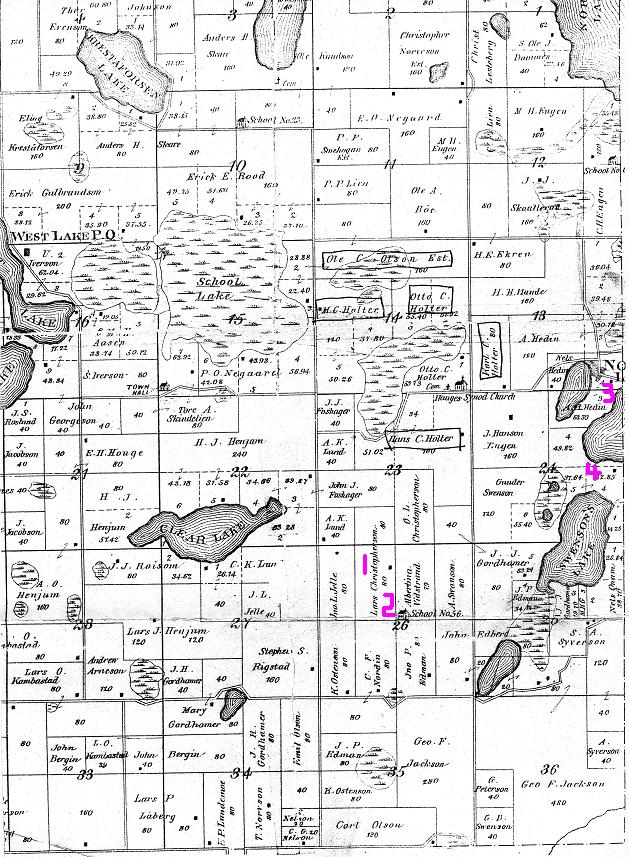 1886 plat map showing a portion of Arctander Township. (pdf version)

Christopherson Homestead, Section 26
District 56
Jericho
Swenson Homestead, Section 24




---
Lars lived on the homestead until his death. Wife Anna died in 1886; in 1910 he was living on the farm with his widowed daughter-in-law, Bastina, and her children. By 1920 Lars still owned the farm and continued to live there with Bastina and her children Otto, Ellen, Millie and Cornelia. Grandson Otto rented the farm. Here is the 1925 obituary of Lars Christopherson. Lars and Anna Christopherson, are buried in the Lundby Cemetery in Dovre Township, south of the Christopherson homestead.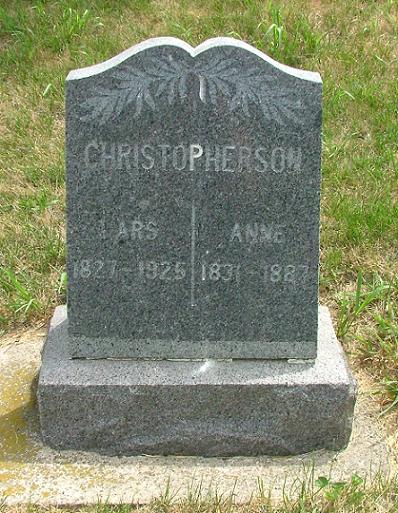 Grave marker of Lars and Anne Christopherson, Lundby Cemetery, Dovre Township. Kandiyohi County.
Lars grave marker lists his birth year as 1827, but church records in Nannestad state the year as 1828. Sister Anne was born in 1827.)
---
Pioneer Norwegian settler, Gabriel Stene, wrote stories about pioneer settlers which appeared in 1925 issues of the Willmar Tribune. Stene wrote about Lars Christopherson and Lars' sister, Anna Olson, and their experiences as immigrants and settlers in Kandiyohi County.
In 1985 Orlynn Mankell wrote an article about a Pioneer Woman and her family, who traveled from Norway to Arctander Township. This article is about the sister of Lars Christopherson, Anne Christopherson Olson.
---
AUGUST AND BASTINA CHRISTOPHERSON
Bastina settled in Arctander Township because August Christopherson paid for Bastina's ticket to come to Kandiyohi County, with the agreement that Bastina would work at the Christopherson homestead in Arctander Township to pay off her debt. Before the agreement was over, Bastina and August married in 1889 and continued to live on the homestead. They had 7 children
Otto (1890-1971), married Ella Negaard; 2 children
Anphia (1892-1974), married Elmer Myhre; 4 children
Julius (1894-1953)
Edward (Eddie) (1897-c1980), married Olive; 6 children
Ellen (1899-1972), married Herman Landquist
Millie (1891-1994), married Eugene Bergan
Cornelia (Cora) (1903-1963), married Herman Mankell; 7 children
There is a separate web page regarding the children of August and Bastina.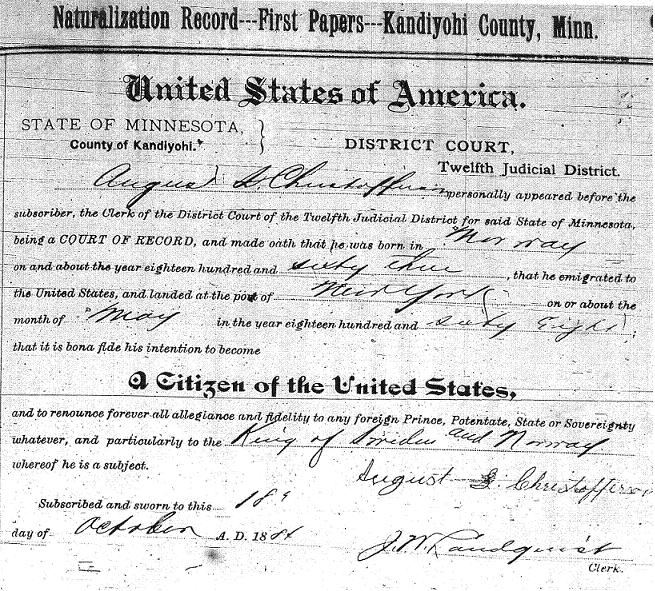 August Christopherson's citizenship document, October 18, 1884.
The clerk appears to be Julius Landquist, father of Herman Landquist who later marries August's daughter Ellen Christopherson.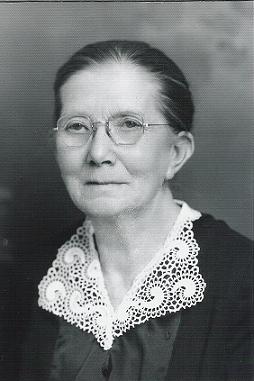 Bastina Hjelle Christopherson, c1930


Bastina Hjelle Christopherson in Duluth, c1930


Bastina and August had 16 grandchildren including Alloys Christopherson who lives and farms on the Christopherson homestead, Orlynn Mankell, Marjorie (Mankell) Larimer, Sherman Mankell, Mary Ann (Mankell) Petteway, Douglas Mankell, Marlys (Mankell) Schilz, Gloria (Myrhe) Halvorson, Lorraine (Myrhe) Broberg, Doris (Myrhe) Broberg, Warren Christopherson, and Gus Christopherson.
Bastina and August are buried at the Church of God Cemetery across the road from the Christopherson homestead. Both lived most of their lives on the homestead. August died from pneumonia in 1906 (age 43) at his home, leaving Bastina a widow for many years before her death in 1944. Bastina lived her last 6 years in Willmar, MN.
Here are the obituaries for August Christopherson, which was in the April 11, 1906 issue of the Willmar Tribune, and for Bastina Christopherson (Sept 14, 1944 issue):
AUGUST CHRISTOPHERSON DEAD
This week it is our duty to report the death of August L. Christopherson, of town of Arctander, which occurred at his home on Saturday, April 7, about noon. The cause of death was pneumonia. The deceased leaves a wife and seven children to mourn his sudden departure, besides an aged father who has made his home with the deceased for a number of years, two brothers--Olai and Louis Christopherson--and two sisters--Mrs. N N. Abrahamson of Mamre and Mrs. Ed Evenson of Willmar. The grief stricken relatives have the sympathy of the entire community. The funeral will occur Tuesday, April 10, and the remains will be laid to rest in the "Church of God" cemetery, located on the deceased's farm.
MRS. B. CHRISTOPHERSON
Mrs. Bastine Hjelle Christopherson was born August 12, 1870 in Gudbrandsdalen, Norway. She was taken ill on August 22, last and passed away on August 29, thus attaining the age of 74 years and 17 days. She came to this country with her parents, from Norway, at the age of 17 years and settled in Kandiyohi County. In 1888 she was united in holy matrimony to August L. Christopherson, who preceded her in death in 1906.

To this union three sons were born into the family: Otto at the home farm, Julius of Minneapolis, and Eddie of Syracuse, NY and four daughters, Anphia (Mrs. Elmer Myhre) of Sunburg, Ellen (Mrs. Herman Landquist) of Minneapolis, Millie (Mrs. E. L Bergan) of Minneapolis and Cornelia (Mrs. Herman Mankell) of New London. All were present at the funeral. Two brothers, Matt and Ole Hjelle of New Folden and one sister, Mrs. T Thompson of Pelican Rapids, also survives. There are 16 grandchildren and three great grandchildren, as well as a host of other relatives and friend, who deeply feel the loss of a true Christian, mother, and friend.

She was converted while a young woman and lived a true Christian life all these years. She as a faithful member of the Church of God and was a true believer in the Bible. Her prayer was that we shall meet in Heaven.

Funeral services were held Saturday afternoon, September 2, at 2 o'clock from the Church of God in Willmar, with the Rev. Shields officiating. Several songs were sung. Burial was in the church cemetery in Arctander Township. One selection, "Sweet Bye and Bye"" was sung at the grave by the church quartet. Pallbearers were the three sons, Otto, Julius and Eddie Christopherson, and the three sons-in-law, Herman Mankell, Elmer Myhre and Herman Landquist.

Those from a distance in attendance included Ole Hjelle, Mrs. Melvida Nelson, John L. Johnson of New Folden, Matt Hjelle of Argyle and Mr. and Mrs. Carl Hjelle of Stephen.Gifts to missions in her memory amounted to more than $115. There was a great profusion of beautiful floral offerings, gifts from relatives and friends, attesting to the high esteem in which Mrs. Christopherson was held by all who knew her.

Mr. and Mrs. Christopherson spent their years together on their farm in Arctander, and she continued living there after her husband's death until six years ago, when she moved to Willmar to spend the sunset of her life. Peace be to her memory.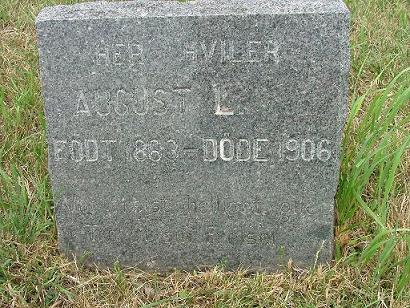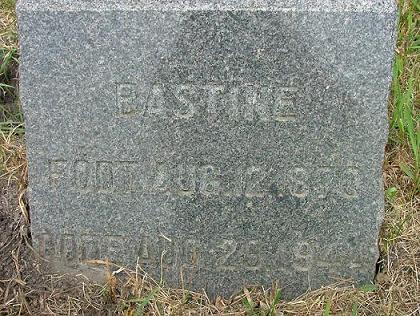 Graves of August and Bastina Christopherson, Church of God cemetery,
adjacent to the Christopherson homestead.
---
Bibliography: Keeping the Faith…Sharing the Faith, p. 18-19; Willmar Tribune; New York Passenger Lists, 1820-1957, 1905 History of Kandiyohi County.