Mankell Family History
"A Pioneer Woman Found Her Place in the New World"
The story of Anne Christopherson Olson Holter
Written by Orlynn Mankell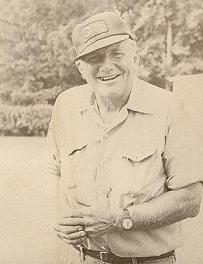 Storyteller and historian, Orlynn Mankell
From the Territorial Journal, January 18, 1985
On May 1, 1862, the America-bound sailing vessel, the Nordlyset, lay along the pier in Christiania (later Oslo), Norway. Throughout the day she had been taking on passengers, all of whom could now be referred to as "immigrants," that well known expression that would become famous in accounts of many years later.
Among those boarding the Nordlyset on this important, much-prepared-for day was immigrant Kristoffer Olson, along with his wife, Anne, and their seven children. Taken on board were several chests and trunks, all plainly marked "Kristoffer Olson." Like the others, Kristoffer was in the process of cutting off all ties behind him and would now find a new beginning for himself and his family in the New World. The record would state that a total of 160 passengers would board the ship on this day.
A fairly large crowd had gathered to see the Nordlyset off, and now the last agonizing dockside farewells were being completed. Lines to the pier were untied and the ship was pulled out into the harbor. Sails were hoisted. Soon the ship was proceeding slowly down Oslo-fjord with her passengers now standing on deck looking their last on their homeland. Within a day or so the Nordlyset was rounding the southern end of Norway and then, with wind filling her sails, she headed out into the perils of the North Atlantic.
Norway gone
Such was the departure of Anne and Kristoffer and family for the New World. Norway's rugged coastline was visible behind them for some time but it eventually disappeared. Norway, land of their birth, was gone forever. On board the passengers settled down for a long voyage.
Vessels such as the Nordlyset were merchant ships and were not designed for passengers. All accommodations were makeshift and were in the cargo area below deck -- and where ventilation was poor. It was not quite the vacation cruise as seen from today. Food would spoil. Water would become scarce. There were days of storm and others of intense fog and with no wind, there was hardly any progress for the day.
A Norwegian newspaper in Madison, Wisc. carried the following information. Dateline: Quebec, Canada, June 15, 1862 -- "The Nordlyset has arrived today with 160 passengers from Norway. The first leg of this Norway-to-Minnesota journey was been completed. Then it was overland by rail and riverboat to Winona, Minn., and from there to the large Norwegian settlement in Fillmore County in southeastern Minnesota.
The Homestead Act was now in effect, but Kristoffer quickly discovered that he nevertheless had come at a very unfavorable time. The country was caught up in the American Civil War. Then, in August 1862, came the sudden and bloody Dacohtah War, leaving western Minnesota closed to virtually all settlement -- where Kristoffer had intended to settle. And all land in and around Fillmore County had been taken. Kristoffer would have to wait. To make ends meet he found a job.
Time goes on
The weeks lengthened into months, and then the months into years. Anne and Kristoffer were now the parents of 10 children. To help feed his large family, he fished in a stream that ran close to his house. But still this continuing vision -- someday soon, a place of his own.
The long Civil War was over. Then was to begin that famous westward migration in Minnesota. Kristoffer and his family certainly were to be part of it, and plans were being made. But it was now that there would be a drastic turn of events. Kristoffer had not been feeling well for a while, and a few days later the family was thrown into a sudden, and totally unexpected, crisis. Kristoffer Olson died.
It was a somber and startling development, but to die young was a part of the times. It would now all depend upon Anne, and one thing she was quick to make clear -- and 50 years later people still would remember what she declared -- the trip was still on! And preparations continued.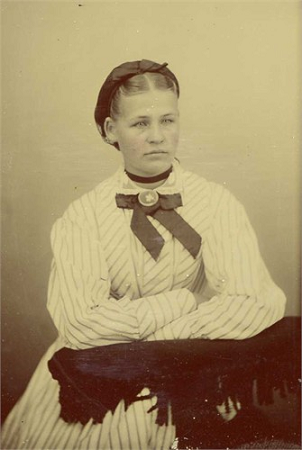 Anna Christopherson Olson (later Holter)


Westward ho
On a day in the summer of 1867, two ox-drawn covered wagons left the community of Arendal in northeastern Fillmore County and headed north into the wilderness. Destination: Kandiyohi County. Anne and her 10 children had said good-bye to their friends behind them as this long-awaited adventure was at last underway.
It would prove to be one of the most remarkable covered wagon expeditions ever to occur in Minnesota. They camped at night along the trail, wherever night found them.
They crossed areas blackened by fire. There were days of rain and mud. In one instance, one of the sons walked three or four miles in search of help in pulling the wagons out of deep mud -- but help he did not find. Not many miles were covered that day.
Their record shows they camped and rested for two days on what is now the Minnesota State Fairgrounds, and four large, hard-working oxen probably also enjoyed the two-day break.
Then it was on to St. Cloud, a visit to the land office there. And from there Anne set course to the southwest. This month-long covered wagon odyssey came to its conclusion when the family arrived in Arctander Township, Kandiyohi County. It was now five years since the family had sailed down Oslo-fjord on the Nordlyset. Their own part of the New World was found at last -- a part that Kristoffer Olson was not permitted to see.
On the State Fairgrounds today -- and where Anne made camp 117 years ago -- stands a metal figure depicting the Pioneer Woman. It could be Anne.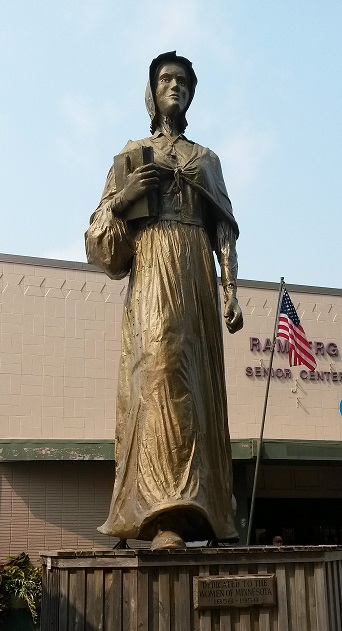 Pioneer Woman statue at the Minnesota State Fair, dedicated in 1958--the state's 100th year.


---
A note from Carolyn Sowinski:
Information about the transatlantic journeys of the Nordlyset sailing ship can be found at the norwayheritage.com website. It states that the ship arrived in Quebec on June 27 1862 (not June 15 as written above). Also there is an excerpt from the Morgenbladet newspaper from July 30, 1862, which includes Anna's husband Christopher Olsen Holter in a list of passengers who praised the work of Captain Abrahamsen during this journey: Abrahamsen "has under the voyage shown a polite and caring attitude at all times, and shown willingness and been in all ways helpful with advice. Even though we are not sailors we must add that Capt. Abrahamsen at all times has shown skillfulness and enthusiasm in making progress on the voyage in the unfavorable weather we were exposed to during the Atlantic crossing." No passenger list of the immigrants on this 1862 journey has survived.

There are various spellings for this pioneer: Anna/Anne; Christophersdotter/Christopherson/Christofferson; Olson and later Holter; Kristoffer/Christopher. Anne and Kristoffer's children were Olas Olson, Hans Holter, Rev. Karl (KC) Holter, Rev. Christian Holter, Martin Holter, Otto Holter, Anna Holter, Julia Holter, Thea Holter, Karine Holter. Their last name was Olson and later Holter, which reflected the area where they lived in Norway. Olas is the only son who did not change his name to Holter. Karl and Christian were Lutheran pastors; Anna married Rev. Kringle; Julia married Rev. Njust; Thea married J.A. Johnson.
Anne, and sons Olas, Martin, Otto, Karl and Hans each had farms in the same area of Arctander Township, near the Lars Christopherson homestead. By the 1880s all the Holters, except Olas, had left the area for Minneapolis.
Widow Anne Christofferson received her U.S. citizenship in 1874. Usually a woman derived citizenship through her husband's citizenship, but because she was a widow, Anne applied directly with the District Court in Minnesota.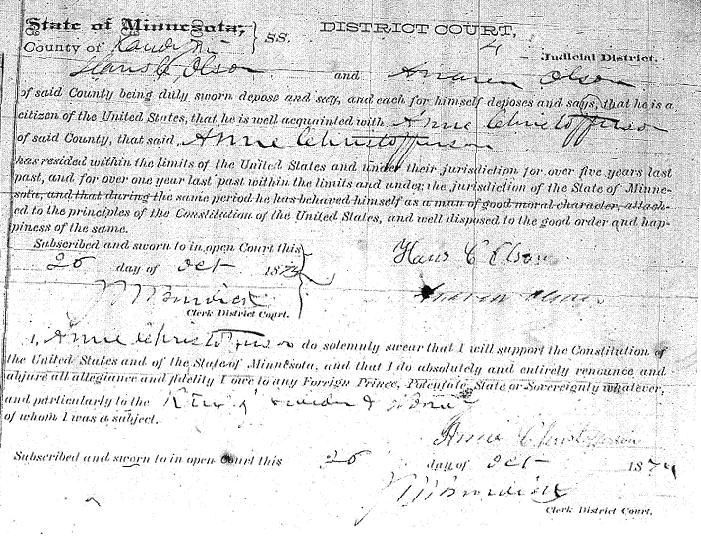 Citizenship of Anne Christofferson, October 26, 1874.
Witnesses included son Hans Olson.
Anne Christofferson Holter died March 22, 1922 in Northwood, Grand Forks County, North Dakota.
Findagrave.com entry for Anne Christofferson Holter
---
Orlynn's articles about Kandiyohi County history:

---