Mankell Family History
IMMIGRATION STORIES OF LARS CHRISTOPHERSON AND OF
HIS SISTER ANNA CHRISTOFFERSON OLSON
Written by The Pioneer Kid (Gabriel Stene) Willmar Tribune, November, 1925
The following excerpt from an article written by settler Gabriel Stene tells the story of immigrant Lars Christopherson (also spelled Christofferson), who settled with his family in Arctander Township, Kandiyohi County, Minnesota, in 1868. Stene's article refers to Monongalia County which existed until 1870 when it merged with and became the northern part of Kandiyohi County. More about Lars Christopherson appears in the later series of articles about his sister Anna Olson.

I made another trip to St. Cloud that same summer of 1868 and had a partner with me my good old friend and my pioneer schoolmaster Lars Christofferson. Mr. Christofferson left Christiania, Norway, that spring and with his family landed at the extreme western railroad terminal at St. Cloud. Here he met Pioneer John Sandviken of Lake Johanna colony, who took him and family to Lake Johanna, leaving his emigrant goods at St. Cloud. Not feeling quite satisfied at Lake Johanna, he came over to the Norway Lake colony, where he found himself perfectly at home and filed on the claim which has been his home ever since until his death a few days ago. He reached the high age of 98. The question was how to get the goods from St. Cloud. It fell to my lot to yoke up the oxen, hitch up and go. We started a Monday morning and got home on Saturday, taking the whole week. From my previous experience I was prepared with quilts and we slept on ground under the wagon. We had some difficulty finding the goods, as there was a swarming of emigrants. Putting those large newcomer chests into the wagon was like climbing on top of a threshing machine. You young people who think a common automobile is too plain, how would you like to climb onto such a load and drive 60 miles with a yoke of oxen? I know of a kid who did and would enjoy another trip like it...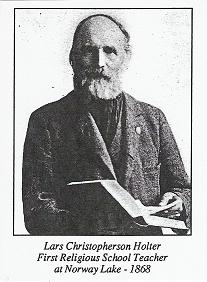 Keeping the Faith...Sharing the Faith


---
These 1925 Willmar Tribune articles, written by Gabriel Stene, are about Lars' sister Anna Olson's immigration to Minnesota and her family's move to Arctander Township, She was married to Christoffer Olson who is the focus of the beginning of the story. This story explains why and when the family changed their surname of Olson to Holter.
CHAPTER ONE: In the spring of 1863, in the month of May, a group of people in Norway were gathered to say goodbye to a number of persons who were to make a long voyage to America. Among them was a family of twelve--parents and ten children. Their chests and trunks, large and small, were plainly marked "Christoffer Olson, Winona, Minnesota, North America." They were bound for the promised land where living was easier to make, and where riches might be obtained by reaching out for it. Goodbye to the motherland and goodbye to all as the sailing ship sped westward out into the broad Atlantic. The emigrants faced the usual hardships of the trans-sea voyages of that time. For thirteen long weeks nothing was to be seen but sea and sky. Stormy weather added to the unpleasantness and perils of that voyage. The fresh water supply was giving out, and the food supply became scant. Asiatic cholera broke out on board and many passengers found their watery grave in the ocean. The hard and tedious journey at last came to an end, as land was spied. The Christoffer Olson family finally reached their destination at Winona. Now they stood on the ground of the land of plenty but their goods were held as security for shortage of fare, as the long journey has cost them more than anticipated. Now the whole family had to travel afoot 25 miles to the home of Rev. A. E. Boyum, at Arendahl, Fillmore County. While on this pilgrimage they passed the door of our cabin. They were then a half mile from Rev. Boyum's place. On arriving there, a neighbor who had heard of their condition gave Olson work from the very first day. Furthermore this employer hitched hup his team to a wagon, drove the twenty-five miles to Winona, released the goods and brought them home.
They were permitted to build a cabin down by a stream emptying into the Root River, where we kids (for I was included) found it a great sport to jerk out fishes with hook and line on fish poles. Now they were again associated with their Hauge faction friends and were satisfied. But Olson soon found that wealth was not found growing on bushes, but the rule was the same as in old Norway, "in the sweat of your brow you shall eat your bread." He was a faithful worker and the oldest boys also gave their aid.
CHAPTER TWO: In the spring of 1865 Christoffer Olson, the head of the family, died, leaving the widow and ten children and from now on this narrative will concern the experiences of this family which are closely connected with our community.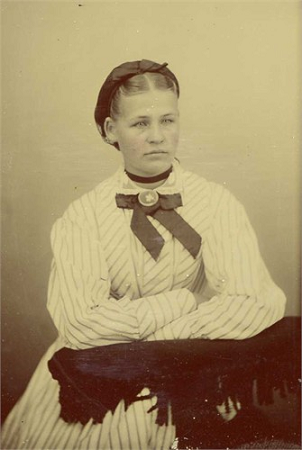 Anna Christopherson Olson (later Holter)


The boys pitched right into work. In the spring of 1866, they had laid up enough money to get a four-year-old pair of steers and a new lumber wagon equipped with cover for the accommodation of a family of eleven. Some household goods were piled on the head, a crate of chickens and a cow completed the equipment. With this outfit they struck out westwardly into the wilderness in search of a home. No record was made of how many times they were stuck with their wagon in mud up to the axles, sometimes walking three or four miles to get help with extra oxen to pull them out. There were no graveled or cement paved highways in those days. usually at that time those coming from the east went by way of St. Paul to St. Cloud. Those coming from Iowa came by way of Albert Lean, St. Peter, Fort Ridgely, Forest City and from there into Monongalia County.
When the Olson family finally reached St. Cloud, they met John Sandviken and Salve Olson ox-driving settlers from the Lake Johanna settlement. They decided to join their company and were located on some poor land neighboring that of John Sandviken. They had been one month upon the road. The following year in 1867 the writer's parental family came in over practically the same road. But we had five yoke of oxen in our company, so we were independent and could help ourselves to get through the mud holes along the way. We, however, followed the road to Norway Lake instead of Lake Johanna. We were three weeks making the trip.
In the following spring, 1868, my father had been able to locate what had become of the Olsons. He traveled on foot over to Lake Johannna in Pope County, and found them about a mile south and west of the West Lake Johanna church on some less desirable land. He told them of the advantages that Norway Lake country had. The two oldest sons, Olaus and Hans, then travelled back with him. he told them of three claims which were for sale--those of Nels Halverson Haade, on what is now the Ekren home in Arctander, also those of two brothers. These men were all bachelors. The wanted $250 a piece for their claims. The boys were pleased and went back and hitched up their oxen and brought their mother over. Things looked very satisfactory to them. To help them make the $500 cash payment father gave them a lift and the deal was made. The next move was to file on the homestead, the land office being at St. Cloud, sixty miles away. They yoked up the oxen, had a piece of board across the wagon box for seat. It took them a whole week to make the trip, father going along as a witness. The old lady filed on what is now August Lindquist's home in Arctander. The oldest son, Olaus, just of age, filed on what is now the home of Herman Edman. They also got a wood lot in the Norway Lake timber in the deal.
They dug themselves a cellar, and not a sidehill dugout as was usual. They made steps down, then made a reef out of ringers, rails, hay and sod, with a little window in each gable. Here they huddled down for housekeeping. They were all energetic workers. They allowed no time to slip by in idleness. They broke about five acres the first season. Near their timber tract was a hunter's hut. Here the boys spent the winter in cutting and preparing logs for building a cabin to be built over the cellar. They stayed in the hut if the weather was not too cold, otherwise travelled three miles morning and evening. They built the cabin the following summer and it is likely that these walls are yet included in the Lindquist house.
CHAPTER THREE: The Olson sons worked on the cooperative plan. They had only one sheepskin coat (wool inside). And it was used by the son who needed it the most in his work. One morning in the winter of 1869-70, Olaus, the oldest, went into the timber to get a load of wood, and wore the sheepskin coat. A tree that was being felled became hung up in another. At this time Olaus wanted his lunch--a couple of slices of bread and cold milk. To eat with more comfort he put on the sheepskin coat. He was in no hurry to remove it, and started cutting. The tree made an unexpected turn in falling and the man ran to escape being caught. Dodging one limb he was caught by another and was pinioned to the snow-covered ground in such a manner that he was utterly helpless. There he lay wishing someone would happen along and notice his plight. No one came, night came on, and he lay there all night. His failure to come home in the evening caused some worry at the cabin, especially to the mother and the four little girls who were the youngest of the children. The other boys reasoned that he had gone to the hut on the woodlot, as the weather was unusually fine, and this would enable him to work longer in the evening and earlier in the morning. But mother would not take any stock in this but worried all night. At daybreak she got the two next oldest boys, Hans and Karl, off to look for the missing brother. They were alarmed to find the oxen tied to the sleigh, where they had stood all night with nothing to eat. Looking around they saw Olaus lying in the snow under the limb of a large tree. He was asleep, but they assumed that he was dead. When they began talking he woke up and said "Oh, how glad I am that you are here. This has been a long night." The brothers wanted to place some rails on the bottom of the sleigh and bring him right home, but he insisted that a full load be taken. So all the three sons returned to mother with a load of wood.
Now I must go back to the summer just past and relate something that was omitted. Mrs. Olson said she expected her brother Lars with family from the old country. They were to come by way of St. Cloud, destined for the Lake Johanna settlement in Pope County, but that was all she knew. One day Lars came traveling afoot from Lake Johanna. He became the well-known pioneer and schoolmaster Lars Christofferson of Arctander. They were sister and brother and the children cousins of the well-known Mrs. N. N. Abrahamson of Willmar.
Now the writer, then a boy who drove a pair of oxen, had a job on my hands. First to get the family from Lake Johanna. Then on Monday morning we started for St. Cloud to get the emigrant goods. We arrived to a point east of Paynesville. I said it was no use to ask for lodging here, for it is here that I had been a month before and had to sleep in the open between the oxen. We found a cock of hay for the oxen to eat from and one to lay on the ground between the hind wheels of the wagon for us to sleep upon. I was tired and wanted to sleep, but my companion kept on talking. The last I remember of his soliloquy was "Yes, I am in America now." The next night we slept of the floor of the kitchen at St. Cloud in the house where our neighbor daughter, Karin Slattum worked. We spied a young man outside of the screen door and Karin stepped out to see him. It was Edmund Olson Bjelland, the subject of my last sketch. They were married the same fall, and I had the honor of taking them home on their wedding evening seated on a piece of board which shook with the wagon when passing over the frozen ground just before Christmas. That was honeymooning in true pioneer style.
Lars and I finally found the goods and loaded them on our wagon, and started on the return trip. Again we slept on the ground under the wagon. Arriving at Paynesville, I was as hungry as a prairie wolf. I caught the odor from the door of a tavern--onion, roast beef, etc. I said "I am hungry." Lars told me to go in and see what they had on the table. I did and reported. "Onions, lettuce and radish." He did not seem to understand and went in to look for himself. No, I don't want to eat grass." he said. Hungry as I was, we had to proceed. But arriving at Burbank we had a good meal. The trip took us the whole week. Christoffersons, like the majority of trail blazers, lived in a side hill dugout for two years. But now I must get back to the Olsons.
CHAPTER FOUR: When I hear of Olaus Olson's timber experience I refused to believe it and walked over to find out about it. He was then in bed. "What saved my life," he said "was the unusually fine weather, then the sheepskin coat, and a new pair of moccasins with hay in the bottom which kept my feet wonderfully warm. I was not hurt nor did I have pains, but I really did not expect to see daylight anymore."
There were no churches in this whole country at that time. Not even school houses. Services were held at the shacks of the new settlers where most convenient. Karl, the third son in the Olson family, was at the age to receive instruction for confirmation. The log church at Ole Knutson's grove was under construction. Rev. L. J. Markhus was the only minister. Karl joined his class and was one of the members of the first class confirmed in the log church. I was present at this service, and can remember three of the classmates--Ole P. Finstad, Hans A. Halvorson and Gunhild Ruh.
At the age of 18 Karl was taken down with typhoid fever and was in bed for seven weeks, much of the time in an unconscious condition. He was under the care of the pioneer doctor E. S. Frost of Willmar. When able to be around Karl said "I prayed to the Lord and gave a pledge that if my life was spared I would enter the service of the Lord" and was then fully determined to prepare himself to become a preacher. Upon entering the Augsburg Seminary at Minneapolis, and the name Olson being so common, he was asked from what place he came in Norway, and was advised to take that name. He answered "Holter." This is how we first get the name that has since become familiar to us: Rev K. C. Holter--one of the foremost preachers in the Hauge Synod, publisher of "Ungdommen's Vell" now a daily magazine. And from now on we deal with the Holter family.
The fourth boy, Christian, and myself, were of a class of five confirmed by Rev. Lars Olson Rustad on August 18, 1872. This service took place in a pioneer shack, rude walls, sod roof, and a floor of rough lumber. We were not stylish then. Christian took the same course as his brother Karl, and prepared himself for a preacher at the Red Wing Seminary. He was ordained as the pastor of a church in Iowa. Karl came to the Hauge's church at Norway Lake.
The boys spread out. Olaus lived on his own claim. Hans was on what is now Syver Reigstad's place. Rev. Karl lived on what is now Martin Elvestrom's place. Martin lived with the folks at home. Rev. Christian was in the State of Iowa. Otto was on what is now S. T. Skindelien's place and donated the corner for the Hauge church and cemetery. They all went through the frontier struggles and hardships like all the rest. In the year 1873-74 their grain stood in stack all winter, (The great blizzard year of '73) which caused increased dockage and loss. Still they ventured the risk of buying a new threshing machine and threshed the grain in the spring. In 1876 and 1877 the grasshoppers took everything. In 1878 the ground was so rich that the grain run to straw, small head and screenings. In 1879 they had a good crop, and hauled it to Sjoberg's elevator at Kerkhoven and stored it looking for a better price. Sjoberg failed and the boys lost that year's crop also.
In 1880 the followers of Hauge decided to build a church. They did all the work themselves, with the Holters as head architects. Olaus was a quiet and patient character who never complained. He never was well after that night's experience in the Norway Lake woods. He lingered and failed, and his was the first grave in the new Hauge's cemetery made in the fall of 1880.
The family finally became disheartened by their farming experience and disposed of their holdings at Norway Lake. The whole family left for Minneapolis, where Hans, Martin and Otto followed the carpenter trade. Anna married a building contractor, a Mr. Christenson of St. Paul; Julia married Rev. Kringle, Thea married Rev M. Njust, of Hannaford ND; Karine went to the west coast and married at Tacoma Wash., and is now Ms. J. A. Johnson.
This closes the trail blazer story of a family of twelve. The only survivors now are the two women, Mrs Njust and Mrs. Johnson.
---