Mankell Family History
Orlynn Mankell (1928-1999)
and Vivian Jordin Mankell (1931-1994)
Orlynn and Vivian met in New London, Minnesota in the early 1950s. Vivian worked at the Big Store, (the local grocery store in New London) and rather than return to her father Walter Jordin's Irving Township farm each night, she stayed in New London with her aunt, Hannah (Johnson) Rose. Then on the weekends she went to the farm east of New London; her father, Walter, would pick her up. After meeting Vivian, Orlynn volunteered to give her rides to her home on the weekends. Family lore states that Orlynn would go shopping at the Big Store in order to visit with Vivian. His mother and sisters would find food, such as lettuce and bread, in his bedroom closet. For the record, Orlynn denied hiding food from his special shopping trips!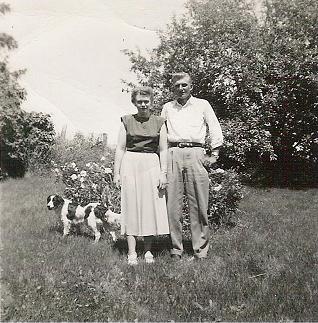 Orlynn Mankell and Vivian Jordin, Summer 1951 at the Jordin farm.
This is one of the earliest pictures of them together.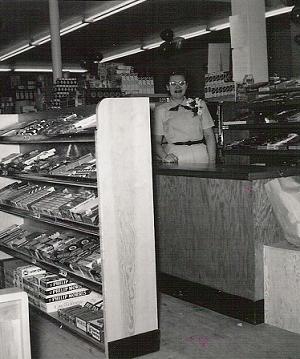 Vivian was a cashier at the Big Store. This picture was taken during the store's
1954 Grand Opening after an addition was added to the business.
Owners and employees of The Big Store, New London, MN, 1954. Vivian is on the far right.
Orlynn Mankell and Vivian Jordin were married on November 19, 1954 at Vivian's home church of Zion Irving Lutheran Church in Irving Township, east of New London.
Orlynn and Vivian Mankell's wedding, November 19, 1954 at Zion Irving Lutheran Church.
They lived their first few months of their marriage in a cottage at the Larimer Resort on the south shore of Norway Lake, while Orlynn built their home on the Mankell homestead. This home was small, with a kitchen, living room, bath, and two bedrooms. In a later addition Orlynn added a living room, 2 bedrooms, a basement and an enlarged kitchen. This house was located next to the township road, just west of the farmhouse. Orlynn and Vivian had three children: Susan Muellner, Carolyn Sowinski, and Kurt Mankell. Kurt owns the farm following the deaths of our parents.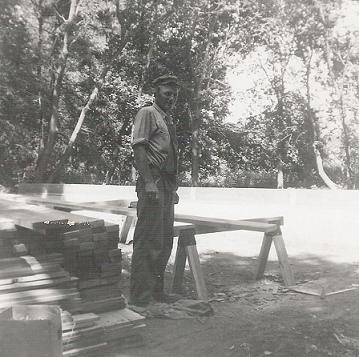 Orlynn built our family home in 1955.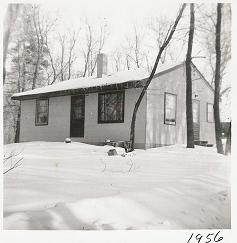 Orlynn and Vivian Mankell's home, 1956.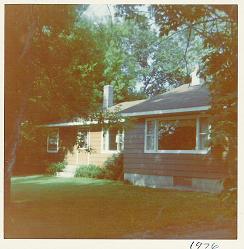 Orlynn and Vivian Mankell's home, with the addition, 1976.
Vivian Jordin Mankell
Vivian Jeanette Jordin's father was Walter Jordin, son of Swedish immigrants August Jordin and Mary (Mortenson) Jordin. Vivian's mother was Inga Johnson, daughter of Norwegian immigrants Andrew and Ragnhild (Olsen) Johnson.
Vivian and her siblings (older brother Noel, and younger sister Mary Ann) grew up on a farm about 8 miles north of Atwater, Minnesota. They attended a country school only a mile or so north of the farm. There are now no buildings at either the location of the farm or the school. When Vivian was 5 years old and her sister Mary Ann was a toddler, their mother died from heart failure. Grandmother Mary Jordin then helped Walter raise the children and also baked and washed laundry. For more information about Vivian's childhood, see the Jordin page.
Daughter Susan Mankell Muellner writes this about our mother, Vivian:
Her typical week began with laundry on Monday morning. However, "laundry" meant different things over the years. At first it meant going to grandpa's house. Then it meant rolling the large wringer washer from the little utility room to the corner of the kitchen. Later, she used a mini-washer/wringer that she used by the kitchen sink. This process meant piles of washed clothes on the kitchen table. Clothes dried on the line, a drying rack, or in the dryer at grandpa's.

Tuesday was bread day. This also meant early mornings for mom. And "bread" meant not only white loaves, but also buns and sometimes brown (rye) bread. Some weeks she'd also make sweet dough for cinnamon rolls.

And of course she sewed clothes for herself, Carolyn and me. Her sewing machine was set up by the picture window in the living room in the early years. For Easter, she sometimes sewed three matching dresses for us. And during all of this, she taught Carolyn and me how to cook, bake, and sew. What a gift this was.

And then there was her love of gardening: peonies, tiger lilies, phlox, irises, tulips, lilies of the valley, poppies, vegetables and sweet corn. Mom was also good at canning: peach sauce, pear sauce, applesauce, crab apple pickles, gooseberries, chokecherry jelly, rhubarb sauce, cucumber pickles and more.

An important ingredient for canning and desserts was often an outing to pick fruit. We kids groaned when Mom announced a visit to Stene's yard and pasture to pick gooseberries. The outing began with a visit with Ella and Clara Stene. We wore long sleeves because the bushes were prickly and carried tin lard pails for the gooseberries. This was an opportunity for Mom to teach us how everyone's help is needed, the importance of neighbors helping each other, and for her to have time with her kids while also getting a task completed. We picked crab apples at Gerhard Swenson's. We drove to the field roads along the edges of the farm for chokecherries. We had rhubarb patches and apple trees in our yard. Mom devoted a lot of time to church activities. She always went to ladies Aid and circle and sang soprano in the choir. She sang many solos, in trios, and in triple trios. She taught Sunday School and helped with cradle roll. She was never too busy for church. A big annual event for Mom was hosting circle. The house was cleaned from top to bottom for this occasion. We kids loved it--such good things to eat and lots of leftovers: ham salad buns, lemon/macaroni ring salad, dessert, nuts and mints, and coffee. And the table always looked so nice.


In the early 1970s Vivian began working in New London again, at the Walnut Chalet cafe and then Berge Hardware Store. And in 1988 she returned to The Big Store as a cashier, and worked again with some of the same people as before she married. Vivian died in January 1994 after 2 surgeries and 2 years of treatments due to cancer.
Orlynn Mankell
My father, Orlynn Mankell was born and grew up on the Mankell homestead, the son of Herman and Cora Mankell. He spent 3 years (1952-1954) in the U.S. Army, with the rank of Corporal. He served in Korea and Japan as a communications officer. One of his more interesting days in the army was when, in his duties of setting up the sound system on stage, he spoke to Marilyn Monroe who was on tour with the USO.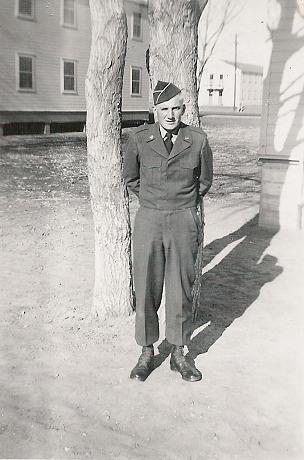 Orlynn in Korea, 1954
While Orlynn was a farmer, his passion was learning. His daughter Susan writes:
It seemed that Dad knew something about almost everything. His specialties were local history and genealogy. He also knew much about astronomy, geology and military history, especially WWI and WWII. He spent so much time at the public library in Willmar, MN, that the staff asked him to serve on the library board, which he did for many years.

Dad had vast genealogical knowledge. He somtimes knew more about other families' histories than they did. He was the unofficial repository of local history and others often contacted him with family research questions, assuming this job after Archie Stene died. Much of Dad's background knowledge came from articles titled "Norway Lake Reminiscences" submitted by Gabriel Stene (Archie's uncle), known as "the Pioneer Kid" for the Willmar Tribune in the 1920s. Dad's particular local history interest was Norway Lake frontier history from the mid to late 1800s. He wrote historical articles for local newspapers about life in the area before and after the Sioux uprising (Dakota War) of 1982. And he often wrote of the experiences of his great-great-grandfather Sven Borgen and great-grandfather Gunder Swenson.

Dad held a few other jobs over the years--some for pay and some not. He was president of the Arctander/Lake Andrew Insurance Company, which provides property and casualty coverage to area farmers. (His father Herman Mankell had held this job for several years.) Orlynn also measured croplands and certified sealed bins of crops for federal programs. He later served on a committee that heard cases of farmers who violated terms of these agreements (and he often know the people involved). Dad was president of the Lake Florida Church Cemetery Association and also planned the annual homecoming service each August. His last task before he died in 1999 was arranging for a grave to be dug at the Lake Florida Mission Church.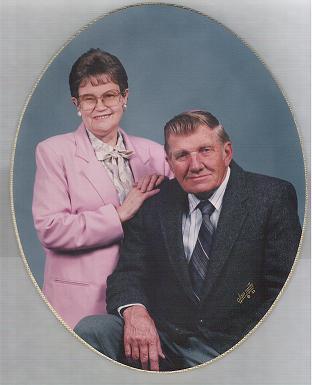 Orlynn and Vivian, 1993.
Like Vivian, Dad was active in church. He grew up as member of the Lake Florida Mission Church and was confirmed there (with his sister Marjorie) on December 7, 1941. The family heard of the attack on Pearl Harbor on the radio after getting home from church that Sunday. After their marriage Orlynn and Vivian attended Zion Irving Lutheran (Vivian's home congregation). Then in about 1959 they transferred membership to First Lutheran Church of Norway Lake which was much closer to the farm. Orlynn taught the high school Sunday School class for many years. He also sang bass and was a longtime member of the choir of First Lutheran Church of Norway Lake. Orlynn's final local history project was the development of the Norway Lake Lutheran Historical Association with members of the Norway Lake Parish. This group of women and men from the area built a replica of the original log church from 1868 at its original location west of First Lutheran Church. As Dad wrote:
Until 1868 the rapidly growing Norway Lake settlement had no regular place of worship. In the fall of that year a church of logs was hastily constructed. It would serve as the Norway Lake church until 1875 with the Rev. L.J. Markhus of the Norwegian Evangelical Lutheran Church as the pastor. It can be considered as the "Mother Church" of six present day Lutheran congregations in the area: East Norway Lake, First, Hope, South Lake Johanna, Monson Lake, and West Lake.
Deaths of Orlynn and Vivian
Orlynn died on September 24, 1999, one month after the Norway Lake log church was dedicated. His obituary:
Funeral services of Orlynn A. Mankell, 71, of New London, were held Tuesday, Sept. 28 at 2 p.m. at the First Lutheran Church of Norway Lake, rural New London, with Rev. Joel Njus officiating. Interment was in the church cemetery.

Mr. Mankell died Saturday, Sept 25, 1999, [sic--Friday, Sept 24] at the Hennepin County Medical Center in Minneapolis. Orlynn Augustus Mankell was born January 17, 1928 on his family's farm in Lake Andrew Township, near New London. He was the son of Herman and Cornelia (Christopherson) Mankell. Orlynn was baptized and confirmed at the Lake Florida Mission Covenant Church, near New London. He grew up on the family farm, attended country school at District #25, and graduated from the New London High School in 1946. From 1952-1954 he served his country in the U.S. Army during the Korean War. On November 19, 1954 Orlynn was married to Vivian Jordin at the Zion Lutheran Church near Hawick. Following their marriage they farmed in Lake Andrew Township. Vivian died in January of 1994.

Mr. Mankell was a member of the First Lutheran Church of Norway Lake where he was an active member, having served in many positions. He was once employed at the ASCS office, served on the Pioneer Library Board and was a past president of the Lake Andrew Arctander Insurance Company. He was the current President of the Lake Florida Mission Covenant Cemetery Association.

He was an avid reader of history, especially World War II history. He was a noted historian, and helped write the history book for the First Lutheran Church of Norway Lake. He enjoyed helping build the log church for the Norway Lake Historical Society, and he enjoyed his Norwegian language course, taught by Pastor Njus.

Survivors include his son, Kurt of Blue Bell, PA; daughters Susan (and Scott) Muellner of Beaumont TX, Carolyn (and Jim) Sowinski of Bloomington IN; 5 grandchildren; sisters, Marjorie (and Bill) Larimer of Rochester, Mary Ann Petteway of San Diego CA, Marlys (and Jerry) Schilz of Bloomington, MN; brothers Sherman (and Bette) of New London, Rev. Douglas (and DeAnn) of Logansport IN; and several nieces and nephews. He was preceded in death by his parents, wife, and brother, Dale.
Vivian died on January 6, 1994:
Vivian J. Mankell, 62 of New London, died Thurday, January 6, 1994 at Rice Memorial Hospital in Willmar after a lengthy illness.

Funeral services are scheduled for Tuesday, January 11, 1994 at the First Lutheran Church of Norway Lake in rural New London with the Revs. Joyce and Irving Sandberg officiating. Interment will be in the church cemetery.

Vivian Mankell was born June 17, 1931 in Irving Township to Walter and Inga (Johnson) Jordin. She grew up and attended the Atwater Public Schools.

On Nov. 19, 1954 she married Orlynn Mankell and they made their home on the Mankell family farm in Lake Andrew Township. For several years she was employed by The Big Store in New London. She was an active member of the First Lutheran Church, participating in the choir and the women of the ELCA.

She is survived by her husband, Orlynn; two daughters, Susan (and Scott) Muellner of Beaumont, Texas and Carolyn (and Jim) Sowinski of Bloomington, Indiana; one son, Kurt Mankell of Peoria, Illinois; five grandchildren; one sister, Mary Ann Sogge of Spicer; and several nieces and nephews. She was preceded in death by her parents, and her brother, Noel Jordin.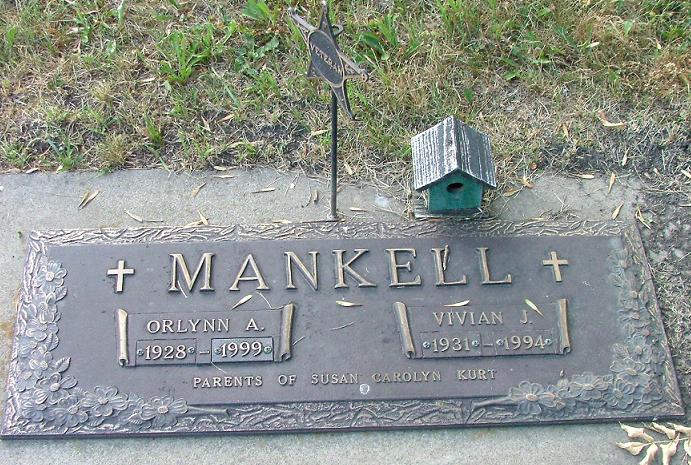 Grave stone of Orlynn and Vivian Mankell, at First Lutheran Church of Norway Lake.
---