Mankell Family History
"1863 Drought in Kandiyohi County"
written by Orlynn Mankell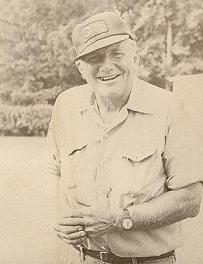 Storyteller and historian, Orlynn Mankell
From the West Central Tribune, August 20, 1988;
Italicized sections are from a similar article written in The Land, October 4, 1982:
Much attention has been given to the drought. With much of Minnesota and Kandiyohi County being affected by it, there are comparisons being made with earlier ones. Records show that severe drought has occurred before in Kandiyohi County and western Minnesota.
Reports are obscure but 125 years ago this summer Kandiyohi County was beset by another one, probably its first drought of record. The severe drought of 1863 has some unusual features about it.
Also, it came at a very unusual period in what is now Kandiyohi County. It was a time when the regions lay empty, depopulated following the Dakota War of the preceding year. Coming as it did as part of the aftermath of the conflict, it was a dry season which was hardly noticed in the area. This was a drought which affected virtually no one --except for a scattered isolated few:
By 1862 the Norway Lake settlement consisted of about nine families. This frontier colony was caught up in the hostilities of the Sioux Indian War (or Dacohtah/Dakota War) of August 1862, which reached up into the northern half of Kandiyohi County on August 20, leaving about 25 people dead. Sixteen of those were within a six mile radius of Swen's cabin. Consequently Norway Lake was abandoned.
St. Cloud, summer 1863
A few miles east of St. Cloud runs the small St. Francis River. It was here that a small new community had been coming into being. It was in and around a community with the same name (not the St. Francis of today). The membership of this somewhat unique new colony was all from Kandiyohi County, all displaced persons from the Indian troubles, all from the Norway Lake and Lake Prairie settlements, all farmers -- and all Norwegian.
Swen Gunderson Borgen, member of the Norway Lake contingent, but now a refugee of sorts, had been considering an uncertain future. The days were moving along into the hot, dry summer of 1863 and Swen had been away from his cabin and claim at Norway Lake for almost a year. Since then he had heard or seen nothing. There was some doubt if anything remained at all.
Return to Kandiyohi County
From along the St. Francis Swen had been considering a visit back to the farm. But a visit to Kandiyohi County in 1863 was not that simple. It lay beyond the western patrol routes for the times, and was part of a large area of western Minnesota that was a restricted area. There is no record but it is believed that Swen had no permission for a trip like this.
Swen's 18-year-old son, Gunder (Swenson), accompanied him. taking a few provisions with them the two began a 70 odd mile trip on foot to the Norway Lake settlement. They were soon being ferried across the Mississippi at St. Cloud.
Severe drought
Scenes of severe drought were much in evidence as the two men headed west. The Mississippi was at a very low level. it was during this summer that a Minnesota soldier doing guard and patrol duty describes what much of Minnesota was like: "Hundreds of lakes and streams had dried up." Later Gunder would describe about the same thing.
It is unclear as to how and where they spent the night. It is believed they stayed at homes along the route and as they got further west they simply stayed in buildings vacated during the hostilities. This was a time when every one was conditioned for walking.
Swen felt that he had good reasons for undertaking a somewhat formidable trip like this. He had been wondering for a long time what things were like at the farm and while there, he would make any needed repairs to his log cabin (assuming there was something left to repair).
Then, he would put up a small stack of hay at the farm, feed for his two cows just in case the family should return out of the haying and grazing season. As far as possible, Swen wanted everything ready for the return whenever that might be. At length they crossed the military patrol line near Paynesville. It ran south through Paynesville to Ft. Ridgely. In 1863 this line divided Minnesota into two parts: life as usual to the east, but with an enforced emptiness to the west.
Wilderness days
The trip was suddenly taking on new dimensions. Behind them was considered a safe area, but ahead lay the unknown -- and directly within it lay the empty and depopulated Kandiyohi County. Bitterly contested in parts of it the year before, it was devoid of human life. No one went there (or was permitted to be there). For 1863 Kandiyohi County had reverted back to its original wilderness setting. And for a traveler there was now a certain element of risk and danger.
The route was such that it would take the two men along the north shore of Green Lake and it was here that his long ago drought was highly apparent, even in a startling way. The lake was at a drastically low level. The bars that are a part of the lake were all out of the water now, in some places were several feet wide. Looking across the lake Gunder got the impression the lake had divided itself into three parts. This was the part of the trip that Gunder seemed to remember the best.
Leaving Green Lake, the father and son continued west for the remaining 12 miles to the farm, walking across empty prairie wilderness, along a couple of lakes, through their hardwood groves. Swen was probably wondering more and more what he would actually find at the farm.
Cabin still the same
On a remote and long ago day, sometime in the mid-summer of 1863, Swen opened the door to his cabin, walked in and looked around him. Everything was just as he had left it one year before. This included the entire farm. Swen had always gotten along well with the Sioux hunting parties when they appeared around the cabin. One theory has it that it was because of these past considerations that nothing had been disturbed around the cabin or farm. It would probably be hard to say, but Swen's family and these hunters had always treated each other well. But something was entirely different about the small lake, Lake Mary, which lay below the cabin. It was entirely dry. And throughout his long life-time Gunder would never see the lake dry again.
Sometimes during the course of this visit, Swen and Gunder were out on the farm looking for a good place to cut some hay. Because of the hot dry summer, the native prairie grass was unusually short and dry. Nowhere was there grass of any length which could readily be cut for hay. After staying at the cabin for about two or three days, the two returned to the St. Francis.
Wilderness reopened
In 1864, the patrol lines were extended west and now included Kandiyohi County. A small military post along Noway Lake, staffed with men from Co. L, Second Minnesota Cavalry, was established. And it was with the coming of Company L that the settler families were now free to return -- and the very first to do so was Swen Borgen, in the fall of 1864. The long exile was over.
Swen Gunderson Borgen was born in Norway in 1810 and was close to 50 when he came to Norway Lake in 1859. Even then, he would spend over 40 years in the New World. He was 94 when he died in 1904. The son, Gunder (Swenson) would live until 1934, age 89. Both lived and died on this old pre-emption claim.
The severe drought which beset the region in the early 1860s mainly in 1863, showed signs of abating in 1864. By the spring of 1865 it was over altogether. A soldier in the region looked around him one morning after heavy all night rains and noted, "the sloughs were all full." Heavy substantial rains were returning once again to western Minnesota.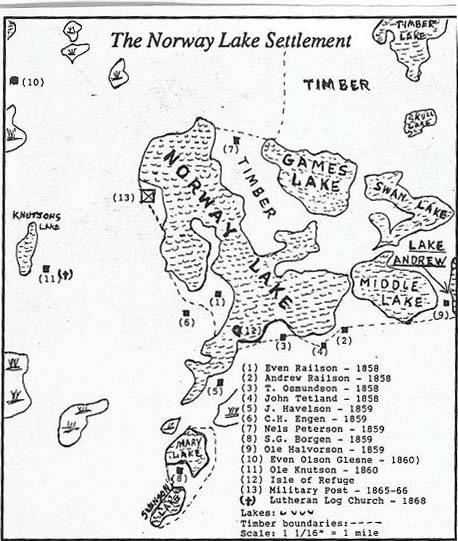 Map of Norway Lake Settlement, noting Swen Gunderson Borgen cabin, Lake Mary,
and the military post on the western shores of Norway Lake.
The Mankell homestead is about 1.25 miles east of the Borgen/Swenson homestead (where the word "Borgen" is written on the map).
Source: Keeping the Faith...Sharing the Faith

---
Orlynn's articles about Kandiyohi County history:

---