Mankell Family History
Children and Descendants of Johan Herman Mankell
---
Main sections in the Children of JH Mankell webpage:
LOUISE AMALIA MANKELL (1806-1806), FRIEDRICH FERDINAND MANKELL (1807-1807) and GEORG ANDREAS MANKELL (1809-?)
FRIEDERICA AMALIA MANKELL (1814-1889)
JOHAN AUGUST MANKELL (1825-1868)
VIKTOR ALFRED MANKELL (1827-1831) and HERMAN LUDVIG FERDINAND MANKELL (1829-1836)
SVEN GUSTAF GEORG JULIUS MANKELL (1832-1886), includes his daughter, Hilda
EMIL THEODOR MANKELL (1834-1899), includes Emil's children: Claude Gustaf, Emil Gunnar, Ivar Henning, and Anna
---
Other web pages describe the lives of Johan Herman Mankell's sons:
Gustav
;
Carl Abraham
and his son
Julius
;
Wilhelm
and Wilhelm's sons
Otto August
and
Herman Wilhelm
. This page includes information about the other children of Johan Herman Mankell and some of their descendants.
Children of Johan and Johanna (Keyser) Mankell:
LOUISE AMALIA MANKELL (1806-1806), FRIEDRICH FERDINAND MANKELL (1807-1807) and GEORG ANDREAS MANKELL (1809-?)
Louise and Friedrich both died in infancy; Louise survived for 3 days; Friedrich died at birth. The only information we have about Georg (George) is that he was unmarried and survived his mother Johanna who died in 1839.
FRIEDERICA AMALIA MANKELL (1814-1889)
Born on April 8, 1814 in Christiansfeld, Friederica (Fredrika) married musician Wilhelm Theodor Gnosspelius in 1833. They lived in Linköping Sweden (see maps) where Wilhelm worked as an organist. Friederica died in Lund Sweden in 1889. Their daughter Amanda Planck was active in the musical life of Linköping in the 1880s where she directed several choirs and was well regarded as a singer. Amanda also organized orchestra concerts in Linköping.
---
Children of Johan and Helena (Svedman) Mankell:
JOHAN AUGUST MANKELL (1825-1868) Johan August was born on June 14 1825 in Karlskrona Sweden. (see maps) He was the oldest child of Helena and Johan Herman. He worked as a music director in Eksjö and Skara Sweden. Johan married Hilda Oterdahl in 1836 and they had 4 children. Helena (1863-1941) and Ida (1864-1940) both worked at a school for the blind and deaf in Vänersborg Sweden. It appears that neither daughter married. Gustaf (1866-1928) was a businessman who married Alma Petersson and died in Gothenburg. Youngest child August (1868-1939) was an artist, dentist, and singer. August left his inheritance to his two sisters who donated this fortune to charity in Skara. As of 1996, this foundation was worth about 1.6 million Swedish crowns.
Johan August Mankell, c1860.
---
VIKTOR ALFRED MANKELL (1827-1831) and HERMAN LUDVIG FERDINAND MANKELL (1829-1836)
Both sons were born in Karlskrona and died in their childhood.
---
SVEN GUSTAF GEORG JULIUS MANKELL (1832-1886)
Sven was born in Karlskrona and died in Härnösand Sweden (see maps) and was the head of the county constabulary in Undrom Boteå in the northern part of Sweden. He married Hilda Liden in 1868. Sven and Hilda had 5 children: Berta, Helga, Bernhard, Hilda, and Carl. The youngest, Carl, died when he was three.
Their fourth child, Hilda, was born in 1877. She studied music (piano and voice) at the Academy of Music in Stockholm and in Berlin. She worked as a singer and actress. In 1902 she performed the roll of "Lizzie" in the operetta Solstrålen (The Sunbeam) on stage throughout Sweden, including Stockholm and Gothenburg. Hilda also performed concerts in churches and concert halls, singing works of the masters, including W. A. Mozart, Robert Schumann and Johannes Brahms. Hilda married a Naval Officer, Emil Lindbergh in 1905. They had two children, Ingegard (b. 1907) and Bo (b. 1909), a businessman in Stockholm.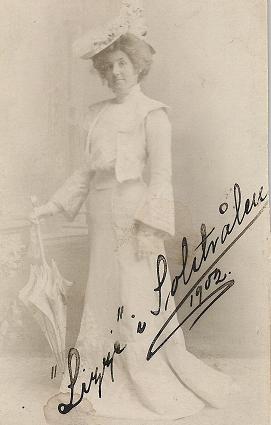 Hilda Mankell Lindbergh, as "Lizzie" in a 1902 production.
---
EMIL THEODOR MANKELL (1834-1899)
The youngest child of Johan and Helena, Emil was born in Karlskrona and was only one year old when his father died in 1835. Emil was a teacher of drawing and gymnastics in Härnösand.(see maps) He married twice, first to Amalia Häggström in 1863 and to Sara Svartengren in 1879. Like has father and many siblings, Emil was a musician. He was a violinist who played in a symphony orchestra and was involved in the Härnösand Music Society.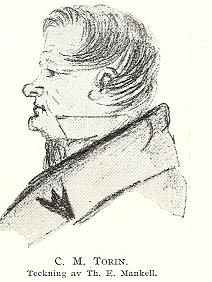 Emil Theodore Mankell's drawing of CM Torin.
Emil Theodore had four children. Three from his first marriage to Sofia Amalia Haggstrom (1833-1878); one daughter from his second marriage to Sara Svartengren (1858-1910)


Claud Gustaf (C. Gustaf) (1865-1936)
Emil Gunnar (Gunnar) (1866-1932)
Ivar Henning (Henning) (1868-1930)
Anna (1880-1926)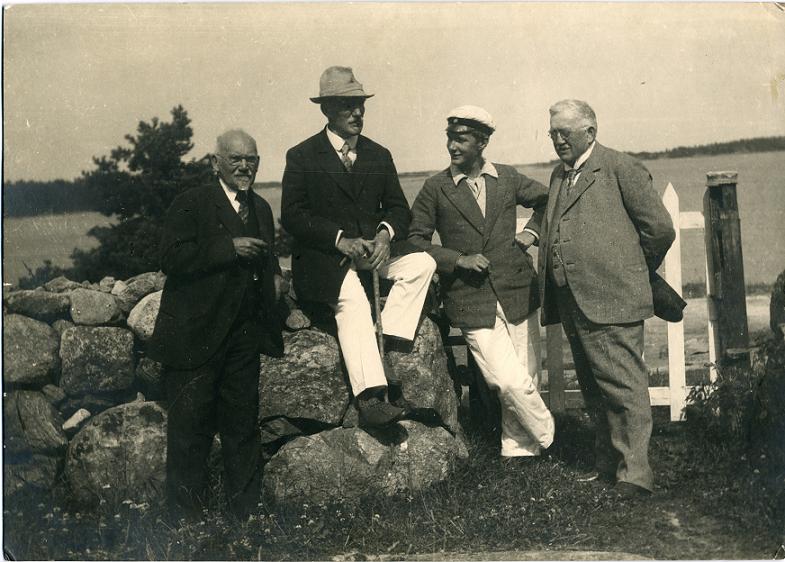 Summertime,1929, in the Gryt's archipelago: three brothers and a son.
Claud Gustaf (1865-1936), Henning (1868-1930), Ivar (1906-1972, son of Henning), Gunnar (1866-1932)
Gustaf was vacationing in Sweden (He lived in Boston at this time).
---
Claud Gustaf Mankell (1865-1936)
C. Gustaf was born to Emil and Amalia in Härnösand in 1865. He left Sweden for the US in 1889 and lived in Buffalo, New York, where he was an artist and musician (he played the cello). His obituary states that he was a commercial design artist and worked for the Larkin Company (manufactured soap) for 40 years. Later he lived in Boston, MA where he was a copywriter.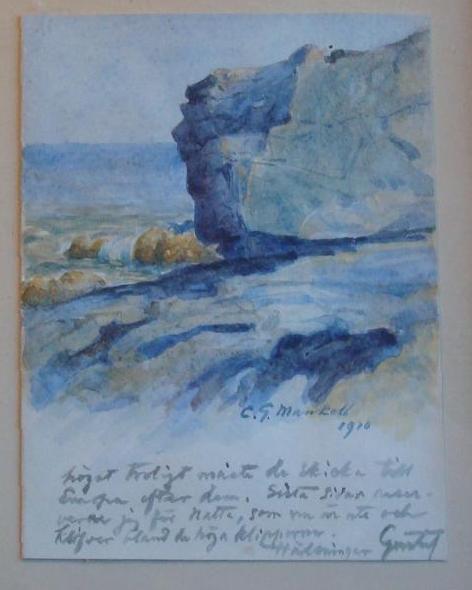 Watercolor of "The Old Man of the Mountain" (or "Great Stone Face"), by Claud Gustaf Mankell, 1910.
The rock formation in the White Mountains of New Hampshire collapsed in 2003.
---
An 1886 portrait drawing by Claud Gustaf Mankell.
---
In 1890, Claud Gustaf married Nathalie (Natalia) Kavaleff from Finland (or Russia) who was a gymnast and taught at the University of Buffalo. They had no children. Nathalie was born in Helsingfors (the Swedish name for Helsinki FInland) on Dec 29, 1864. Here is some additional information about Nathalie and C. Gustaf taken from another web site:
Nathalie emigrated to USA in 1890, because she did not get her parents approval to marry a Swedish artist, Carl Gustaf (Claude ?) Mankell. Nathalie left Finland on Saturday the 27th Sept. 1890 by S/S Helsingfors as Miss Kavaleff but she arrived to US as Mrs Mankell. I do not know where she married Mankell. The Mankells settled down in Buffalo, NY and their address was: 63 Linwood Avenue. Carl Gustaf was friend with George Merrit Clark, a painter from Buffalo Nathalie graduated from the Royal Gymnastic Central Institute/GCI in Stockholm in 1889 as teacher of gymnastics. After that she was working at Mariehamns Badanstalt, Åland in the Summer 1890. She had also a practice in Helsingfors at Högbergsgatan 21 before she left Finland. In the States she had a practice already 1890 in Buffalo, worked at Franklin School 1894-1903 as teacher of gymnastics, giving lectures in medical gymnastics at the medical department of the University ibm since 1896 and University of Buffalo since 1899. Nathalie graduated from Univ. of Buffalo on 1911 as a doctor with the speciality, medical gymnastics. "Women and athletics gained a foothold through Dr Mankell and by the fall of 1922, enough support was gathered to establish the University's Women's Athletics Association" (copied from the website of UB). Nathalie was naturalized July 25, 1911 at the Southern District Court of New York. C-G (Claude) Mankell 1894 at Erik County.
Nathalie was one of two women who were University of Buffalo's first female faculty, hired in 1895. She taught in the School of Pedagogy (later the School of Education). Here is more information and a photo of Nathalie from the University of Buffalo.

C. Gustaf and Nathalie traveled a few times between Buffalo and Sweden. The following images are of C Gustaf's 1895 passport and Nathalie's 1897 passport. (The images are quite large for legibility.)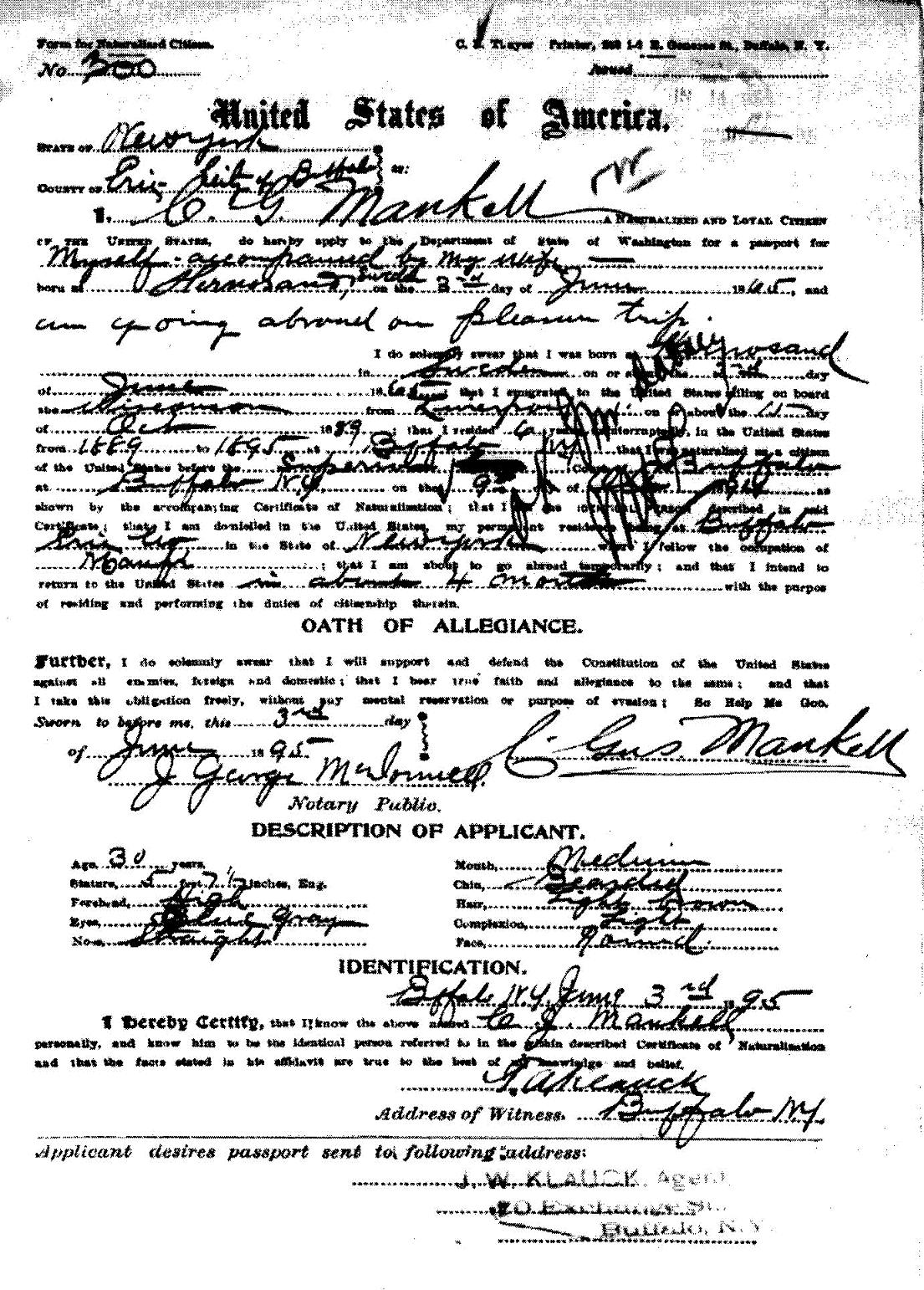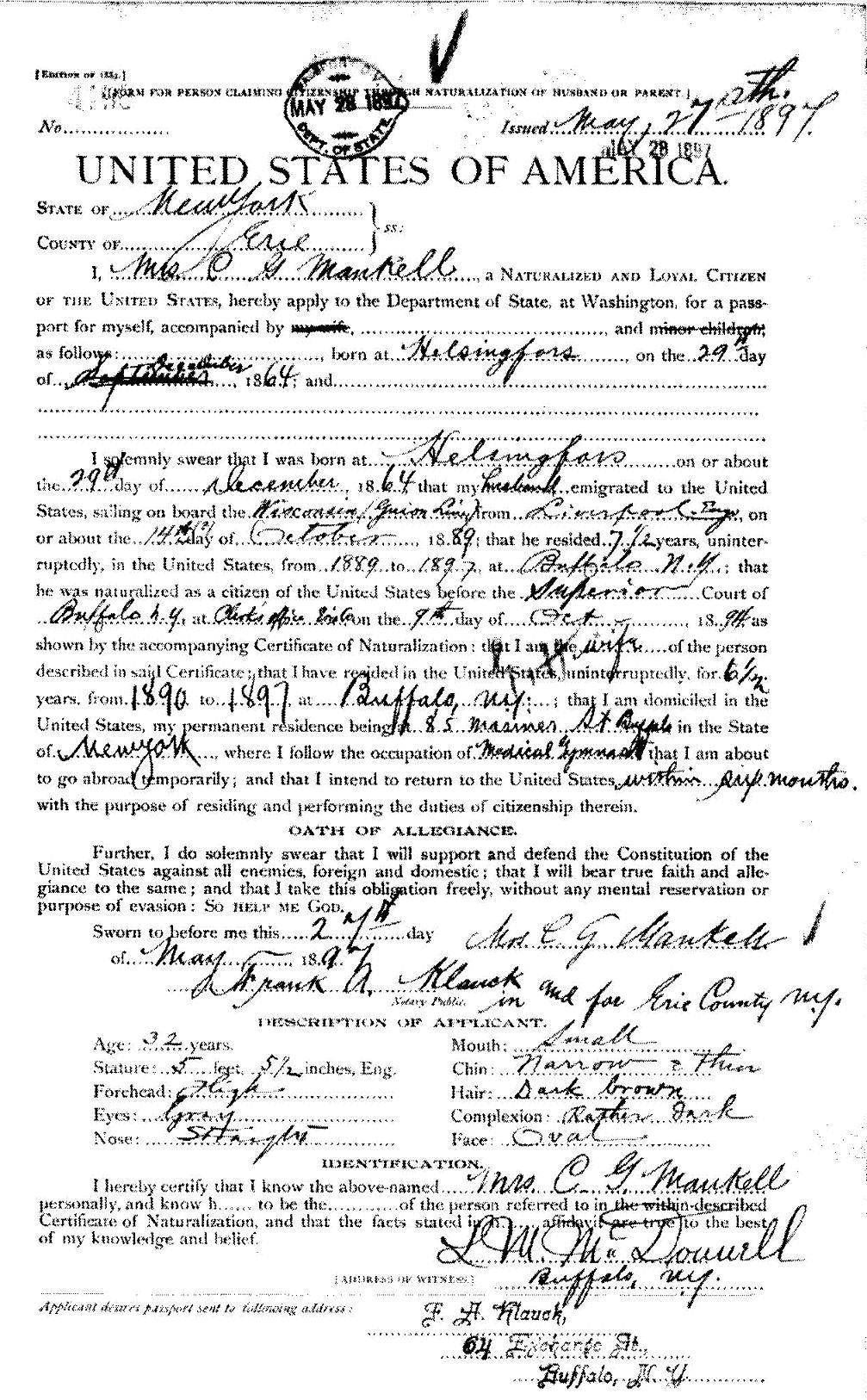 Claude Gustaf died in East Aurora NY, southeast of Buffalo, in 1936; Nathalie moved to Fort Lauderdale, Florida, where she died in 1956. They are buried in Oakwood Cemetery, East Aurora NY.
---
Emil Gunnar Mankell (1866-1932)
Emil Theodore and Amalia's second child Emil Gunnar (known as Gunnar) taught drawing at the high school in Härnösand in northern Sweden. He never married.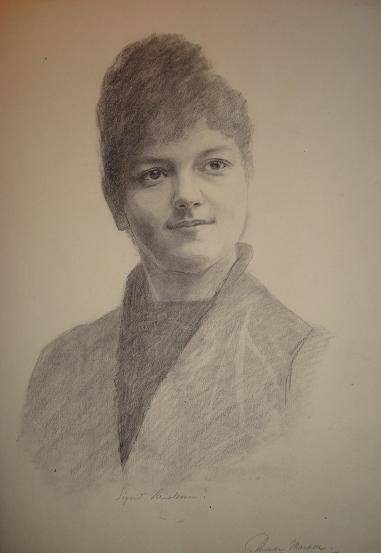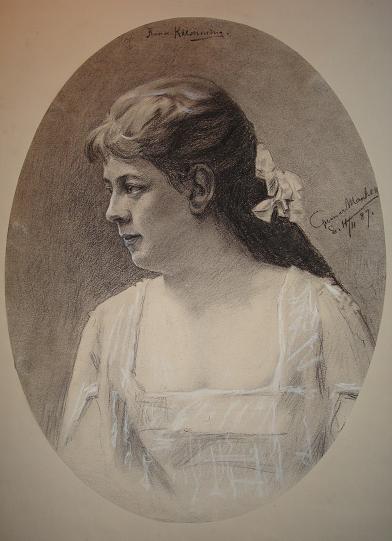 Two drawings by Gunnar Mankell: Sigrid Arnoldsson, undated; and Anna Klemming (?), 1887.
---
Painting by Gunnar Mankell, undated.
---
Ivar Henning Mankell (1868-1930)
Son of Emil and Amalia, Ivar Henning (known as Henning) was a well-known pianist, music teacher, music critic and composer and a member of the Royal Academy of Music. Ivar Henning was a music student at the Stockholm Music Conservatory. He studied music with Hilda Thegerström and studied piano with Lennart Lundberg. He was a music critic for the Svenske Morgonbladet and the Stockholms-Tidningen. In the late 1880s Ivar Henning and his two brothers, Emil and Gustaf, formed a piano trio. In addition to performing and teaching piano, Ivar Henning was was an amateur violinist, a poet, and a writer, and artist. In 1893 he wrote a short story "A Life" which is about the struggles of an artist. He drew sketches and painted from his travels in Sweden and Europe.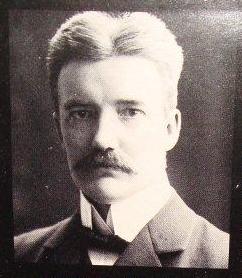 Ivar Henning Mankell, pianist and composer.
Ivar Henning was best known as a composer for solo piano (pdf of one of Henning's piano preludes), chamber orchestra, instrumental, and vocal music. His style was thought to be independent and advanced for its time. His music is described as poetic, impressionistic, and full of fantasy, influenced by Debussy, Grieg, and Liszt His work focused on technical and stylistic aspects rather than the more popular romantic style. In 1917 he was elected into the Swedish Royal Academy of Music. The Svenska Biografiskt Lexikon describes Henning as a "lonely, shy person who avoided society, being more comfortable alone with his piano or in nature."
Cover of a record album featuring compositions by Henning Mankell.
In 1905 Ivar Henning married Agnes Karolina Lindblom and had three children (Ivar Henningsson, Sigrid, and Birgit). Ivar Henningsson's son, Henning Georg Mankell (1948-2015) was a world famous author.
On October 10, 1928 composer and pianist Henning Mankell (grandfather of author Henning Mankell) wrote from Stockholm to Hulda Mankell Melgaard in Minnesota, primarily about his music. Henning mentions the death "Gustaf" which probably refers to his cousin Gustaf, son of Johan August. Gustaf, a businessman, died in 1928 in Gothenburg. The "August" mentioned in the letter would have been Gustaf's brother. Henning and Hulda both were about 60 years old at the time of this letter. Henning was the son of Emil Theodore and Hulda was the granddaughter of Emil's brother, Wilhelm August.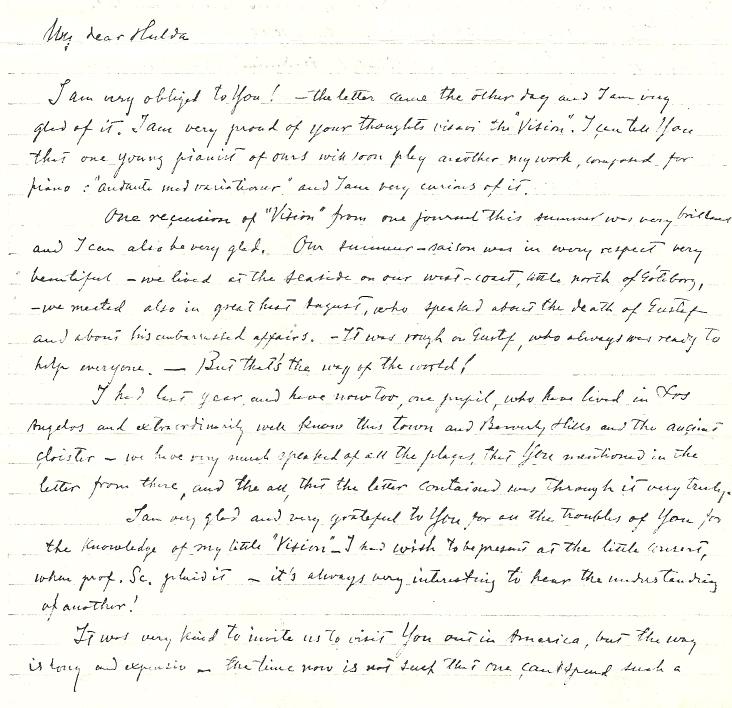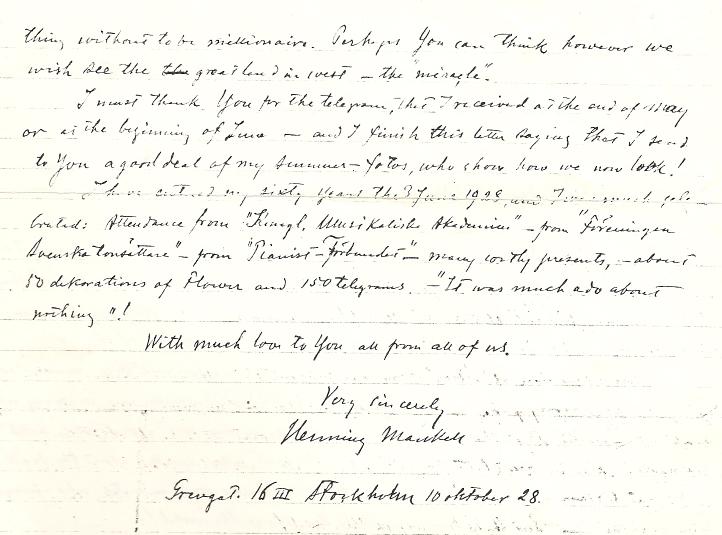 Here is a transcript of the letter (courtesy of Jane Pejsa).
My dear Hulda

I am very obliged to you! – the letter came the other day and I am very glad of it. I am very proud of your thoughts vis-a-vis the "Vision." I can tell you that one young pianist of ours will play another of my works composed for the piano: "Andante with Variations" and I am very curious about it.

One review of "Vision" from one journal this summer was very brilliant and I can also be very glad. Our summer season was in every respect very beautiful –we lived at the seaside on our west coast, a little north of Goteborg. Also we met August in the great house. He spoke about the death of Gustaf and about his embarrassed affairs. It was rough on Gustaf, who always was ready to help everyone.—But that's the way of the world!

I had last year and I have now also one pupil who has lived in Los Angeles and knows extraordinarily well this town and Beverly Hills and the ancient cloister. We have spoken very much of all the places that you mention in the letter from there, and all that the letter contains was very true throughout.

I am glad and very grateful to you for all the troubles you have had to promote my little "Vision". I had wished to be present at the little concert, when Prof. Sc. played it. It is always interesting to hear the interpretation of another [pianist]!

It was very kind to invite us to visit you out in America, but the way is long and expensive—the time now is not such that one can afford such a thing without being a millionaire. Perhaps you can imagine, however, that we wish to see the great land in the west –the "miracle."

I must thank you for the telegram that I received the end of May or at the beginning of June – and I finish this letter by enclosing a good deal of my summer photos, which show how we now look!

I reached my sixty years the 3rd of June 1928 and I was much celebrated. Attendees included people from "Shinegl Musicalishe Akademie", "Foreuingen Svenska Consittare", "Pianist Forbunder"--many costly presents—50 decorations of flowers and 150 telegrams.—"It was much ado about nothing" !



With much love to you all from all of us.
Very sincerely
Henning Mankell
Georgst. 16 III Stockholm 10 Oktober 28.





---
Anna Mankell (1880-1926)
After the death of wife Amalia in 1878, Emil Theodore married Sara Svartengren in 1879. Emil and Sara had one daughter, Anna (1880-1926), a teacher in languages.
---
Bibliography: Svenska Biografiskt Lexikon; ancestry.com; Mankell Family Collection: Much of the information is from Bo Lindbergh, descendant of Sven Mankell; and Gustav Mankell (1946-), who has genealogy compiled in the 1940s by an unidentified family member.