Mankell Family History
MAPS OF ANCESTRAL HOMES IN EUROPE:
Germany, Denmark, Sweden and Norway
Niederasphe Germany: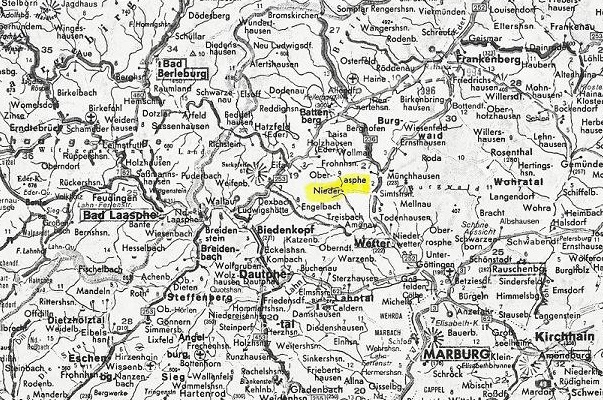 Niederasphe Germany, the ancestral home of the Mankel family (later Mankell), is highlighted in yellow. The town, in the state of Hesse in central Germany, is northwest of Marburg am Lahn (also on the map) and east of Cologne. While Marburg is on maps of Germany, Niederasphe usually is not. The story of the Mankel/Mankell family begins here with Johan Herman Mankel
---
Denmark: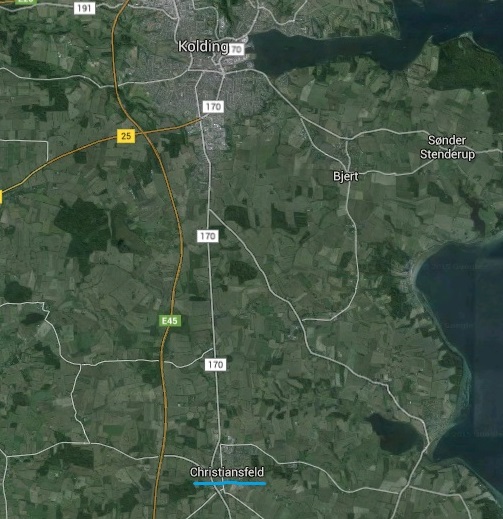 Christiansfeld, Denmark, located between Åbenrå and Kolding.
Home of Johan Herman Mankell, and his first wife Johanna Keyser.
Their children, including Wilhelm August Mankell, were born in Christiansfeld.
---
Sweden: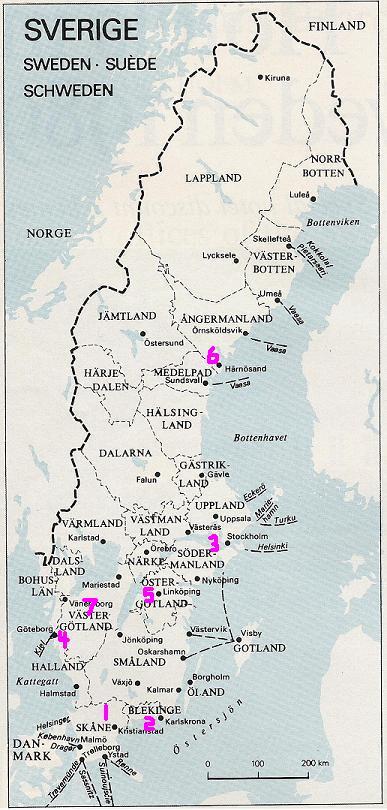 This map of Sweden identifies the 25 historic provinces and larger cities.
Numbers on the map indicate areas in Sweden where ancestors lived.
1. Skåne Province in southern Sweden is the ancestral home of the Mortenson family. Vivian Jordin Mankell's grandmother Mary Mortenson was from Onslunda, southwest of Kristianstad. Mary's mother Margreta Nilsdotter was from Onslunda also. Mary's father Ole Mortenson was from the Tryde area which is south of Onslunda. He moved to Onslunda after the marriage. The family left Sweden in 1872 and settled in Cosmos (Meeker County) Minnesota.

2. Karlskrona, along the southeastern shore of Sweden, was the home of Johan Herman Mankell after he left Christiansfeld Denmark. Johan and his second wife Helena Svedman had several children born in this city.

3. Stockholm is the capital of Sweden and was the home of organists and brothers, Gustav and Carl Abraham Mankell. Stockholm was also to the home of Julius Mankell, Carl Abraham's son. One of the islands of Stockholm is Lidingö, the home of their nephew Otto August Mankell, the artist.

4. Gothenburg (Göteborg) on Sweden's western shore was the home of Wilhelm August Mankell, his son H.W. Mankell, and HW's wife Elizabeth Olsson. HW left Sweden in 1856, arriving in Pennsylvania and was in Red Wing Minnesota by 1857. Elizabeth emigrated from Sweden in 1857 and settled in Red Wing. They married in 1857 in Vasa, Minnesota.

5. Linköping, southwest of Stockholm, was the home of Friederica Amalia Mankell (daughter of Johan Herman) and her family (Gnosspelius).

6. Härnösand, north of Stockholm, was the home of 2 of Johan's youngest children, Sven Gustaf and Emil Theodor Mankell.

7. Älvsborg, Övre Jordalavägen (Upper Jordala Road) west of Mellby in Älvsborg Län (Älvsborg County, also spelled "Elfsborg" and previously known as Västergötland Province). The Jordin family is from Älvsborg, an area known as Jordala, near Mellby (northeast of Gothenburg/Göteborg). Vivian's grandfather August Jordin and his parents Anders Pettersson and Anna Greta Andersdotter left Sweden, settled in Beckville (south of Litchfield), Meeker County, Minnesota, and took the surname "Jordin" from the location of their home in Sweden.


---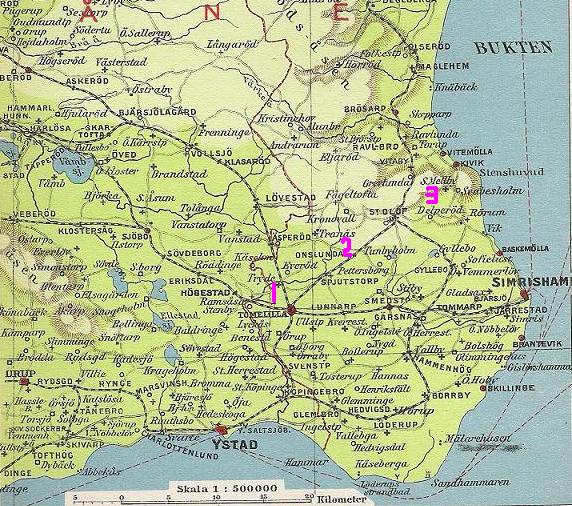 A closer view of southeastern Skåne Province, on the southern tip of Sweden.

Numbers on the map indicate areas in Skåne where the Mortenson ancestors lived.
Tryde/Everöd was the ancestral home of Ole Mortenson and his parents and grandparents. Ole was Vivian Mankell's great grandfather.


Onslunda was the ancestral home of the Mary Mortenson and her mother's family (Nilsdotter).




---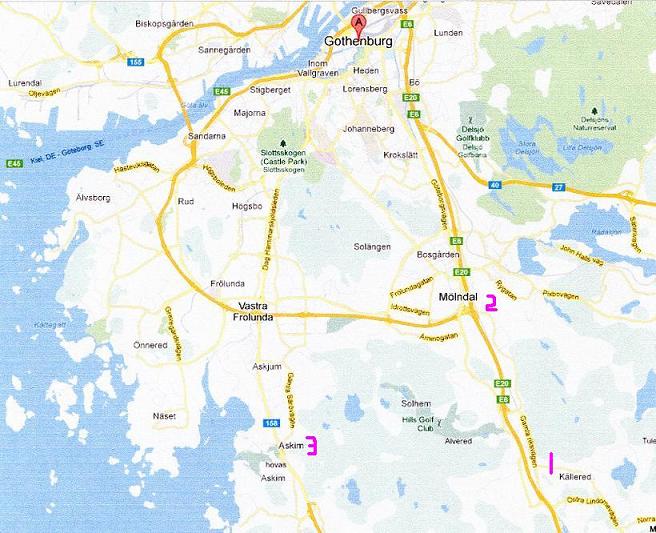 A closer view of Göteborg, in western Sweden, and areas south.
1. Kallered Parish
: Birthplace of
Elizabeth (Olsson/Olofsdotter) Mankell
, her parents, grandparents and great grandparents.
2. Mölndal
, record of HW and Elizabeth Mankell marriage, July 12, 1857.
3. Askim
, where Elizabeth's parents (Olof Bengtsson and Johanna Olofsdotter) married, December 28, 1827.
---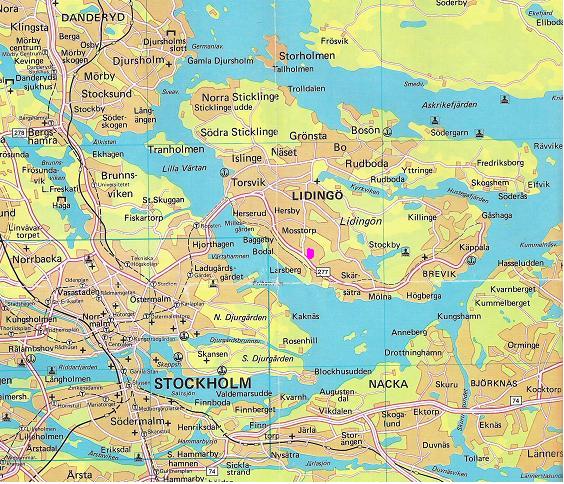 Stockholm and Lidingö Island. Indicated on this map is the location of OA Mankell's home, Hermineberg.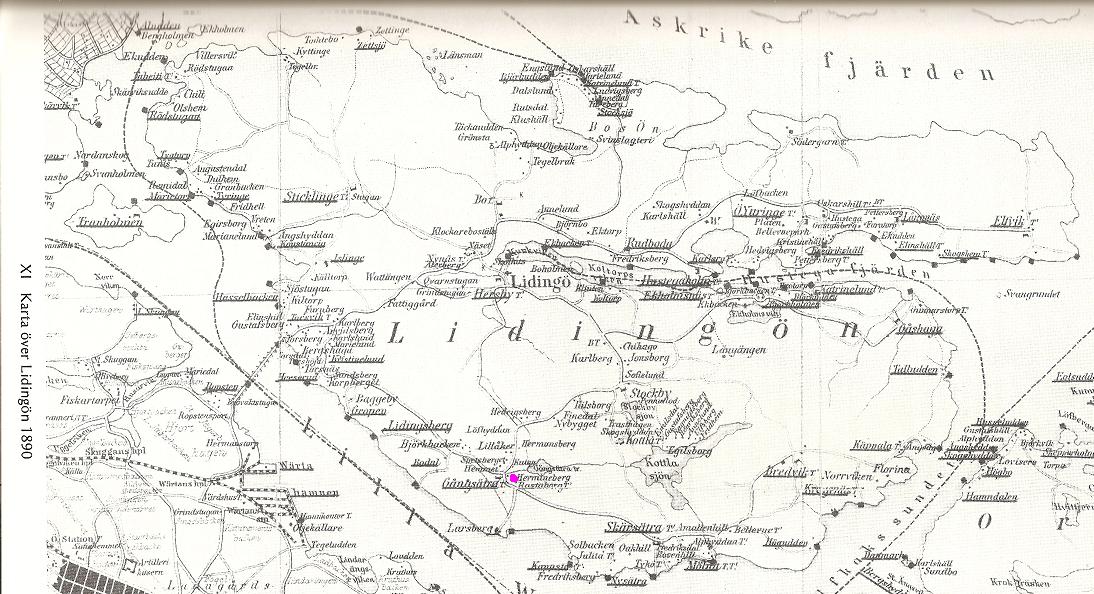 This closer view of Lidingö Island in 1890 identifies the homes on the island.
Hermineberg, the home of OA Mankell, is highlighted.
---
Norway:
Northern Norway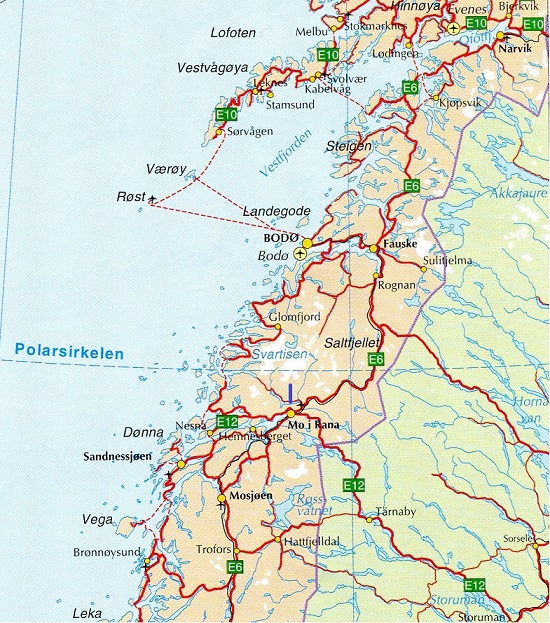 1. Mo i Rana
, in Nordland area of northern Norway (just south of the Arctic Circle) was the home of
Andrew Johnson
(aka Anders Jenson) and his father, Jens Jorgens Zachariason (Sakariason) who settled in Irving Township, Kandiyohi County, Minnesota. Andrew was the grandfather of
Vivian Jordin Mankell
. Andrew left Norway in 1881; Jens Zachariason left in 1890.
---
Southern Norway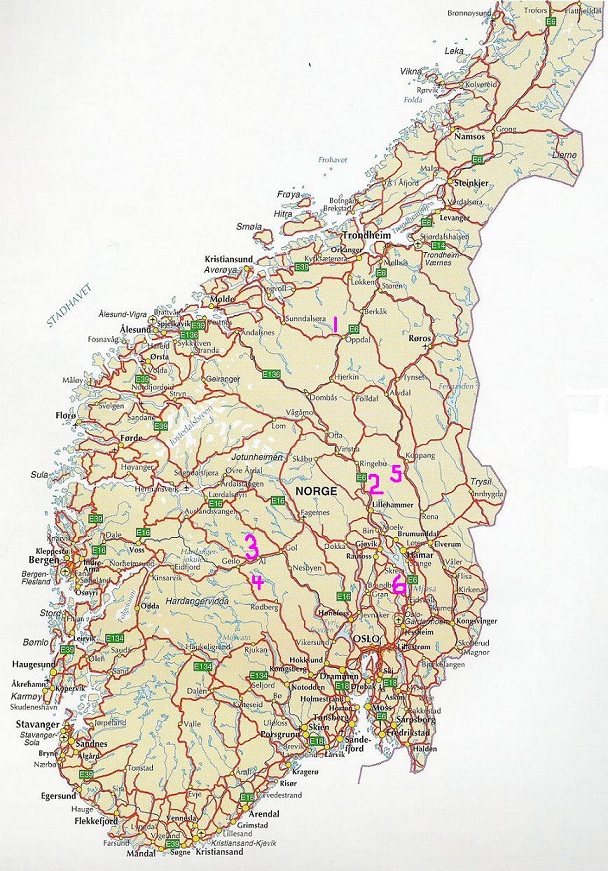 1.
Oppdal
in the Oppdal Valley was the home of
Iver and Guro Olsen
and their daughter Ragnhild. Ragnhild Olsen Johnson was the grandmother of Vivian Jordin Mankell.
2.
Fåvang
in Gudbrandsdalen Valley and north of Lillehammer, was the ancestral home of the
Hjelle family
including Bastina Hjelle Christopherson, grandmother of
Orlynn Mankell.
3.
Ål
in Hallingdal Valley was the home of
Margit Syversdatter
(who married Sven Borgen while in Norway)
4.
Åsberg
in Numedal Valley was the home of
Sven Gunderson Borgen
and his family.
Sven and Margit and their children (Ragnhild, Gunder and Bergit) emigrated from Norway in 1857, arriving in Quebec. They then traveled to Beloit, Rock County Wisconsin. They settled their Kandiyohi County Minnesota homestead (between Lake Mary and Swenson Lake) in 1859.
5.
Stor-Elvdal
in Osterdalen Valley was the home of
Gemine Negaard
(who later married Gunder Swenson).
6.
Holter
and
Tangen
are located in Nannestad District in the County of Akershus.
Holter
was the home of
Lars Christopherson
. Just north of Holter is
Tangen
, the ancestral home of his wife Anna Tangen. (See map below) Lars, Anna and family (including son August who later married Bastina Hjelle) left Norway in 1868. They arrived in St. Cloud MN, then traveled to Lake Johanna in Pope County, and later to Arctander Township in Kandiyohi County.
---
---
Bibliography: Veiatlas Norge; Lovoll, Odd S., The Promise of America; Cohrs, Edvard, Cohrs' Atlas över Sverige