Mankell Family History
Otto August Mankell (1838-1885)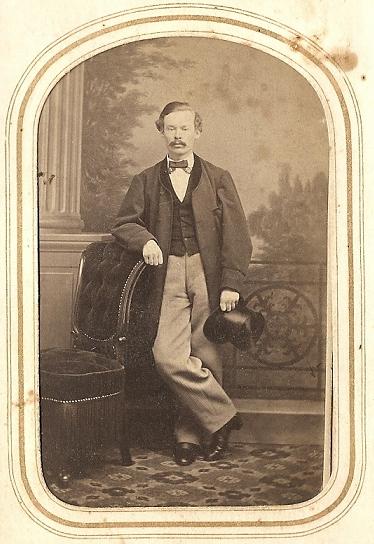 Otto August (OA) Mankell
Otto August (commonly and professionally referred to as OA) was born in Stockholm Sweden in 1838 to Wilhelm Mankell and Margareta Igelström. (Published biographies incorrectly list Gothenburg as his place of birth.) The family moved from Stockholm to Vadstena and Gothenburg. After being educated in Gothenburg, OA traveled and returned to Stockholm and lived on Lidingö Island. (see maps) Brother of immigrant HW Mankell, Otto was an artist—painter and lithographer—and architect. As a lithographer he is known for his accurate drawings (with watercolors added) of buildings in Stockholm, Visby, Linköping, and Gothenburg (see below). These prints are of great historic interest because they depict the environment and buildings in the mid 1800s Sweden. Copies of his artwork are available in art stores in Stockholm. Many of his prints are located in the Swedish National Museum in Stockholm and Gothenburg History Museum. (Scroll down to view many of his watercolor lithographs.)
Otto August used buildings and scenes from Gamla Stan (Old Towne) as inspiration for much of his artwork. One of his paintings of this historic town square in Stockholm has been copied as a beloved Swedish Christmas card, a postage stamp and a decorative plate.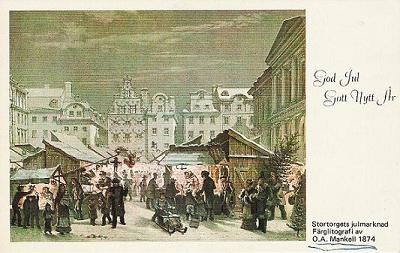 Stortorget Julmarknaden (Christmas Market on the public square in Old Towne), 1874
This is the oldest public square in Stockholm's Old Towne
---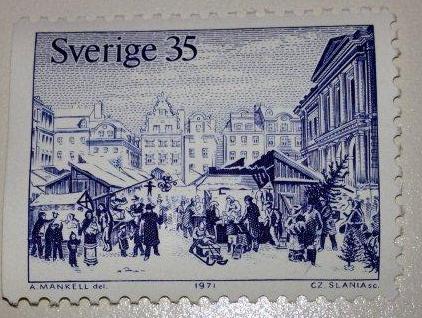 Stamp from one of OA Mankell's drawings: Christmas Market in Old Towne, Stockholm
Issued, 1970. Stamp courtesy of Marcia Boisclair.
---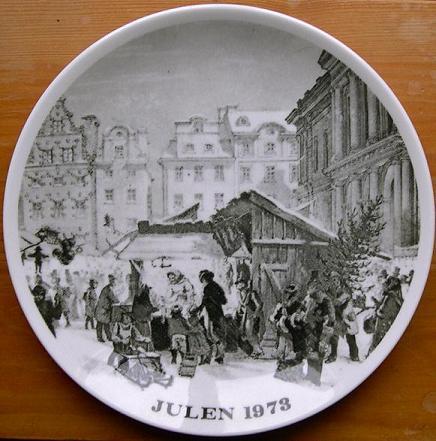 OA Mankell's famous view of Christmas Market in Stockholm's Old Towne, on a decorative plate.
---
Other artwork, featuring buildings and scenes from Old Towne, Stockholm: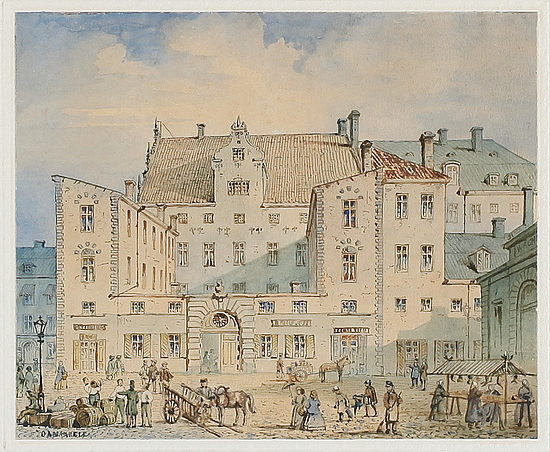 "Torgscen Gamla Stan", A market scene in Stockholm's Old Towne.
---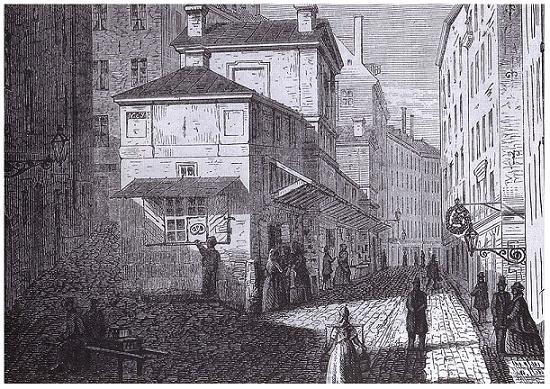 Drawing of Österlånggatan and Benickebrinken in Old Towne, Stockholm.
Drawn in 1865 by OA Mankell.
---
OA Mankell studied architecture at the Chalmersk Carpentry School in Gothenburg, and at the Art Academy's architecture school. During 1867 and 1868 he was an instructor of perspective drawing and lights and shadows drawing at the Royal Swedish Academy of Arts) in Stockholm. One of his students in 1867 was 14 year-old Carl Larsson (1853-1919). In his autobiography (Carl Larsson: The Autobiography of Sweden's Most Beloved Artist) Larsson writes about OA Mankell:
In the mornings we had lessons in anatomy and perspective. These could really be called "free arts," for there was nothing compulsory about them. Class work was handled with utter negligence, and scheduled lessons were rarely attended. The former class was headed by Professor Curman, the latter by a good-for-nothing by the name of Mankell.

Yes, the whole thing was really managed in a sinful and indefensibly apathetic manner! It was the courtyard of laziness, where all of us dragging our feet, as if we were waiting in an antechamber for the gates of art to open wide some day.
In 1872 OA Mankell traveled to Russia, Germany and Denmark to study architecture. While his artistic love was lithographs, he supported himself by working for local Swedish newspapers, by providing drawings used with articles. (This is before photographs were used in newspapers).
Here is the Wikipedia page on Otto August. It's written in Swedish and has some of his wonderful panoramic views of Stockholm, c1871. (The English translation .)
---
Lidingö Island, Buildings and Scenes
OA painted in oils also, focusing on the Swedish landscapes. His works include aerial views of Swedish towns and countryside. OA was a pioneer in an artist's professional use of hot air balloons. OA would paint while up in the balloons. From the air he also designed the first Lidingö bridge, between Lidingö Inn and Larsberg, on the island east of Stockholm.
In the 1870s, until his death in 1885, Otto August was a resident on the island of Lidingö, a community of 40 families who regularly returned to the island during the summer months. Otto named his home "Hermineberg" after his sister, Hermine. Hermineberg was painted red with white stripes. He and others edited the Gångsätrabladet, the island newspaper, in OA's home; this newspaper was available every Sunday morning during the summer. This newspaper stated that Mankell would not miss the opportunity to have a party at Hermineberg. Mankell's "Bachelor Hotel" was run by his housekeepers, who would whip up a light supper in a hurry for a bunch of Mankell's gentlemen friends. (Here is a PDF of a history of Lidingö and the Gångsätrabladet newspaper. It's in Swedish.)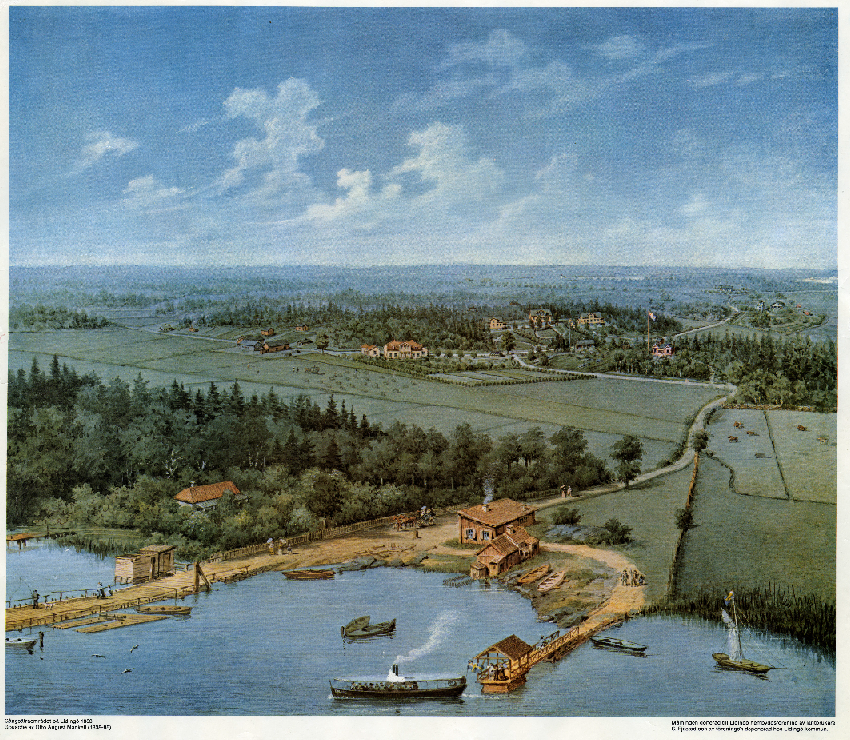 An aerial view of Lidingö Island. Painting by OA Mankell
Lower left corner: a man who is fishing and his dog. Did OA include himself in the painting?
Upper right corner: the house next to a flagpole is Hermineberg.
Image courtesy of Jan Malmstedt.


Another view of Lidingö Island. Drawing by OA Mankell
In the center of the drawing is Hermineberg, next to a flagpole.
Drawing courtesy of Lidingö Public Library.


OA Mankell's drawing of the wooden Lidingö Bridge, connecting the island to Djurgården in Stockholm.
According to the staff at the Lidingö Public Library, this wooden bridge was very fragile
and had been damaged many times by sea ice. It was removed in 1884.
Drawing courtesy of Lidingö Public Library.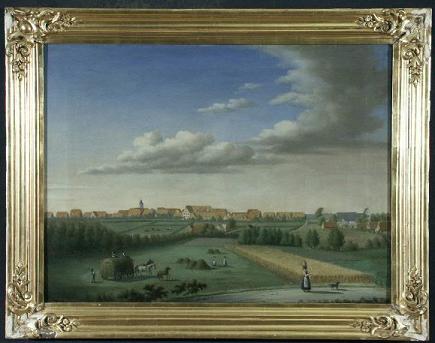 Painting by OA Mankell.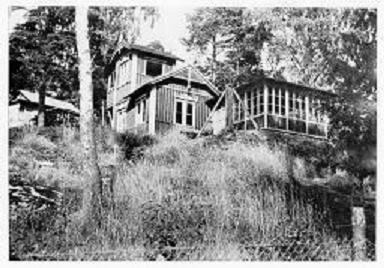 Hermineberg (OA Mankell's Villa on Lidingö)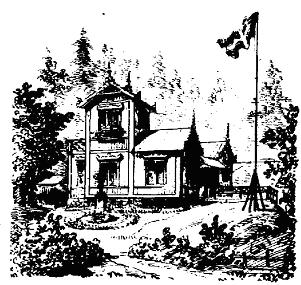 OA Mankell's drawing of his villa: Hermineberg.
Drawing courtesy of Lidingö Public Library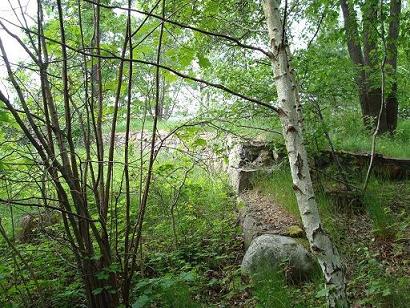 Here is what remains of Hermineberg. According to the staff at the Lidingö Public Library, the building was taken down sometime after 1974. A farmer named Pettersson owned the house and OA rented this house each summer, 1878-1885.
Photograph courtesy of Kurt Mankell.
In one publication Mankell was described as having "pushed-up, curly hair, a mustache, and a pointy beard. He wore a frock and a white vest over his light grey summer pants, which were decorated with wide stripes of a darker material. Otherwise he was not too picky about his clothes." He died unmarried at the Gångsätra in the summer of 1885 at the age of 46, and is buried in the Lidingö churchyard. Mankell's faithful companion was a bird-dog named "Hej". Often they would fish from a bridge near Larsberg on the island. According to a history of the newspaper, Mankell "was invited to dinner at the estate of the famous painter Georg von Rosen. The invitation said 'without dog', so Mankell respectfully declined. Then a second invitation arrived 'with dog'." Hej was so loyal to his master, that following the death of OA, Hej followed his master to the grave and wouldn't leave. The dog had to be shot. Otto August's gravestone in the Lidingö cemetery translates "His friends set up this memorial."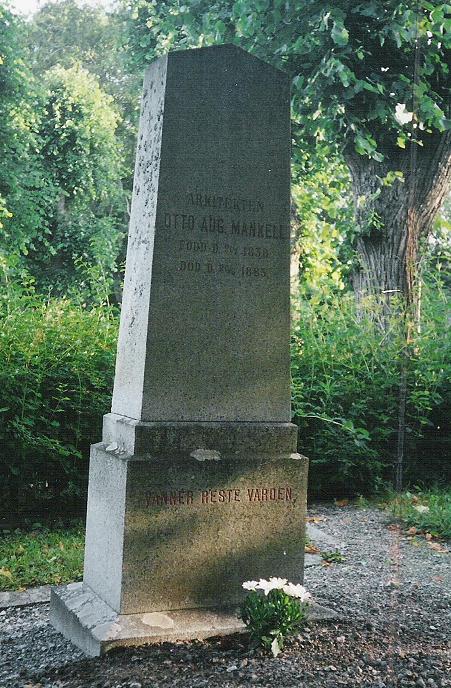 OA Mankell's grave at Lidingö indicates that he was an architect and that "His friends set up this memorial".
Photograph courtesy of Bo Lindbergh.
---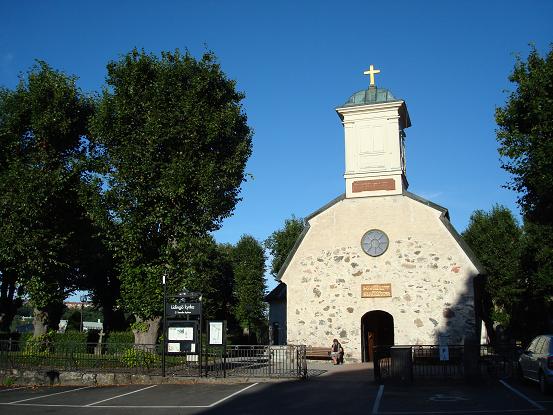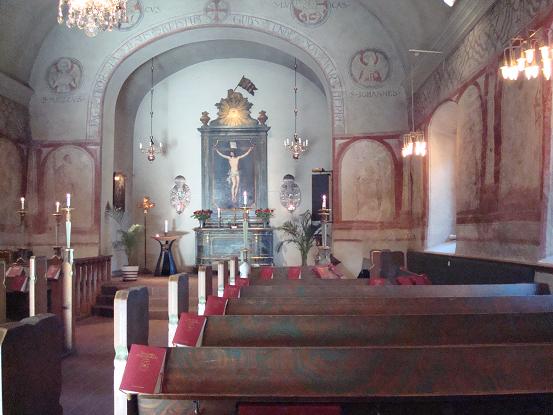 Lidingö Kyrka (Church).
Otto August is buried in the church cemetery.
Photographs courtesy of Kurt Mankell.
---
Watercolor Lithographs by O. A. Mankell
Stockholm Buildings and Scenes, c1870s and early 1880s: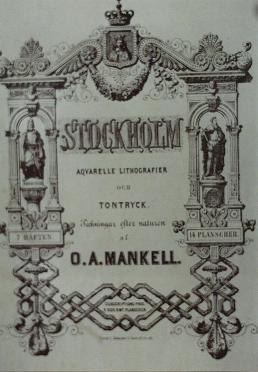 The cover page of OA Mankell prints of Stockholm

---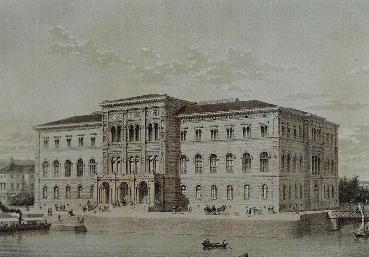 National Museum. Copies of this print are available in art shops in Stockholm.
A collection of Mankell's prints are located in this building in Stockholm.
---

LEFT: Kungliga Slottet (Royal Palace)
RIGHT: Westra Trappvestibulen i Kungliga Slottet (Interior Stairway of Royal Palace)
---

LEFT: Riddarholmskyrkan och Riddarhustorget (Church of Knights in the Public Square of Old Towne).
Knight Holm Church is the burial place for numerous Swedish monarchs, including Gustavus Adolphus.
RIGHT: Kanonier-Kasern (Cannoneer Barracks)
---

LEFT: Slottsbacken: Street in Old Towne with obelisk, built in 1800. The church behind the obelisk
is the Stockholm Cathedral (also known as "The Great Church" or St. Nikolai Kyrka) and is the oldest church in Old Towne.
RIGHT: Riddarhuset, fran Sjosidan (House of Knights/Nobility, viewed from the sea)
---

LEFT: Kungliga Biblioteket (Royal Library)
RIGHT: Grand Hotel
---
Gothenburg (Göteborg) buildings, c1870s and early 1880s:
(Thanks to Lars O. Carlsson for identifying and dating some of the buildings.)



LEFT: Bergslagsbanans Stationshus (Bergslag Railway Station House), Bergslagsgatan 2, 1881
RIGHT: Kungsportsavenyen 1, Parkgatan 29 (Kv Borganäs 1) 1883
---

LEFT: Kungsportsavenyen 22 (Kv Örup)
RIGHT: Denninghoffska huset.
Hörnet av Drottning- och Östra Hamngatorna. (Corner of Queen and East Harbor Streets)
---

LEFT: Handelsinstitutet (Trade Institute), Läroverksgatan, 1882
RIGHT: Franska kvarteret, Kungsportsavenyen 4-14 (Kv Kastellholm)
---

LEFT: Byggnad (Boijeska huset) vid Hvitfeltsplatsen (Building on Hvitfeltsplatsen 9) 1883
RIGHT: Skandinaviska Kreditaktiebolagets Hus (Scandinavian Credit Corporation House)
Västra Hamngatan 6, 1885; Sedan 1975 Antikhallarna
The Gothenburg History Museum has several of OA Mankell's lithographs in its collection which you can view online, including this drawing of skaters on a frozen canal (1866). One OA Mankell print of the south part of Haven Canal in Gothenburg (1866, with JW Wallander) can also be viewed at this link. Scroll down for the section on "Södra Hamnkanalen". This web site has several "Then and Now" streetscapes of Gothenburg comparing current views with those more than 100 years old.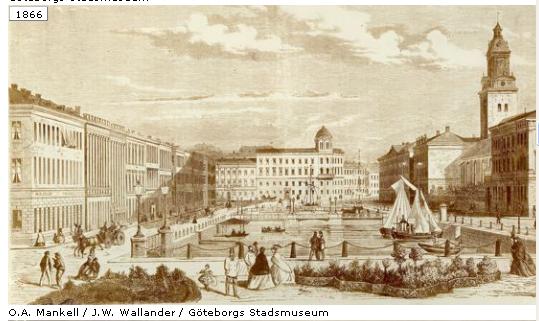 Gothenburg Haven Canal, 1866.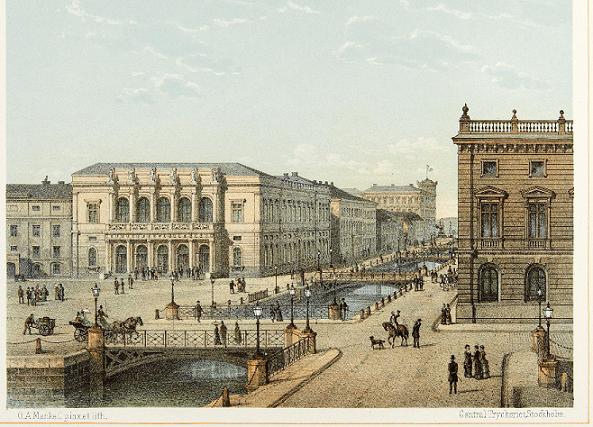 Gothenburg Canal, 1884.
---
A few other examples of OA's artwork:
In 1897 OA Mankell designed
a church in Högås, Sweden,
.
The Stockholm City Museum has an OA Mankell painting available for viewing online.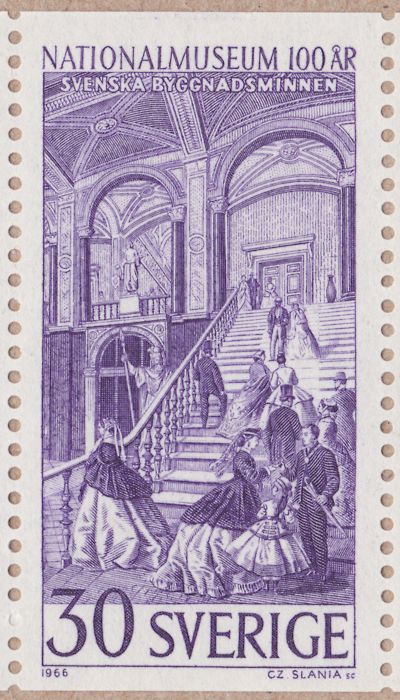 OA Mankell's art used in a 1966 Swedish stamp.
Issued to celebrate the Centenary of the National Museum in Stockholm.
First day of issue: 26 March 1966.
---
Bibliography: Pejsa; Winqvist; Mankell Family Collection; Mankell, OA.