Mankell Family History
Henning Mankell (1948 - 2015)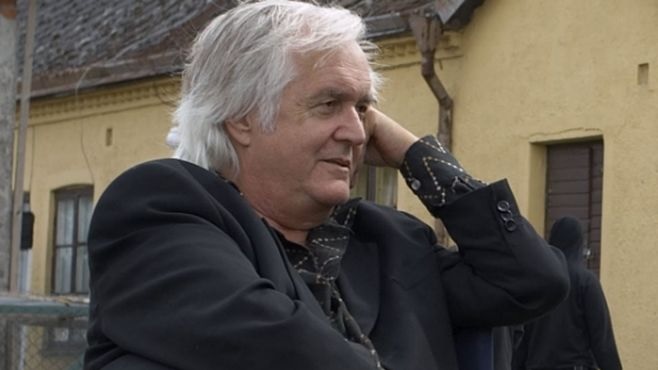 Selig sind die Toten...dass sie ruhen von ihrer Arbeit, denn ihre Werke folgen ihnen nach.
"Blessed are the dead... that they rest from their labors and that their works follow after them."
(Brahms' Requiem)
October 5, 2015 UPDATE:
Henning Mankell died on October 5, 2015 in Göteborg Sweden. Here are links to various online publications regarding Henning and his death.

Henning Mankell website

Washington Post

New York Times

BBC News

The Guardian

In 2006 the city of Sveg, capital of Härjedalen, honored Henning by naming a local bridge after him: Mankellbron (Mankell Bridge). Henning Mankell's novel The Return of the Dancing Master plays largely in Sveg. An important role in this novel is the combined rail and road bridge in front of Sveg.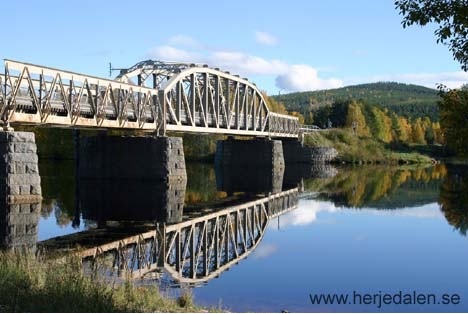 Mankellbron (Mankell Bridge) in Sveg, Härjedalen, Sweden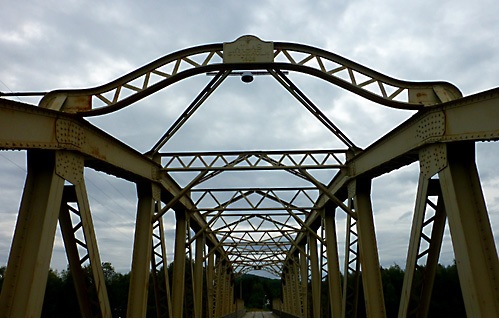 Another view of Mankellbron (Mankell Bridge) in Sveg, Härjedalen, Sweden

MARCH 2015 UPDATE:
In a February 2015 BBC Radio 4 interview (in English) author Henning Mankell read his "Letter from Europe" reflecting on the pace of life at his home in Antibes France, his walks along the sea, immigration, events in France, and more. At the 10 minute mark he talked about his ancestors immigration from Germany and Denmark to Sweden--and extended family crossing the ocean to the US.
---
Henning Mankell was a prolific Swedish novelist, playwright, storyteller, and humanitarian who was devoted to fighting world poverty. He is the son Ivar Henningson, grandson of pianist Henning (Ivar Henning), great grandson of Emil Theodore Mankell, great great grandson of Johan Herman Mankell born in Niederasphe Germany. To learn more biographical information about Henning, check out his official website, henningmankell.com. For those who may want to know how Henning is related to Mankell family in the US, here is a generational chart, connecting Henning's and my family to a common ancestor, Johan Herman Mankell.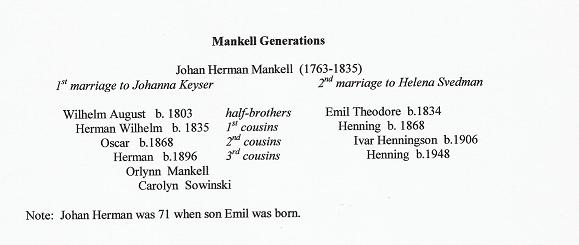 Henning lived part of each year in Sweden and in Mozambique, where he was the director of Teatro Avenida, a theater in Maputo. As part of his dedicated fight against AIDS in Africa, Henning was involved in the Memory Project, in which parents dying of AIDS write their memories for their children to read following the parents' deaths. As Henning stated to a reporter of The Observer, "Books are messengers. Like the diary of Anne Frank, they speak for the dead. The Memory Books will be the most dramatic books of our time, the heritage of being human. AIDS is the most catastrophic disease in the history of mankind. It is killing off complete societies."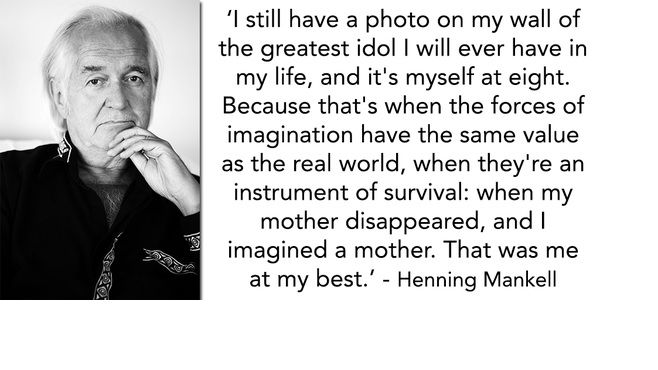 Henning Mankell (source: Vintage Books)

PUBLISHED BOOKS
Henning wrote several plays, children's books and novels, including several books about fictional police officer Kurt Wallander who solves murders in the Ystad area of Sweden. The Wallander character is a man of sadness, solving crimes in an increasingly modern world, where he increasingly feels out of touch and old. He is described as "a decent, hard-working, pragmatic, unglamorous detective…He has a broken marriage, a troubled grown-up daughter, and a fraught relationship with his ageing father….He's a bit lonely, a bit cynical…he feels like giving up but never does." His books have been translated into several languages, including English, and are international bestsellers. There have been several film and television adaptations of his Kurt Wallander murder mysteries. The following Kurt Wallander books are available in the US with their Swedish publication and English translation dates:
Faceless Killers 1991, 1997
The Dogs of Riga 1992, 2001
The White Lioness 1993, 1998
The Man Who Smiled 1994, 2005
Sidetracked 1995, 1999
The Fifth Woman 1996, 2000
One Step Behind 1997, 2002
Firewall 1998, 2002
Before the Frost 2002, 2005
The Pyramid (5 short stories) 1999, 2009
The Troubled Man 2009, 2011
An Event in Autumn 2013, 2013
Several of Henning Mankell's novels and mysteries do not feature the Kurt Wallander character. Some of these books include:
A Treacherous Paradise
The Shadow Girls
Italian Shoes
The Man from Beijing
Depths
Kennedy's Brain
Chronicler of the Winds
The Return of the Dancing Master
Eye of the Leopard
Daniel, a novel
Kvicksand (not yet translated to English)
Henning wrote several 'young adult' books. The first four feature a teen-aged protagonist, Joel Gustafson.
A Bridge to the Stars
Shadows in the Twilight
When the Snow Fell
Journey to the End of the World
Playing with Fire
Secrets in the Fire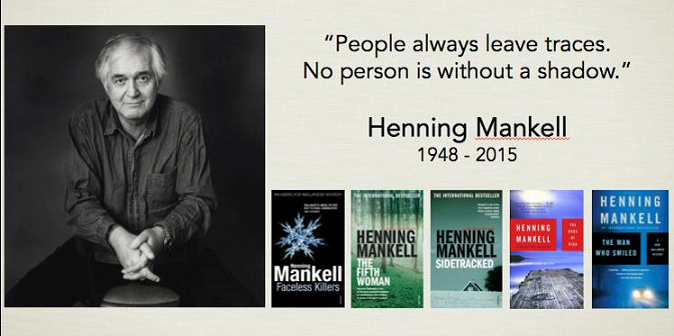 Henning Mankell (source: goodreads.com)

---
PUBLICITY, MOVIES, WEBSITES, and MORE
There is a lot of publicity about Henning Mankell, his books and his life. Here are some of the highlights:

The Henning Mankell website includes the latest on his books, films, interviews, travels, and living with cancer. (The website is in Swedish so click on the British flag in the upper right corner for the English translation.) Here is a web site for Kurt Wallander fans.

Most of he books in the Kurt Wallander series have been a prominant part of the PBS series Mystery and WETA UK, featuring Kenneth Branagh as Detective Kurt Wallander. These dramas, filmed in southern Sweden and originally broadcast by the BBC, include:
Wallander I: "Sidetracked", "Firewall" and "One Step Behind"
Wallander II: "Faceless Killers", "The Man Who Smiled", and "The Fifth Woman"
Wallander III: "An Event in Autumn", "The Dogs of Riga" and "Before the Frost"
His books and DVDs of the PBS series are available from your local bookstore or online from amazon.com.
The October 2, 2011 issue of the Washington Post has an article in the Travel section about Nordic Noir: "A literary gumshoe tour of Scandinavia" which features several authors, including Henning Mankell. The article cites a brochure about Kurt Wallander.
NPR reporter Linda Wertheimer's interview with Henning Mankell was broadcast on Friday, April 1, 2011 on "Morning Edition". During the 7 minute interview they discuss Henning's last novel featuring Detective Kurt Wallander. Henning reads an excerpt from his latest novel.

Here are a 2011 NYTimes Book Review and youtube video about Henning Mankell's novel "The Troubled Man"

An article in the June 16, 2010 Wasington Post describes Henning Mankell as "the Godfather of the Swedish crime thriller genre".
On May 31, 2010, Henning was on the ship Sofia as part of the Gaza Freedom Flotilla. He kept a journal of the events during those early morning hours which is part of the anthology "Midnight on the Mavi Marmara". Here is link to learn more about this event and book.
Henning received many literary prizes, including the UK's Golden Dagger Award, and Sweden's Astrid Lindgren award for children's literature. Sidetracked won Sweden's 1997 award for Best Crime Novel.
The BBC has also produced a documentary about Henning Mankell and his fictional character, Police Detective Kurt Wallander, asking the question: "Who is Kurt Wallander?" Two excerpts are on youtube.com:
Part 1
includes views of Stockholm and Ystad as the character of Wallander is discussed.
Part 2
includes an interview with Henning Mankell. Be sure to view Youtube's related videos of Kenneth Branagh's portayal of Wallander.
---
YSTAD, SWEDEN
In 2007 Kurt Mankell traveled to Ystad, Sweden, the local setting for the Kurt Wallander novels. Below are two pictures which Kurt took on his trip to the "Ystad Studios" where Henning Mankell's Kurt Wallander movies (not the Kenneth Branagh series) are filmed.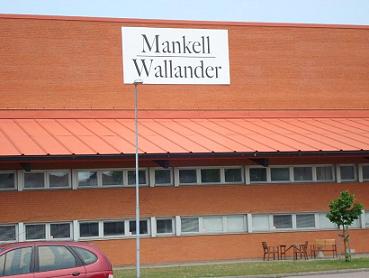 Building in Ystad Sweden which is the set of Kurt Wallander movies.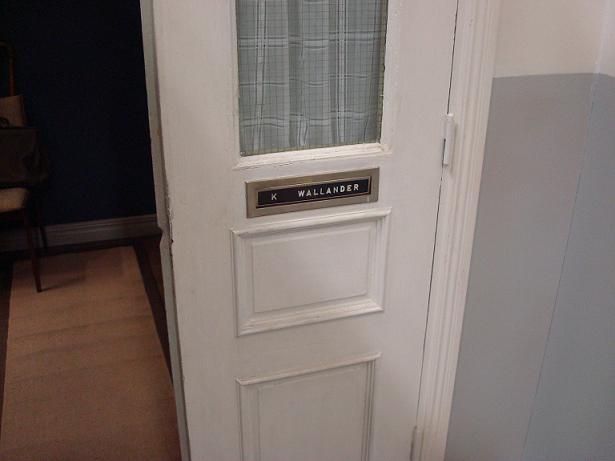 On the set of a Kurt Wallander movie in Ystad, Sweden: a door to the apartment of "K. Wallander"

Learn more about Ystad, Sweden and the city's Wallander sites.
---
The history of the Mankell family now takes us to the United States and to Swedish emigrants Herman Wilhelm (HW) Mankell and his wife Elizabeth.
---
Bibliography: Gerrard; Mankell Family Collection; various online resources.