Mankell Family History
Carl Abraham Mankell (1802-1868)
Johan and Johanna's oldest child was Carl Abraham, also known as CA or Abraham, who was born in Christiansfeld, Denmark on April 16, 1802 and died in Stockholm (see maps) on October 27, 1868. On August 25, 1827 CA married Carolina Lundberg in Stockholm. Carolina was the daughter of Swedish painter Johann Lundberg and Maria Belitz.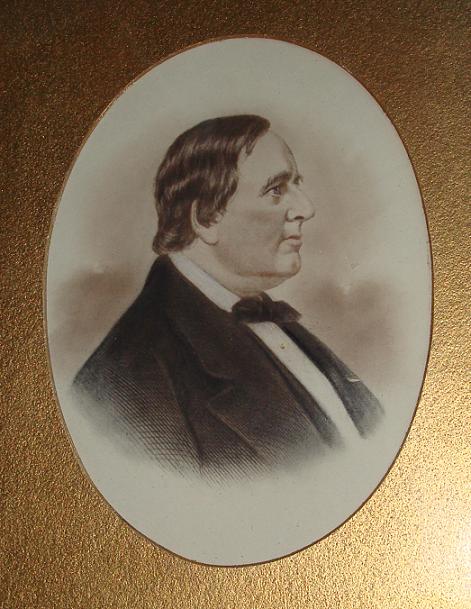 Carl Abraham Mankell
CA grew up in Christiansfeld and was 12 years old when his father's infidelity became known. The Moravian church's goal for CA was for him to be good at his studies, but CA was not interested. He quit his studies in 1815 and the Council of Elders wrote that he would become a 'turner', working with wood. He was also a music teacher at a school in Christiansfeld.
He moved to Sweden in 1821 to join his father who wanted one of his children to assist him in his work as musical instrument maker. Johan was believed to be in Kalmar at this time. By August, 1823, CA was in Stockholm, owned a varnish shop and was a lacquerer by trade. He learned his trade in Christiansfeld. He wanted to return home to Christiansfeld to again be a music teacher at the school, but was not accepted. Given his father's history in Christiansfeld, CA was also not trusted.
After the varnish shop, CA then owned a piano rental and tuning business. By 1823 Carl Abraham began his career in music and held a variety of music related jobs during the next few years. Primarily he was a cantor (music teacher) and organist. Here is a list of some of his music-related positions (with approximate dates) in Stockholm, as described in the Svenskt Biografiskt Lexikon and Tobias Norlind's Allmänt Musiklexicon:
1823: Singing teacher at Klara School (Klara Parish)
1825: Organist at German Church and Cantor at church's school (Klara Parish)
January, 1826: Teacher at the Royal Academy of Music
February, 1826: Cantor at Klarakyrka (St. Clara Church)
1828: Organist at Klarakyrka for many years
1830: Music director at the city's high school
1832-1834: Music teacher at Hillska School
1833: Music teacher at New Elementary School
1834-1841: Taught elementary and church music at Royal Academy of Music
1840s: Formed a mixed chorus which sang concerts at Klara church.
1840s: Lecturer in music history
1851-1856: Music critic in Swedish newspapers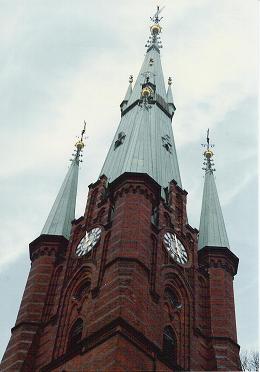 Carl Abraham Mankell played the organ at Klarakyrka in Stockholm.
---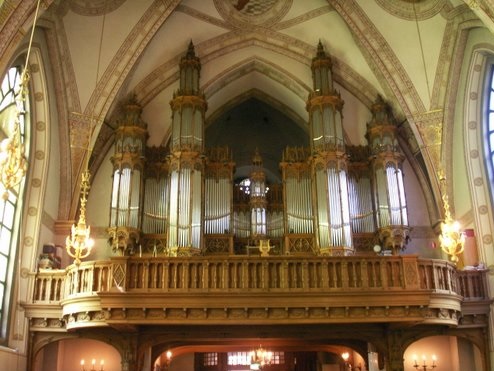 Organ at Klara Kyrka in Stockholm.
In addition, CA was a composer (pdf of "Agnus Dei"), writer, lecturer, music historian, and founder of the Association of Church Music in the 1830s, one of the leading choir societies in Stockholm at the time, with the goal of presenting secular music concerts. CA periodically played organ concerts at Storkyrkan (Stockholm Cathedral), the church where Swedish royalty were crowned.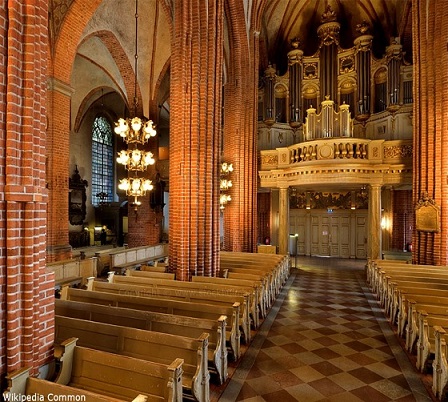 Organ at Storkyrkan (Stockholm Cathedral) in the Gamle Stan section of Stockholm.
According to the
Svenskt Biografiskt Lexicon
, CA introduced his students to the world of music by sharing his "knowledge, general education and great enthusiasm, rather than with the cane." He was a good singer and also played the French horn. He collected Swedish and foreign music, especially for multiple voices, and used this music when teaching students. According to Bo Lindbergh (a Mankell relative in Stockholm) Carl Abraham reintroduced the music of JS Bach to Stockholm more than a hundred years after the German composer's death. Even though CA played Bach's music, CA loved folk songs more than the music of the great European composers and that he preferred the simple structure of folk songs more than complex symphonies.
A translated excerpt (translator unidentified) from Tobias Norlind's Allmänt Musiklexicon describes Carl Abraham's teaching style, his relationship with his students, and his importance to music, especially Swedish folk music. This excerpt includes a quote from a person named Blanche at the school at the Klara School at the same time as Carl Abraham:
Blanche describes the time before and during the time Mankell was at his school: Mankell's "predecessor beat time and also the pupils. At that time a strong hand in everything...Tuning fork in one hand and the rod in the other. Song, the music of the spheres, interpreted by devils...Then one day--it was in 1823--a strange man stepped into the singing class at Klara School. He was young, hardly 21 years, slightly built, his nose crooked and somewhat imperious, but there was a mild blue in his glance and something of a rosy shimmer about his mouth...Instead of the rod he took out a small volume containing some bits of theory of music, easily assimilated by everyone. When he left, we longed for him as for an older comrade and friend. When he returned, all the benches in the singing class were full, no one skipped class anymore, everyone knew the little volumne inside and out, and what we didn't understand he explained in such a way that it was almost a pleasure not to understand just to hear his explanation...The singing class finally became so over-full that we almost were stifled; but the teacher's cordial, fresh lectures made it seem as if we breathed just as easily as out in the fresh air."

Mankell gave a number of lectures in the history of music, which were attended by many. The contribution that he in this way made toward the popularization of music was not small. In the same way he contributed very much to the democratization of music, and awoke an understanding of the traditional in Swedish and foreign music. In the meanwhile even this praiseworthy activity had its dark sides. Mankell loved simple folk music so much, that he not only forgot "classical" music but even intensively fought against it. Song and melody had in him its most one-sided champion. Because of his great popularity at the time with the middle class he created a one-sided cultivation of music that in no small way injured the development. Along with PS Boman he nevertheless was the foremost historian of music of his time. He wanted to call forth the past in Swedish music in order to further a more national development. He wanted to give a greater freedom of movement to choral church music so that it could regain its old affectiveness and become a congregation's song in the full sense of the work. Mankell's main goal in everything was to make music understood and loved by everyone, not just a few. He looked upon the "learned" arts of music, harmony, fugue, and developed instrumental music with unfriendly eyes, and music's last forward movement ended, according to him, before Mendelssohn. Of his writings the following should be mentioned (titles translated):

Harmony, notes for the encouragement of a wider-spread education in the subject of music (1833)
Instruction book in music with special reference to song (1835
Songs for use in teaching singing in schools and high schools (1835)
Stories from the history of church music (1841)
Insights into the inner holiness of music (1849)
Sweden's art of music and melodic national poetry (1853)
The oldests chronicles of the art of music (1854)
Drama of the middle ages in church and theater (1855)
Organ playhing for church (1862)
The history of music (1864)



Mankell was not a scientist, and also lacked every pre-requisite to systematically order the relatively huge amoujnt of material he was treating. His fresh, unhampered style and warm love for his task forced sympathy even where he was, as usual, one-sided and unhistorical. He has not laid the foundation on which to build the investigations of Swedish music with this book. Mankell was also a composer and wrote

Poetic fragments from Wallin, Franzen, and Stagnelius set to music
In praise of God (Wallin's text)
Edited: Sweden's wonderful melodies
Edited: Choral book for schools
Edited: Simple melodic songs for alto and messo soprano
PDF version (in Swedish)
of Tobias Norlind's
Allmänt Musiklexicon
about the name Mankell in Swedish music, military and political history:
Johan Herman
, Carl Abraham,
Gustav
,
Ivar Henning
,
Julius
. The editor Norlind has made errors regarding the parentage of Johan Herman Mankell (father of Carl Abraham), stating incorrectly that Mankell was from the Mangold family in Darmstadt. The incorrect genealogy (which has been published, in error, in other music history reference books) has been deleted from the pdf image.
Organist Claes Holmgren (Santa Maria Cathedral, Visby on Gotland Island) has compiled a CD of music he performed on nine organs located in churches across the Swedish island. In his notes to the CD, Organ Document Gotland: Meeting Nine Organs Holmgren quotes Carl Abraham about music in Sweden.
The Library of the Royal Academy of Music in Stockholm maintains collections of his compositions and letters.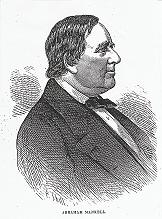 Carl Abraham Mankell
Source: Ny Illustrerad Tidning, November 21, 1868.
Carl Abraham and Carolina had four children, Julius, Edvard, Guido and Ida. CA died in 1868 and is buried in a Stockholm cemetery where many Mankells are buried; it's known as the North Cemetery. In 1859 Ida Mankell married G. Tieodolf Berman (a school headmaster) and they had 6 children. Two children (Sven and Nils Bergman) emigrated to the US. Ida's great grandson Ulf Hagberg (1932-) was the director of the National History Museum in Stockholm.
---
Bibliography: Reventlow; Svenskt Biografiskt Lexikon, vol. 25, p. 57-59; Norlind, pp 611-613
; Mankell Family Collection;