Mankell Family History
Gustav Adolph Mankell (1812-1880)
The sixth child (third to survive childhood) of Johan and Johanna, Gustav Adolph (also spelled Gustaf) had a music career that paralleled his father and his oldest brother Carl Abraham.
Born on May 20, 1812, in Christiansfeld, Denmark, Gustav was a carpenter, a music teacher and organist in this Moravian community like his father. By 1831 another Moravian church (in Neuwied, Germany which lies northwest of Koblenz, on the Rhine River) wanted to exchange him for another person because the Neuwied community needed a music teacher, organist and music director. The elders determined that Gustav was too inexperienced for the job. Gustav remained in Christiansfeld a while longer. Again another congregation (in Gnadau, Germany, near Leipzig) requested him, but the church advised against this stating that while he did well with regard to music, he was not experienced in business. Gustav moved to Stockholm (see maps) and became one of Sweden's greatest organists.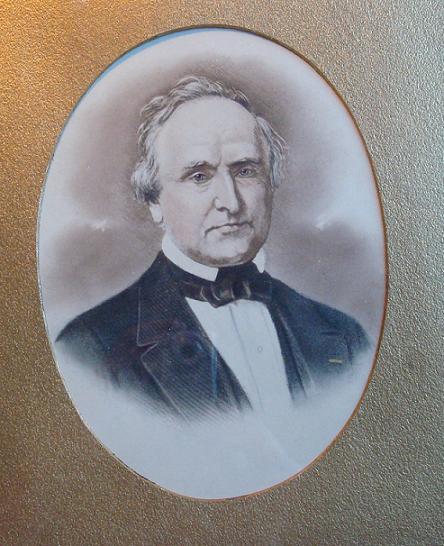 Gustav Mankell
Gustav arrived in Stockholm in 1833 and worked as a composer, organist, organ builder and teacher until his death in 1880. He returned to Christiansfeld and married Charlotte Warnke in July, 1839, only a few months after his mother Johanna died (April 1839) in Christiansfeld. The following is a summary of his professional positions.
1833: Piano teacher in Stockholm
August 8, 1835: Organist exam at the Royal Academy of Music in Stockholm
August 1835-1880 Organist at Jakobskyrka (St. James Church)
1836: Music teacher in St. James school
1837-1880: Organist at Hutterite Brethren congregation in Stockholm
1841: Became member of Royal Academy of Music in Stockholm
1853: Organ teacher at Royal Academy of Music.
1859-1880: Promoted to Professor (of organ playing) at Music Academy
Like his father and brother, Gustav was also a composer and performer (one of Gustav's preludes). As an organist Gustav performed concerts in Stockholm, primarily at Jakobskyrka (St. James Church) and in areas outside the city. He performed improvisations and "historical concerts" in Stockholm and arranged the works of other composers for the organ. He was an accomplished pianist and enjoyed chamber music, but rarely gave public performances on piano. His organ concerts were free to the public and large crowds came to St. Jakobskyrka to hear him play.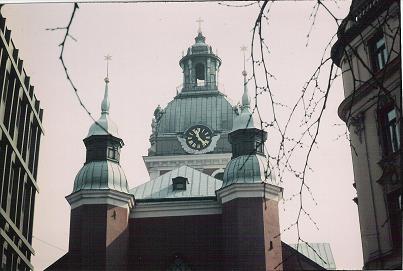 Gustav Mankell was organist at Jakobskyrka in Stockholm
---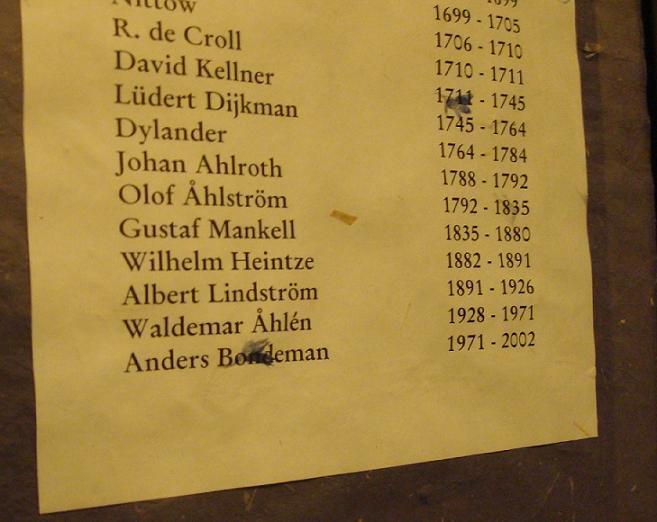 List of organists at Jakobskyrka in Stockholm.
---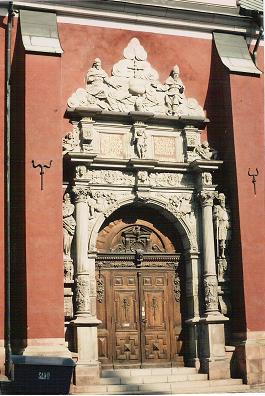 Front Entrance to Jakobskyrka (St. James Church)
---
From Tobias Norlind's Allmänt Musiklexikon:
In 1862 he traveled on the continent with organ maker Åkerman (probably Per Larsson Åkerman of Åkerman and Lund) in order to study Europe's most famous organs...As early as the 1840s he gave numerous organ concerts in the capital and provinces as well as was the equal of Georg Unther, the foremost Swedish organist of the time in Sweden. His own compositions for organ are found strewn in his numerous organ collections and preludes, of which should be mentioned:

Twelve Easy Preludes
Three Traditional Preludes
A Great Fantasy for Solo Voices
Studies for Organ
Organ Pieces, Preludes and Fugues.
Organ Library
Music for Churches

He had a mild retiring nature, that did not progress with his brother's (Carl Abraham) certainty of belief but with caution. The work accomplished as teacher at the Academy was nevertheless both conscientious and basic.
PDF version (in Swedish) of Tobias Norlind's Allmänt Musiklexicon about the name Mankell in Swedish music, military and political history: Johan Herman, Carl Abraham, Gustav, Ivar Henning, Julius. The editor Norlind has made errors regarding the parentage of Johan Herman Mankell (father of Gustav), stating incorrectly that Mankell was from the Mangold family in Darmstadt. The incorrect genealogy has been deleted from the pdf image.
---
Gustav's music remains a part of the concert scene in Sweden. In 2002 organist Claes Holmgren (organist at the Santa Maria Cathedral in Visby on Gotland island) performed Gustav's compositions at a concert at the Danish Embassy near Jakobs Kyrka in Stockholm. Journalist Kerstin Vinterhed wrote about the concert in the Swedish newspaper Dagens Nyheter. She called it a "Mankell Renassaince". Here are translated excerpts from the article:
Mighty organ tones filled the newly vaulted cellar on the Danish embassy at Jakobs Torg 1 opposite St. Jacob's Church in Stockholm. It was the cathedral organist Claes Holmgren's new CD recording of the Danish-born composer Gustaf Mankell's works that sounded under the arches as they once sounded in the church next door, where Gustav Mankell was organist.

Gustav Mankell has always been considered to belong to the B-team, said Claes Holmgren, and certainly there are distances in his music. But I wanted to show Mankell in his entire width, from classically structured, well-structured fugues into light, elegant adagios. It is the discipline, austere in combination with a special warmth. Nurture and roundness creates an especially musical language.

Gustav was born in Christianfeld on Sønderjylland [Jutland Denmark] and received his musical education in the Moravian community there. His father was a glassblower; his mother was a wealthy merchant's daughter from Stockholm. Gustave moved to his mother's hometown [Stockholm]. The year was 1833. Furthermore, in addition to composing, he developed here his talent both as an organist at St. Jacob's, a beloved teacher at the musical academy, and an organ builder.
For more insight regarding Gustav's music and his influence on Swedish music, please read these CD notes written by organist Claes Holmgren:
---
During his later years, Gustav (also Carl Abraham and Julius) was a friend of playwright August Strindberg.
Gustav talent as an organist was useful in another way. He helped inspect organs built in Sweden, 1850-1880. With Carl Abraham, Gustav organized the effort to purchase and supervised the installation of the large organ in the Christiansfeld Denmark congregation where both he and his father Johan Herman were organists. This 1865 Marcussen organ, built in Åbenrå, Denmark, remains the main instrument of the congregation today.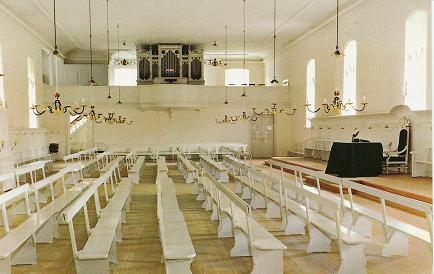 Sanctuary of the Moravian Congregation in Christiansfeld, Denmark.
Gustav Mankell played and arranged for the installation of the 1865 organ located in the balcony.

Source: Nr. 293/84 Brorsbol Foto


---
Gustav and Charlotta had one foster child, Anna Elisabet (1847-1899) who preceded both parents in death. Gustav died on March 23, 1880 in Stockholm; Charlotta died on October 26, 1883 in the same city.
Gustav's letters and music are located in the Library of the Royal Academy of Music in Stockholm and at the City Library in Linköping.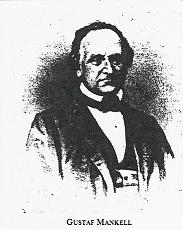 Gustav Mankell
Source: Svenskt Biografiskt Lexikon, p. 62.
---
Bibliography: Holmgren; Reventlow; Svenskt Biografiskt Lexikon; Norlind; Mankell Family Collection; Dagens Nyheter.