Mankell Family History
HULDA MANKELL MELGAARD (1866-1931)
Daughter of HW and Elizabeth Mankell
HW and Elizabeth Mankell had nine children. Hulda was born in St. Cloud, MN in 1866. The family lived in St. Cloud for a few years while HW was obtaining and settling the homestead, and building a home for his growing family. Elizabeth and the children would move to the homestead between the 1866 birth of Hulda in St. Cloud and the 1868 birth of OScar at the farm.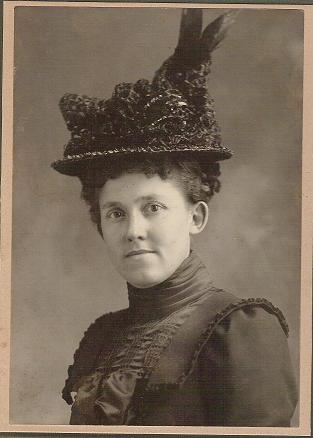 Hulda Mankell, c1890
In the summer of 1890, a year after her father's death, Hulda sailed to Gothenburg (Göteborg) Sweden where she had many relatives including aunts, Hermina and Augusta. She also traveled to Stockholm, the home of her Uncle, Otto A. Mankell. (Here is brief summary of a much longer love story, documented by many letters.) When Hulda left on this voyage she was engaged to a businessman (Charles Reese) from Minneapolis; when she returned to the US in August 1891, still engaged, she fell in love with another man, Hans Melgaard, a Norwegian whom she met on board the steamer ship, "Bothnia". Hans wrote to Hulda in September 1891:
I shall never forget the ocean trip on the "Bothnia"... I enjoyed your company so much, and the time seemed to pass away so fast and pleasantly that I was almost wishing that the voyage would last twice as long as it did.
Hulda remained engaged to Reese after her return to the US. Yet, Hans continued his courtship of Hulda. Hulda and Hans married in May, 1893 in New London MN. They moved to Argyle Minnesota where Hans was a banker. He organized the Farmers and Merchants Bank of Argyle in 1886. This was the first bank in Marshall County. Their home was called "Bothnia". (Charles Reese married in 1894 and lived in Willmar.)
On October 10, 1928 composer and pianist Henning Mankell (grandfather of author Henning Mankell) wrote from Stockholm to Hulda Mankell Melgaard in Minnesota, primarily about his music. Henning mentions the death "Gustaf" which probably refers to his cousin Gustaf, son of Johan August. Gustaf, a businessman, died in 1928 in Gothenburg. The "August" mentioned in the letter would have been Gustaf's brother. Henning and Hulda both were about 60 years old at the time of this letter. Henning was the son of Emil Theodore and Hulda was the granddaughter of Emil's brother, Wilhelm August.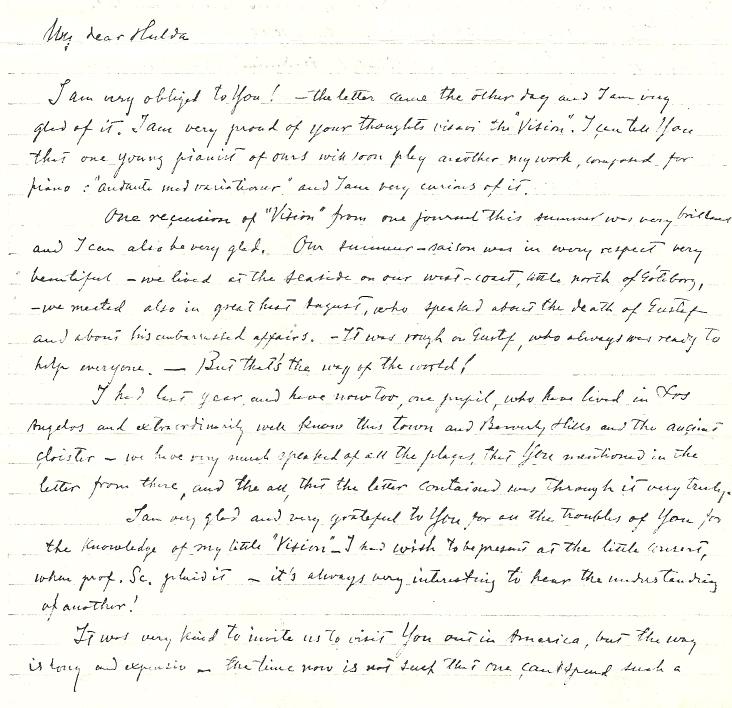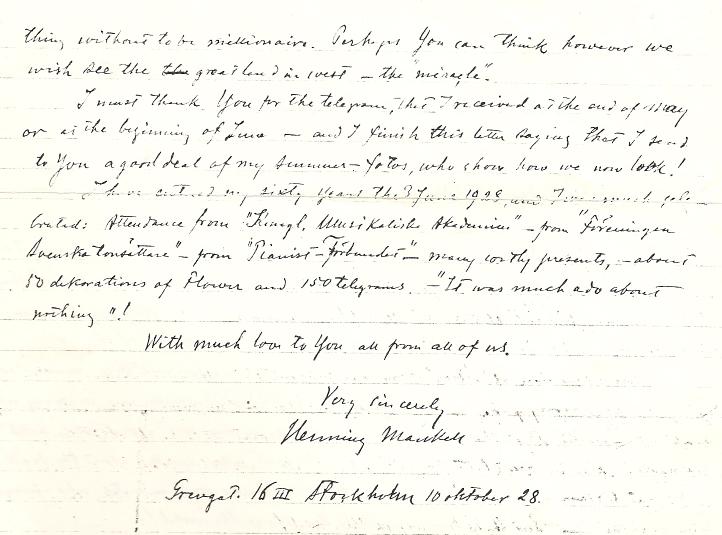 Here is a transcript of the letter (courtesy of Jane Pejsa).
My dear Hulda

I am very obliged to you! – the letter came the other day and I am very glad of it. I am very proud of your thoughts vis-a-vis the "Vision." I can tell you that one young pianist of ours will play another of my works composed for the piano: "Andante with Variations" and I am very curious about it.

One review of "Vision" from one journal this summer was very brilliant and I can also be very glad. Our summer season was in every respect very beautiful –we lived at the seaside on our west coast, a little north of Goteborg. Also we met August in the great house. He spoke about the death of Gustaf and about his embarrassed affairs. It was rough on Gustaf, who always was ready to help everyone.—But that's the way of the world!

I had last year and I have now also one pupil who has lived in Los Angeles and knows extraordinarily well this town and Beverly Hills and the ancient cloister. We have spoken very much of all the places that you mention in the letter from there, and all that the letter contains was very true throughout.

I am glad and very grateful to you for all the troubles you have had to promote my little "Vision". I had wished to be present at the little concert, when Prof. Sc. played it. It is always interesting to hear the interpretation of another [pianist]!

It was very kind to invite us to visit you out in America, but the way is long and expensive—the time now is not such that one can afford such a thing without being a millionaire. Perhaps you can imagine, however, that we wish to see the great land in the west –the "miracle."

I must thank you for the telegram that I received the end of May or at the beginning of June – and I finish this letter by enclosing a good deal of my summer photos, which show how we now look!

I reached my sixty years the 3rd of June 1928 and I was much celebrated. Attendees included "Shinegl Musicalishe Akademie", "Foreuingen Svenska Consittare", "Pianist Forbunder"--many costly presents—50 decorations of flowers and 150 telegrams.—"It was much ado about nothing" !



With much love to you all from all of us.
Very sincerely
Henning Mankell
Georgst. 16 III Stockholm 10 Oktober 28.





---
Argyle, Marshall County, Minnesota
An excerpt from Who's Who in America, The Book of Minnesotans:
MELGAARD, Hans L., banker; born in Norway, Nov. 4, 1859; son of Lars H. and Anne Melgaard; common school education. Was bookkeeper at Lillehammer, Norway, until 1882; came to America, 1882, and was bookkeeper First National Bank of Fargo, N. D.; removed to Argyle, Minn., and founded the Farmers and Merchants Bank of Argyle, 1886. of which he is president. Also president State Bank of Kennedy, State Bank of Karlstad. Scandla State Bank of Stephens, State Bank of Middle River, Citizens State Bank of Osto; vice president State Bank of Warren, Farmers State Bank, of Newfolden. State Bank of Bandette, Bank of Viking. Bank of Alvarado. Owns and operates farm near Argyle. Republican. Mayor of Argyle; delegate to Republican National Convention at Philadelphia, 1900. Lutheran. Mason (32°). Married in Minnesota, 1893. to Miss Hulda Mankell. Address: Argyle, Minn.
The publication,
A Self Portrait of Marshall County
has this reference rgarding Hans:
Early days of Argyle: By the mid-1880's Hans Melgard had arrived to open a bank on the rear lot leased to J.J. Stone for a granary. In 1891, a fire broke out during a snowstorm and an entire block of businesses south of the Melgard bank were gone. Several years later Hans and Ole Melgard teamed up to build the Farmers and Merchants Bank. Hans Melgards bank building was later purchased, moved to a new lot, and transformed into a post office. In 1905 a grain elevator and potato warehouse became the property of the Farmers and Merchants Company and was reported to be doing a flourishing business.
---
Minneapolis, Minnesota
Hans died in 1923 at their home in Minneapolis. Eight years later Hulda passed away. They are buried at Lakewood Cemetery in Minneapolis, MN. Hulda's granddaughter, Jane Pejsa, writes about Hulda's last years:
Hulda's financial situation had been deteriorating for two years, and along with it her health. In a decline that began soon after the stock market crash of 1929, Hans' banks, his land, and his farms were all in foreclosure. Worse yet, even Hulda's Minneapolis home and her cottage at Maple Lake were in jeopardy. Still, she continued to put up a brave front as the hostess with the mostest. Especially at Christmas, Hulda still included into her "Swedish Jul" celebration all the lonely and abandoned ones from her large friendship circle. In early December of 1931, Hulda suffered a massive stroke. She lived a number of days after that, but was fully paralyzed on one side. On Christmas Day, Hulda Mankell Melgaard died at home. Her last words were, "Be sure to have Christmas here and invite those who are alone."
---
Hulda and Hans had 6 children:
Agnes (1894-1984) taught art at William and Mary College
Irene (1896-1990) m. Walter Hauser
Ruth (1898-1994) m. Frederick de Sill
Mildred (1901-1996) m. Caradoc Rees
Harold (1903-1986) m. Josepha Knutson
Carmen (1912-1999) m. Leon Holman
Thomas Mankell Rees was a grandson of Hulda and Hans; he was the son of Mildred Melgaard and Caradoc Rees. Thomas was born in Los Angeles, fought in World War II in General George Patton's 3rd Army in 1944 and 1945 as they advanced across Europe. Later he served as a politician in the Democratic Party: the California State Assembly (1954-1962), the California Senate (1962-1965) and the US House of Representatives (1965-1977) where he worked on international trade, housing and banking concerns. During his years of public service he was known for advancing land-use planning, environmental issues, and civil rights causes. He was against the Vietnam War and became vocal in his opposition, so much so that President Lyndon Johnson wanted to "throw him off Air Force One" according to Thomas' son, James Rees (San Jose Mercury News obituary, December 16, 2003).
Rees actively campaigned for Robert Kennedy's presidential bid in 1968 and was present at RFK's assassination at the Ambassador Hotel in Los Angeles. If you see pictures or film clips of RFK's final speech (Part 1 ; Part 2) at the hotel on June 5, 1968, Rees (tall and in black glasses) stands behind RFK's right shoulder and behind Ethel Kennedy.
The California State Archives has a 1987 oral history interview of Thomas Rees (OH 88-9) in its collection. Quoting the abstract: "Rees discusses his family background, education, World War II service, conversion from the Republican to Democratic parties in the early-1950s, agricultural implement business in Mexico, participation in national Democratic party conventions from 1956 to 1968, activities as a member of the California State Assembly, California State Senate, and the United States House of Representatives, and comments on a wide range of individuals and issues involved in California and national politics from the 1950s to 1987."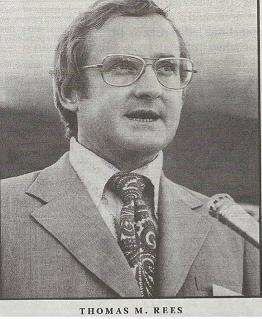 Thomas Mankell Rees, c 1975
For more information about Thomas Mankell Rees, please link to these two web sites:
Wikipedia entry
Congressional Biography
Jane (Hauser) Pejsa is the daughter of Irene (Melgaard) and Walter Hauser, and the granddaughter of Hulda (Mankell) and Hans Melgaard. Over the past 20 years Jane has written several books, historical fiction and non-fiction, many of which pertain to European history.

There is a website which has a biography about award-winning author Jane Pejsa and a list of her books. Here are some of her publications:
The Molineaux Affair , published in 1985, is a novel set in New York City.
Matriarch of Conspiracy: Ruth von Kleist 1867-1945 published in 1991, is a story of a family's connection in the plot to assassinate Adolf Hitler.
Gratia Countryman: Her Life, Her Loves and Her Library , published in 1995, is a biography of a leader in Minneapolis and her work with the public library system.
The Final Encounter--Rommel, Patton and Zhukov , published in 2007, tells the story of the three WWII generals meeting in heaven. Here is a review.
A Remarkable Journey into the Heart of Europe , published in 2008, takes the reader with Jane Pejsa as she and her husband travel in Germany and Poland, connecting the present with the past.
The Minnesota Historical Society interviewed Art and Jane Pejsa in 2008. Art (the primary interviewee) describes his service in WWII as a B-29 bomber pilot in the Pacific Theater and the awards he received. He describes his work as a rocket scientist for Honeywell and his work with the Apollo and Shuttle missions. Jane, a graduate of Carleton College in Northfield, inventor, author, and a Minnesota Book Award winner, talks about her work with UNIVAC during the early years of computers. There are several sections of the interview which cover WWII to 2008, but do not always run chronologically. Art's years with Honeywell are sections 1-4; Jane's life as a working mother are in sections 5-6; Art's war stories are in sections 7-9. During the interview Art and Jane make reference to donated items. They are referring to items which they donated to the Minnesota History Center and are on display in the Minnesota's Greatest Generation exhibit. Jane and Art each own US Patents.
The University of Wisconsin--Stevens Point honored Art with the naming of the Arthur Pejsa Observatory. Art graduated from UW-SP with degrees in Mathematics and Physics. More information about the Observatory.
---