Mankell Family History
ESTHER MANKELL ERIXON (1874-1915)
Daughter of HW and Elizabeth Mankell
HW and Elizabeth Mankell had nine children. Esther was the youngest, born October 31, 1874 at the Mankell homestead, Lake Andrew Township in rural Kandiyohi County MN.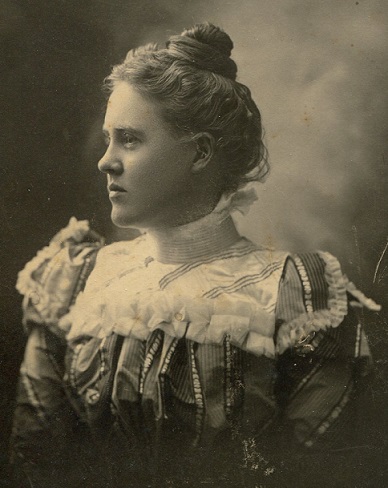 Esther Mankell c1895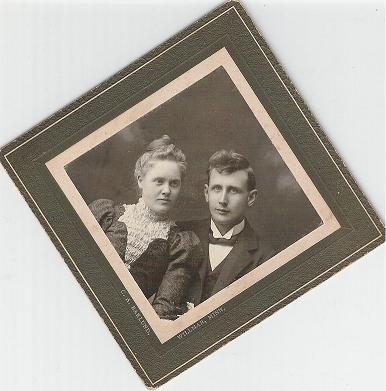 Esther and Gustave Erixon, c1899
Esther grew up on the homestead in Lake Andrew Township and in Willmar MN where the family lived during the years the children attended school. When she was 15 years old her father died. Esther wrote diaries of which three still exist: January-June 1898 and July-December 1898, January-June 1899, and January-July 1904. As is evident in her diaries, after HW's death Esther and her mother Elizabeth were again living at the homestead, with Esther's brother Oscar and his growing family. She worked in Willmar, sometimes living with clients, sewing and washing clothes for several years before her marriage; after her 1899 marriage she was hired for washing, sewing and painting.


Erickson/Erixon
Esther's husband Gustave Erixon (born Gustav Erickson) was from Irving Township, east of New London. Gustav, a lawyer, changed the spelling of his name from Gustav Erickson to Gustave Erixon to be distinctive. His father Erick G. Erickson had an 80 acre homestead in the southeast corner of Section 18, (121N 33W) with the deed issued on June 10, 1882. An additional 40 acres were added later to the farm.
Erick Erickson (b 1835) was a Swedish immigrant, born in Värmskog in the province of
Värmland
in middle Sweden. Erick's younger brother was
Lars Magnus Ericsson
(b 1846), inventor and founder of the telephone equipment manufacturer
Ericsson Company
in Sweden. According to a February 28, 1902 article in the
Atwater Republican Press
, the brothers, while living in Sweden,
"were employed in a large shop together, one as a carpenter and the other as a blacksmith. The younger brother...was possessed of an inventive turn of mind which his older brother always humored. Upon leaving the fatherland to try his fortune in America, he [Erick] gave all his tools in the shop and such money as he could spare to the brother [Lars Magnus] who remained behind.
Esther and Gustav
Erick's son, Gustave and Esther met in October 1895 and married on Thursday, June 8, 1899 at the Mankell homestead. Their daughter Lillian Evangeline was born in 1900 and daughter Florence Mercedes in 1904. The family moved to Guthrie in the Oklahoma Territory in 1905, one year before statehood. In 1915 the family moved to Oklahoma City.
Esther Erixon died October 21, 1915 a few days after surgery at a Guthrie OK hospital. Here are two excerpts regarding her obituary and funeral, first published on October 22 and October 23 in the
Guthrie Daily Leader
and reprinted in the
Willmar Tribune
on November 3, 1915.
Esther Erixon, wife of Gustave A. Erixon, an attorney of Oklahoma City, formerly of Guthrie, died at the Methodist hospital at 9:45 last night. Mrs. Erixon underwent an operation at the hospital last Monday morning and was apparently on a fair road to recovery when a sudden relapse took place about 7 o'clock last evening, at which time, the physician and nurses in charge notified Mr. Erixon at Oklahoma City. Mrs. Erixon and daughters, Lillian Evangeline and Florence Mercedes, arrived at the hospital in their automobile about midnight, but too late to be with his wife and their mother during her last moments.

Mrs. Erixon, nee Mankell, was born at Willmar, Minnesota, and would have been forty years old on the 31st of this month. Besides her husband and daughters, she leaves surviving her, the following immediate relatives: Oscar Mankell and Otto Mankell, brothers at Norway Lake, Minnesota; Mrs. Hulda Melgaard, sister, Argyle, Minnesota; Mrs. Amanda Landquist, sister, Minneapolis, Minnesota; and Mrs Jennie Gordhamer, sister, of Norway Lake, Minnesota.

Mrs. Esther Erixon, who died at the Oklahoma Methodist hospital on Thursday, was conveyed to her final resting place in the Summit View Cemetery Saturday morning.

The funeral services were conducted at the First Methodist church at ten o'clock; Rev. T. S. Pittenger officating. Besides Mr. Erixon and his daughters, several hundred friends of the deceased had gathered at the church. The services were very impressive and the floral display was unusually elaborate. Many flowers were sent by friends in Oklahoma City, Guthrie, and elsewhere. A beautiful bouquet of roses has been sent by the Oklahoma City Bar Association of which Mr. Erixon is a member. Rev. Pittenger delivered a glorious tribute to the memory of the deceased.

The pall bearers were R. M Chilcott, Jack Langston, C. C. Clothier, C. A. Marr, N.E. Wallace, and J. S. Shearer.

Mr. Erixon and daughters returned to their home in Oklahoma City Saturday evening.
Daughters Lillian and Mercedes
Lillian (1900-1994) and Mercedes (1904-1994) would often spend summers at the Mankell homestead, playing with cousins Edna and Alice. Both Lillian and Mercedes were painters, with Lillian painting much of the rosemaling in Edna Halvorson's Games Lake cabin.
Lillian Eixon married Lewis (Louie) Meyer in 1916 and lived in Tulsa OK. Their daughter Margaret Antoinette Meyer (1916-1975) married Roy Hastings (1915-1961) and lived in Jacksonville FL. They had three sons: Roy Irvin, Lewis Gerald, and Richard Leo (1946-1961). Louie Meyer's father Leo Meyer played an important role in the politics and creation of the State of Oklahoma in 1907. As Assistant Secretary of State and later State Auditor of Oklahoma he was involved in the decision to move the capital from Guthrie to Oklahoma City in 1910. Here is an article written by John R Lovett, in the book Western States Jewish History, describing the Meyer family in the Oklahoma Territory, the politics of Oklahoma's statehood in 1907, the transition in 1910, and legal problems for Leo Meyer in 1913.


Mercedes Erixon studied art at the University of Oklahoma with artist Oscar Jacobson. After graduating in 1926 she joined the faculty of the same university where she taught art until her resignation in 1935. She painted with water colors, and worked in woodcuts. Many of Mercedes' paintings remain in her family.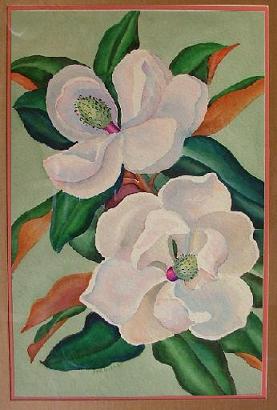 Watercolor of 2 magnolias painted by Mercedes Erixon Hoshall.

---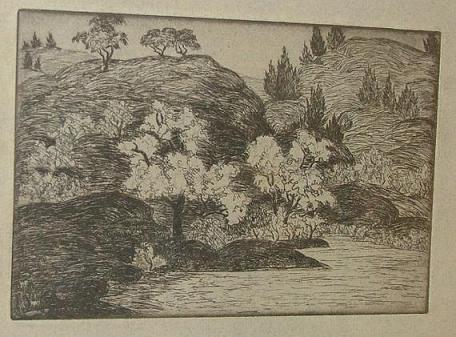 Woodcut by Mercedes Erixon Hoshall.

---
"Roofs of Charleston, SC" watercolor by Mercedes Erixon Hoshall.

---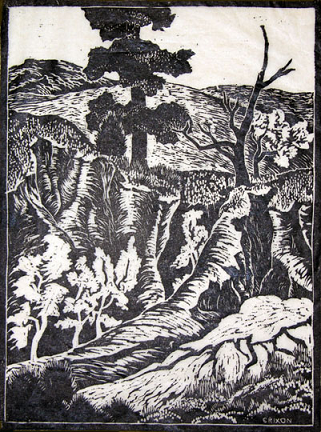 "Oklahoma Washes" 1934 woodcut by Mercedes Erixon Hoshall.
This image depicts the Dust Bowl drought and erosion which affected Oklahoma in 1934.
During her career as an artist, Mercedes signed her works with the names Mercedes Erixon, Mercedes Erixon Hoshall, and Mercedes Hoshall. She was the illustrator in a book Radium, Lost and Found by Robert B. Taft. The book was first published in 1938; the 1946 edition lists Mercedes Hoshall as illustrator. The book is described as written in a humorous vein, illustrated with caricatures. Mercedes Erixon is briefly mentioned in the book, The Condé Nast Traveler: Book of Unforgettable Journeys; Great Writers on Great Places; Volume I. The setting for the chapter "Sip It Slow" written by Nik Cohn is Savannah, Georgia: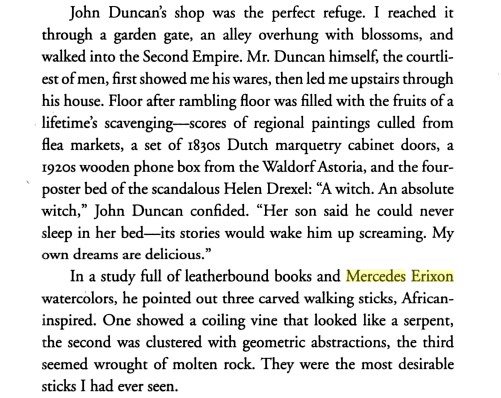 Excerpt from The Condé Nast Traveler, page 95.

Ashley Hall, a private K-12 girls' school in Charleston SC, has a building named after Mercedes and her husband: the Mercedes Erixon and F. Adelbert Hoshall M.D. Science and Math Center.
Mercedes married Frank Adelbert Hoshall at Lillian's home in Tulsa on December 25, 1928. In 1934 Dr. Delbert Hoshall opened his orthopedic medical practice in Charleston, SC. He was a member of the faculty of the Medical University of South Carolina until his death in 1953.

Son F. A. Hoshall, Jr. (called Frank or Sonny) is a retired radiologist in Seneca, South Carolina. Daughter Esther Hoshall Beaumont pursued a career in government service. She retired in 1999 from foreign service after assignments in Africa, Asia, Europe, and South America. She lives in northern Virginia.