Mankell Family History
ALMOST SAVED, BUT LOST:
The 1873 Blizzard in Kandiyohi County, Minnesota

Helge Stengrimson and Margret Soland
---
Thirteen year old Helge Stengrimson Briskemyr and Margret (aka Margrete/Margaret) Soland, wife of Ole E. Soland, were neighbors in Norway Lake Township. Together they died in the storm while traveling from Kerkhoven in Swift County to their homes in northern Kandiyohi County. Other family members were traveling with Helge and Margaret: Helge's father Ellef Truelson Briskemyr, Helge's brother Iver Ellefsen, and Margaret's sister-in-law Jorand Soland, wife of Halvor E. Soland. The Soland and Truelson families, originally from the Hallingdal Valley in Buskerud Norway, had lived in Rice County, Minnesota, before traveling northwest to Kandiyohi and Swift counties. Here are the stories of those who died and those who survived.


Norway to Rice County and then to Kandiyohi County:
Rice County in southeastern Minnesota developed a growing system of roads during the 1850s; military posts were established; Native Americans were pushed out; towns and villages developed; trade expanded; and more settlers (first Germans and then Norwegians) arrived and acquired land from the federal government. Three Lockrem brothers, two Soland brothers, and Ellef Truelson and their families were included in these groups of Norwegian pioneers. Their lives intertwined in Rice County in the late 1850s and 1860s. In about 1870 these families would leave Rice County and travel again, this time to west-central Minnesota, to Kandiyohi and Swift counties--where settlers followed newly established railroads, obtained farms, and developed communities.
Margret Lockrem was the daughter of immigrant Norwegian pioneer Galie Lockrem. The family arrived in the late 1850s to Rice County where Lockrem purchased 80 acres from the federal government in 1861 under the Pre-emption Act of 1841. (The Homestead Act began in 1862.) The family lived in Section 33, Northfield Township, in the southern part of the county.
Across the Township line to the south was Section 3 of Wheeling Township, where another Norwegian pioneer, Ellef Truelson, arrived with his family and took claim of 160 acres from the federal government in 1859. Ellef, like many other recent Norwegian immigrants to Minnesota, had come from Wisconsin, a temporary stop on their journey from Scandinavia to a state with abundant land waiting to be farmed. Ellef was also a blacksmith, so he regularly interacted with area farmers--shoeing horses, repairing wagons, building wagon wheels, sharpening plows, and probably sharing stories about their journey and the loved ones they left behind in Norway. Living only a mile apart from each other the Truelson and Lockrem families must have known each other, encouraged each other, and stayed in contact when some of the family members moved to Kandiyohi County and Swift County. Their intertwined lives came together again, though in death, in January 1873.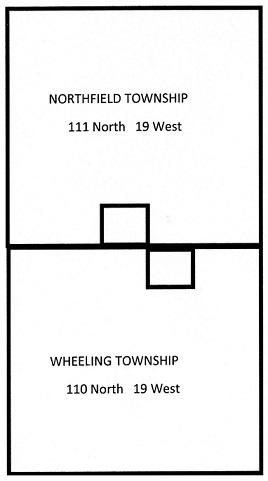 Portion of Rice County MN. Galie Lockrem farm, Section 33 Northfield Township
Ellef Truelson farm, Section 3, Wheeling Township
(Diagram by Carolyn Sowinski, not drawn to scale)
Ellef Truelson (1817-1887)and Ingeborg Iversdatter (1816-1902) married in 1839 and were from Krødsherad Parish, part of the Hallingdal Valley in Buskerud, Norway. Ingeborg's parents were Iver Torstensen and Kari Oldsdatter. Ellef's parents were Truels Olsen and Berit Ellefsdatter. Son Iver Ellefsen (aka Ellefson) was born in about 1841 in Norway. According to census data, the family immigrated in 1853. Ellef, Ingeborg and Iver are listed in the 1860 federal census as living in Wheeling Township. By 1865 Ellef was married to Anne who immigrated in 1860. There was another son listed in the household in the 1865 Minnesota census: Helge who was born in Norway in 1859 was Anne's son and became Ellef's stepson. Helge was named Helge Stengrimson (son of Stengrim) per the church burial records of 1873. Newspaper records detailing the 1873 blizzard also identify Ellef and Helge with the surname Briskemyr. Later census records list Ellef's widow as Anne Briskemyr. Norwegian immigrants had choices for a surname when arriving in the United States. Some chose the patronymic name, such as Truelson. Some americanized their ethnic surnames (Olessen became Olson). Others chose the name of the farm or community where they lived in Norway. Many immigrants used different surnames with various records--sometimes the patronymic; sometimes the farm name. By the time of the 1870 federal census, Ellef, Anne and Helge were living in Norway Lake Township in Kandiyohi County.
Ole Engebritson, his brother Halvor, and their parents, Engebrit Halvorson and Mari Olsdatter, left their home in Norway in April 1861, acccording to parish records. They arrived in Quebec, Canada, in July, 1861 on the ship "Askur". Later they left Canada and settled in Rice County. These travelers from the Flå Parish, Hallingdal Valley, Buskerud, Norway, took the new surname "Soland" in their new country. Halvor married
Jorand (aka Gjoraand) Helgesdatter
in Kenyon, Goodhue County, on April 11, 1865. She was born in Norway in 1848 and immigrated in 1853, per census data.
Ole E. Soland (1842-1923) served in Company G of the 2nd Minnesota Cavalry. He enlisted in December 1863 in Wheeling Township and mustered out in December 1865. Due to events in Minnesota involving Dakota unrest, the companies of the 2nd Cavalry did not go to the southern states to fight in the Civil War. Rather the 2nd Cavalry served primarily in Minnesota (with some travel west to the Missouri River) at the various forts and frontier posts in the state, with headquarters at Fort Snelling, on the Minnesota River south of Minneapolis.
In November 1868 Margret (Margrete) Lockrem married Ole Engebritson Soland in Wheeling Township and lived in Northfield Township where Ole was a saloonkeeper. The young couple moved west to Kerkhoven on the eastern edge of Swift County in about 1871. The St. Paul and Pacific Railroad (later named Great Northern) had recently expanded into new frontier territory, laying track west from Minneapolis, and settlers followed. By 1869 the railroad arrived in Willmar; by 1870 it was in Kerkhoven, a new village on the prairie in Swift County. Merchants arrived, including Ole E. Soland and his wife Margret.
Margret and Ole were not the only residents of Rice County to travel west seeking new opportunities, open prairies, and land ownership. Ole and Margret settled in Swift County. Halvor, Jorand and his parents also traveled west to Kandiyohi County and settled in section 35, Norway Lake Township, about 15 miles northeast of Kerkhoven. In the late 1860s Ellef Truelson and family settled in Norway Lake Township in Section 36, near the sight of the Norway Lake Fort on the western shore. (John O'Neill, another victim of the storm, served in the 2nd Minnesota Infantry and served at the Norway Lake Fort in 1864.) Neighbors in Rice County, they were neighbors in Kandiyohi County. Ellef continued his work as a blacksmith; he continued to help his neighbors and farmers. Ellef's son Iver Ellefsen also had a farm in Section 35. His 160 acres bordered the southern edge of Halvor Soland's 160 acres. None of these men in Kandiyohi and Swift counties had homesteads. (Ole, Halvor and Iver would each get homesteads many years later, after each moved again.)
---
The winter trip home began in Kerkhoven:
Because Kerkhoven was a new town on the prairie, there were no comfortable apartments in the village during the winter months. So Margret lived with Halvor and Jorand during the cold months. In early January Ellef Truelson, his sons Iver Ellefson and Helge Stengrimson, his neighbors Jorand (Mrs. Halvor) Soland and Margret (Mrs. Ole) Soland were in Kerkhoven. They had probably traveled to this growing village on the prairie a day or so earlier. Ellef was a blacksmith and he may have been delivering or repairing farm equipment so necessary for the settlers who were plowing virgin soil. Ellef's sons were with him on this journey probably assisting their father with his work. A blacksmith was vital in a growing community on the prairie. Work was done; visiting was done; the travelers decided to go home. They began their 15 mile, day-long journey on January 7, 1873.


The Journey
On a warm winter day, January 7th, the 2 men, 2 women and boy left for their homes--Sections 35 and 36 of Norway Lake Township. The two women and the boy sat in the box of the sleigh. Two men sat on the bench; Iver drove the horses and sleigh. The group left Kerkhoven and headed east, following long established Indian trails and new roads for the settlers in this young county and state. In three miles they crossed from Pillsbury Township in Swift County to Mamre Township (probably between Sections 18 and 19) on the western edge of Kandiyohi County. The travelers then changed direction and went north in Mamre Township on a road which would later become County Highway 7. When the storm approached they were close to the southern edge of Arctander Township. (In 1873 Arctander Township was then the southern half of the larger Norway Lake Township. Arctander was officially organized in 1879.)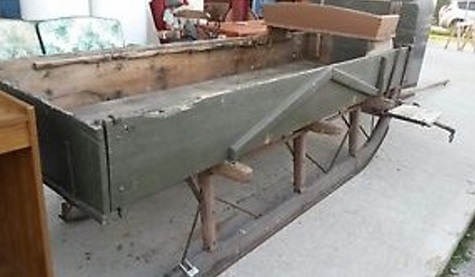 A typical sleigh, pulled by horses or oxen.

At about 2:00 in the afternoon the storm approached, catching these 5 travelers unprepared. Winds howled and the skies darkened. They continued north for a few miles, desperate to get home safely, not knowing how long this storm would last. When the drivers became disoriented in the blinding and blowing snow, the drivers trusted their horses to know the way home. Local Kandiyohi County historian wrote about their journey and their horses for the Willmar Tribune:
From experience I know there are two kinds of horses, and the same applies to oxen. Both faithful and true but different in instinct. One kind are so faithful road keepers that it is hard to get them off from road by pulling of lines. The other so faithful to their master's lines, that they yield to the least pull of lines in spite of roads. That one horse saved many a life; the other caused much misery. It appears that when the great storm overtook the party returning from Kerkhoven the horses instead of taking to right at the forking of road to lead them to section 30 [sic 35]of Township of Norway Lake, [they] took to the left, following the Sunburg road north. Not knowing where they were going they landed in Section 8, Township of Arctander, many miles off their destination, and ran up against a rail fence between the homes of Fingal Helgeson and Jacob E. Ramstad.

The men tied the horses to the fence and tucked up their passengers the best they could. Then they followed the fence and thinking it might bring them to some farm yard. They got away from the fence and were lost. Ellef and Ivar then tramped around aimlessly, while Helge, 16 [sic 13] years, and the ladies, were left in the sleigh. The two men finally ran up against the house of Jacob E. Ramstad, where they were taken in and received good care. The old gentleman [Ellef] was in the habit of dressing well and was thus protected, escaping injury. But Ivar lost all the toes on both feet.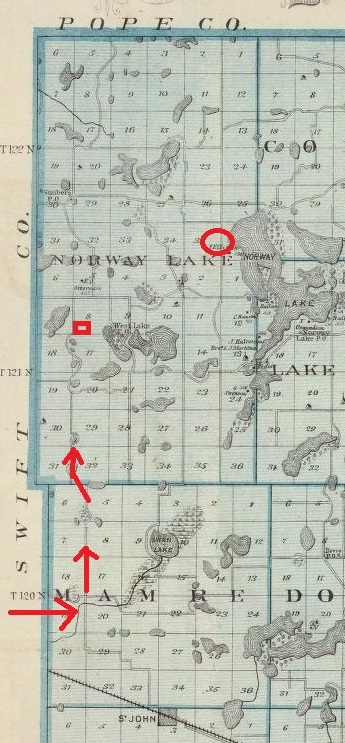 1874 plat map of 3 townships in Kandiyohi County showing the probable path of the group of 5
traveling from Kerkhoven north to Norway Lake Township.
(The southern half of large Norway Lake Township became Arctander Township in 1879.)

The box marks the approximate location where the bodies were found.
The circle marks their destination: farms in sections 35 and 36.

Waiting, Rescue and Deaths
Stene's story continues:
They could now tell of the predicament of the poor victims left in the sleigh. But they did not know where the sleigh was left and no help could be rendered to take one step from the house as that was at the risk of life. In that condition they had to spend those terrible three days and three nights, all the time having those in-sleigh and horses in mind.

Helge had died some time during the night and Mrs. Ole Soland of Kerkhoven passed away after day break in the morning. There Mrs. Halvor Soland was left between the two bodies the rest of the time. On the fourth morning, still, but blistering cold, those at the house could see the rig from the house. Hurrying to the rescue, one said, "I suppose they are all dead." Then Mrs. Halvor Soland raised her arm and waived it to show that she was still alive. How she could survive those nights and days alone between two frozen companions was nothing short of a miracle. She was brot to the hospitable home of Jacob Ramstad, where she remained for a long time and received the best of treatment possible to render her. After she was taken home, I was anxious to find out about my good companion, Helge. She [Jorand Soland] said the last she heard from him, he was saying his Lord's Prayer, and concluded by saying, "Now I am dying."
---
After the Storm
Helge Stengrimson Truelson and Margret Soland died during the blizzard. Their burial services were held on January 16, 1873 at the Norway Lake Lutheran Church--the congregation of primarily Norwegian settlers who developed and built the log church on the prairie. There was a small cemetery next to the church, but there are no extant records indicating that the two who died in the blizzard were buried at that site. A gravestone for Margret is located at West Norway Lake Lutheran about 3 miles northwest of the log church. The West Norway Lake congregation organized in 1875, but the cemetery existed prior to that date. There is no record as to where Helge was buried. His grave is either at the West Norway Lake cemetery (where his father would be buried in 1887) or at the cemetery site at the old log church. Information about many of the earliest graves at this cemetery have been lost to history. (In 1999 the historic log church, the first church of the Norwegian settlers, was rebuilt. The replica of the log church and is an accurate representation of the original building.)
Ellef did not suffer injury. Both Iver Ellefsen and Jorand Soland survived the storm, but faced injury. Iver lost all of his toes to frostbite. Jorand (Mrs. Halvor) Soland's hands and feet were frozen; she lost both legs and one (possibly both) arm. Ellef, Jorand, and Iver returned to their homes and loved ones in Norway Lake Township after the storm.
Ellef and Anne Truelson lived in Norway Lake Township until their deaths. Ellef Truelson continued his work as a blacksmith and died August 1, 1887 and is buried at West Norway Lake Lutheran Church in Arctander Township. His gravestone lists him as "Ellef Thrulson." His wife Anne died December 12, 1902.
Iver Ellefsen, his wife Beret, and their family lived in Norway Lake Township of Kandiyohi County until 1900. Iver and, by derivation, his wife became American citizens in 1895. On November 24, 1899 Iver applied for a 160 acre homestead in Section 2 of Eureka Township, Ward County, North Dakota. The family took residence at this homestead, southwest of Minot, in April, 1900. Iver received his land patent from the US government in 1905. Son Edward also had a homestead in Eureka Township--Section 11. The son settled in Ward county a few years before his father's application. The farms of father and son bordered each other. Iver Ellefsen died in 1908 and is buried at First Lutheran Cemetery, Ward County. Widow Beret Ellefsen moved to Minot ND where she lived with her daughter Emma.
On February 1, Halvor E Soland, husband of Jorand, applied for aid from the State of Minnesota. In early 1873 Halvor and Jorand had 80 bushels of grain valued at $70.00; horses worth $200.00; 8 head of cattle, $120.00; hay and feed, $50.00; household goods and clothing, $50.00; provisions for one month; fuel to last 1 month. The application also stated that Jorand "had both hands, arms, feet, and legs frozen so as to require an amputation of both legs and the left arm." A. E. Rice wrote to Governor Austin about the family's dire financial outlook; the family received $25.00.
Enclosed please find the application of H. E. Soland whose wife had both hands, arms, feet, and legs frozen. Mrs. Soland if she recovers at all will be crippled for life. Although it would appear by the affidavit that Mr. Soland has some personal property...he has nothing or would have nothing if his debts was paid. This in addition to the large Dr. bills that he will have to pay will certainly leave him in condition to receive a portion of the State aid"
Jorand and Halvor Soland stayed in Norway Lake Township, where they raised their family, for almost 30 years. They had nine children, the oldest surviving child was born in 1867; the youngest, in 1888. How difficult it must have been for Jorand, without feet or one hand, to tend to her children. In 1901 Jorand's husband Halvor applied for a homestead in Roseau County, a far northern county in Minnesota, so the family moved once again. The farm was in sections 20 and 21 of Dieter Township, Roseau County. Halvor received the land patent in 1908 after completing residency, building a home, and receiving his citizenship. By 1910 the family had moved again and rented a farm in Bottineau County, North Dakota. One of their daughters, Inga, married John Elton in 1909 and lived in Bottineau County. Halvor died in 1921. Jorand, later known as Julia, died in 1916.
Widower Ole Soland married Brita Iverson in 1874. Brita helped care for those who were injured in the blizzard. It is possible that she helped nurse Jorand back to health during Jorand Soland's lengthy recovery at the home of Jacob Ramstad. Ole and Brita had many children and lived in Swift County for another 20 years. In 1897 Ole applied for a 160 acre homestead in Beltrami County in northern Minnesota. He became an American citizen in 1897 and by derivation, his wife also became a citizen. The US Land Office issued the land patent to Ole in 1902. Ole and his brother Halvor lived on homesteads in adjacent counties. Civil War veteran Ole Engebritson Soland died March 14, 1923 and is buried at Pony Lake Cemetery (Trinity Free Lutheran Church) near Bemidji, Minnesota. Brita died in 1940 and is buried in the same cemetery.
---
Resources:
Ancestry.com (family trees, military, census, birth, marriage and death records).
Arkivverket Digitalarkivet (Norwegian Census and Parish records). http://arkivverket.no/arkivverket/Digitalarkivet
Fite, Gilbert Courtland,
The Farmers' Frontier, 1865-1900
Norman, University of Oklahoma Press, 1987.
Illustrated History of Kandiyohi County
, 1905).
Larsen, Arthur J. "Roads and the Settlement of Minnesota,"
Minnesota History
, vol 21, no. 3, September 1940.
National Archives and Records Administration, Record Group 49: Bureau of Land Management, General Land Office Records (glorecords.blm.gov).
Neill, Edward D.
History of Rice County, including explorers and pioneers of Minnesota and outline history of the state of Minnesota
, 1882 Norway Church records. https://media.digitalarkivet.no/
Peterson, Clarence Steward
Known military and civilian ded during the Minnesota Sioux Indian Massacre in 1862; Known dead during the great blizzard in Minnesota in January 1873
Baltimore, CS Peterson, 1958.
Plat Book of Beltrami County
, (1916).
Plat Book of Kandiyohi County
, (1886).
Plat Book of Rosseau County
, (1916).
Skare Letters. Translated by Rosella Goettelman, Sigdalslag, 1988.
Standard Atlas of Swift County, Minnesota
, Chicago: Alden Publishing, 1907.
Swift County, Minnesota: a collection of historical sketches and family histories
, Benson, Swift County Historical Society, 1979.
Willmar Tribune
, various articles written by
Gabriel Stene
and published in the mid 1920s.
---