Mankell Family History
ALMOST SAVED, BUT LOST:
The 1873 Blizzard in Kandiyohi County, Minnesota

William M. Crump
---
Deaths and injuries from the January 1873 snowstorm occurred in all parts of Kandiyohi County. The Strand brothers and the O'Neill/Holden brothers died in the south, in Whitefield and Roseland Townships. The Soland and Truelson families suffered in the northwestern part of the county, in Arctander Township. William Crump died in the northeastern part of the County, in Roseville Township.
Canada to Goodhue County to Kandiyohi County
William M. Crump and his wife Elizabeth Ruport were immigrants from Ontario, Canada. Born in 1822 in Ontario, William was the son of Shedrick and Nellie Crump. Elizabeth was born in 1824, also in Canada, to Henry and Catherine Ruport. William and Elizabeth married in October 1849. In July 1855 William and Elizabeth arrived in the United States and settled in Goodhue County, in southeastern Minnesota. William's brothers Peter and Shadrick Jr arrived at about the same time; James, about 1863; youngest brother Levi arrived about 1871. Brothers William, Peter and Shadrick settled in Warsaw Township (111N, 18W) in Goodhue County on farms of 160 acres.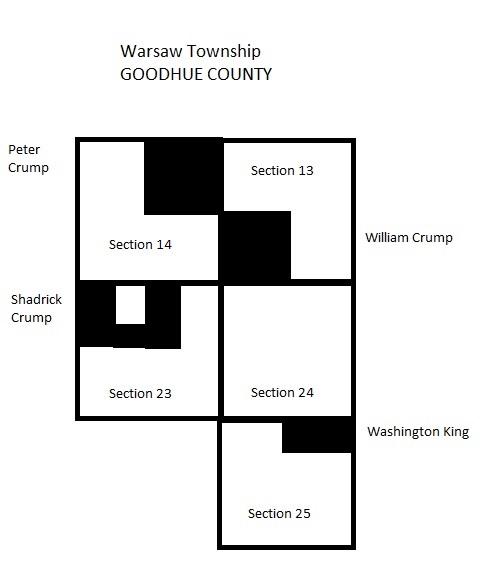 Portions of Warsaw Township (111N 18W), Goodhue County.
Crump and King farms marked
(Diagram created by Carolyn Sowinski; not drawn to scale)

According to records at the National Archives, William had originally made his settlement on the land on September 11, 1855 as a preemption claim (111N, 18W; Section 13, SW 1/4)--just a few weeks after his arrival in the United States. He and his family moved into the newly built log home on January 20, 1856. The house was described as "built of logs, chincked and plastered, 16 x 18 feet, 1 1/2 stories high, with board roof, board floor, three windows, and one door." A witness to his continued settlement on this land, brother Peter Crump, stated in October 1860, that William "has now about 35 acres of said land under cultivation, also built a stable on said land. He has also erected, or in course of erection, a large frame house on said land."
In 1860 William secured his 160 acres as Bounty-Land through the federal government's Scrip Warrant Act of 1855. With this act (and predecessor bounty land warrant acts) veterans who fought in the American Revolution, the War of 1812, the Mexican War, or the Indian Wars could receive land in lieu of payment for services. Those eligible were members of the volunteer militias and the regular army. Many of these veterans then sold their Bounty-Land warrants (deeds) to others at about 70 cents per acre. This was cheaper than $1.25 per acre through the Preemption Act of 1841. (This was prior to the Homestead Act of 1862 where settlers received land for only the registration fees.) William Crump purchased a 160 acre Bounty Land Warrant from James Haviland, a private in Company I, 3rd Regiment of the United States Infantry; Haviland served in the Apache Indian Disturbance. William finalized the transfer of the Bounty Land Warrant in October 1860 for his 160 acres in Warsaw Township. William Brothers Peter and Shadrick Crump also settled farms of 160 acres each through the Scrip Warrant Act of 1855. Another settler, Washington King, also had Bounty Land in Warsaw. The Crump and King families come together later in the story.
William and Elizabeth had 4 children, all born in Goodhue County: James (1856-c1860), George (1862-1887), Edward (1864-1887) and Peter (1865-1936). William and Elizabeth (and others in Goodhue County including the Washington King family) decided to sell their land in Goodhue and take advantage of the Homestead Act of 1862. Land was available in Kandiyohi County, 150 miles to the northwest. In July 1869 William applied for a homestead and the family moved to Section 6, Roseville Township (122N, 33W) in the northeast corner of Kandiyohi County. (William's brother James received a homestead in Roseville Township, Section 8.) On July 30, 1869 William filed papers in Stearns County (to the north) stating his intent to became a United States citizen, and "renounce forever all allegiance...to the Queen of Great Britain of whom I have heretofore been a subject"; by derivation, Elizabeth would become a citizen. Citizenship was a requirement to receive a homestead. The family settled on their new 80 acre homestead on the prairie on July 30, 1869. Soon after the family had a 14 x 16 foot house, 1 1/2 stories, with a shingled roof, one door, 2 windows, 2 floors. He built a stable for his livestock and horses; he fenced 40 acres.
His Death
On January 7, 1873, farmer William Crump awoke to a sunny warm winter's day. Like other people in the county he decided that he needed to take advantage of the good weather and run an errand. Records do not indicate where he was going. Maybe he was going to Lake Koronis, about 8 miles southeast in Stearns County, to cut necessary firewood; he could have been taking grain to the grist mill in Paynesville; maybe he was helping another farmer. Because William's body was found less than a mile from the local post office, it is probable that he was making a trip to this small community. With brothers in Goodhue County and his wife's family in Canada, the relatives probably communicated as frequently as possible. The Crump family relied on the local Roseville Post Office which began in 1871 to receive and send their mail; Henry Shirtcliff was the first postmaster. This post office existed for the farming community until 1886, when the mail was then delivered to the growing community of Hawick, three miles northeast in Section 24.
William was traveling alone with his horses and wagon and was 4 miles south from his home and about 1/2 mile from the Post Office when the snow, wind, and cold temperatures overcame him. According to the 1905 Illustrated History of Kandiyohi County
The great blizzard of 1873 claimed one victim in Roseville townhips, William M. Crump, who lost his way and froze to death Jan. 7th. His body was found within 10 rods of R. C. Benton's house. He had unhitched his horses and they were found near Henry Shirtcliff's barn. Mr. Crump had traveled several miles before he was overcome by the cold.
Justice Franklin Pierce van Vorst, a resident of Stearns County, reflected back on the death of William Crump in an article which appeared in the March 17, 1928 issue of the St. Paul Pioneer Press:
We had a blizzard in which the wind reached 80 miles an hour and the temperature dropped so low that the old mercury thermometers couldn't register it. William Krump was found frozen to death in that storm. He was within three miles of home when the strom walled him in. He turned loose his team, tipped the wagon box upside down and crept under it. The temperature must have been more than 50 below. It registerd more than 52 below at New York Mills on a spirit thermometer I saw there that day.

Krump must have realized that the wagon box wasn't a shelter that would save him from freezing to death, for the searching party that went out from there to look for him found the wagon box empty and only the impress of his body in the snow beneath it. The searchers were able to make out his tracks, and, following them, they came on his body, in kneeling position, his head low and his hands to his face, as in prayer.

His horses were found in the southeast corner of a pasture, where a fence had stopped them. They had stood there three days, but except that one food and a hip of one was frosted, they had not been injured by their experience.
William became lost, disoriented, and suffered from the extreme cold during the storm. He did not know he was 50 yards from the warmth and safety at the house of Reuben Benton, a homesteader from Vermont. Crump's unhitched horses were found north, at Shirtcliff's farm whose homestead bordered Benton's. The horses were alive but injured.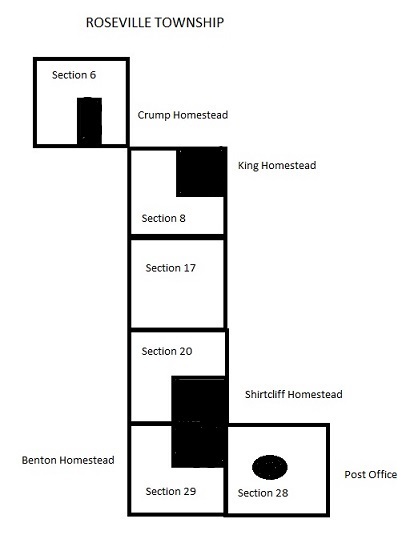 Portions of Roseville Township (122N 33W), Kandiyohi County.
Section 6: Crump Homestead
Section 20: Horses found at Shirtcliff farm
Section 29: Crump's body found at Benton farm
Section 28: Roseville Post Office (renamed Russell)
(Diagram created by Carolyn Sowinski; not drawn to scale)

After the Storm
Widow Elizabeth was faced with the difficulty of raising her 3 children who were under the age of 12 at the time of their father's death. She applied for financial relief from the State of Minnesota on February 5, 1873. Kandiyohi County agent A. E. Rice advanced her $10 in late January, before she completed her application. She made a sworn statement that her husband William Crump died during the snowstorm and that a team of horses valued at $350.00 were badly frozen during the storm and considered a total loss. William was 52 years old leaving a widow and three children, ages 10, 8, and 5 years of age. William had 80 homestead acres and owned 80 bushels of grain worth $50.00; 3 head of cattle valued at $50.00; hay/feed, $5.00; household goods, $10.00. The family had enough food to last 2 months.
In a Feb 6th letter to Governor Austin, Rice stated that the family was very poor, the house was in poor condition and needed improvements, and asked that William's $300.00 debt not be held against the widow. The State issued $40.00 ($760.00 in 2016 dollars) to her for her losses with no mention of debt relief.
William died before completing the requirements to receive the deed to the homestead. Due to William's death in 1873, his widow Elizabeth filed the necessary paperwork in May, 1875 stating her intention to become a citizen. She became a U.S. citizen on June 8, 1875 in Stearns County; witnesses were Everett and W [Washington?] King.
Elizabeth secured the homestead, completing the necessary paperwork at the government land office in St. Cloud in May, 1875. Amos King and his son Everett King were her witnesses. She received the patented deed to the land in October, 1875. Amos King and his family were neighbors of the Crump family, fellow homesteaders in Section 6 and fellow travelers from Warsaw Township in Goodhue County. The King and Crump families were related due to the marriage of Amos' sister, Calista, and William's brother, James Henry. Soon there would be another King and Crump marriage. In September 1877 widow Elizabeth Crump married her Roseville Township neighbor, Washington King, with papers filed in Red Wing, Goodhue County.
Amos' brother, Washington King (aka George Washington King, 1829-1893), had a 160 acre homestead in Section 8, Roseville Township. Washington had lived in Warsaw Township in Goodhue County and like Amos and the Crump family, traveled west to the prairie to take a homestead. Washington was born in New York State and by 1850 Washington, his parents and siblings lived in Waukesha County, Wisconsin. He married Caroline George in 1850. And a few years later the large family had moved to Warsaw Township, Goodhue County. In 1857 Washington King purchased 120 acres from the federal government in Section 17. A year later he secured 80 acres in Section 25 via the Scrip Warrant Act of 1855. Horatio Strong, a veteran from the War of 1812 having served as a musician in the Massachusetts Militia, was the original holder of the Bounty-Land Warrant. A few years later King also served his adopted country. During the Civil War Washington King served as a private in Minnesota's 1st Independent Battery, Light Artillery. Washington and Caroline King had at least 12 children, the oldest born in 1851; the youngest in 1875. Caroline died in about 1877, leaving Washington King with several young children.
After their September 1877 marriage Elizabeth and Washington King and several children moved to Rice County, Minnesota. Elizabeth would move a few more times over the next few decades. By 1885 Elizabeth and Washington lived in Springfield Township, Cottonwood County, where Elizabeth's son Peter lived. Elizabeth's son's George Crump and Edward Crump both died in the fall of 1887. Washington King died in 1893 and is buried in Cottonwood County. After Washington's death Elizabeth lived with her sole surviving son Peter and his family in Stearns County in 1900. By the time of the 1910 federal census Elizabeth (with Peter and family) lived in Wright County, northwest of Minneapolis. Elizabeth Hannah Ruport Crump King died on March 29, 1915 in Wright County. She is buried at Riverside Cemetery, Monticello, Wright County. Son Peter S. Crump died in 1936 and is buried near his mother's grave.
---
Resources for this chapter:

Ancestry.com (family trees, military, census, birth, marriage and death records).
Canada Census, 1851.
Curtiss-Wedge, Franklyn. History of Goodhue County,Minnesota. Chicago, H.C. Cooper, 1909.
findagrave.com
Governor Horace Austin papers. Minnesota Historical Society. File 311 "Papers Relative to Relief Furnished to Sufferers From Storm of 1873"
Illustrated History of Kandiyohi County, 1905).
Mitchell, William Bell. History of Stearns County, Minnesota, vol 3. Chicago, HC Cooper, Jr, 1915.
National Archives and Records Administration, Record Group 49: Bureau of Land Management, General Land Office Records (glorecords.blm.gov).
Naturalization Records, Minnesota Historical Society. Microfilm, SAM 76, reels 3 and 9.
Plat Book of Goodhue County, (1886).
Plat Book of Kandiyohi County, (1886).
Plat Map of Kandiyohi County, (1874).
Willmar Tribune, various articles written by Gabriel Stene and published in the mid 1920s.

Complete Bibliography


---