Mankell Family History
ALMOST SAVED, BUT LOST:
The 1873 Blizzard in Kandiyohi County, Minnesota

Ole K. Skau
---
The Victim
Ole K. Skau is a person whose life's story has been lost to history. No records have been found to document his life in Pope County, Minnesota. He probably arrived in the United States after the 1870 federal census. He died before the 1875 state census.
The Journey
Victims of the 1873 blizzard became disoriented and lost, with snow and ice covering the face and eyes, the wind howling, and clouds and darkened skies blocking the sun. North became south; west became east. This is what happened to Ole Skau who lived near Lake Johanna in Pope County. His journey began in Pope County at the Chippewa Falls gristmill (today known as Terrace); his home was to the south and east, but his body was found in Kandiyohi County, several miles to the south. The 1905
Illustrated History of Kandiyohi County
includes a brief description about Ole Skau's journey during the storm.
Ole K. Skau had been to Chippewa Falls with grist [grain] for Ola Peterson of Gilchrist on the first day of the storm. When on his way home he became lost. Leaving his team of oxen he wandered about and his body was found in section 7 of Norway Lake [Township]. He had made a distance of three or four miles on his hands and knees. His mittens were entirely worn out, as were his trousers at the knees.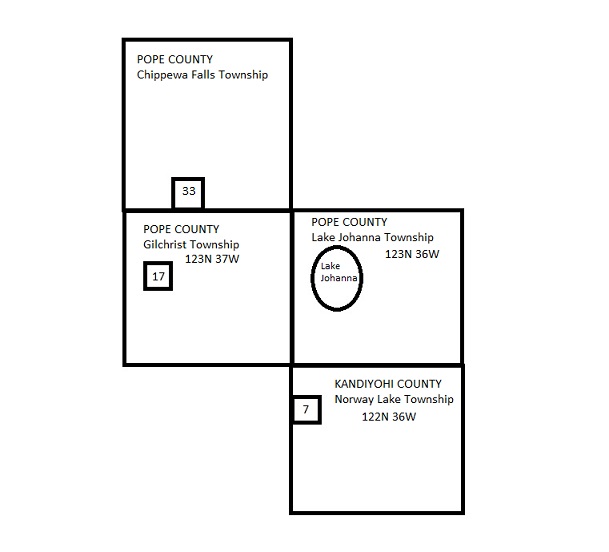 Lake Johanna Township, Pope County: Ole K. Skau lived south of Lake Johanna, location undetermined.
Chippewa Falls Township, Section 33: Ole was returning home from the gristmill.
Gilchrist Township, Section 17: farm of Ole Peterson.
Norway Lake Township, Section 7, Kandiyohi County: Ole K. Skau died at this location
(Diagram by Carolyn Sowinski, not drawn to scale)
---
Resources:
Ancestry.com (family trees, military, census, birth, marriage and death records, ELCA parish records).
Illustrated Album of Biography of Pope and Stevens counties, Minnestoa
, (1888).
Illustrated History of Kandiyohi County
, 1905).
Norway Church records. https://media.digitalarkivet.no/
Peterson, Clarence Steward
Known military and civilian ded during the Minnesota Sioux Indian Massacre in 1862; Known dead during the great blizzard in Minnesota in January 1873
. Baltimore, CS Peterson, 1958.
Plat Book of Kandiyohi County
, 1886.
Plat Book of Pope County
, 1916.
Willmar Tribune
, various articles written by
Gabriel Stene
and published in the mid 1920s.
---