Mankell Family History
ALMOST SAVED, BUT LOST:
The 1873 Blizzard in Kandiyohi County, Minnesota

Helena Johnson
---
Norway to Minnesota
It is not clear if Helena (Thorson) Johnson was a victim of the January 1873 snowstorm. Church records and the 1905 Illustrated History of Kandiyohi County indicate that she died March 3, 1873. Historian Gabriel Stene included Helena as a victim of the deadly January 1873 blizzard in 2 different newspaper articles. She suffered during a storm, and succumbed to her injuries later. Helena is included in this collection of victims' stories.
Immigrant Helena Thorson (1832-1873, aka Helene Torrisdatter) arrived in Colfax Township in 1868. Helene, her parents, and siblings were from the Stord Parish on an island south of Bergen, Hordaland, Norway: father Torris Johnson (1802-1879) with roots in the Stord Parish and mother Kari Oldsdatter (1811-1899) with roots in the Finaas parish, Hordaland. On April 23 the family left Bergen Norway on the sailing ship Ørnen and arrived in Quebec, Canada, on June 6, 1868. They soon left for Colfax Township and their new life on the prairies of northern Kandiyohi County, Minnesota. Like many immigrants, Torris and his family followed in the footsteps of another family member. Helena's sister Elise and her husband Tallak Johnson (Tollak) had arrived in the township in 1866 and acquired a homestead in Section 10. What a joyous reunion it must have been for these sisters to see each other again—to visit, to laugh, to share news about Norway and their new home. About a year later Helena would marry another Norwegian immigrant from Hordaland.
Helena was the third wife of Mathias Johnson (1812-1889, aka Mattias Fjeldhaugen Johannesen) an immigrant from Valestrand Parish, Hordaland, an island south of Bergen, Norway. Mathias Johnson arrived in the United States from Norway in 1856, and initially settled in Koshkonong Wisconsin with his family. In 1860 he and his children (his second wife died c1857) arrived in Colfax Township, then a part of Monongalia County and was a squatter. (Monongalia Counter merged with Kandiyohi County in 1870.) Mathias was an early settler of the Lake Prairie Settlement in northern Kandiyohi County. He was a founding member of the Monongalia church in 1861 which reorganized and changed its name to Crow River Lutheran Church in 1868, located in Burbank Township, Section 7, across the township line to the east of his farm.
In August of 1862 he and his children fled the area due to the 1862 Dakota War. The family first went east to Paynseville and then to St. Francis, near St. Cloud, MN. At the age of 50 he enlisted in the Minnesota State Militia, a Private, Company D of the First Minnesota Mounted Rangers, (1st Volunteer Cavalry) and served as a cook during the 1862 Dakota War.
He enlisted in Company D on October 16, 1862 with four Peterson brothers--Norwegian immigrants Christian, Hans, Nels, and Peter Peterson--who settled in the Norway Lake and Colfax Townships in the 1850s. The Mounted Rangers, led by Captain Oscar Taylor, were recruited to provide troops for the war against the Dakota Indians. The regiment patrolled along the Red River in Dakota Territory in 1863. Later in 1863 they served under the leadership of General Henry Sibley (Minnesota's first governor) along the Minnesota River at Fort Ridgley, providing a secure front against the Dakota Indians. At some point Mathias Johnson and Peter Peterson were part of a citizen militia, with these special volunteers known as the "Lake Prairie Rangers," led by Captain Stone Oleson. Johnson received his honorable discharge at Fort Snelling on November 3, 1863. Christian Peterson died from illness during his enlistment. The 3 surviving Peterson brothers discharged on November 4, 1863. Nels and Peter Peterson would soon become Mathias' sons-in-law.
Mathias applied for his 160 acre homestead (Section 1, Colfax Township) in 1864, settled on his homestead in May of 1865 after it was declared safe for the settlers to return. The Dakota War and subsequent hostilities were over after the Dakota tribes were moved out of central Minnesota to the Dakota Territory. In 1866 Matthias added more acreage by purchasing 40 acres in Section 12. He filed his final paper work for his 160 acre homestead in Section 1 with the St. Cloud MN Land Grant Office in June, 1869, stating he was a single man, with 3 children on the farm (probably Johannes, Arne, and Marti), and a newly naturalized citizen of the United States. The U. S. Government issued the land patent to Mathias Johnson in May, 1870. At the time of the 1870 Federal Census, Mathias owned 240 acres and was married to Helena Torrisdatter.
Mathias was married 4 times; Helena was his third wife. He had at least 7 children with his second and third wives. Three of his daughters were wives of Peterson brothers, Norwegian settlers from Moster, Rogaland, Norway who settled on homesteads in northern Kandiyohi County.
Marthe Arnesdatter Estabovold (1808-1838) married Mathias in 1837 in Stord, Hordaland, Norway.
Valgjerd Arnesdatter Estabovold (1819-1857), married Mathias in 1839, in Stord, Hordaland, Norway. Sister to Marthe.
Marthe Elenvold Matthiasdatter (1841-1918), married Nels Peterson in 1863 and lived in Colfax Township, Section 31. 5 children: Sophus Christian, William, Peter Andreas, Ole Mathias, and Carl Sam. The family also raised a nephew, Carl Ludvig Johnson.
Johannes Johnson (1844-?)
Anne Elenvold Matthiasdatter (1847-c1872), first wife of Peter Peterson, Norwegian settler (brother to Nels Peterson) who lived in Norway Lake Township, Section 15; married in 1865. 3 children: Wilhelmina, Peter, Oline
Arne Mathiason (1851-1886)
Marti (Marie) Elenvold Mathiasdatter (1854-1913), second wife of Peter Peterson, married c1872. The family moved from Norway Lake Township to Washington State. 12 children: Andreas, Christian, Peter, Johann, William, Matthew, Nicoli, Arne, Henry, Clara, Alfred and Palmer.
Helena Torisdatter, (1832-1873) married Mathias c1869. She is buried at Crow River Lutheran Church Cemetery.
Johan Wilhelm, born February 2, 1870
Anne Karine, born October 8, 1871
Ingeborg Oldsdatter (1827-1902), married Mathias on September 9, 1874. She is buried at Crow River Lutheran Church Cemetery.
---
Helena's Death
Historian Gabriel Stene mentioned Helena Johnson's death twice in his articles about the "Great Storm of 1873", published in the Willmar Tribune.

January 13, 1926:

Mrs. Mathias Johnson was home all alone with her little baby. The chimney caught fire, the house burnt down. All she could save was a quilt to put around the baby. She walked barefooted in the snow to a neighbor. Being that there was thick bursh on both sides of the road she was guided along. She lingered three or four days but died from the exposure. The baby grew up to be a wife, a mother, and is now a grandmother.


August 25, 1926:
Another young woman, on the northern borders of the county, had the same experience [of other pioneers in the storm]. Being alone with her little baby on the arrival of the storm, the stove pipe caught fire, the house burned down, and all she could save was a quilt to wrap around the baby. She walked barefooted in the snow storm to the neighbor's house. Being that the road lay thru a grove with thick brush on both sides and well acquainted, she managed to locate the neighbor's house, where she lingered a few days, but died from exposure after pressing the goodbye kiss on the baby's lips, whose life she had saved.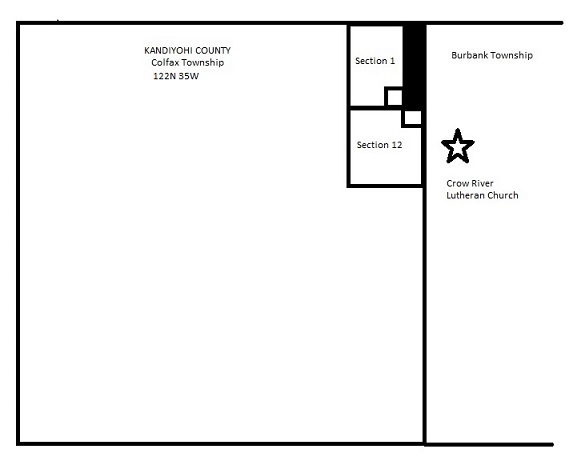 Farm of Matthias and Helena Johnson, Colfax Township in Kandiyohi County.
Shaded area is the 160 acre homestead, Section 1. Two other 40 acre plots are marked.
(Diagram created by Carolyn Sowinski; not drawn to scale)

---
After the Storm
It's probable that Helena sought shelter and help at the homestead of Daniel Martin which was the nearest farm. Martin's homestead was across the township line, Section 6, Burbank Township.
Daughter Anna was the baby referenced in Stene's articles. Anna married Amund Jacobson at Crow River Lutheran Church on March 23, 1889. The two remained on the Johnson homestead following her father's death on April 2, 1889. They had three children: Martha, Helen, Carl. The graves of Anna (1871-1938), Amund (1862-1924) and their children are at Crow River Lutheran Church cemetery, south of Belgrade. Son Carl (1893-1907) died young; Martha (1891-1966) married Olaf Anderson; Helen (1897-1957) married J. Alfred Anderson, brother of Olaf.
Helena and Mathias' son Johan appears to have died at a very young age, possibly before 1873. Born in February 1870, he was listed in the 1870 Federal census, but not in subsequent federal or Minnesota censuses. Stene wrote that Helena escaped with one child, not two, during the house fire. Parish records of Crow River Lutheran Church do not list information about Johan's death.
Widower Mathias Johnson married for a fourth time, to Norwegian immigrant Ingeborg Olson/Oldsdatter on September 9, 1874, at the Mathias Johnson home. Rev. Lars Olson Rustad officated. They lived on the homestead until Mathias' death on April 2, 1889, from dropsy (aka edema, or congestive heart failure). Mathis willed the homestead property to his daughter Anna Jacobson, not to Ingeborg.
Widow Ingeborg applied for a Civil War widow's pension on July 14, 1890 (application number 475,665). She and her witnesses worked for at least 6 years to receive approval, but her claim was denied. Widows of Civil War veterans had to prove three things to receive a pension from the federal government ($10 per month in 1890): proof of veteran's military service, proof that veteran was deceased, and proof of marriage to the veteran. If approved she would have received back payments to the application date. Ingeborg and her witnesses provided notarized affidavits establishing all three criteria, but the Commissioner of Pensions found reason to deny. Ingeborg's witnesses were from the Colfax area who vouched for her need to receive the pension, that she was destitute, and that her statements were true: Amund Jacobson, John Berg, Ole Slattum, Hans Christenson, Dr. E. P. Blomgren, and Claus and Mari Jorgenson. However, following the Dependent and Disability Pension Act of June 27, 1890, widows also needed to provide information about their property and that the widow had no income other than her daily labor.
In 1891 the pension office asked for more information about "the claimant's means of support, the character and value of all property possessed by her, and the amount of her income should be shown by competent evidence." Her witnesses filed more affidavits with the Pension Office stating that the homestead was willed to Matthias' daughter and not to his widow; that Matthias left no property to Ingeborg; that she was destitute, having $260.00; and that she had no other source of income.
From the witnesses' notarized affidavits in her application file, it appears that the Pension Office also had questions regarding the marriage: whether or not they were married or separated at the time of Mathias' death; or that the commissioners did not believe the sworn statements from the witnesses vouching for their marriage. Thus there were sworn statments supporting the upstanding reputations and honesty of the witnesses.
Ingeborg grew weary waiting for a decision from the Pension Office. On August 1, 1892, she wrote to Green Berry (G. B.) Raum, Commissioner of Pensions:
I have been waiting with patience to hear something from my Pension Claim, but it seems so long that I must ask you how soon I will hear anything from it, please answer.
In 1896 Ingeborg continued her quest to receive a pension by submitting 2 letters to prove her case. She responded to the Pension Office's need for information about property owned by Ingeborg and about Mathias' military service. On March 6, 1896 A. O. Nasset, Auditor for Kandiyohi County, submitted a sworn statement to the fact that Ingeborg had no property in the county. A few days later, on March 11, Oscar Taylor, former Captain of Company D Mounted Rangers, helped Ingeborg with her quest to receive a widow's pension. In a sworn statement Taylor summarized Mathias' service in Company D and clarified that two men with the name of Johnson served in his company:
And affiant [Taylor] further says, that said Mathias Johnson and one Ackey C. Johnson were the only persons of the name of "Johnson" who were members of said Co [D]; that he, this Affiant personally knows that said M. Johnson enlisted, was mustered in and mustered out of said Co, by the name of "Mathias Johnson".
The Pension Office questioned Mathias Johnson's service because military records did not list a veteran by that name. The 1890 publication Minnesota in the Civil and Indian wars, 1861-1865, which includes the rosters of the various companies and regiments from Minnesota listed "Akey C. Johnson" and "Mosler Johnson" for Company D, 1st Volunteer Cavalry. Given Taylor's statement, the latter name was in error in the publication and should have read "Mathias Johnson". The Combined Military Service Records for Mathias listed him as "Mathers Johnson." Without proper documentation of his military service due to illegible handwriting or misspelling on the muster rolls, Ingeborg's pension application was for naught. Her application was never approved.
Ingeborg stayed on the farm, living with step-daughter Anna and her husband Amund Jacobson, until her death on February 19, 1902. The graves of Mathias, Helena and Ingeborg are at Crow River Lutheran Church Cemetery (Row 21), located across the road from the family's homestead. Helena is buried in the same cemetery as her son Johan, her daughter Anna, her parents, her sister Elise, and other extended family.
---
Resources for this chapter:

Ancestry.com (family trees, military, census, birth, marriage and death records; ELCA parish records).
Arkivverket Digitalarkivet (Norwegian Census and Parish records). http://arkivverket.no/arkivverket/Digitalarkivet
Belgrade Tribune
Familysearch.org
Findagrave.com
Gunderson, Carl M. A History of Crow River Lutheran Church, Belgrade Minnesota, 1861-1961.
Illustrated History of Kandiyohi County, 1905).
Minnesota in the Civil and Indian wars, 1861-1865. Prepared and published [1890] under the supervision of the Board of Commissioners appointed by the act of the Legislature of Minnesota of April 16, 1889.
National Archives and Records Administration, Record Group 15: Records of the Veterans Administration (Civil War Widows Pension Files).
National Archives and Records Administration, Record Group 49: Bureau of Land Management, General Land Office Records (glorecords.blm.gov).
Norway Lake Lutheran Historical Association.
Plat Book of Kandiyohi County, (1886).
Plat Map of Kandiyohi County, (1874).
Willmar Tribune, various articles written by Gabriel Stene and published in the mid 1920s.

Complete Bibliography


---