Mankell Family History
ALMOST SAVED, BUT LOST:
The 1873 Blizzard in Kandiyohi County, Minnesota

O'Neill and Holden Brothers from Renville County
---
Canada to Renville County:
Brothers Michael and Thomas Holden and brothers John, Charles, and Stephen O'Neill (aka O'Neil and O'Neal) lived in Henryville Township, Renville County, Minnesota. Michael was about 25 years old in 1873; Thomas 17. John O'Neill was 26; Charles was 25; Stephen was 21.
The O'Neills were an Irish-Catholic family; parents James and Katherine (Flanigan) O'Neill were both born in Ireland. They emigrated to Quebec, Canada where most of their children were born. The family came to the US after the 1851 birth of Stephen and lived in Rice County Minnesota. Oldest sons James, Jr. and John O'Neill served in the Civil War. James enlisted August 19, 1863, in Northfield and served with Company C, Hatch's Battalion, Minnesota Volunteer Cavalry in Fort Abercrombie in Dakota Territory. John enlisted on November 11, 1863 in Northfield. He was mustered in at Fort Snelling on January 4, 1864 and served with Company G, 2nd Minnesota Volunteer Cavalry Regiment. The regiment served in Minnesota, Montana and the Dakota Territory, monitoring the Dakota Indian activities on the frontier. After these sons returned home from service in 1865 the family moved to Renville County. James, Sr. and 5 sons (John, Charles, Patrick, William and James, Jr.) applied for and received homesteads in Henryville Township. James O'Neill died in 1898; Katherine in 1888. Family members are buried at St. Patrick Catholic Cemetery (Birch Cooley Cemetery) near Franklin and Morton, Birch Cooley Township in Renville County.
The Holden family were also immigrants from Canada, with ethnic roots in Ireland. Parents James Holden and Catherine McGinley, both born in Canada, married in 1848 in Quebec where their 11 children were born. They lived in St. Peter MN and arrived in Henryville Township, Renville County, in 1868, a few years after the O'Neill family. James, Sr. had a homestead in Section 26 and later purchased timber land from the federal government in Section 25. Son Michael received a homestead patent also in Section 26--80 acres bordering to the north of his father's 80 acres.
The Storm
Before dawn on Tuesday, January 7, 1873 the O'Neill brothers and the Holden brothers started their journey, taking several sacks of wheat to sell in Willmar, 35 miles north in Kandiyohi County. Only 1 survived their ordeal. Michael Holden later shared his story about events that happened during the blizzard when the 5 men tried to find shelter in Roseland Township, Kandiyohi County. The story below is from The Illustrated History of Kandiyohi County (1905). His story has been published at other times and in other sources, including The History of Renville, published in 1916; the Fairfax Standard, February 11, 1937; the Ortonville Independent, February 18, 1981.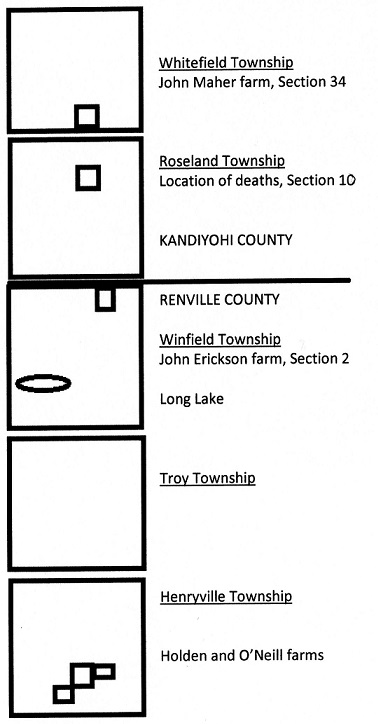 Journey of the Holden and O'Neill brothers during the January 1873 blizzard.
All 5 townships are south to north, surveyed 114N to 118N, Range 35W.
Willmar, their destination, is about 7 miles north of Whitefield Township.
(The diagram, created by Carolyn Sowinski, is not drawn to scale. Locations are approximate.)
MICHAEL HOLDEN'S STORY: A TRAGEDY IN THE BLIZZARD OF 1873



The following account of the experiences of the ill-fated party of five settlers, four of whom perished on the prairie of Roseland, in section 10, in the great snow storm of 1873, was dictated by Michael Holden of Olivia, the survivor, for the Roseland township history:

We left home on Tuesday morning. January 7th, before daylight. It was a fine morning and little we knew what was in store for us. My companions were John O'Neil, Charley O'Neil, Stephen O'Neil and my brother, Thomas Holden. At sunrise we were five miles from home.

We hauled wheat to market at Willmar from our homes near Beaver Falls, Renville county. Willmar was thirty-five miles north of where we lived, too far to make the trip in two days. We usually stopped with a farmer named John Maher, ten miles south of Willmar, the first day; on the next day we would go to Willmar, sell our loads and return to our stopping place and come home on the third day.

[On Tuesday, the first day of the storm,] We arrived at a place called Long Lake, fifteen miles from home, at noon. Here we fed our horses and had some lunch. As we arrived there a train of eight ox teams started off ahead of us, having already stopped for feed. Driving these eight teams were Owen Heavey and his son, William Heavey, and six Germans from Flora township. There still remained twenty-two miles of wild prairie before we reached Willmar, with only one settler, living in a sod shanty four miles north of Long Lake, between us and Maher's place.

Having proceeded about two miles north of the lake we saw a storm coming from the northwest. It appeared like a hail storm. We could see it come in a dense cloud, which covered everything. As soon as it struck us we could see nothing. Part of the time we could not see the teams we were driving. We pushed on and when we reached the sod shanty of Mr. Erickson [homesteader John Erickson, Section 2, Winfield Township, Renville County] all those men with ox teams were ahead of us. Mr. Erickson had no stable room even for those teams. One team they put in a shed, and on the second day they brought that team into the shanty.

We stopped at Erickson's and I suggested that we had better unhitch our horses, blanket them, turn them to Mr. Erickson's hay stack and get shelter in the shanty for ourselves. The shanty was only about 16x16 feet. There were six children in the family and eight men already ahead of us. John O'Neil settled the matter by observing that there was no danger, but that we could make Maher's place, five of us strong young men. As the road was high on top of a deep snow, we thought we would have no trouble in keeping the road.

John Maher's place was seven miles away [Section 34, Whitefield Township, Kandiyohi County]. After a time the road became so drifted that the head team could not keep the road, so we changed and Charley O'Neil drove ahead. He had an old team, which would keep the road. John followed, my brother was next, I was fourth and Stephen O'Neil fifth. We had proceeded but a short distance when I saw that the storm was getting worse and the road getting so drifted that I called all to stop and suggested that we unload, which we did. The bottom tiers of sacks were well filled, and we could not get those out with our mitts on, so nine sacks were left in each load, and we pushed on.

We had succeeded in making about five miles when John O'Neil's team refused to go further against the storm. I ran forward to see what was the matter. We then proceeded by having Stephen O'Neil walk ahead of the horses, leading them. John went back to drive Stephen's team. I kept looking back for John, but did not see him come, so I ran ahead and told Stephen to stop. We came back to my sleigh to call for John, and after a short time he answered us from a southwesterly direction. We waited a few minutes, but he did not come, so Stephen went to him, guided by his call. He had lost the road and in turning, when he heard the calls, one of his horses stumbled and fell. John and Stephen had a hard time to get the team up, and half an hour must have elapsed before they came back to my sleigh. Stephen was leading the team, without sleigh or harness. John lost his cap. He had a long neckscarf that he had tied around his head and neck.

All this time Charley was gone. He had driven on ahead, but when he found that we were not coming he had stopped and called. As he received no answer, he turned his team east of the road to come back and look for us. He did not find the road again until he struck against my sleigh. Charley would have reached Maher's if he had not stopped. We had lost a great deal of time and it was getting dark. We were on the road and all together, but we could not see the road ahead nor did we believe that we could keep to it. We believed that we were within two miles from John Maher's place. We talked over the situation and concluded to make a shelter for ourselves, blanket the horses and tie them to a sleigh. We believed that the storm would not last long, and we would then be on the road, ready to push on at the first chance. We had plenty of blankets, so we unhitched and put the blankets under the harness of the horses. We put about two and a half bushels of oats in the box of the sleigh that we had tied the horses to. About sixteen feet west of this we arranged our shelter.

We took one wagon box from a sleigh and, turning it over, placed it on top of the box on my sleigh, the front end to the north. We had taken out the end boards and this left an entrance. Over this we hung a blanket and placed sacks of wheat to hold it down. Then we crawled into our cold bed. John and Tom went in first and Stephen, Charley and myself lay down in the back end of the box at the feet of the others. Before long Stephen and Charley said their feet were freezing stiff, and they left the box and stamped around in the leeward side of the horses to get their feet warm. Charley soon came back and lay down beside me to the west. Stephen said he would keep tramping all night to keep his feet warm, as he wore boots. He came to the sleigh every fifteen or twenty minutes to inquire how we were getting along.

About 10 o'clock John began to smother in the box, and be thought it was from the snow that was filling the box. We tried to get out of the box so as to permit him to get out and get air, but found the snow so packed that we could not. Neither could we lift the box. We called to Stephen, but he could not hear, although we could hear his tramp. We waited until he came again to inquire about us. Then we asked him to lift the box from the east, which he did. I stepped out and assisted John to get out. In the darkness and the fury of the storm we could see nothing and the cold was something terrible. It seems that the scarf John had put about his head and neck had closed down on his mouth and had taken his breath away, as we had no difficulty in breathing in the snow. We got back into the box again. Before long, John got cramps in his legs. Again we called upon Stephen, but could not make him hear, neither could we lift the box. When he came that way we again had him raise the box. As soon as John got on his feet he got over the cramps and we put him back in the box. We had been saying our rosary together all the evening. It was only with difficulty that John got back into the box, as the snow had drifted in and packed hard. I did not get back, but kicked a hole in the snow along the east side of the sleigh and lay down.

In this manner we fought the cold, which was something terrible. I was afterwards told that the mercury was 40 degrees below zero and the wind blew 75 miles an hour. About midnight the horses drifted around the sleigh. So Stephen and I turned them loose, all except one that we could not untie. I lay down in my bed, and soon one of the horses began to freeze and he stepped back and lay down on my legs. I began to believe that I was trapped, but after a few minutes he moved so I could get up. I took him by the halter and moved him away. He was afterwards found dead about twenty feet away.

The morning found the storm still unabated and the cold more intense. Then John and Tom wanted to get out of the box, but Stephen and I advised them to stay where they were. They insisted that they must come out. I took my brother and Stephen took John and we tried to have them walk, but they could not stand up in the storm. We were obliged to place them down beside the box, where I lay all night. Charley remained in the box, but soon he did not talk to us anymore. We called to him, but got no answer. We thought him dead.

Soon after my brother Tom died. The last prayer we said together was the rosary. He could hardly finish before he fell asleep. Then we tried our best to revive John. We took him to the leeward side of the horse that still was tied to have him stamp his feet. He fell against the horse, the horse fell over and so did Stephen and I. We got up with difficulty. Then we concluded to cover John up. We got the blankets from the box where Charley lay, and wrapped John up in them. Then we undertook to place the top box over John, but could not. We had no use of our hands, for they were frozen, and we gave up the plan. Soon John was covered with snow. He did not answer us, so we thought him dead. Then Stephen and I were left. In a short time he gave out and lay down alongside the wagon box. Soon he did not speak. Then I was alone.

I was terribly lonely and started to see if I could find the road. It was very indistinct, and I was undecided whether to attempt to follow it. Then I thought of the night ahead. We had supposed that we were within two miles of Maher's place. I knew the wind was from the northwest, and I also knew that Maher had a forty-acre field fenced. If I could get to that I might follow the fence. I followed the road about a mile. At times I could see the road and then again I could not. Walking with my head down 1 watched the angle of the snow sifting across my path, and in that way kept my course due north. I knew that Maher's house was north by the road. Soon I lost the road entirely, but continued in the same way, watching the direction of the drilling snow. In a short time I struck the fence. An exclamation of "Thank Cod' escaped my lips.

I found the plowing bare, something I had hardly expected after such a storm; I took a furrow of plowing and followed it north. I came to the small grove near Maher's house and here found a small shanty. After a few minutes I could see the house like a shadow. I went to the door and rapped. I fervently thanked God when I got in.

The Maher family were frightened to see me walk in and grieved to hear me tell of the fate of my companions. I was nearly exhausted, having been out in the storm for thirty hours. My mittens were frozen fast to my hands like lumps of ice, and had to be thawed off. My hands and arms were badly frozen up to my elbows. My next desire was to get something to eat. Mrs. Maher was getting supper. It was night when I came to Maher's place-Wednesday evening. Thursday it stormed all day and until midnight.

On Friday morning Mr. Maher, with a couple of men, went to where we had camped. They met Mr. Owen Heavey and those other teamsters that had been sheltered at Erickson's, coming with Charley O'Neil still alive. 1 learned that it is impossible to hear through the snow, and we had not heard him speak for that reason. Mr. Maher took Charley to Willmar at once to secure medical aid. Two of our neighbors, John Morgan and George Nicholson, who had been at Willmar during the storm, came by and took the three bodies of my dead companions to their homes, and on Saturday John Morgan came for me. 1 had suffered intense pain in drawing out the frost from my hands, My weight was cut down fearfully during those days. I carry a crippled hand to remind me of lite frightful experience. Five of the ten horses perished in the storm and another died within a year.

In taking off the upper wagon box to cover John with we had bared Charley's legs and arm. Thus it was that he froze his arm to his elbow and his two legs. Eight days after the storm the railroad was opened and Charley was taken from Willmar to St. Paul. He died there three days afterwards, when his arm and legs were amputated.

The remains of these four victims of the storm are buried in the Birch Coulie [sic Cooley' aka St. Patrick's Catholic] Cemetery of Renville county.
During the 1870s many homesteader families had arrived and settled in Renville and Kandiyohi counties. In his story, Holden stated that there was "only one settler, living in a sod shanty" during their journey north, between the Erickson and Maher farms. Much of the land in this part of Roseland Township had been purchased from the federal government, not by homesteaders, but rather by the Illinois Industrial University (precursor to the University of Illinois) under the Land-Grant College Act of 1862, also known as the Morrill Act. While the University's campus was in central Illinois, the institution also received 20 land grants in Kandiyohi County in July 1868, a total of 1,600 acres. The institution also had an additional 13 land grants (80 acres each) in Winfield Township, Renville County. So during the blizzard, the O'Neill and Holden brothers traveled in a rural area probably not populated with many farms. Finding shelter proved difficult.
---
After the Storm:
In 1872 Michael Holden married Bridget Barkey, who was born in Canada. They had eleven children, with the oldest born two months after this blizzard. Bridget died after childbirth in 1888. Michael later married Mary Allen Williams and together had one child. According to the 1916 History of Renville, Michael also worked on the railroad. In 1900 the family moved from the farm to Olivia and then to Morton. Pioneers James Holden and his wife Catherine lived on their homestead until 1892; they they moved a few miles south to Morton. James died in 1905; Catherine in 1907. Michael Holden died in 1919 at the age of seventy.


The three O'Neill brothers are buried at Saint Patrick Catholic Cemetery, where their parents James and Katherine are buried.
---
Resources:
Ancestry.com (family trees, military, census, parish, birth, marriage and death records).
History of Renville County
(1916).
Illustrated History of Kandiyohi County
, 1905).
The Irish Canadian
, February 1, 1883.
National Archives and Records Administration, Record Group 49: Bureau of Land Management, General Land Office Records (glorecords.blm.gov).
Plat Book of Kandiyohi County
, (1886).
Plat Book of Renville County
, (1888).
Willmar Tribune
, various articles written by
Gabriel Stene
and published in the mid 1920s.
---