Mankell Family History
ALMOST SAVED, BUT LOST:
The 1873 Blizzard in Kandiyohi County, Minnesota

Lars Nelson (Nilsson)
Sweden to Kandiyohi County
Lars Nilsson (1830-1873), his wife Anna Greta Lundström (1834-c1915) and children were from Hörby, Skåne County, in southern Sweden. Their four oldest children were born in Sweden; the youngest children, in Minnesota.
Johanna (born 1860)
Nils (born c1862)
Mary (born c1864)
Annie (born c1867)
William (born February 1870)
Frank (born c1872)
Louis (no birth information)
The family immigrated to the United States in May 1868, settled in Whitefield Township, Kandiyohi County. In June 1868 Lars filed papers declaring his intent to become a citizen in the 7th Judicial District in Stearns County. With the lure of homestead land available for only $18 in registration fees, Lars applied for a homestead at the Litchfield Land Office in October, 1871. The family settled on their 80 acres (southern half of the NW quarter, Section 22; 118N, 35W) and built a house. According to the homestead documents the family lived on this land beginning in 1869. A second house was built in 1872. The family began farming about 23 acres with wheat at the primary crop. For this wheat to be used as flour, the grain needed to go to a grist mill for grinding.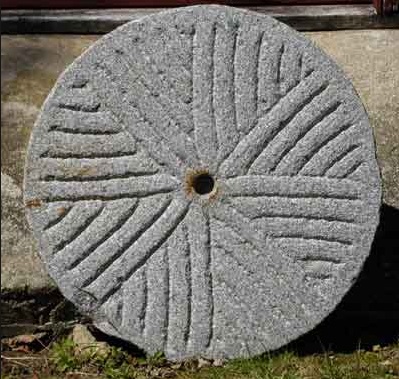 A typical millstone.

---
The Storm and Death
Lars Nelson awoke to a warm January 7th, hitched his team of oxen, loaded his wheat, and started his day-long ride to the grist mill at Green Lake Village, New London Township. Lars had two choices regarding his grain. He could either sell his grain to the miller who would then grind the wheat into flour and sell to his customers or Lars could pay the miller a "toll" (an amount of the flour in lieu of a fee) to grind the wheat into flour which Lars would then take home. Local farmers and communities relied on their local grist mills for supplies of flour necessary for bread and other food staples.
The farmers in Kandiyohi County had several grist mills available for milling their grain. Lars chose the grist mill located at Green Lake Village. This community developed on the northwest corner of Green Lake at the inlet of the Crow River (Middle Fork). Developers built a dam and with water power, the lumber and grist mills were sure to follow. This grist mill began operating in 1867 and was the first grist mill in Monongalia County (merged with Kandiyohi County, to the south, in 1870). With the availability of this grist mill and the New London grist mill, which started in February 1868, local farmers no longer had to leave the county to find a mill.
Before the Green Lake Grist Mill existed, early settlers in Monongalia and Kandiyohi counties traveled 40-50 miles (a 2-day journey) when taking grain to the nearest grist mill. Kingston Village in eastern Meeker County had the first grist mill in central Minnesota, which started operating in 1858 on the Crow River (Eastern Fork). Three other mills started in Meeker County before 1873: Greenleaf in December 1858; Forest City, 1865; and Mannanah, 1872.
Farmers who lived in the northern and eastern parts of Monongalia (and post merger, Kandiyohi) County took their grain to Stearns County which had these area grist mills: Fairhaven, started in 1866; Clearwater, 1866; Paynesville, 1868. Farmers in the north and west would take grain to Chippewa Falls (aka Terrace), along the Chippewa River, which started in 1870. Another choice was the Swift Falls Grist Mill, Camp Lake Township in Swift County, which was also along the Chippewa River; it began in 1872. Farmers in the southern part of Kandiyohi County took grain to the grist mill in Beaver Falls, Renville County, which began operation on Beaver Creek in about 1870.
Lars lived in Whitefield Township, south of Willmar. He chose the mill at Green Lake Village about 15 miles north from his farm. The Kingston mill was about 45 miles east; Beaver Falls, about 35 miles south. Lars was traveling to the Green Lake mill with a friend and fellow Swedish immigrant, Peter Tell, who had his own team of oxen and a load of grain. Before moving to Whitefield Township, Tell lived in Kandiyohi Township, one township to the northeast. Given that this was a full-day's journey, the men enjoyed each other's company and these Swedish immigrants could speak comfortably in their native tongue. The 1905 Illustrated History of Kandiyohi County tells their story as the farmers arrived on the west side of Green Lake:
Lars Nelson and Peter Tell, farmers in Whitefield, started for the mill at Green Lake on the day of the great blizzard with ox teams and loads of wheat. The storm caught them just as they entered the Green Lake woods. They lost the road, and, after driving about for some time, decided to stop and prepare a shelter for their teams. The sacks were piled up in the snow, and the wagon boxes put on top. The men kept walking about, trying to keep warm. About one o'clock at night they heard what they thought was a rooster crowing, and started in the direction of the sound. They found a house where a boy was alone, his parents having been away when the storm came.

He [Lars] went to the stable to make room for the teams. Tell was so overcome by the cold that he did not go out again, but Larson went out and got both teams in the stable. When he came in, his feet and legs were badly frozen, and the boots had to be cut open. He lay there until the storm was over, when he was taken to Willmar. After his legs had been dressed by a doctor he was taken to his home. Later mortification [gangrene] set in and he was again taken to Willmar. The doctor decided that both legs had to be amputated below the knees. The operation was too late, however. When he was restored to consciousness lockjaw set in and he died early next morning, January 23, 1873. Tell suffered no more serious consequences from his exposure than slight frost bites on the back of his hands.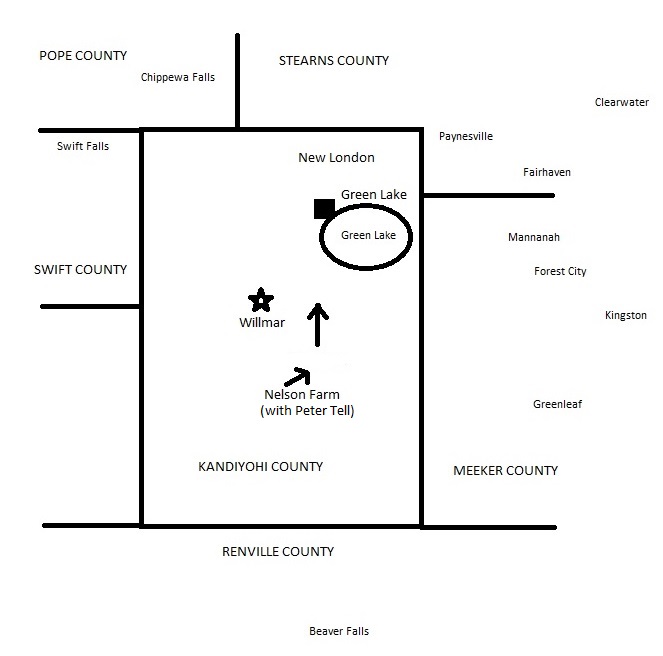 Nelson and Tell journey, January 7, 1873. Black box indicates their destination at Green Lake Village.
Diagram locates the grist mills in Kandiyohi County and surrounding counties, 1858-1873.
(Diagram created by Carolyn Sowinski; not drawn to scale)

---
After The Storm
Lars' died on January 23, 1873, 2 weeks after the storm. Dr. Edward Frost of Willmar wrote to Judge Andrew Railson that he "amputated both legs at the lower third but symptoms of lock jaw had already appeared and he soon after died." With the State of Minnesota providing financial help to victims' families, sworn witness Ole Ahl, on behalf of widow Anna Nelson, met with A. E. Rice on February 3, 1873, and applied for aid for the widow. The document stated that Lars was 44 years old at the time of death and had a wife and six children: Johanna, age 12; Nels, 10; Mary, 8; Anna, 6; William 4; and Frank, 2. He died owning an 80 acre homestead and 40 bushels of grain valued at $33.00; 2 head of cattle worth $40.00; hay, $10.00. Rice wrote to Governor Austin that Anna Nelson "has nothing to live on as the 40 bushels of wheat will have to be kept for seed." He advanced $10.00 to her as she "had no wood or any other provisions for the family." Widow Anna Nelson, mother of 6 young children, received $40.00 in relief ($760.00 in 2016 dollars).
Anna and her young children remained in Whitefield for about 10 years. Her oldest child was about 13 years old at the time of their father's death; the youngest, 1 year old. Anna secured the family's 80 acre homestead by completing the necessary paperwork in 1878. She obtained her U.S. citizenship also in 1878 in the Swift County court as required to obtain the homestead. By 1885 widow Anna was living in Willmar with sons Frank and William. William worked for the Great Northern Railroad. Daughter Mary and her husband Andrew Berg also lived in Willmar; they had one son, George. Johanna married Andrew Lagerberg in about 1890 and moved to St. Paul where she worked as a seamstress. She died before 1920. Nils moved to Utah; his brother Frank joined him in Utah a few years later. Anna married Andrew Jern in 1894, lived in Douglas County, MN and later in Roosevelt County, Montana where they operated a boarding house; they had two children, Justus and Irene. Lars and Anna's son Louis died at a young age.
---
Resources for this chapter:

Album of history and biography of Meeker County, Minnesota. Chicago, Alden Ogle and Co., 1888.
Ancestry.com (family trees, military, census, birth, marriage and death records).
Canada Census, 1851.
Curtiss-Wedge, Franklyn. History of Goodhue County,Minnesota. Chicago, H.C. Cooper, 1909.
Curtiss-Wedge, Franklyn.History of Renville County. Renville County Pioneer Association, 1916.
findagrave.com
Governor Horace Austin papers. Minnesota Historical Society. File 311 "Papers Relative to Relief Furnished to Sufferers From Storm of 1873"
Illustrated History of Kandiyohi County, 1905). p. 374.
Mitchell, William Bell. History of Stearns County, Minnesota, vol 3. Chicago, HC Cooper, Jr, 1915.
National Archives and Records Administration, Record Group 49: Bureau of Land Management, General Land Office Records (glorecords.blm.gov).
Plat Book of Kandiyohi County, (1886).
Plat Map of Kandiyohi County, (1874).
Willmar Tribune, various articles written by Gabriel Stene and published in the mid 1920s.

Complete Bibliography


---