Mankell Family History
Herman Mankell (1896-1985)
and Cora Christopherson Mankell (1903-1963)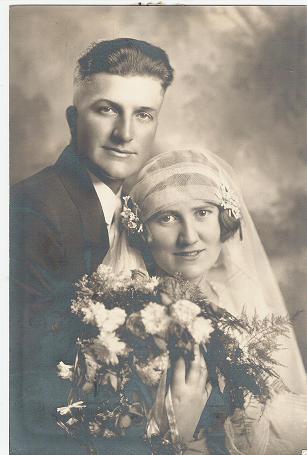 Wedding Picture of Herman and Cora (Christopherson) Mankell
October 10, 1926
We now continue the story of the Mankell family by moving to the next generation. The son of Oscar and Minnie, and grandson of settlers Herman Wilhem (HW) and Elizabeth, Herman Wilhelm Mankell was born on the family farm on May 14, 1896. He had the same name as his grandfather. (For the purposes of these web pages, the elder will generally be called HW and the grandson will be called Herman, which is how they were commonly known.)
On October 10, 1926, Herman married Cornelia Christopherson, commonly called Cora, the daughter of Norwegian immigrants,
August and Bastina (Hjelle) Christopherson
who settled another Kandiyohi County homestead, this one in Arctander Township, one township west of the Mankell Farm. While we don't know much about their courtship, we do know that Herman had previously dated Cora's sister, Millie Christopherson.
The family worshiped at the Lake Florida Mission Church following in the footsteps of 2 previous generations of Mankells. On December 7, 1941, Orlynn and Marjorie were confirmed. When the family arrived home after worship they learned of the attack on Pearl Harbor.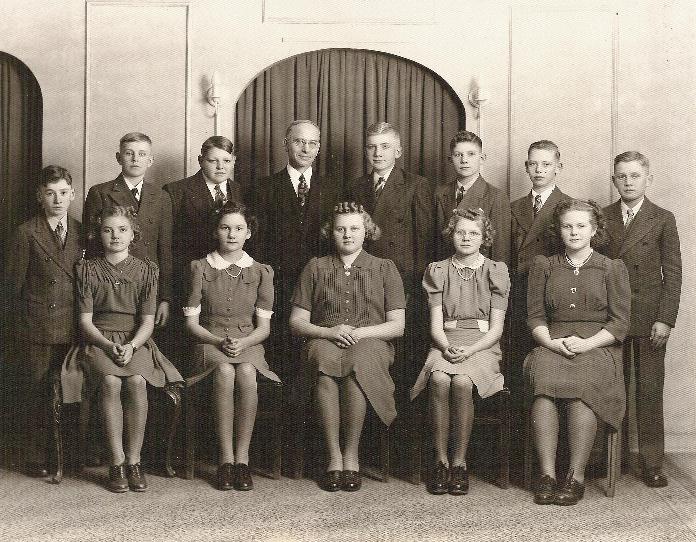 Confirmation class of Lake Florida Mission Church, December 7, 1941
Orlynn is in the back row, 4th from the right. Marjorie is in the front row, far left.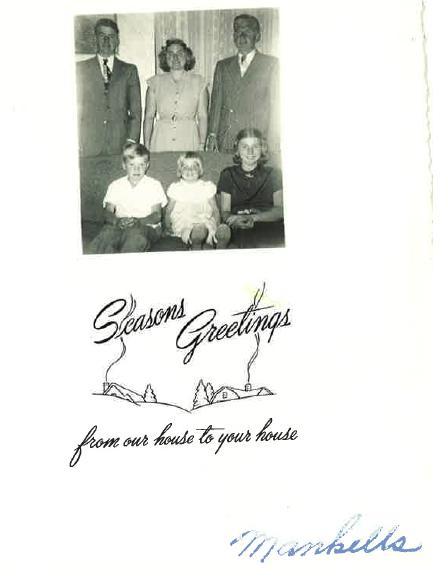 Christmas card, c1950
According to Herman and Cora's daughter, Marjorie Larimer, Herman did not do a lot of the farming of the homestead. He maintained the farm and hired workers to do much of the labor. Some of the hired workers lived at the farm and stayed in the farmhouse.
Herman sold insurance products for more than 40 years, for Waseca Mutual Insurance and State Farm Insurance companies, maintaining an office on the main street in New London, MN, beginning in 1969. He also worked for the Lake Andrew Arctander Fire Insurance Company, for which he was a past president. During his 4 decades of insurance sales, Herman had an office in the farmhouse, storage located under the staircase. For Waseca Mutual Herman sold catastrophic crop insurance. And as an agent for Waseca, Herman had a supply of Waseca Mutual pencils with his name, address and phone. Whenever I (or a sibling) needed pencils, we retrieved them from his never-ending supplies located in his closet. For State Farm, he primarily sold auto insurance. Many of his clients were neighbors and when he visited with them he often brought a record player and shared some of his gospel tunes. And when clients came to Herman's home he played his favorite records for them.
In 1983 the New London Times printed an article about Herman. Here is an excerpt, where Herman talks about his insurance business:
"I enjoyed it," Mankell said, "I met a lot of people, got to know almost everyone in the community."...He usually called on people when the weather was bad because then you could find them home. He carried a lot of material in his car, in fact he almost had an office in his car. "I would take notes, throw them in the back seat, come home and put them together," he said. His son Doug Mankell...verifies this. "He had so much stuff in the back seat you couldn't even sit there."
When not farming or selling insurance, Herman was active in community service. He served on the Lake Andrew Township Board of Supervisors. which met at the District 25 school, only 2 miles from the farm and where many Mankells attended country school. He was also active on church and school boards and served as treasurer and secretary of the Lake Florida Mission Church Association. Over the 25 years he served on the Township Board, he worked with his friends and neighbors who also served on the Board: Earl Peterson, Otis Halvorson, Ellsworth Hatlestad.
In the 1930s Herman was instrumental in bringing R.E.A. (Rural Electric Association) to Kandiyohi County, with the homestead one of the first farms in the township to receive electricity. An important step in the organization of the co-operative was the formation of a county committee which then appointed township committees. Herman was one of two people named to the Lake Andrew Township Committee. The other member was Carl Danielson. By May 1939 the project began construction of the power lines. On October 25, 1939, the switch was turned on and 120 co-operative members received electric power to their farms.
In 1971 Herman retired from selling State Farm Insurance, and from the Lake Andrew Township Board of Supervisors. He retired from Waseca Mutual and Lake Andrew Arctander Fire 5 years later, in 1976.
Herman's business card gave the recipient "Seven Topics to Live By..."

Health enough, to make work a pleasure.
Wealth enough, to support your needs.
Strength enough, to confess your sins and forsake them.
Patience enough, to see some good in your neighbor.
Love enough, to move you to be useful and helpful to others.
Faith enough, to make real the things of God.
Hope enough, to remove all anxious fear concerning the future.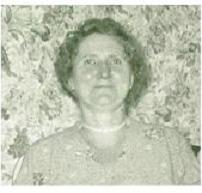 Cora Mankell, 1954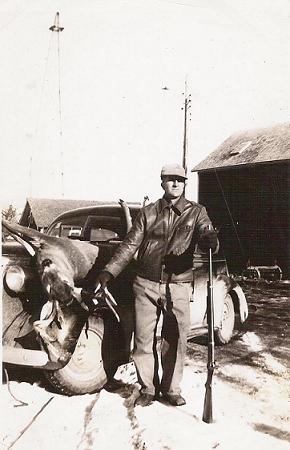 Herman with a deer draping the automobile.
The deer head, complete with antlers, was stuffed and placed at the top of the stairs in home of Herman and Cora.
Many grandchildren hurried down the stairs after seeing this deer in the shadows.


In 1995 Harvey Christensen wrote about Herman in a letter to Orlynn. (Harvey and Orlynn had been classmates in District 25)
I remember when your dad (Herman) paid you kids to pick mustard plants from grain fields. 1 cent a plant, I believe. We have good memories of your dad, Herman--one of the kindest men around and a good friend of our Dad. He sold me my first car insurance on my Ford.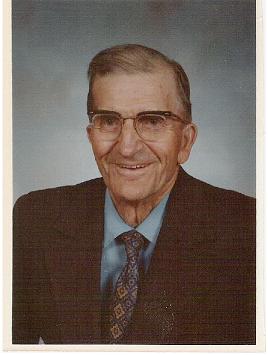 Herman Mankell, c1980
My grandparents, Herman and Cora, had seven children; one died when a young child. They had 16 grandchildren who have lived around the United States and the world: Minnesota, California, Washington State, South Dakota, Illinois, Indiana, Pennsylvania, Texas, Colorado, Missouri, Alaska, Wisconsin, New York, Germany, and Australia.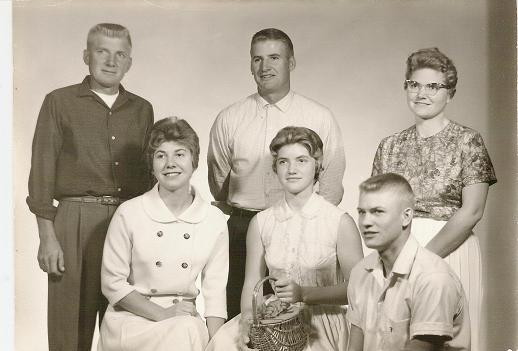 Children of Herman and Cora Mankell, 1961
Back row: Orlynn Mankell, Sherman Mankell, Marjorie Larimer
Front row: Mary Ann Petteway, Marlys Schilz, Douglas Mankell
My sister Sue Muellner reflected on her memories of Grandma Cora: "She took pride in her vegetable and flower gardens. She and Mom often took an evening stroll to look at the flowerbeds. Cora was a wonderful hostess. She organized Christmas meals that I still think of forty years later as the standard in Christmas festivities. Neighbor ladies, relatives and ladies from church often came for a summer afternoon of conversation, cookies and coffee. The flower gardens and lawn were manicured to perfection for such an event."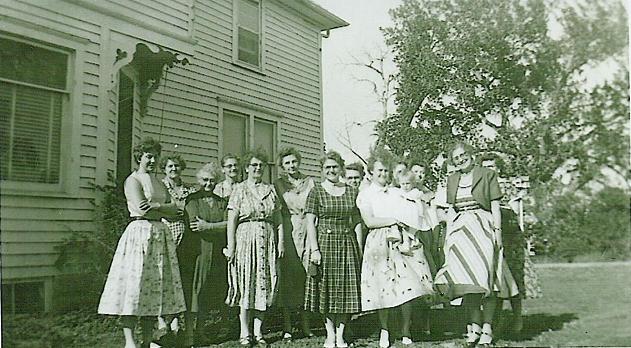 An Afternoon at Cora's Home, 1956: Bon Voyage to Marjorie Mankell prior to her trip to Norway.
Back Row: Cora Mankell, Ella Christopherson, Alice Alvig, Vivian Mankell, Ione Christopherson?,
Annette Geer, Anphia Myrhe?, Millie Bergan
Front Row: Mary Ann Mankell, Minnie Swenson, Edna Halvorson, Marjorie Mankell,
Joyce (Edman) Swenson holding Michelle, Ellen Landquist

Cora Mankell died on May 18, 1963 while tending her vegetable garden. Her daughter Marlys Schilz wrote about her memories of this tragic event. Her obituary in the New London Times stated:
Funeral services of Mrs. Herman Mankell were held on May 22, 1963, at the New London Covenant Church with Pastor Veronon A. Luiten officiating.

Special music was furnished by Kermit Hjelle who sang "Safe in the Arms of Jesus" and "The Old Rugged Cross". The organist was Mrs. Russell Hande. Reverend Nath. Franklin spoke briefly.

Pallbearers were Alloys Christopherson, Marvin Hjelle, Arling Myhre, Earl Peterson, Robert Railson and Donald Swenson. Interment was at the Lake Florida cemetery.

Cornelia Bernice Christopherson was born July 12, 1903, in Arctander Townhsip, the youngest child of August and Bastine Christopherson. She received her elementary education in School Dist. 56. She attended high school in St. Cloud, Minnesota, and the State Teachers' College of that city. She taught in several rural districts in this area.

On October 30, 1926, at the Lake Florida Covenant Church, she was united in marriage to Herman W. Mankell. Pastor John Anderson performed the ceremony. She lived the remainder of her life at their home in Lake Andrew Township.

On the morning of May 18, 1963, she was stricken suddenly at her home and passed away shortly following. Those who survive her passing are her husband, Herman and the following children: Orlynn, of rural New London; Marjorie, (Mrs. Bill Larimer) of Long Lake, Minnesota; Sherman, at home; Mary Ann, (Mrs. James Petteway) of San Diego, California; Douglas, of St. Paul; and Marlys, at home.

She is survived by the following brothers and sisters: Anphia (Mrs. Elmer Myhre) of WIllmar; Otto, of Pennock; Mrs. Millie Bergan, of Minneapolis; Mrs. Ellen Landquist, of Minneapolis, and Edward, of Syracure, New York. She is also survived by four grandchildren, numerous nieces, nephews, cousins and other relatives, and by a legion of friends. She was preceeded in death by a son, Dale, in October, 1946.

Those in attendance were from New London, Willmar, Pennock, Spicer, Murdock, Renville, Begrade, Kerkhoven, Sunburg, Minneapolis, St. Paul, Newfolden, Stephen, San Diego, California, and Syracuse, New York.

The shall remember a Christian woman.


The obituary for Herman Mankell who died on February 11, 1985:
Funeral services for Herman W. Mankell were conducted February 15, 1985 at the Evangelical Covenant Church in New London, with the Rev. Tim Anderson officiating.

Special music was provided by Wellington Nelson and Herbert Kallevig, vocalists, and Saralyn Olson, organist. Pallbearers were: Kurt Mankell, Grady Larimer, Kayne Larimer, Jason Petteway, all grandsons of the deceased, Al Christopherson and Wayne Railson. Interment was in the Lake Florida Covenant Church Cemetery, rural Spicer.

Herman Mankell was born May 14, 1896, in Lake Andrew Township to Oscar and Minnie (Swenson) Mankell. He attended rural District 25 school and graduated from New London High School. On October 30, 1926, he married Cornelia Christopherson.

He farmed on the home farm in Lake Andrew Township all his life, and was also involved in the insurance business for over 40 years with State Farm Insurance, Waseca Mutual and the Lake Andrew Arctander Insurance Co., of which he was a past president.

He also served on church and school boards and the Lake Andrew Town Board, and was active in the 1930s in securing REA for Kandiyohi County. He was also noted for his interest in the history of the community.

Mankell died February 11, 1985 at the Glen Oaks Nursing Home in New London at the age of 88 years.

He is survived by six children, Orlynn of New London, Marjorie (Mrs. Bill) Larimer of Rochester, Sherman of New London, Mary Ann Petteway of San Diego, Calif., Douglas of St. Louis, Mo., and Marlys (Mrs. Jerry) Schilz of Bloomington; 15 grandchildren and one great-grandchild.

Also surviving are two sisters, Edna Halvorson of New London and Alice (Mrs. George) Alvig of LaMesa, Calif. He was preceded in death by his wife and one son, Dale Herman.



Graves of Herman and Cora (Christopherson) Mankell, located at Lake Florida Mission Church.
---
Susan Muellner writes about her Christmas memories: "A very special treat sometimes occurred during the Christmas season. We would either become, or be visited by, Julebuks, or "Christmas Fools." Julebukking, the verb, means dressing up in crazy clothes and masks, driving to neighbors, sneaking up on their house, tapping on windows, knocking on doors and yelling "Julebuks, julebuks..." Our hosts then invite us in, guess who we are (while we remain silent) and then feed us after our identity is determined. Due to the resulting visitng and 'little lunches' we visited at most 2-3 farms in an evening. Out of necessity we dressed in warm clothes, so we got very hot while we stayed bundled up until our hosts guessed who we were. It was an honor to receive a visit from Julebuks, this old Norwegian custom.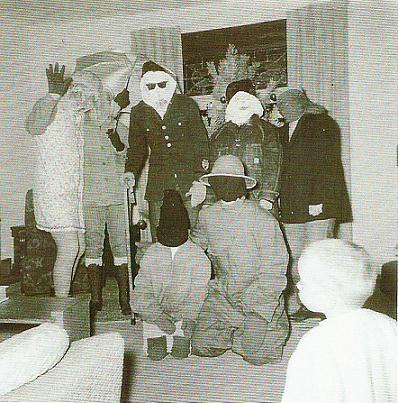 Julebuks (Christmas Fools), c1965
Standing: private, private, Orlynn Mankell, Edna Halvorson, Vivian Mankell
Kneeling: Susan Mankell, Marlys Mankell

---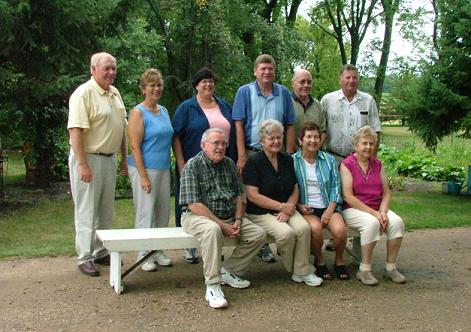 2006 Mankell Family Reunion: Children (with spouses) and other relatives of Herman and Cora.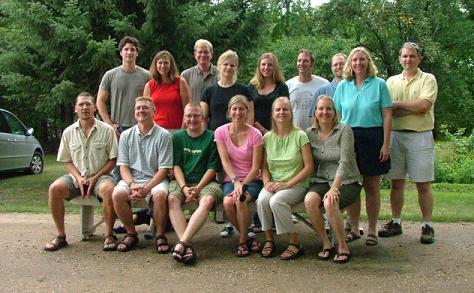 2006 Mankell Family Reunion: 13 of 16 grandchildren of Herman and Cora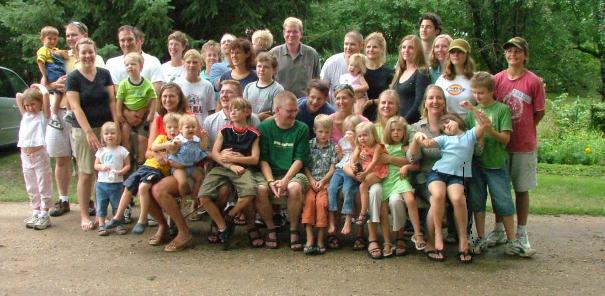 2006 Mankell Family Reunion: 13 Grandchildren (with spouses) and many of the great-grandchildren of Herman and Cora

---