Mankell Family History
Jericho (Norway Lake) in Arctander Township,
Kandiyohi County, Minnesota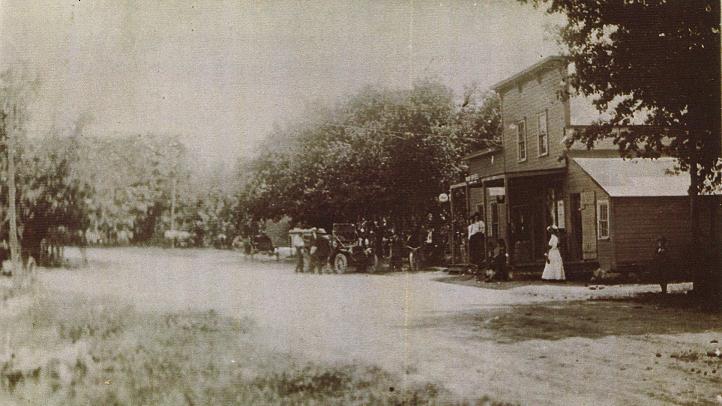 Jericho's General Store and Post Office, c1900.



The small community of Jericho (listed as Norway Lake on plat maps) began in 1879 with the establishment of the Post Office and General Store, Located in section 13 of Arctander Township, Jericho grew and prospered near one of the first Lutheran churches in the area: East Norway Lake Lutheran Church. Several businesses operated in this area bordering Lake Andrew Township, 1.5 miles west of the Mankell homestead and 1/4 mile north of the Swenson homestead. Families from within Jericho and from nearby farms came regularly to this community to conduct business, sell farm goods, repair machinery, worship, and visit with neighbors. Local historian Gabriel Stene and his wife Wilda Quam Stene lived east of Jericho, on the far side of Lake Mary.
BUSINESSES: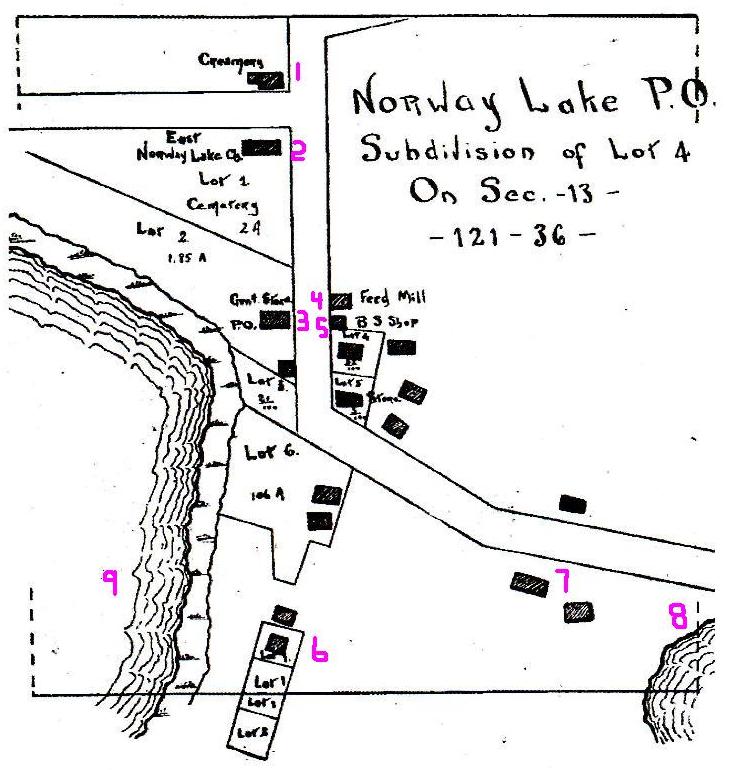 Hand-drawn map (undated) of Jericho.
Norway Lake Creamery, est. February 1896 by Martin Walby.
East Norway Lake Lutheran Church and Cemetery, est. 1875.
General Store and Post Office, est. 1879.
Feed Mill
Blacksmith Shop,
Swen and Guri Swenson home
Andrew and Jenny (Mankell) Gordhamer farm
Lake Mary
Slough
---
Built by Andrew Gordhamer (married to Jenny Mankell), the General Store was the focal point of Jericho, with its post office, telephone office (which had 5 lines) and photography shop. Gorhamer was the first Postmaster from 1879 until January 1, 1893. The second Postmaster was John Quam who served until 1897. (John Quam, married Sophia Mankell and was the brother of Nels Quam.) Oliver Halvorson operated the General Store after Gordhamer. Mail carriers included Ludwig Boe and Swen Swenson (son of Gunder Swenson). The Gordhamer family lived on the far eastern edge of Jericho at the top of the hill, overlooking Lake Mary which was named for Andrew's mother, Mary. Mary and her husband Halgrim Gordhamer are buried at East Norway Lake Lutheran in Jericho. Swen Swenson and his family lived on the south side of Jericho, close to the large slough.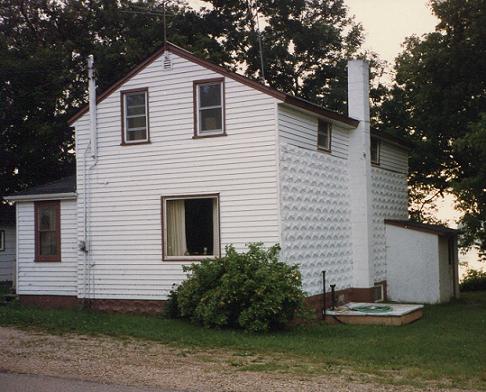 House in Jericho which had been the General Store and Post Office.


---
A second general store, located across the street from the first store, was built by Hans Skindelien. Later owners of this store were Andrew Gordhamer, Ben Halvorson, and Lewis Bendickson, who added a garage and blacksmith shop. Newell Skeie was the blacksmith; Edwin Ericson worked in the garage. After 4 years of operation the garage and blacksmith shop burned to the ground and the second general store burned in 1930. The store was rebuilt and then damaged by a tornado. Bendickson closed his store and sold the property to Roger Larson who remodeled the building into a home and lived there for several years.

This active town also had a feed mill, operated by Halvor Thorson; another blacksmith shop run by Swen Swenson; a wagon shop owned by Martin Walby; the Shoe Shop, opened by A. Arneson in 1884, and operated by Stengrim Arneson.
Helga Swenson Lindahl, daughter of Swen and Guri Swenson and granddaughter of Gunder and Gemine Swenson, lived in Jericho for many of her childhood years. She remembers business in Jericho, which existed when she was a child:
My Dad had a blacksmith shop, and at that time, when running barefoot you had to be careful so that you didn't step on any of the live zingers that came flying out of the animal box where he was working. My dad had the blacksmith shop for some time before he became a mail carrier. The general store was where the mail was delivered and sorted for people living in Jericho. We would try to get a penny or a nickel from my father and then run across the street to get a bag of candy from Halvor Thorson, a jolly old fellow, just like a Santa Claus. He was the operator of the general store at that time. It was sort of a showcase how it was set up. He had licorice, hard candy, and jelly beans. He'd fill a little striped bag so full you couldn't close it. I would have to eat a few of the jelly beans so I could close it. In that store there existed on the counter a kind of a cutter they would use to slice plug tobacco and then sell it for whatever measure they sold it in. There were no cigarettes then but most of the men would chew JT chewing plug tobacco.

Then there would be a bag of peanuts. There was a counter with various sizes of boxes, cookies, yardage, and dishes. You could buy anything there. There was also a shoe shop. It was called the Shoe Shop. Stengrim Arneson would make shoes in his home and then take them to Martin Walby. Martin had a wagon shop where he repaired wagons and buggies, among other things. I can also remember that farmers would bring their cream in and have it tested. They would get paid for their cream there.
Helga Lindahl's father, Swen Swenson, maintained an accounting ledger of his customers, itemizing the work he did for them as a blacksmith. Date of this ledger is the early 1900s, probably about 1910.

(These are pdf files; increase the size of the page to about 150% or more to read information clearly.)
The entries in the ledger give a glimpse into the type of work Swen Swenson did as a blacksmith and also the needs of the local farmers. His work included fixing ploughs (Gunder's entry includes a new "landside"), sharpening horse shoes and putting them on the animals, repairing wagons and buggies. Swen's blacksmith business also had a telephone which area residents used. (Gunder paid for telephone calls to Willmar.)
The Norway Lake Creamery began in February 1896 by Martin Walby. The first buttermaker was Oliver Halvorson. The creamery building was later dismantled with the lumber sold to Henry Hande who then built shed on his farm located 1/4 mile the north of Jericho.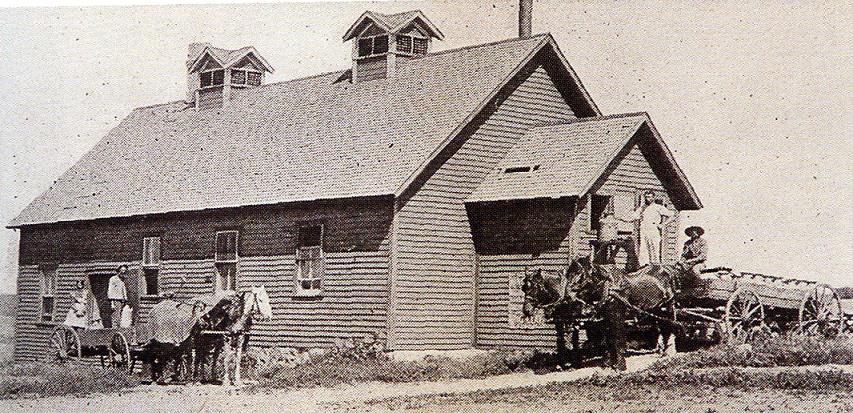 Jericho Creamery, c1900.



---

East Norway Lake Lutheran Church and the Norway Lake Creamery, c1900.



---
LUTHERAN CHURCH:
The East Norway Lake Lutheran Church preceded the founding of the town of Jericho with the construction of the building in 1875. The congregation began a decade earlier when the Norwegian settlers called for a congregation to be organized. They built a log church which served the faithful until the congregation grew too large and split geographically, into West and East Norway Lake congregations. West Norway Lake ministered to the faithful in the Sunburg area; East Norway Lake, to those further east. The dimensions of the 1875 building was 34x56x18 with a bell tower and basement. The cost was $450.00. The congregation continues to use this facility and added a newer entrance and fellowship hall. In 1885 events at the church, which involved church Trustee Gunder Swenson and Pastor Markhus, led to the beginning of First Lutheran Church.
Here is an excerpt from the Gunder and Gemine Swenson page about these 1885 developments.
Gemine and Gunder were members of East Norway Lake Lutheran Church, located in Jericho, just north of their homestead. (Both are buried in the church cemetery.) In 1875 Gunder helped build the church when the congregation had outgrown the log church located near the Ole Knutson cabin. The congregation decided to divide into two separate congregations: West Norway Lake which served the families closer to Sunburg, and East Norway Lake which served the settlers closer to the Norway Lake settlement. The first worship service was held in the new church in early 1876. Gunder and Gemine's oldest daughter, Minnie, was the first baby baptized in the new building. Gunder was one of the first Trustees of the new congregation and by 1885 found himself in the middle of a contentious period in the congregation, part of the Norwegian Synod.

Beginning in 1870s the Norwegian Synod experienced several controversies, including the theology of predestination. The difficulties filtered down to the congregations, including East Norway Lake Lutheran. Pastor Lars Markhus, pastor at this congregation, found himself in the middle of the controversy during July, 1885. Here is the timeline of events, as described in "Keeping the Faith, Sharing the Faith", a history of First Lutheran Church of Norway Lake:


July 8, 1885: The Trustees of the congregation asked that Pr. Markhus turn over the keys to the church, which he did.

July 16: Pr Markhus and several men removed the locks to the church building, installed new locks, and took the keys.

July 17: Pr Markhus and the men locked themselves inside the church.

July 18: The Trustees retook possession, but the Pastor and men refused to leave.

July 24: The Trustees were again in control of the building and had keys to another new set of locks. The Pastor and men wrenched open windows and doors to enter the building. The pastor performed his ministerial duties of teaching a confirmation class and said that he would continue to enter the building to hold religious services.

July 24: The Trustees carried Pastor Markhus out of the church. Gunder Swenson is said to have been one of these Trustees.


According to Pr Markhus, the trustees "wrongfully, unlawfully and with force of arms, assaulted Pastor Markhus and then and there did violently...take and carry Pastor Markhus out of and away from the church edifice..." In their version of events, the Trustees stated that they "carefully lifted Pastor Markhus by his arms and by the seat of his breeches and gently carried him out of said church and most gently deposited him on the sward outside of said church."

November 12, 1885: a District Judge ruled that Pr Markhus could use the church for religious services on the first half of each Sunday until the courts made a final decision.

December 23, 1885: Pastor Lars Markhus died at the age of 43, leaving behind a widow and four children. He is buried in the church cemetery.


Quoting from the church history, "Thus it has been said that while most people are carried into church once (for baptism) and carried out of church once (at their funerals), Pastor Markhus had the distinction of being carried out of the church twice."

Members of East Norway Lake Lutheran split over the treatment Pastor Markhus received. The minority group did not approve, left this congregation, and formed another congregation 2 miles away--First Lutheran Church of Norway Lake. The "Brick Church" was completed in 1892. The majority, including Gunder Swenson, remained at East Norway Lake Lutheran.


From Keeping the Faith, Sharing the Faith, p. 39.




---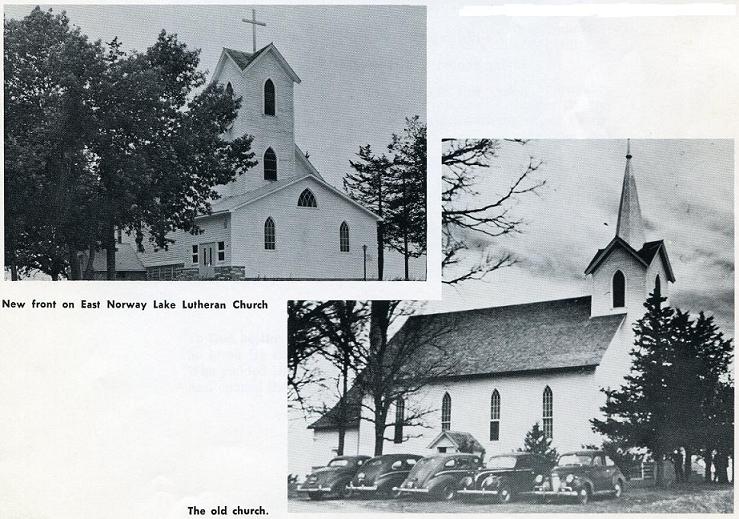 East Norway Lake Lutheran Church.
The left photo is from its centennial year, 1975.


---
SCHOOL:
The closest country school was District 69, located 1/2 mile north of Jericho. This school district was created by Kandiyohi County in January, 1874, with the first schoolhouse built in 1875. A second schoolhouse was built in 1891 which then burned down 8 years later. Thus a third schoolhouse was built. The territory of this school district included parts of sections 6 and 7 of Lake Andrew Township; sections 1, 12, and parts of sections 2, 11 and 14 of Arctander Township. The school closed following consolidation of the New London school district with the country schools in the early 1960s. The District 69 building was removed from the site to a new location on Highway 71, between County Roads 40 and 48 and was first used as a store and then remodeled to be a private residence.
The students enrolled during its first term in 1874: Hans M. Hanson, Christian M. Hanson, Andreas Anderson, Christian Anderson, Ole P. Finstad, Edward Railson, Martin H. Smalstad, Barbo H. Halvorson, Dorothea Anderson, Inga Marthea Railson, Wiel Lesteberg, Maria Lesteberg.
Teachers are listed (1905 History of Kandiyohi County) as J.S. Christenson (1893-1895, 1897), A.M. Johnson (1896), and the following from 1905-1960: A.A. Thompson, Etta Davenport, Elsie Hultcrantz, Anna M. Bade, Emma Ramstad, Mabel C. Johnson, F.K. Dening, E.M. Hulterantz, Elmer Houge, Clara Thorstenson, Selma Henjum, Alice Mathias, Amanda Boe, Johanna Knudson, Anna Solmson, Myrthel Nelson, Ada Thorson, Mrs. Ruth W. Burnett, Sofia Tallakson, Clara Christenson, Mrs. Rhoda Railson, Esther Christianson, Noble Olson, Viola Newstrom, Anna Vegdahl, Esther Njus, Mrs. Esther Gulsvig, Margaret Stauffer, Mildred Henjum, Mabel Rosenau, Norma Hande, Audrey Malquist, Mrs. Clarence Rustad, Mrs. Bernice Campbell, Mrs. Marvin Rupp.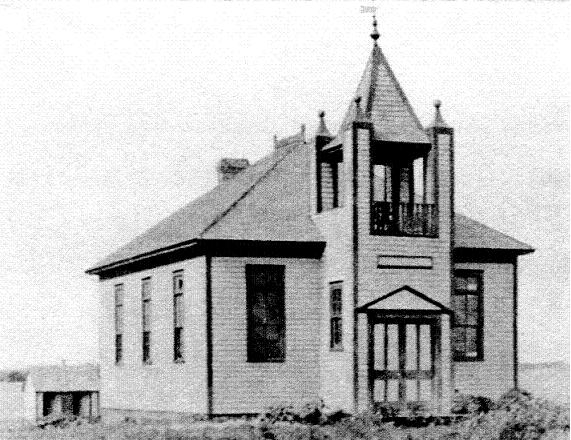 District 69 Schoolhouse (the third and last building), undated.



---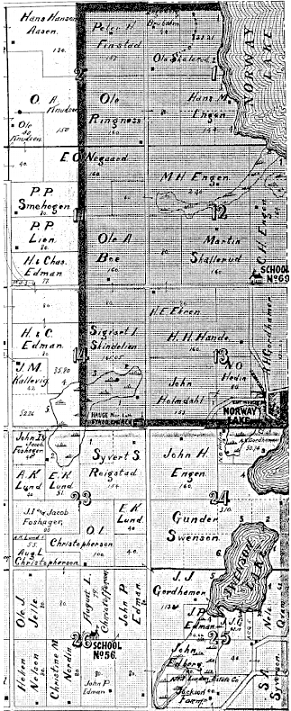 Eastern portion of the 1905 plat map of Arctander Township
identifying the portion of Arctander Township within District 69. (shaded area)

Jericho (listed as Norway Lake) is in the middle of the right border, next to Lake Mary (unmarked).

---
OTHER HIGHLIGHTS: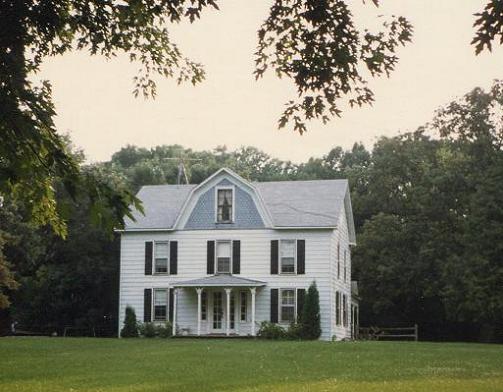 House in Jericho which had been the home of Andrew and Jenny Gordhamer.


---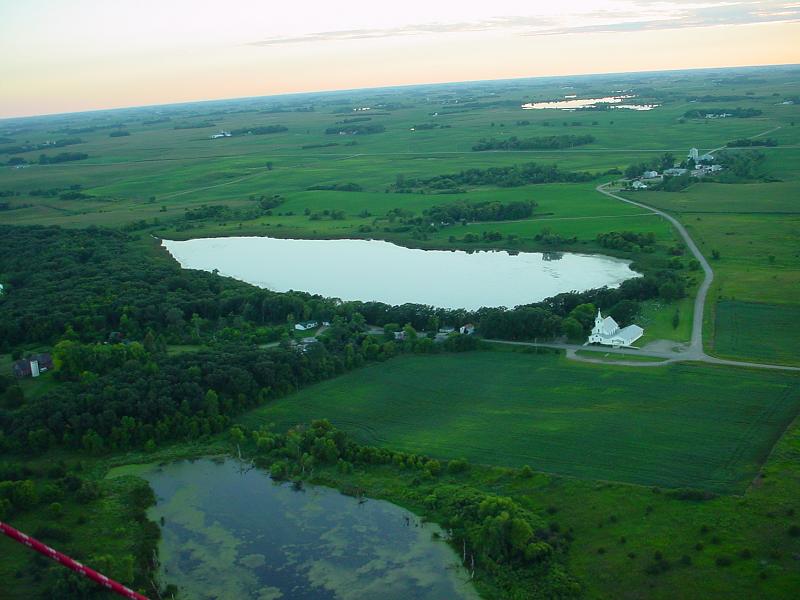 Aerial view of Arctander Township in 2005, looking west (and a bit southwest).
In the middle is the unincorporated hamlet of Jericho (also called Norway Lake)
and East Norway Lake Lutheran Church. At the far left, in the grove of trees, are the barn and
silo located on the former Jenny and Andrew Gordhamer farm. Photo courtesy of Kurt Mankell.
Helga Swenson Lindahl, granddaughter of Gunder Swenson and daughter of Swen Swenson, lived in Jericho for many of her childhood years. She tells this story:
Grandpa Gunder's place was on one side of Lake Mary and Jericho was on the same side of the lake not more than 1/4 mile away. In the winter, the young people, especially, would gather at the lake on Sundays and have skating parties, and they would build big bonfires on the lakeshore. I remember the men going up to Gordhamer's house right on the lake, and they would get branches and straw for the bonfire. The skating party had a rule that a boy and girl would pair up and skate around the lake. I couldn't have been more than 7 or 8 years old and my skates weren't of very good quality. Everybody had skates that clamped on the shoes and we had a key to tighten them. They had straps that tied around the shoe and ankle. Our neighbor Austin Gordhamer must have been 6 feet tall. I was just a little girl, and he would take and skate me around the whole lake, and let me tell you that was something for Helga because then I also got to skate.
According the 1905 History of Kandiyohi County Arctander Township had a band during the first decades of the 20th century. Given who was in the band and that their homes were very close to Jericho (many members lived further east in Lake Andrew Township) it is very possible that the band rehearsed in and played in the Jericho area.
In 1901 a band was organized, quit for a time and then started in again in 1914. The players were: Harvin Christianson, Harold Bolstad, Bennie Rustad, Edwin Skalerud, Herman Mankell, Oliver Stene, Johnny Stene, Archie Stene, Martin Stene, George Stene, Ludvig Boe, Sidney Reigstad, Arthur Reigstad, William Swenson, Henry Scott, Henry Halvorson, Melvin Swenson, Gerhard Swenson. The director was Joe Birkemeyer who came from Pennock. This band was asked to play for the county fair but could not because the last two cornet players left for the army. More and more were drafted in that first World War. So the band died.
Jericho has been mentioned (very briefly) in two additional online family histories:
Kalevik family from Green Lake township.
Steffen Simonsen Reigstad family. Descendants of this Reigstad family connect to the Swenson family. In the 1930s Syvert M Reigstad (1869-1958) and his family purchased the Gunder Swenson homestead south of Jericho. Syvert's son Kermit and his family later lived on the farm.
---
Bibliography: 1905 History of Kandiyohi County, East Norway Lake Lutheran Church: To God be the Glory, New London-Spicer Times , Lindahl.