Mankell Family History
Family Stories: "Death of Cora Mankell"
Written in 1991 by Marlys Mankell Schilz,
which chronicles the 1963 death of her mother, Cora Christopherson Mankell.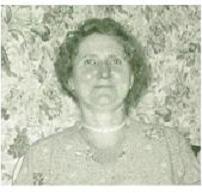 Cora Mankell, 1954

It was May 18, 1963. I got up around 9:00 on a cold, windy Saturday. I dressed and came downstairs and had a homemade donut. It was a little hard but was good anyway with warm coffee. I was learning to drink coffee. I was 15 years old. Mom wanted to plant the garden around May 15. We left about 10:00. I went in the old pick-up (I drove) to a corner of a field about 1/4 mile away. Mom was disgusted that my brother was getting a late start planting corn.
The wind was cold as I crouched along a row planting carrots. To make starting easier Mom had mixed the tiny carrot seeds with some dirt in a coffee can. Probably something she'd read about in the Farm Journal. It worked. I had a question. I don't recall what it was. I looked up saying "Mom". It was then that I noticed she'd gone to sit in the truck.
The passenger door was open and I could see she was slumped back. I ran over to the truck. She could not answer and I could see a glazed look in her eyes. A gurgling noise was coming from her open mouth. Later I found out that was called the "death rattle". I pushed her into the truck so that I could close the door. I was about to drive home when I saw my brother (Orlynn) driving to the field on the tractor with the corn planter. I ran to him.
"Something's happened to mom." He rushed to her. He looked at her and told me to run home and call the ambulance. At first, I thought maybe she had fainted, though I know she had not. I ran home and told Vivian, who called the ambulance. She took me to the back bedroom.
Later she came and told me that Mom was gone. I cried. Dad came home. Sherman came home from the field. The minister came. He hugged me. I hadn't been hugged till then. Vivian and I drove up to Christophersons. Otto, Vivian and I were sitting at the kitchen table. Ella walked into the room.
Laughingly, she said, "My gracious, wha it the matter then?" "Cora is dead." Otto said. Ella cried and asked if Douglas had the news yet. Otto called his brother Edward. Vivian offered to pay for the calls. We drove over to the Petersons (Earl and Eldora, parents of Marlys' friend, Nancy) and I was there for the afternoon. My sister Marjorie came home. We cleaned the house. Bette, Sherman's girlfriend, came and stayed the evening.
The next day, Sunday, we went to the airport to pick up my sister Mary Ann. I remember her perfume as we hugged. We stopped at a restaurant. My sister said that I was a "trooper". We arrived home. My two sisters and I hugged on the porch. People were over drinking coffee and eating. Monday we cleaned house. People brought over hot dishes and cakes. Monday night we went to the funeral home.
Mom was wearing a blue print dress. My eyes immediately went to her bright red polished fingernails. Mom never wore nail polish. It bothered everyone and it was later removed. The funeral director had said that her nails were dirty from gardening. It was a difficult time. My dad said, "I wish we could have talked." The funeral was Tuesday afternoon. I saw a few school friends. I felt that everyone was looking at me. We went to the cemetery (at Lake Florida Mission Church) and then home for "lunch". People were nice but I also wanted to leave. I liked the attention though in an odd sort of way. It wasn't long before the attention wore off. I was alone. I went back to school.
The following weeks were the hardest. Sometimes I would go to the "garden" where she died. I wanted to see what she saw during her last minutes on earth. I wanted to walk on the ground where she last walked. Sometimes I went to the cemetery . I put cut flowers on her grave. Sometimes I drove to Christophersons. Ella was so nice. She gave me lunch.
I write these things not to dwell on them. I write these things because I do not want to forget the most significant life-changing event in my life.
---