Mankell Family History
Johan Herman Mankel In Niederasphe
Johan Herman Mankel was born in Niederasphe Germany on September 19, 1763 to Elisabeth Lettermann and Johann Hermann Mankel, a farmer. Two days after his birth he was baptized at the Niederasphe church. There is one reference to the elder Johann as an organist for this same church in Niederasphe. With the father a musician, it is understandable that son Johanís life revolved around music.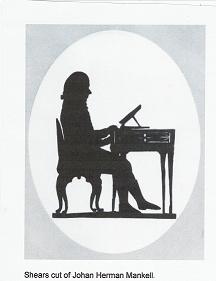 Johan Herman Mankel at Harpsichord, Shears Cut
For Johan's 50th birthday in 1813, a poem was written about his life. From this poem we know Johan, the son, played the organ at the Niiderasphe church. The poem suggests that he also played the violin, that the churchís sexton believed he would become a musician, and that the beautiful tones of the organ moved Johan spiritually.
Portions of the organ which JHM played remain in the Niederasphe church. The organís keyboard and frame in this church date back to 1780 while the pipes date to 1905. During Johanís years in Niederasphe, this organ was located in the front of the church by the altar. Currently the organ is in the rear balcony.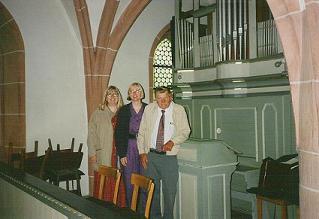 Niederasphe Church Organ; Sue Muellner, Carolyn Sowinski and Orlynn Mankell, 1995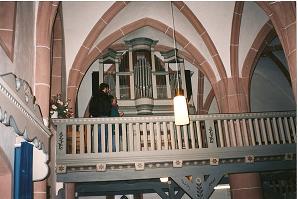 Niederasphe Organ; View from the floor, 1995
Johan remained in this small German town in the central highlands until the late 1780s. Mankel left home for the Moaravian community in Zeist, Holland
---